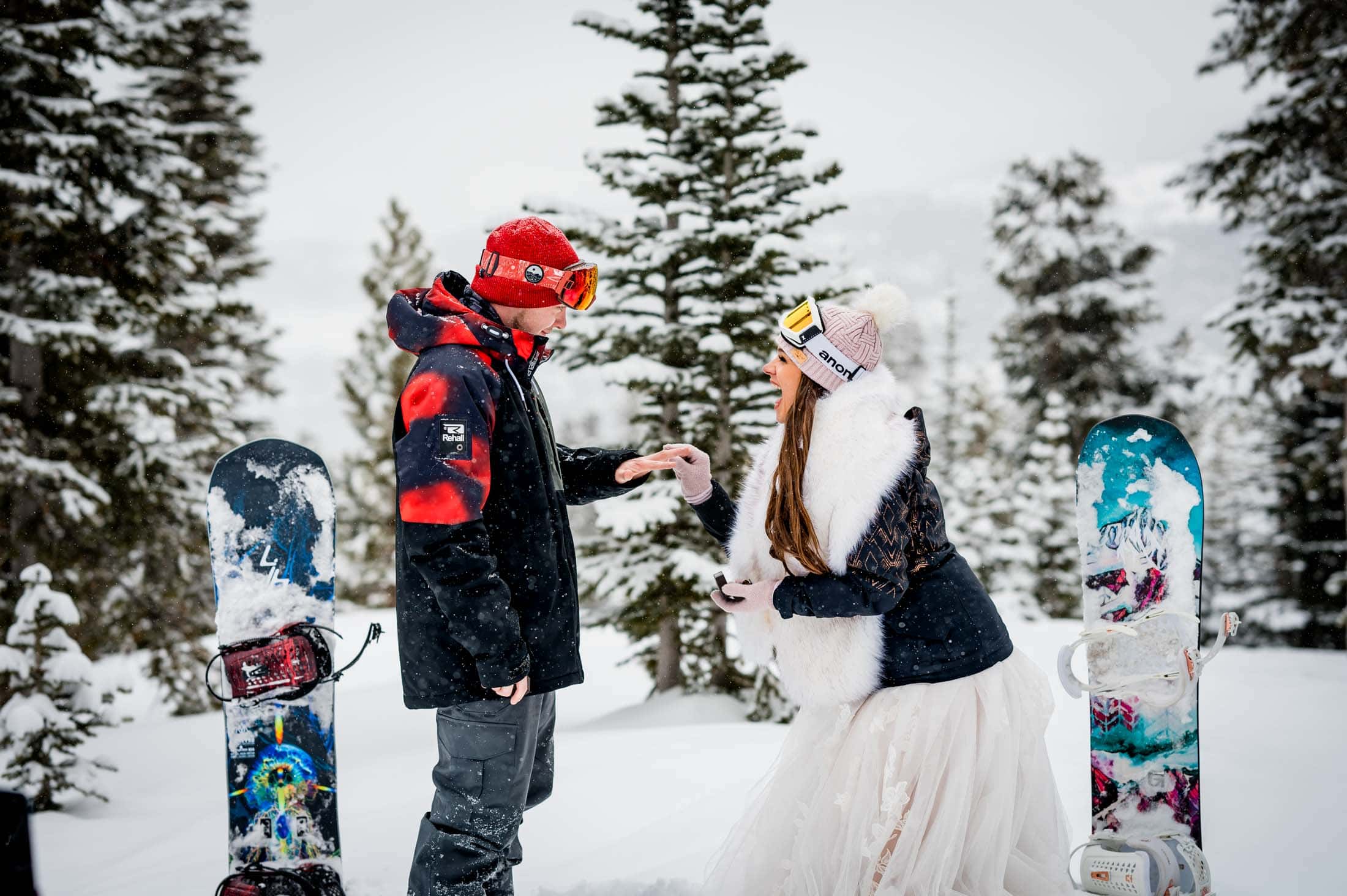 Elope on the Slopes
Ski and Snowboard Wedding, Elopement & Lifestyle Photographer
Do you love shredding snow as much as I do and want to fuse it into your celebration of love?
Skiing and Snowboarding Elopement Photographer | Colorado Adventure Elopements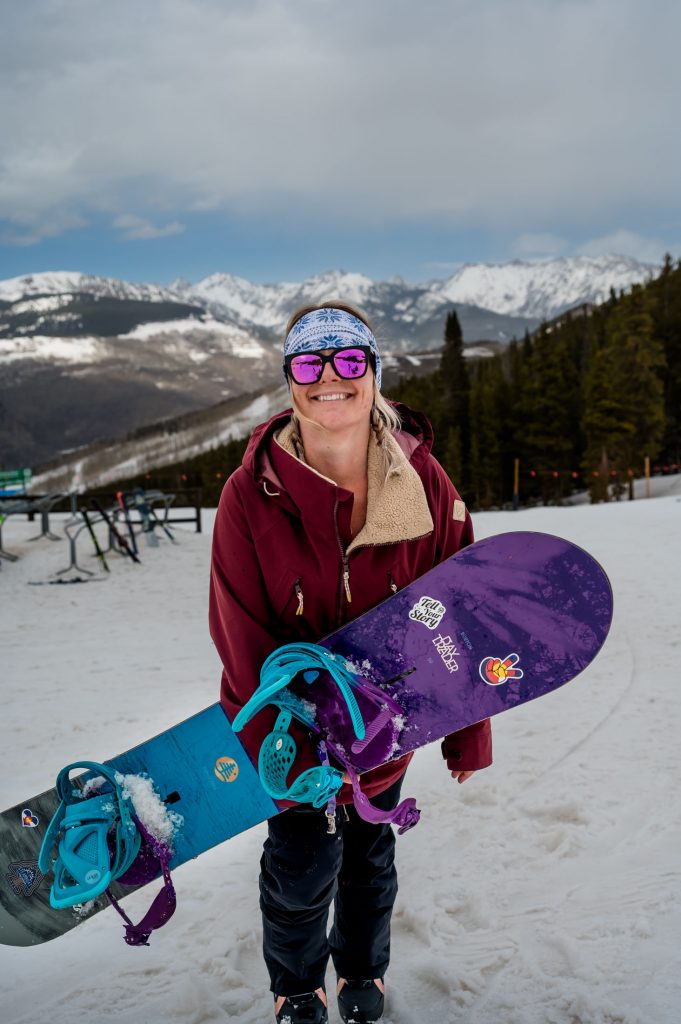 Whether you're wanting to ride with your powder-loving peeps or you just want to run off with just the two of you to your favorite tree run and say your vows, I'm the badass snowboarding photographer to chase you around for it all! I've been documenting skiing and snowboarding weddings for almost 4 years and it's one of my favorite things to do. It combines my three favorite things in the world; photography, snowboarding, and mountains.
For couples Who Want to Infuse their love of skiing and snowboarding into their wedding day
Whatever kind of day on the slopes you're dreaming of, you can have it. You don't have to follow any kind of norms, just do you. Maybe you spend the morning getting ready together in your cozy cabin. You read letters and watch video well wishes from your closest people. All before heading off to adventure while you two find the perfect spot to say "I do". After a "first lap" as forever shred partners and maybe a few more for good luck, you meet up with all your buddies and take a celebratory lap together. Then you finish the day on the mountain with mountainside apres and a bonfire before your catered celebration back at your cabin. If that even sounds remotely like something that would make your face fall off from smiling so hard, then a ski or snowboarding elopement might just be for ya'll.

If you love slopes are calling but you love summer slopeside fun, too think about pairing your winter elopement with a summertime day after adventure session!
How do I help?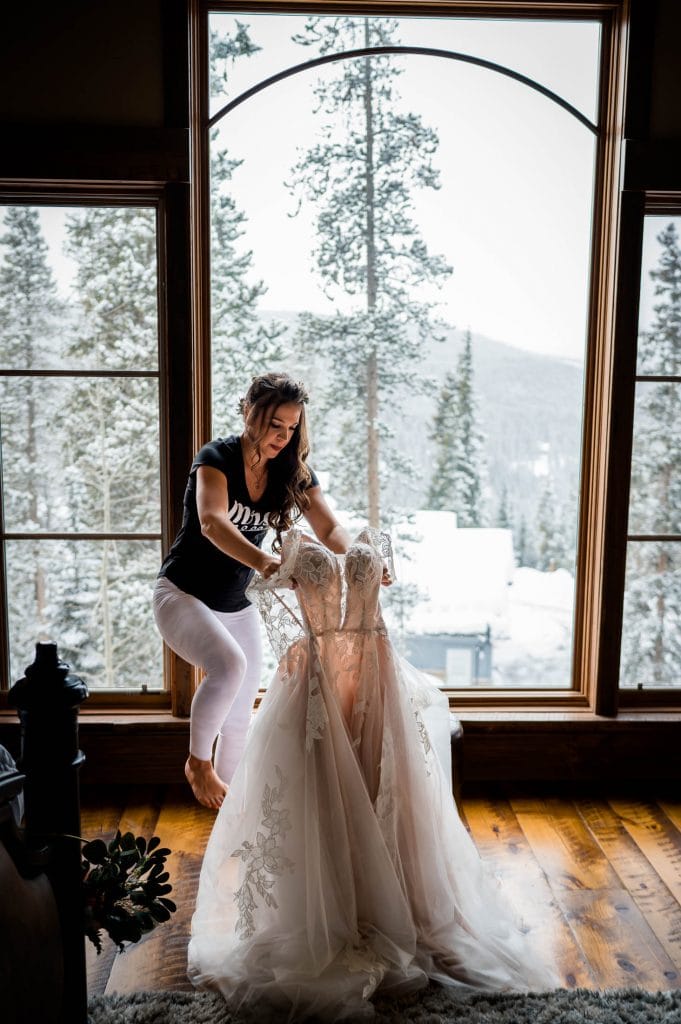 unlimited planning assistance
The only thing I don't do is book your vendors or lodging, basically. Things I help with are:
a Colorado ski & snowboard elopement planning guide
custom location recommendations
local vendor recommendations
mountain logistics & planning
gear packing list & winter adventure guide
consult call & final planning call
back up plans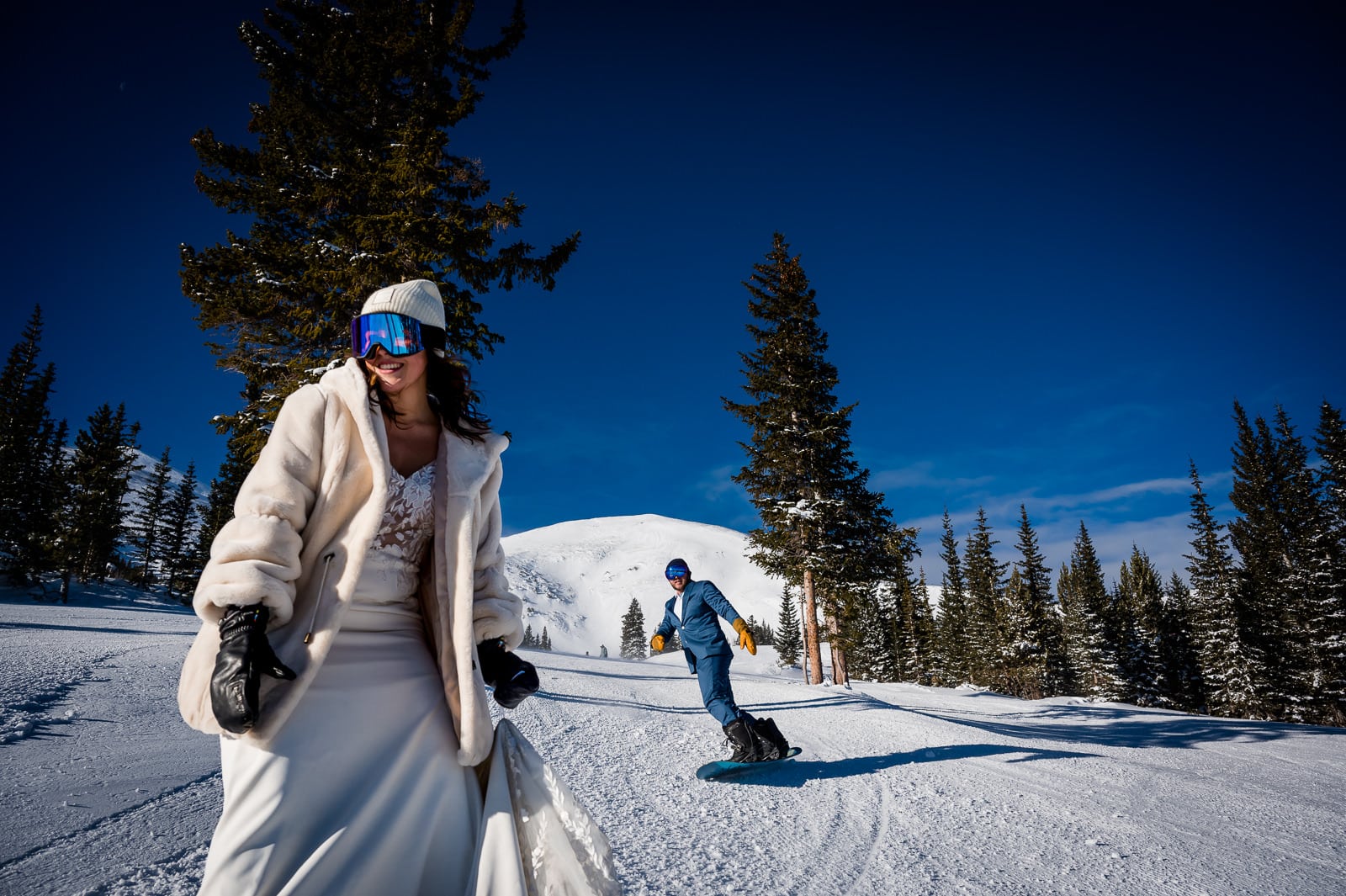 unposed, fun and badass photography
It's more about you two having the best day of your lives than it is about the photos. You just relax and enjoy each moment rather than worrying about where the camera is. I direct your location or positioning for best lighting and getting creative. But the moments are real, authentically you and totally candid.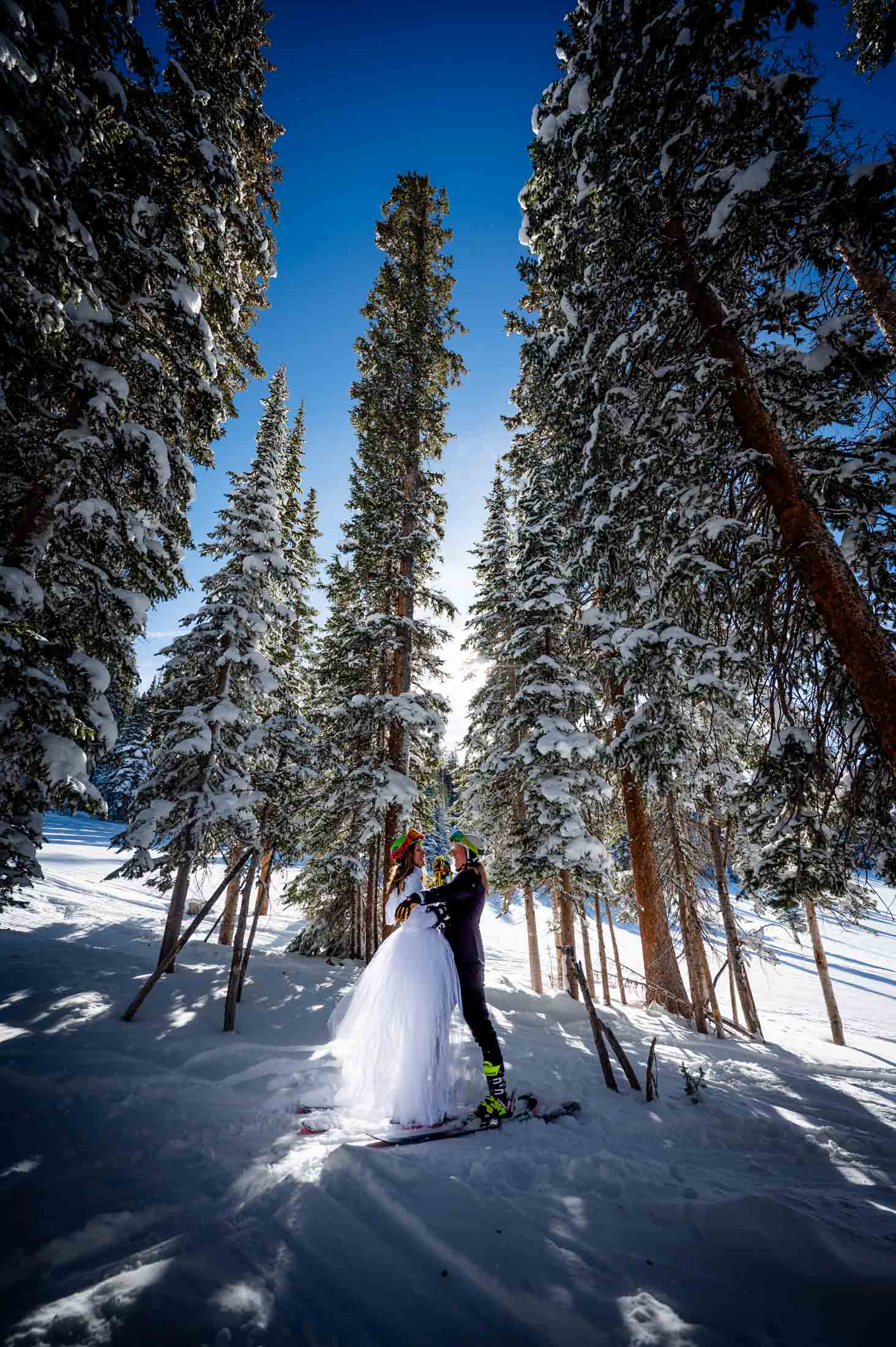 Bold imagery that brings you back to the moment
I love showing off the beauty of nature, the mountains, that epic light, all of it. I edit true to life and want each image to be even more epic and gorgeous than you remember it. Your moments and connections in beautiful places, I strive for my photos to take you back there.
when you book we donate…
In an effort to help more low-income children and families get on the snow and enjoy skiing and snowboarding, for every ski or snowboard wedding we book we donate a portion of the profits to the
Share Winter Foundation!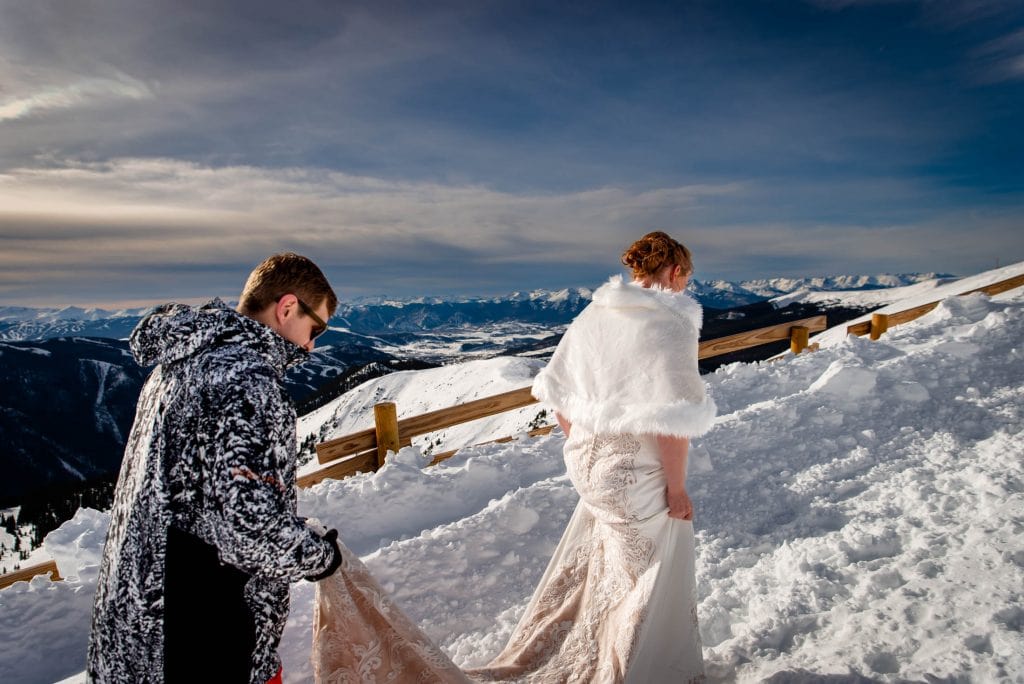 what's next?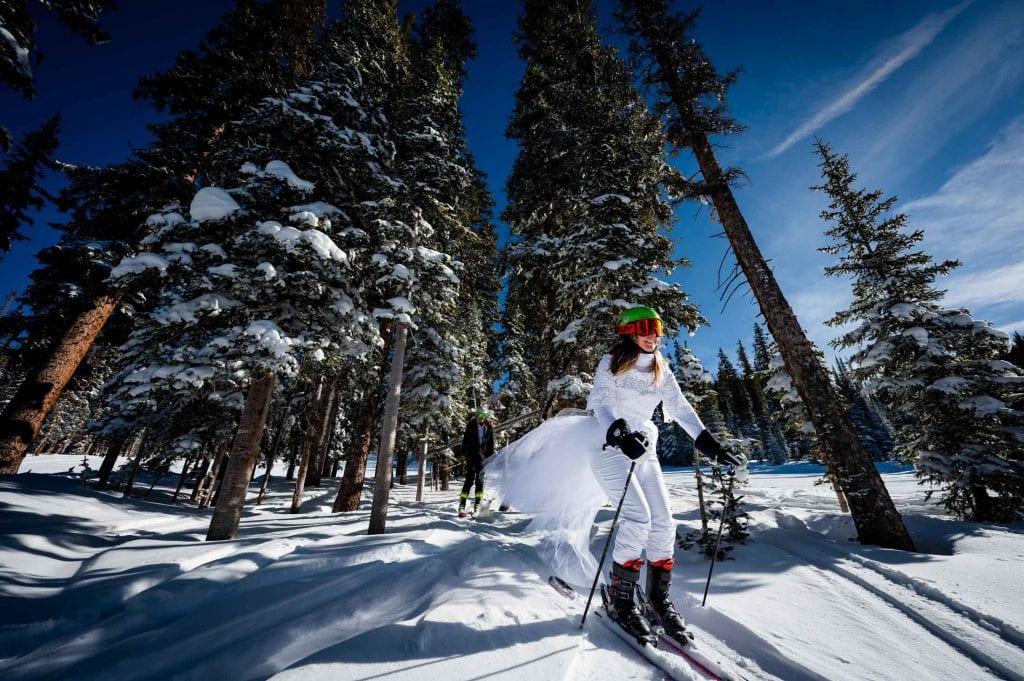 Book a free, no-obligation consultation call with me to see if I'm the right fit. I probably am. 😉
Check out my free Ski & Snowboarding Elopement Guide
Pick a date, a ski resort, or a backcountry area, and decide if you want guests.
I require a $1500 non-refundable retainer to book & hold your date.
Then get recommendations and personalized help planning your epic elopement plus access to my full Colorado elopement planning guide.
Book your place to stay and any other vendors or winter activities you want to do for your elopement experience. It doesn't have to just be at the ski resort.
Celebrate your love like the badasses that you are with an epic elopement day. Then get sneak peeks within 24 hours so you can share all the gorgeousness and good news together.
Ski & Snowboard Wedding Photographer Packages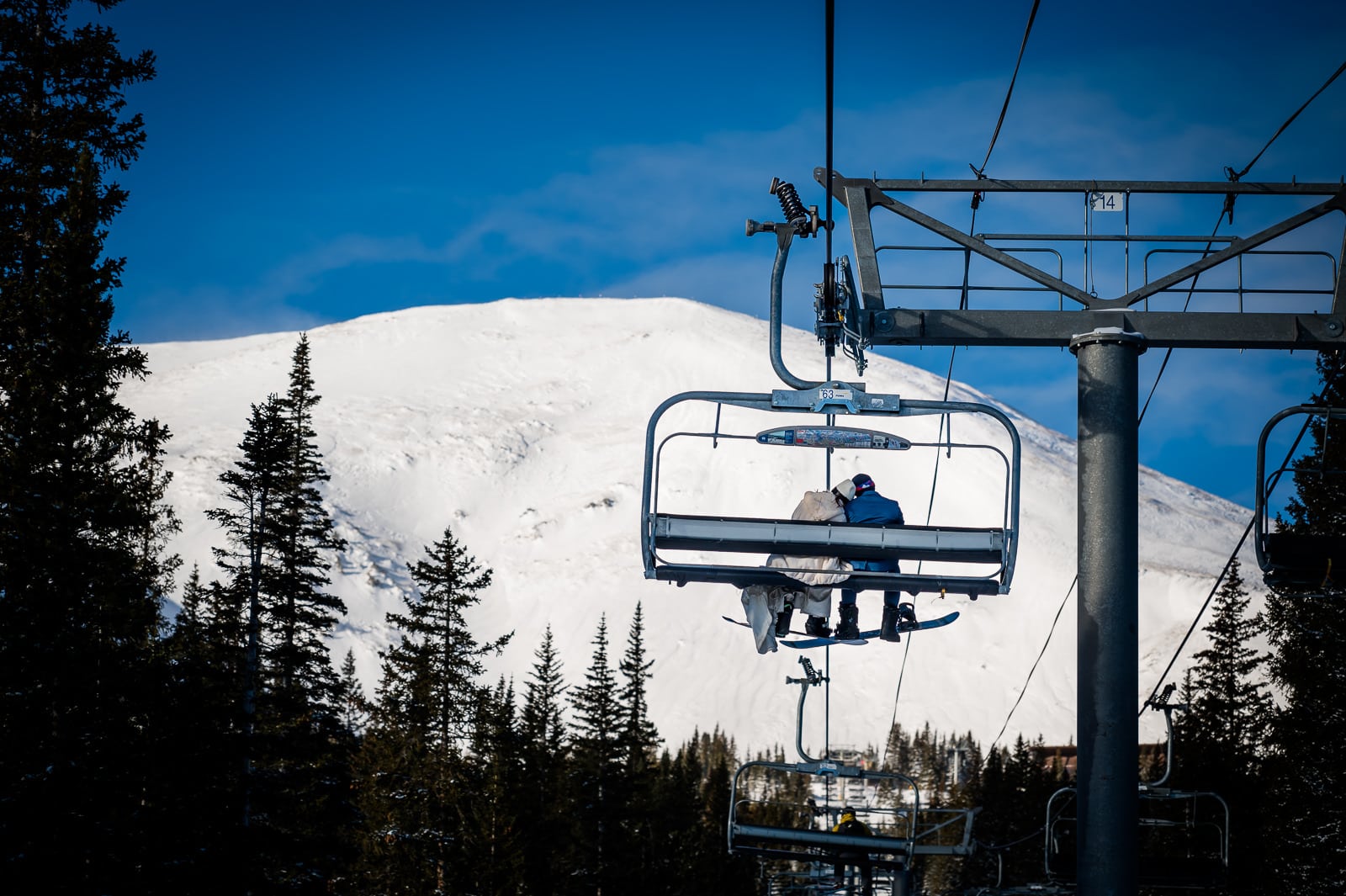 Colorado Skiing & SNOWBOARDING Wedding Photographer pricing and info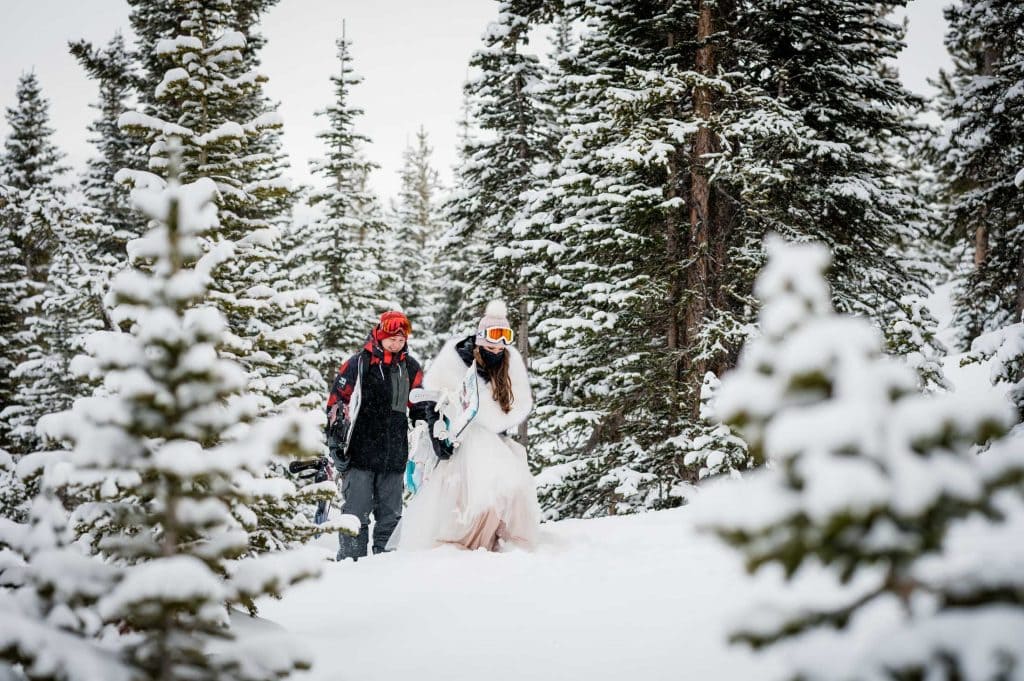 All-Day Elopement Collection – 10 Hours
two days that are totally you and about you that celebrate your love in the most epic way that it deserves

two full days of doing whatever sets your souls on fire together with one photographer
travel anywhere in the US to the ski resort of your dreams
high-resolution images in a shareable online gallery with print rights and unlimited downloads
planning assistance including:
custom list of locations & vendor suggestions that fit your vision
handcrafted timeline
permit & marriage license assistance
unlimited elopement expertise
+ the movie trailer basic video package

$6000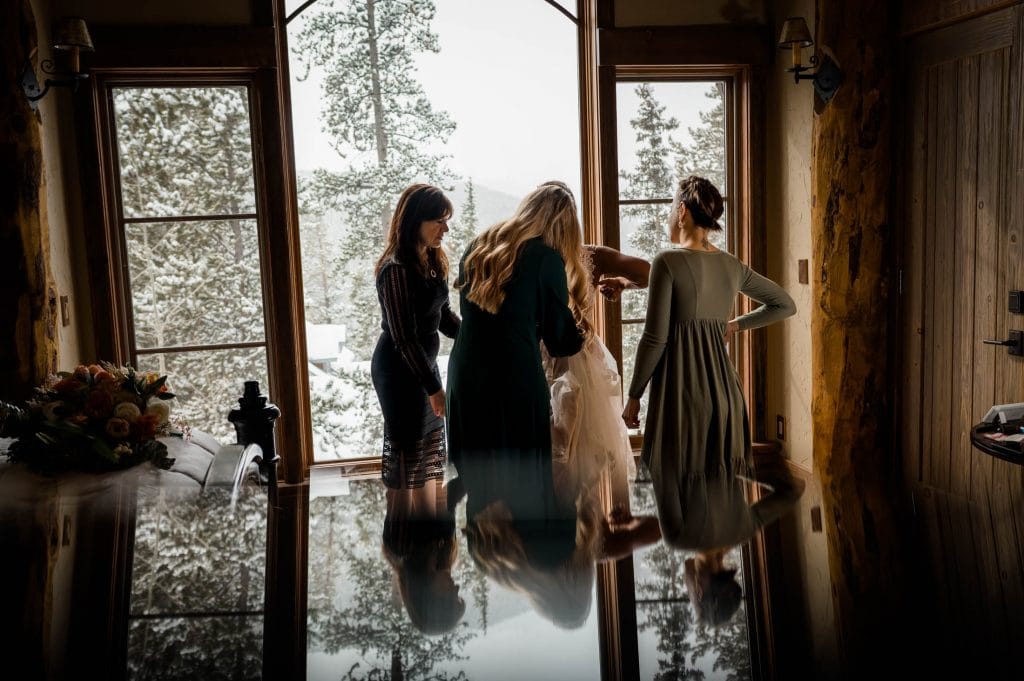 Full-Day Elopement Collection- 8 Hours
*most popular*
The full-day collection is perfect to capture all the love and memories that surround an elopement.
This collection allows for the full story of your day be told in the most candid and real way. It gives you the freedom to really be intentional and not stress. It's perfect for having additional activities or locations in your elopement experience.

full-day elopement coverage of up to 8 hours with one photographer
photographer travel & lift ticket anywhere in Colorado
high-resolution images in a shareable online gallery with print rights and unlimited downloads
planning assistance including:
custom list of locations & vendor suggestions that fit your vision
handcrafted timeline
permit & marriage license assistance
unlimited elopement expertise
+ the basic ceremony video package

$5000
Half-Day Elopement Collectio – 4 Hours

travel in Colorado included
Ikon Base Pass and Epic Pass Ski Resorts included
high-resolution images in a shareable online gallery with print rights and unlimited downloads
custom list of locations & vendor suggestions that fit your vision
handcrafted timeline
permit & marriage license assistance
unlimited elopement expertise

$3600
Ski and Snowboarding Elopement Collections Add Ons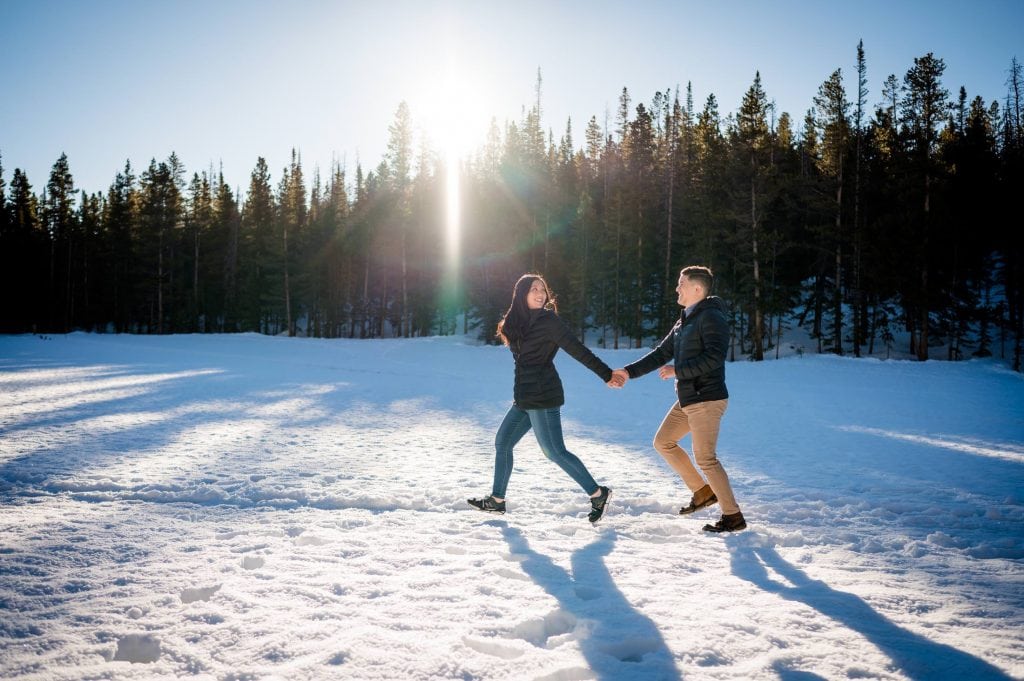 Colorado Adventure Engagement or Day After Session
Includes up to one-hour session within 100 miles of Denver, Colorado, and all the final edited images with personal print release

$750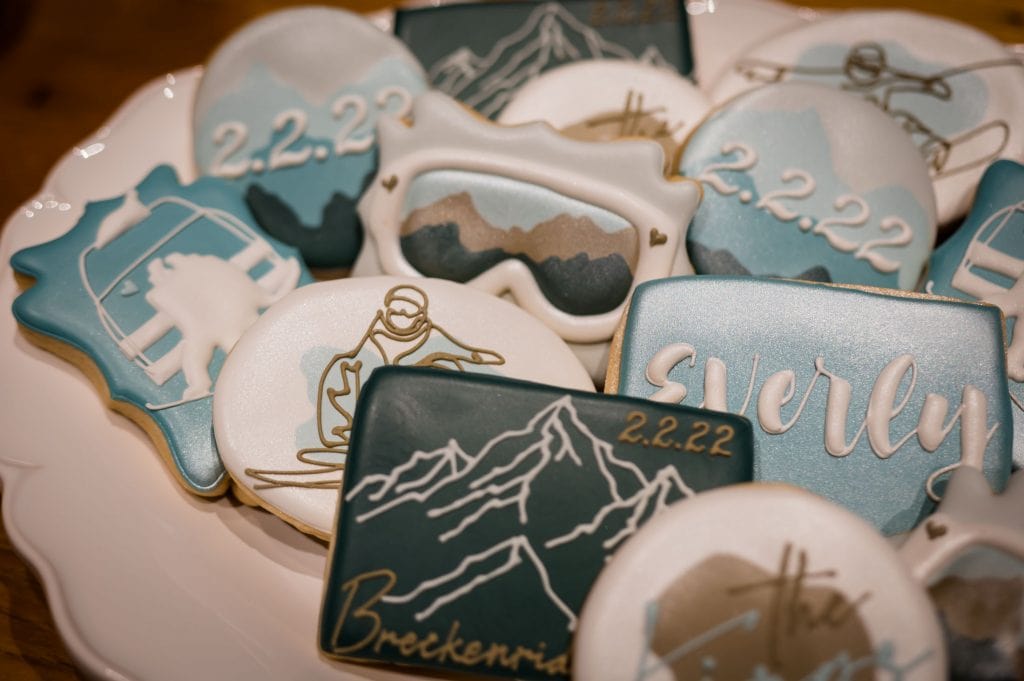 Elopement Planning Concierge Package
– 2 pre-planning calls
– vendor communications & booking assistance
– day of vendor coordination, setup & clean up

half day– $1000
full day– $2000
multi-day– $3000








iPhone Video Coverage
Why should you choose to have your day documented with authentic little clips shot on an iPhone 13Pro? When you shoot video on iphone its fun and easy, and opens up new ways to tell the story. It's laid back and low pressure. You'll love it so much you won't even care it wasn't shot by a pro videographer on pro gear. And trust me, the quality is surprisingly good. It's good enough that I don't think anyone needs to miss out on having their ceremony covered. DM me on Instagram and I'll send you links to the gear I use!

This coverage is perfect for having snippets of the day on video without having a full videography budget. It's also perfect for creating IG reels, Tiktoks, Youtube shorts and whatever kind of short form video platform you share on.

ceremony only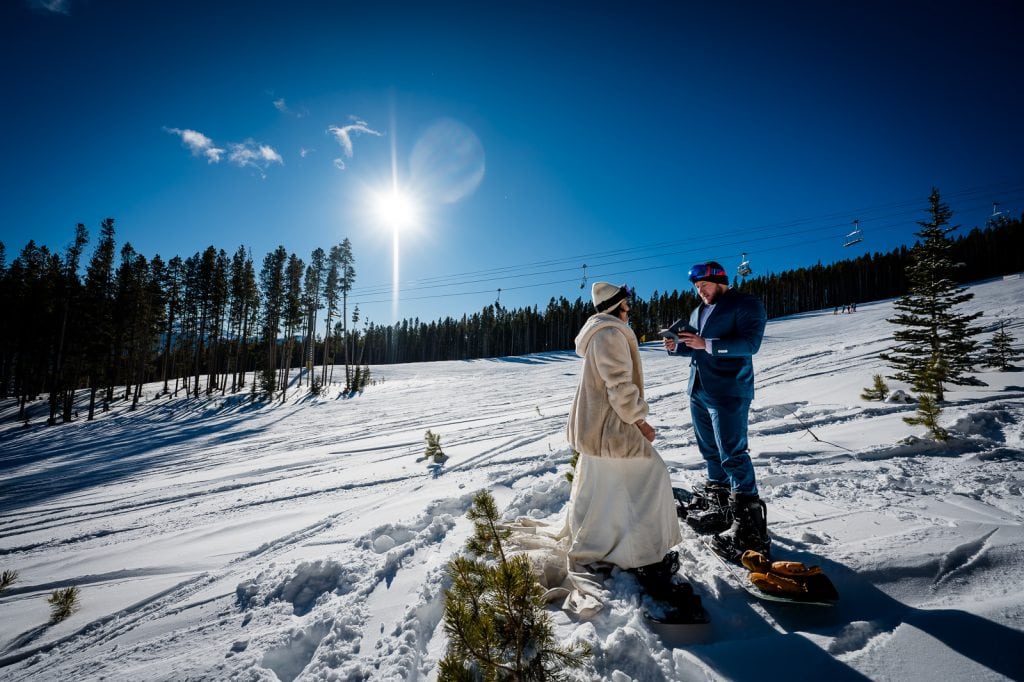 $500

tripod, iphone stand & bluetooth mic

Raw, unedited footage of your full ceremony.
highlight reel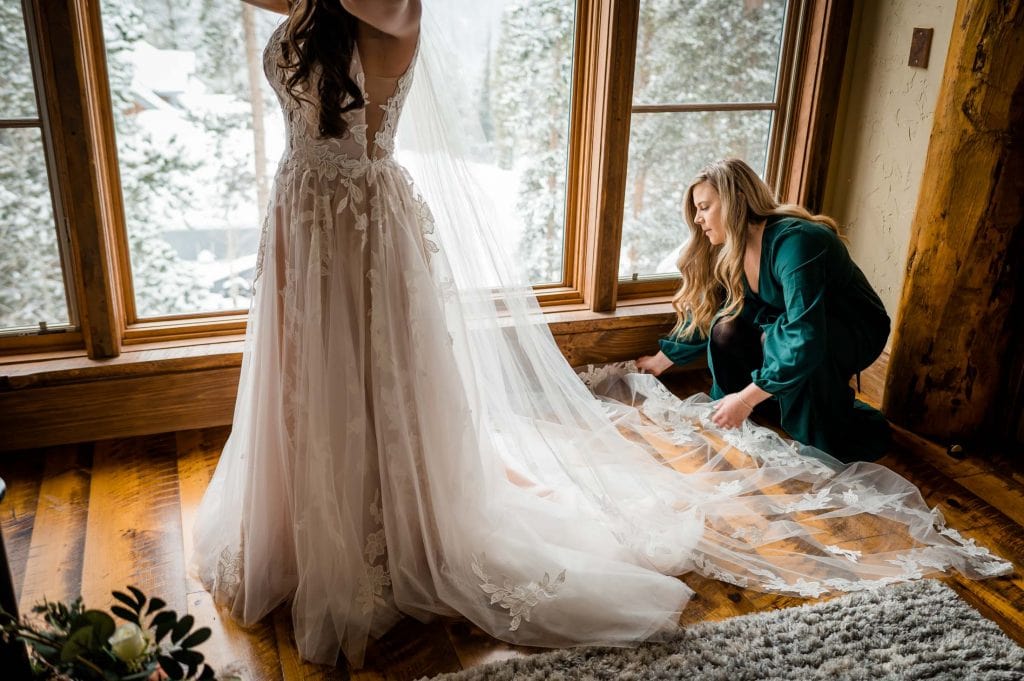 $500

1 minute video of snippets from that day that have been stitched together to help enhance the photographic story of your day.
Put together over royalty free audio.

social media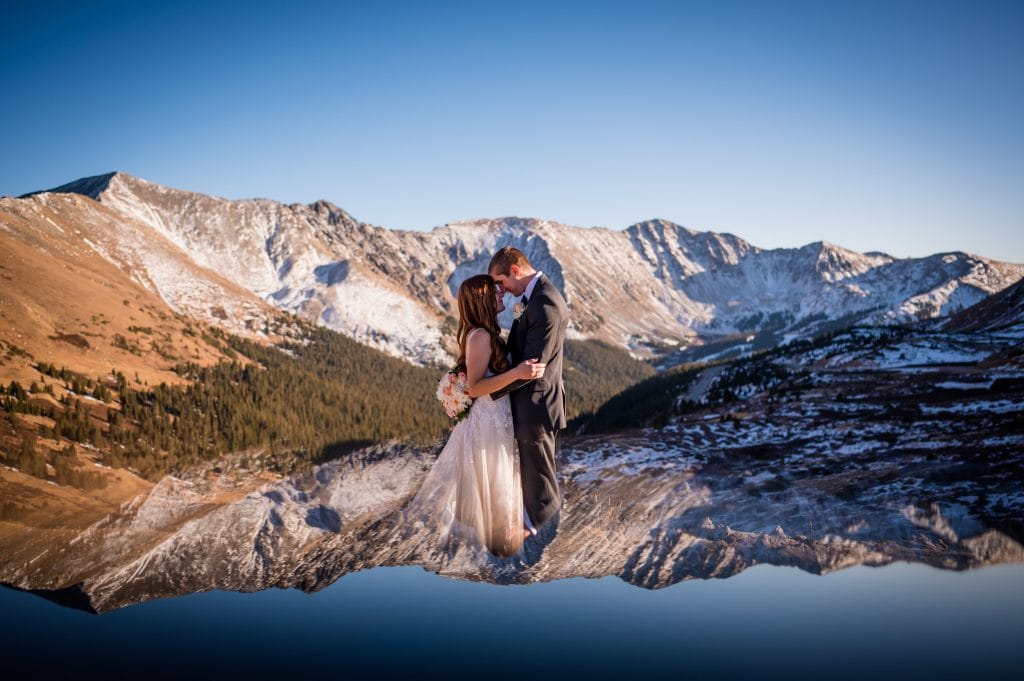 $1000

You get 5 short form videos with and without your sneak peek stills incorporated that share little portions of your elopement story. You get content to share without any of the work.

the movie trailer
$1500

A video assistant will shoot alongside throughout the day to help tell the story with cinematic, short form video clips on both an iPhone and GoPro or Insta360.
Make it feel like a movie.

3-5 minute video of short clips stitched together to tell the story of your day and put together over royalty free audio.
+ full ceremony video.

Colorado Winter Adventure and Travel Guide | Colorado Elopement Photographer

Colorado Snowboarding Elopement | Black Mountain Lodge Winter Wedding
Why should you choose me to document your skiing or snowboarding love story?
I moved to Colorado as a 20 year old chasing powder on her snowboard. I came here to study photography at CU but I only chose the campus because of its proximity to Eldora Ski Resort. I had no idea what that would end up meaning for me one day. I even became a snowboard instructor a few seasons ago and taught at Loveland Ski Area. It had been a bucket list thing for me to learn how to teach snowboarding and it helped me level up my riding so much. My own wedding anniversary falls in Colorado's winter so we celebrate every year with a snowboarding trip together. Steamboat Springs has been my family favorite since I was a kid and we love getting back as often as possible.

I'm also a wilderness first responder certified and plan to get avvy certified so I can get out of the ski resorts and into the backcountry soon. My goal is to document winter elopements deep in the backcountry with adventurous lovers of all kinds. But until then dropping into Silverton or Telluride from a heli will do. 😉