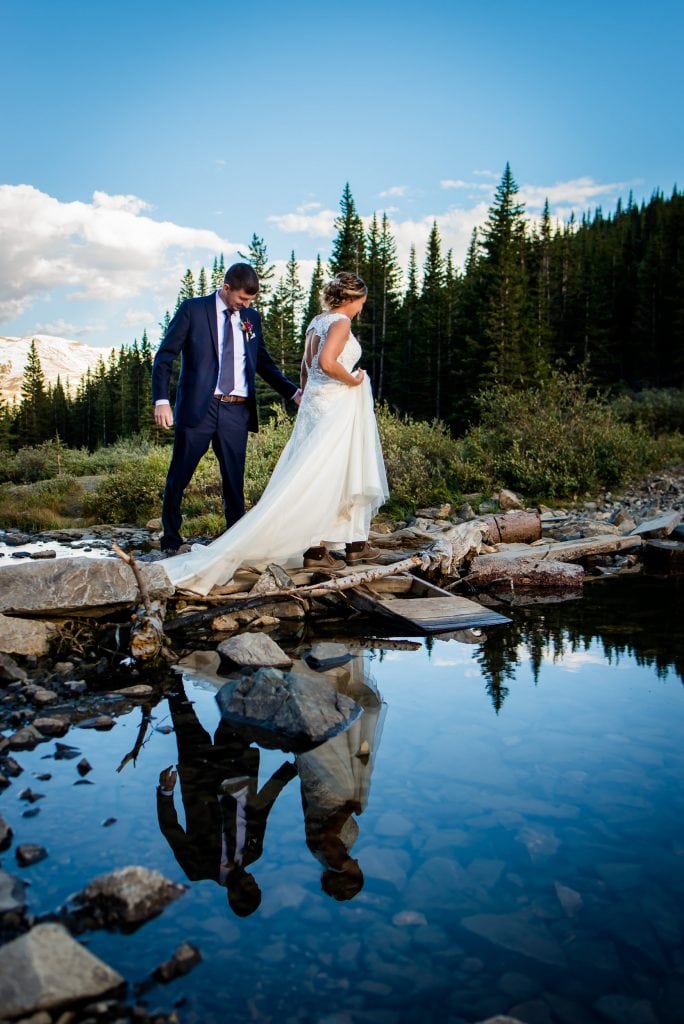 This elopement at Blue Lakes in Breckenridge was beyond magical. Blue Lakes sits below the 14er, Quandary Peak on the outskirts of Breckenridge along highway 9 in the White River National Forest. When you look east from the lakes you can see Boreas Mountain. You can often see mountain goats at the top parking lot. And there is a gorgeous waterfall when they have the upper lake draining into the lower one.

Jordan, Garett and Jordan's daughter, Lu all got ready in a little mountain cabin. It was one they had rented just up the highway from Blue Lakes road. I was associate shooting this elopement for Skyewater Photo + Film so I had never met them before. But they welcomed me in like I was part of the family, giving me the deepest honor to document and be part of their day.

We did their first look just outside the cabin in some pine trees. On top of the fresh bits of snow and under the warm Colorado mountain sun. Afterwards, we grabbed Lu because Garett had a ruby necklace to give her.

There were other weddings going on at the top of Blue Lakes on this nice September Saturday evening. So we waited our turn and proceeded out onto the huge rock that overlooks the lower blue lake
If you're looking for an elopement photographer in or around Breckenridge and the Front Range click here!
Blue Lakes Elopement in Breckenridge, Colorado
Want to see more elopements near lakes? Click here for another Colorado mountain lake elopement.