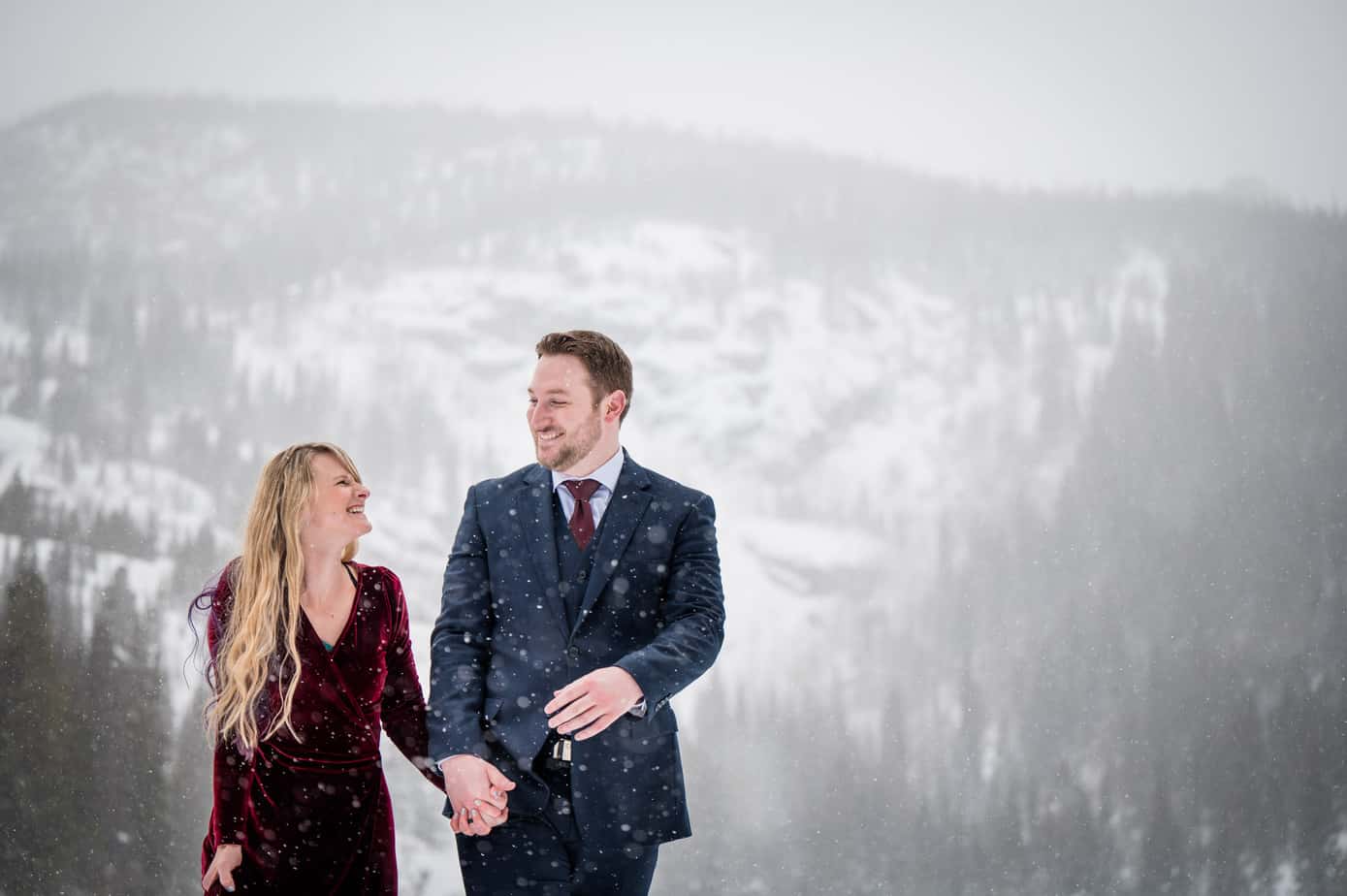 Winter Hiking Engagement Photography in RMNP
Estes Park, Colorado
Danielle & Robert flew in from Texas to have winter adventure engagement photos in our beautiful Rocky Mountains. Little did we know, Colorado was going to throw an inverted arctic blanket on the lower elevations and flood the higher elevations with warmer temps… and snow.
For my How to Winter Mountain Adventures in Colorado Guide click here.
They were ready for whatever was thrown their way, including the football they hurled at each other in the dumping snow. They danced, snuggled and tossed the ball in a winter wonderland! Danielle wore a gorgeous red velvet dress and Robert a very sharp navy blue suit. Both of them had on hiking boots. 😉 It was the perfect outfit choice for this winter scene!
When we got to Bear lake trailhead it was already starting to snow. By the time we were parked and ready to go it was really coming down. But the snow wasn't stopping us. We played for awhile before they change before we hiked to Dream Lake. At just over a mile away with only 400 ft of elevation gain, Dream Lake is something easy enough for everyone. Unfortunately, Hallett Peak barely showed in all the snow coming down.
This parking lot and trailheads can be very busy. I suggest going to Dream Lake at sunrise. Avoid the crowds (sometimes) and see the alpenglow on Hallett Peak.
This trail is super popular year round with tons of people. The winter storms usually get tracked out pretty quickly and you can get to Dream with just microspikes. If the snow is was overnight and you're doing sunrise then you'll probably want snowshoes at some point in the trail. And if you want to go further to Emerald Lake the likelihood of needing snowshoes goes up.
If you're looking for help navigating your way to a winter adventure and hiking photography session in RMNP then reach out here!
I help all my couples with locations, what gear you'll need, what kind of vehicle you should rent, weather conditions and more.