Colorado Elopement Planning Guide | Updated for 2023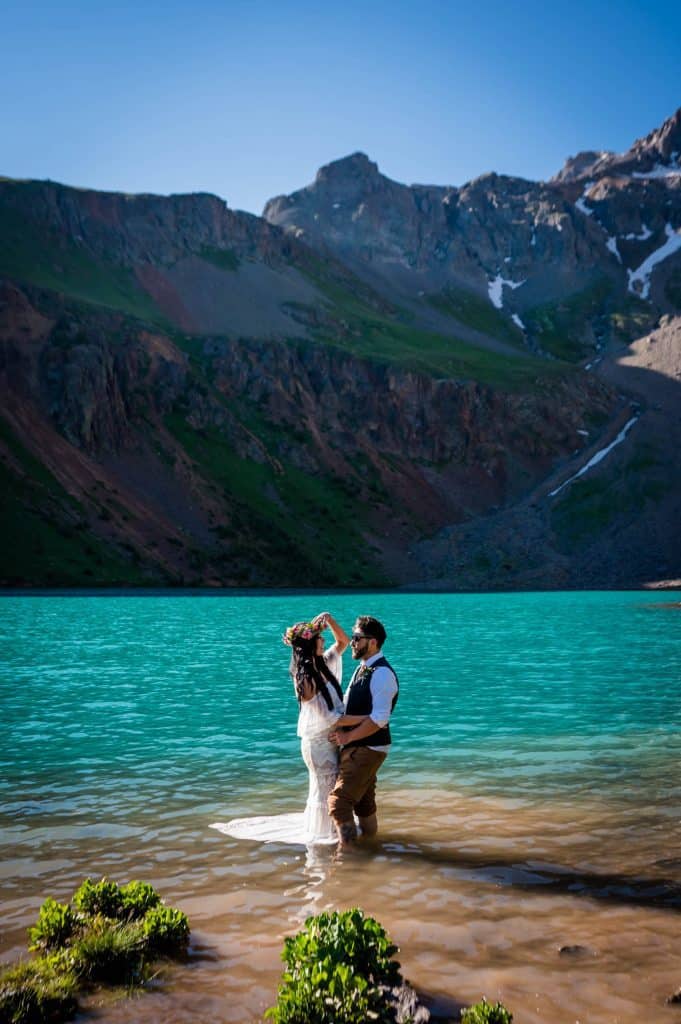 So you want to come to Colorado for your adventurous wedding? You're coming to the right place! It'll be an experience that's unique and takes you somewhere epic. I play in the mountains as much as I can as they never cease to amaze me. I've created this Colorado Adventure Elopement and Mountain Wedding Guide to help people come to play in my backyard for their elopement or adventure wedding.
Choosing to elope in one of Colorado's many epic elopement locations is never a bad idea. But with the wild outdoors comes some additional logistics to think about. Don't worry, I'm here to help with those, too!
In this Colorado adventure wedding & elopement guide I'll share some of the the best places to elope, how to get a marriage license here, & recommend the best Colorado elopement vendors. Plus some of the coolest, most unique places to stay in Colorado!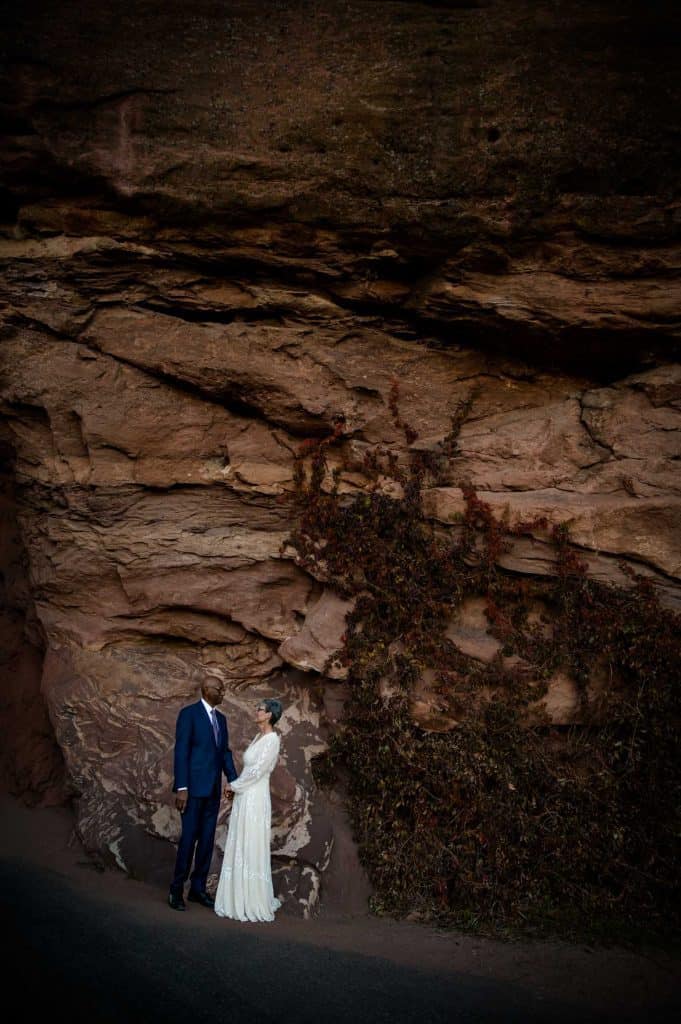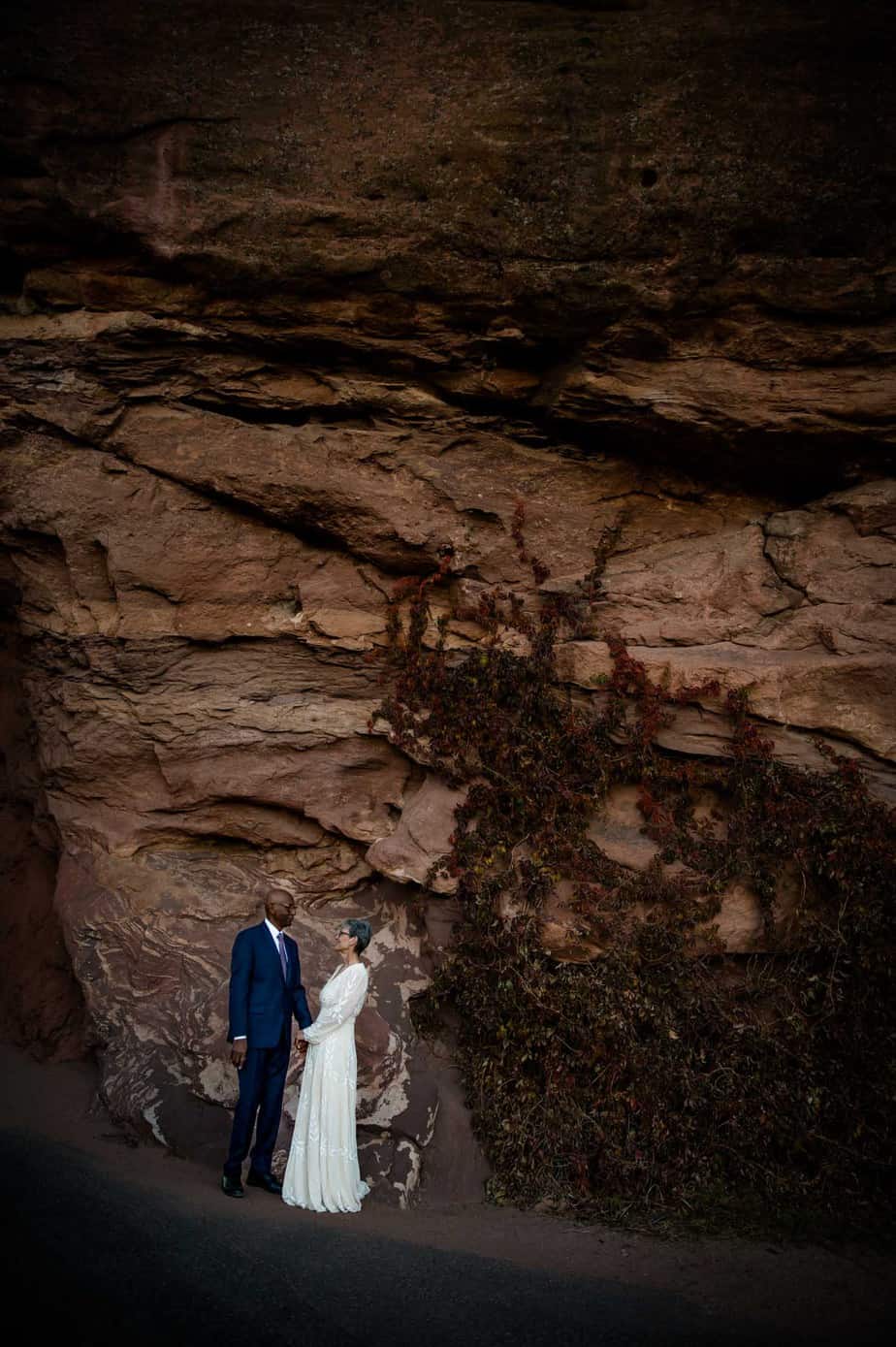 Adventure elopements aren't just for people who are always on adventures or "really" adventurous. According to the the definition by Oxford Language adventure is 'willing to take risks or to try out new methods, ideas, or experiences'. Eloping in and of itself is adventurous because it's a new idea of weddings and is rooted in the experience for the eloping couple rather than the display for others.
Eloping is no longer running away to get married without telling anyone, anymore. A lot of elopements involve family and friends. People have long believed eloping comes with no planning and a low budget, but that couldn't be further from the truth with today's eloping couples! Couples are wanting to celebrate their love and unions in new, fun and unique ways.
Elopements are often very intentional. Without the stress of worrying about guests you get to focus on each other and enjoy the experience together.
Elopements are often adventurous, never boring and always different.
Your elopement day can be whatever you want it to. There are no rules. No one size fits all elopement. You choose the day that fits you best. Choose the experience you want to have together and then go from there!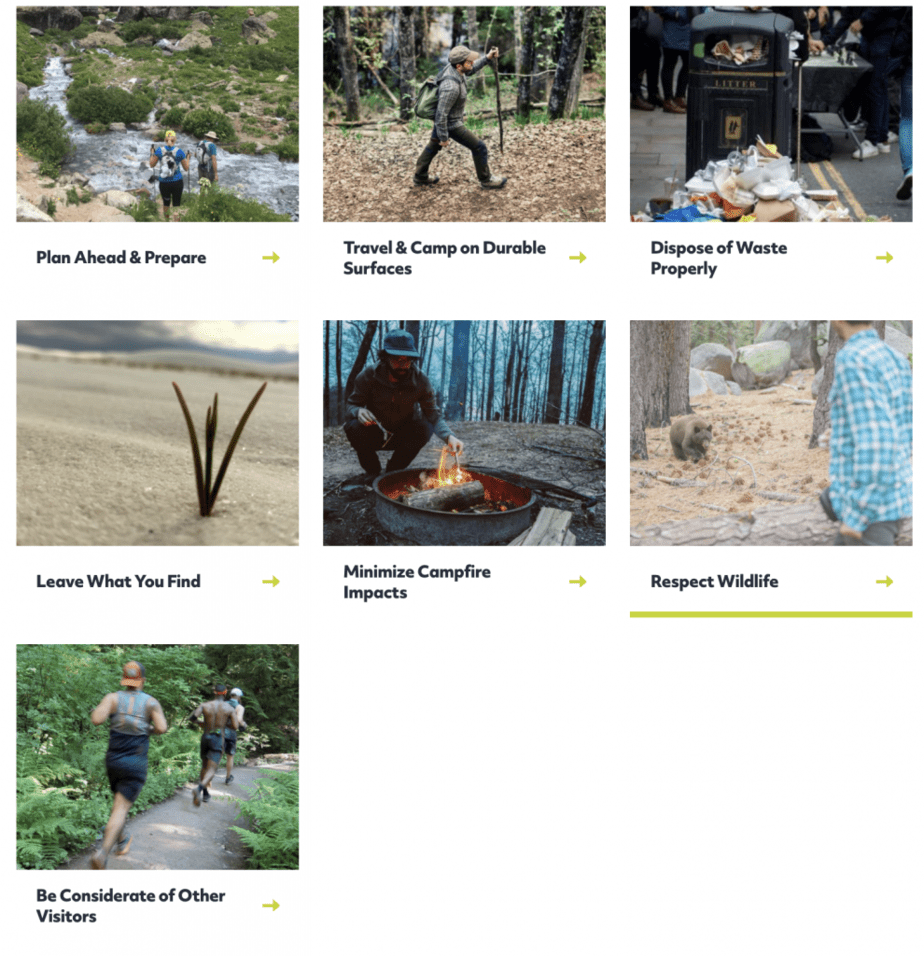 I can't begin this guide without first starting with Leave No Trace Center for Outdoor Ethics and a few reasons why we care so much about it!

Colorado is nothing without its mountains and outdoor recreation. Eloping in wild places, my career, what we all do for fun, none of it would be possible without the outdoors being open and available to us. Leave No Trace is a nonprofit organization that empowers people to be the solution to conservation through education.

As a lover of nature, outdoor recreation and adventuring with people from all over the world, it's also my duty to uphold a high level of stewardship to the outdoors. Now that I also utilize a lot of these spaces to help people get married, it's all our job to keep the space better than we found it.

When you travel and recreate in the outdoors always be sure to follow these 7 principles so we make sure to keep these open and public spaces the same for our children and future generations to enjoy.
What time of year is best for eloping in Colorado?
What time of year should you elope in Colorado? That's a loaded question here. Firstly, it depends on what kind adventure you want to have. Because if you want to shred some powdy you obviously can't come in the summer. But if you aren't quite sure what you want to do for your Colorado adventure wedding, this guide will help!
Colorado is an outdoor lovers dream. Each season has it's different pros and cons for planning elopements. You have to figure out what kind of activities and lifestyle fits you and your relationship best. Would you be happiest snuggled up by a fire in your lodge underneath the snowy mountains after a day of exploring a winter wonderland outside? Or do you prefer being driven up a Colorado pass road in the middle of summer to flock about the wildflowers and enjoy yourself by an alpine lake?
There is a season for every kind of adventure elopement in Colorado. And even more for the laid back adventurers who enjoy moments in beautiful, unique places together. Mountain activities and accommodations change in the different seasons. For instance, some places are mostly inaccessible during the winter in Colorado. But this leaves us with awesome activities like snowmobiling, snow shoeing, dog sledding, and snowboarding for your winter elopement. This Colorado Elopement Guide and my Adventure Personality Questionnaire will help you figure out what kind of Colorado elopement would be best for you.
Summer Elopements in Colorado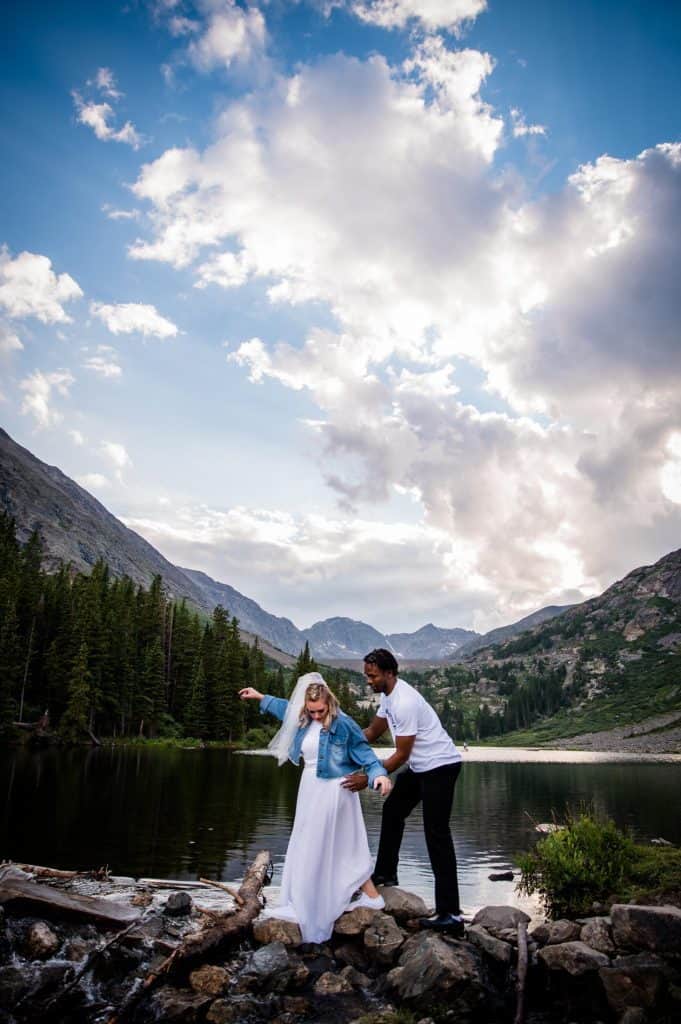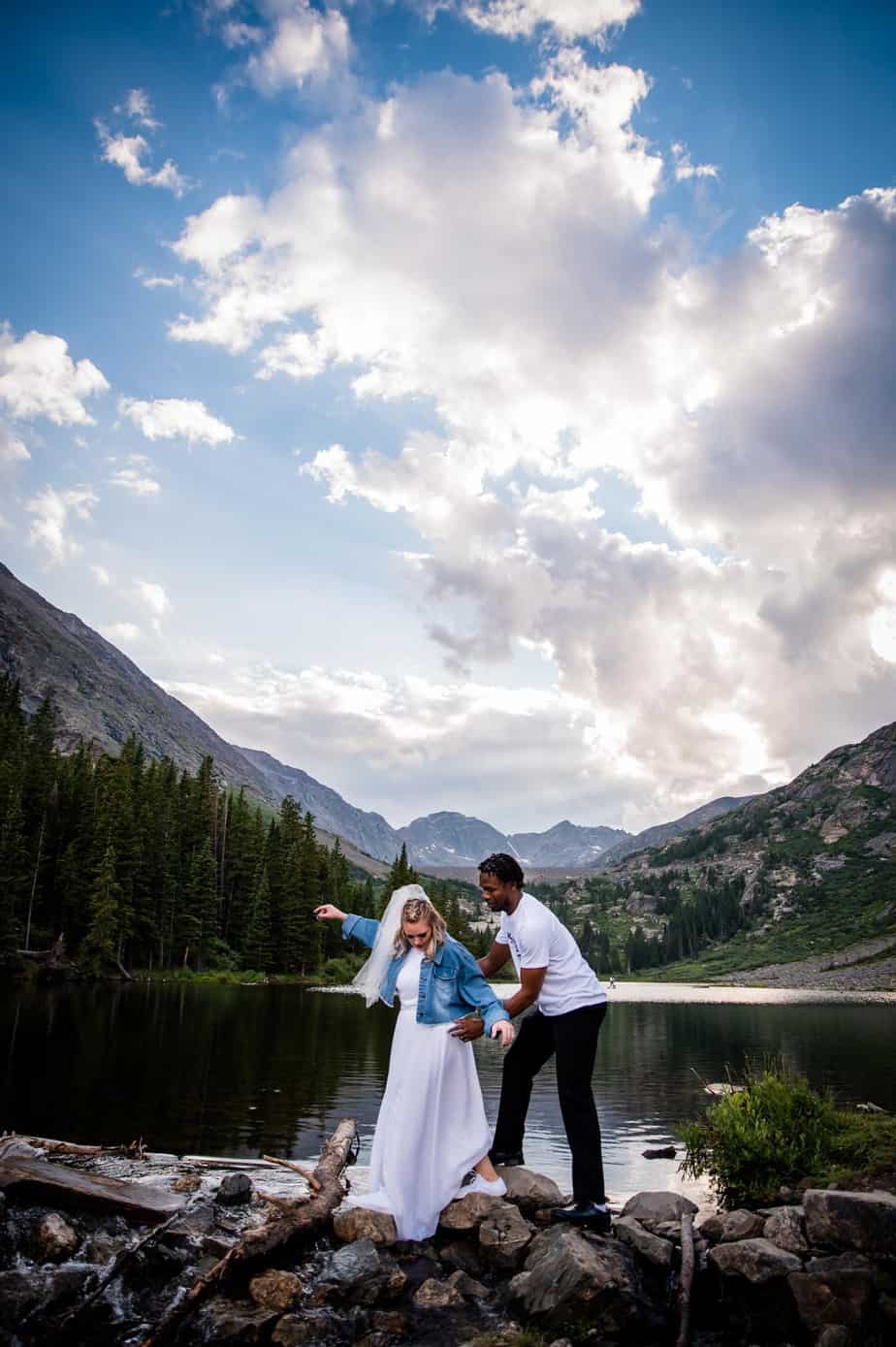 Colorado summers can be just as frustrating as our crazy weather winters. But for a lot of people the perks of a summer elopement outweigh the few things that can happen. Colorado's alpine wildflowers are a site to see. You're sure to see them on most of our backcountry trails and roads between the months of May (depending on snow) and September (depending on snow). Summer elopements mean you can 4×4 to the top of mountain passes and to some of the most remote locations in the world. The summer in Colorado is perfect for hiking elopements and backpacking. If you're a water lover than summer time is best. The alpine lakes will be thawing and the rivers will be flowing.
A few things to be mindful of in the summer is one; our afternoon thunderstorms in the mountains. The consensus is to the peak and turning around by noon. Because anytime after that it's likely for thunderstorms and lightning, and you do not want to be caught in lightning above tree line.
Spring Elopements in Colorado
Spring in Colorado can mean a lot of things. From huge snow storms to hot days it can go either way or even both one right after the next. While the mountain ski resorts are still open and you can go to the lake in Denver. Some hiking trails are still inaccessible from snow as most don't open until May. You can just as easily get blizzard conditions in the mountains all spring long, even into June and July depending on the weather pattern. But spring is beautiful in Colorado and usually when most Coloradans who don't enjoy the snow start to come out to play.
The drastic weather changes is something you have to be prepared for in Colorado. But the Spring tends to bring the biggest temperature differences from day to night, and day to day. So if you're planning a spring elopement it's best to have a couple different plans for different weather scenarios. But this is good to do for every season in Colorado. They don't call our weather "bipolar" for nothing.
Fall Elopements in Colorado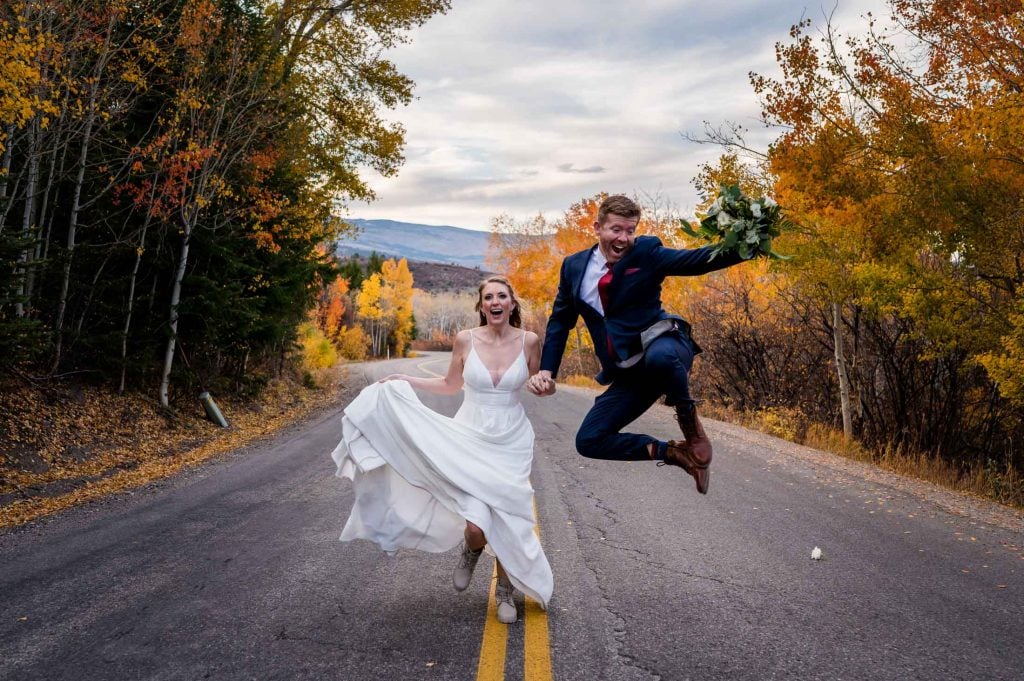 Fall time in Colorado can easily be the most beautiful time of year, as well as the most busy time of year. It's definitely a peak season for mountain travelers as our weather is still nice enough to enjoy location at altitude but it's not as hot as summer and the colors that COLORado are famous for are on full display.
Winter Elopements in Colorado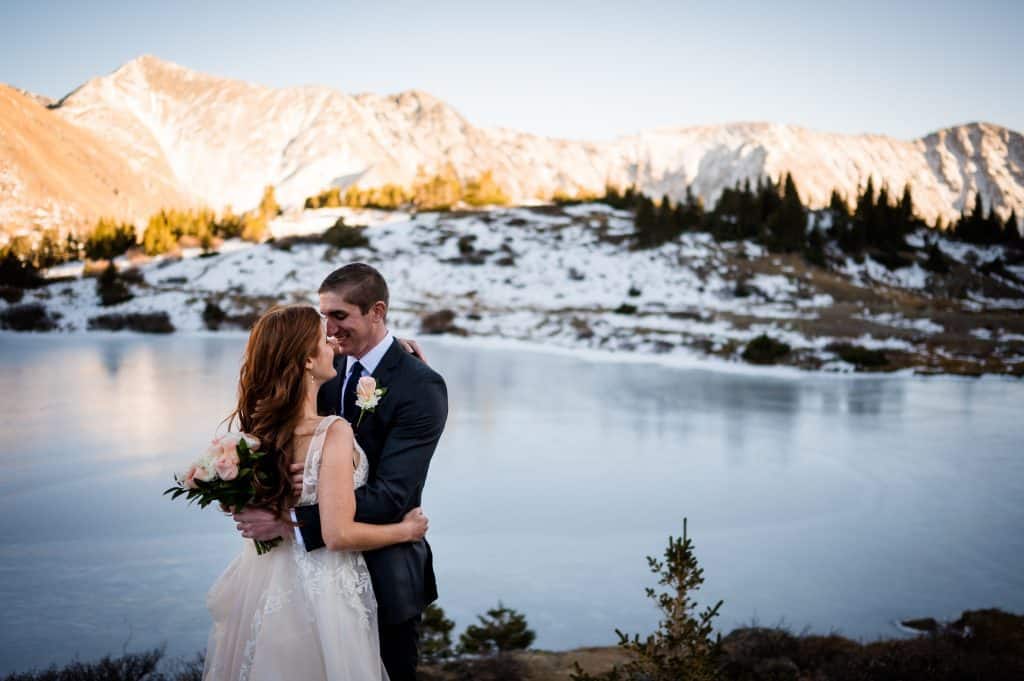 Colorado is world renowned for it's winter activities. The snowy covered Rocky Mountains are the dreamiest of backgrounds for elopements. And there are dozens of epic ways to adventure for your elopement day if you're a winter lover.
Things to Consider When Dreaming of a Winter Elopement in Colorado's Rocky Mountains
Colorado is a different beast in the winter. And being prepared is always the difference between having an epic time or a crappy one. Taking these into consideration when planning and prepping for your elopement day will help a ton!
Winter Vehicle/Tires
A vehicle with appropriate winter tires and traction is recommended. It is a requirement on our main mountain highway, i70.
Winter Mountain Traffic
Being prepared for winter mountain traffic is a must- full tank of gas, appropriate winter clothing + extra layers, water, snacks, blankets. etc
Layers, layers, layers
The first thing you learn in Colorado is don't go anywhere without layers. Layers under your wedding dress for your mountain elopement is a must. This rule applies to any mountain wedding or elopement during any season, too! Preparing these layers ahead of time and trying them on during your dress fitting will help you make sure you're comfortable. This is especially important if you're going to be hiking or snowboarding.
If you're planning a winter wonderland elopement and need to rent some winter snow gear Mountain Threads in Golden, CO is one I recommend.
Proper winter foot attire
Winter snow boots will be a must. Something at least up over your ankle but something taller could be useful on those extra snowy days. Snowshoes and/or microspikes are likely to be needed to do any type of alpine hiking.
Mountain lodging
I highly recommend renting a cabin or lodging to all my mountain elopements. In the winter time this recommendation becomes almost a must as you have more elements to plan for and driving down the mountain in a blizzard at night after your epic elopement will just ruin it all. There are so many amazing options for lodging in the mountains, including airbnbs where you can have an intimate ceremony at if you wanted.
Additional Winter Costs
The possibility of snow storms and road closures means additional travel expenses for your vendor team as well. In the winter I travel up a day or two early to make sure I get there. No storm is going to keep me from getting to your snowy winter elopement!
In the winter to get most places with those epic mountain views in the winter you either have to take a gondola, ski lift, snowmobile or snowshoes. And your vehicle's tires have to be prepared for the snow. These are all additional factors that you don't have to deal with in the warmer months.
If you're thinking about doing a helicopter elopement in Colorado then Telluride is the place to go. Check out Helitrax for private mountain tours! Colorado doesn't offer much in way of helicopter mountain landings due to restrictions but Helitrax is one company that has permits for the San Juan mountains.
Reasons to Consider a Weekday Elopement
BETTER CHANCE OF LESS CROWDS: Colorado is a really popular outdoor recreation destination. Plus a ton of us locals love getting out on the weekends, too. Weekdays hold a bit more solitude at some of the local spots that are easier to get to. The crowds on hiking trails will vary from trail to trail. Trails that are closer to Denver, shorter, or easier to get to can all be more crowded at any given time. Colorado's weekend mountain traffic can be atrocious and something that always needs to be accounted for.
MORE AVAILABLE DATES: Weekends are often booked up more quickly for wedding vendors. Some overlooks and venues that are perfect for elopement ceremonies require reservations. You'll find more open dates if you're flexible with a weekday.
DISCOUNTS: Some venues, vendors and lodging will charge less for a weekday rather than a weekend. I give a discount for weekday elopements with no planning assistance needed and booked within 6 weeks of the date. Everyone is different but a lot of vendors will offer something similar!
Why Colorado for your elopement?
Why should you elope in Colorado?
With a never-ending list of unique and epic spots to elope, Colorado attracts adventure enthusiasts who love being in the mountains. Colorado is a paradise for the laid back adventurer, all the way to the adrenaline loving ones. It's the perfect place to elope if you want those epic views and the experience of a lifetime. Epic experiences make our best memories so why not do that on your elopement day?
Epic experiences that make memories of a lifetime.
Colorado has a list of year round activities that is longer than I am. Any kind of elopement with any type of budget is made epic in Colorado's mountains. Some of most epic elopement experiences in Colorado are things like helicopter drop offs at the top of a mountain, 4x4ing under rocky cliffs on a pass road at 10,000ft, hiking to an alpine lake to say your vows amongst the wildflowers and then sleep under the stars. You can a little adventure to your Colorado elopement or go all out. Both are easy to do and I promise you it'll be a day you dream about forever.
For more Colorado adventure ideas for your elopement click here.
Unique places to stay after your elopement.
Colorado is filled with cool places to stay during your elopement in the mountains. From a room at the Juniper Mountain House in Evergreen to a cabin like the Triangle Cabin in Jefferson to glamping at Piney River Ranch in Vail or a private hot spring cabin at Dutton Hot Springs. Colorado literally has a cool place to stay in every budget. You can backpack and camp in some of the most wild places in the world right here in the Colorado Rocky Mountains. Here is a list with links to some of the coolest places to stay in Colorado!
You can marry yourselves in Colorado with no witnesses.
Colorado is the only state where you don't need an officiant or witnesses to get married. There are a few other states that allow self solemnizing but they are more strict than Colorado. To learn how to get a marriage license go to the Denver Office of the Clerk and Recorder.
In Colorado your dog can sign your marriage license.
If you're anything like me the second you read that last line you squealed a little. When my first couple had their dog paw print sign their marriage license it made my heart explode. Being a pet parent myself I think that is a unique and special thing to be able to do.
Places to Elope in Colorado
There are so many amazing and unique landscapes for your Colorado elopement. In my Colorado Elopement Guide I'll share with you some of the best places to elope and what you might need to get there or have your ceremony there.
There are plenty of easy to get to locations that have drive up top of the mountain views. But for some of the most epic locations in Colorado you must be willing to hike. Hiking elopements take a different kind of logistics but can have just as much glam as a non hiking elopement in Colorado.
Here are some of the best elopement locations in Colorado and a few things to know if you choose to elope there! The list starts with the locations closest to Denver for ease of navigation.
Breckenridge, Colorado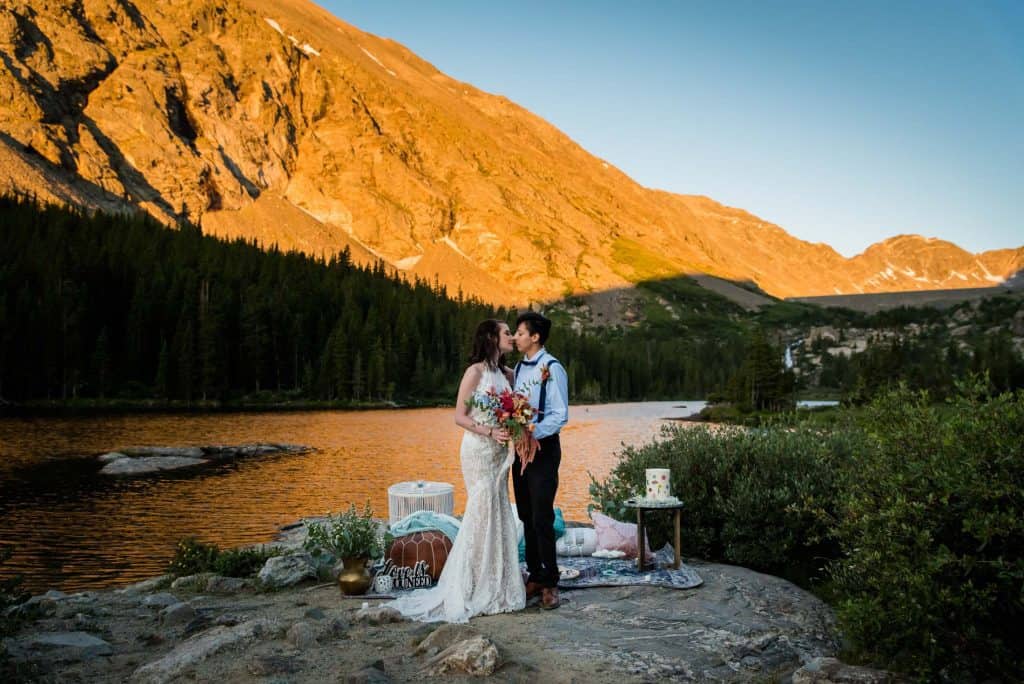 Breckenridge is just two hours from Denver International Airport. It's an adorable little mountain town that is full of alpine lakes, hikes and easy drive up elopement locations. Most people rent airbnbs around Breckenridge and then travel to an elopement site nearby for their ceremony and photos.
Elevation: 9,585 ft
Great camping locations
Permit: Not required in most spots for small elopements with like 10 people or less.
Crested Butte, Colorado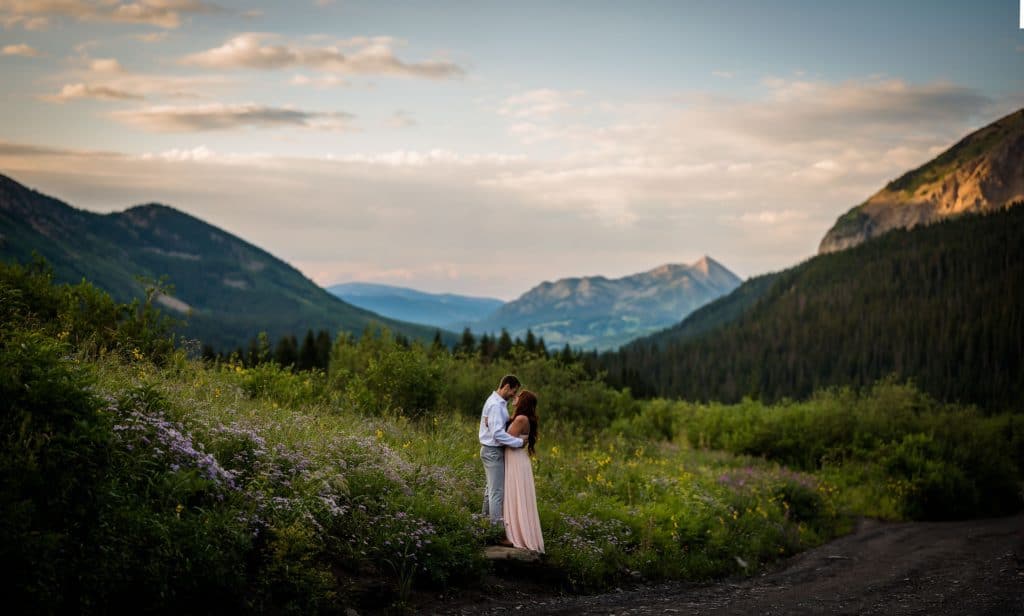 Crested Butte, Colorado is one of the most gorgeous places in the whole state in my humble opinion. It's the wildflower capital of Colorado and has one of the biggest single Aspen ecosystems in the state. The surrounding trails have views of Mt. Crested Butte through groves of giant aspen trees. Plus dozens of alpine lakes to explore. There are many different mountain ceremony locations in Crested Butte. And the permits are relatively easy to get.
Elevation: 8,909 ft
Great dispersed camping near by with tons of great options for hiking and 4x4ing
Permit: check with the local ranger district
Evergreen, Colorado
Evergreen is less than an hour from Denver and offers those special mountain town vibes. It often has herds of elk roaming the front yards. Evergreen is a wonderful spot for the laid back adventurer who doesn't want to travel far into the mountains. There are dozens of great hikes in the area that are perfect for that hiking elopement feel without having to hike for more than an hour. Plus wonderful little government buildings that can be rented on public land.
Elevation: 7,165 ft
Permit: A commercial photography permit from Jefferson County is required for most locations in Evergreen
Loveland Pass on the Continental Divide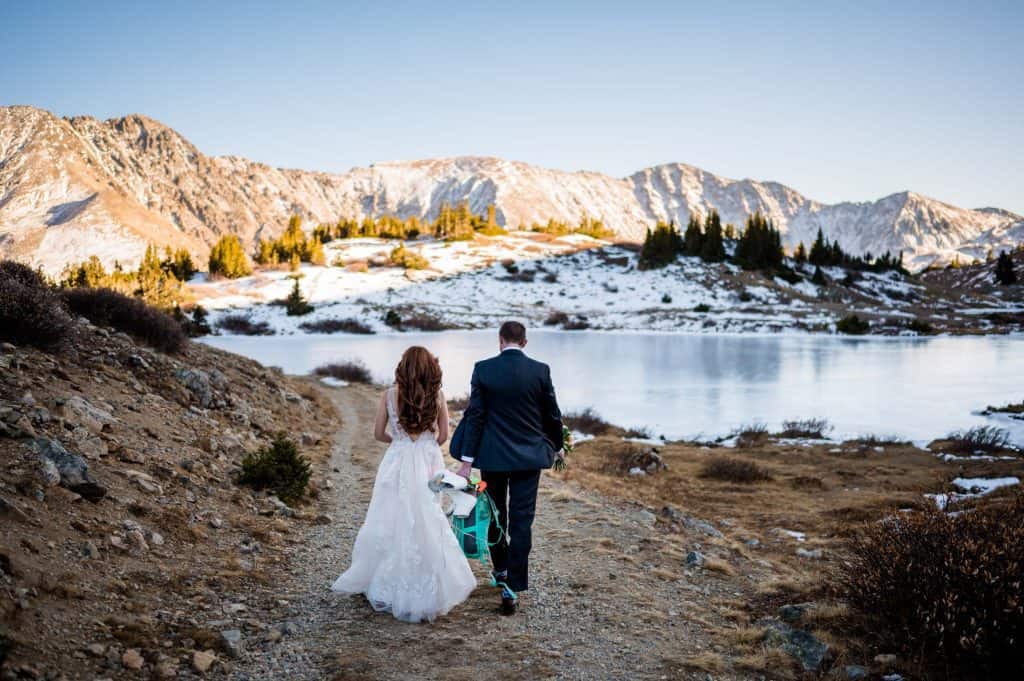 Loveland Pass is one of my favorite spots. It's a paved pass road that goes past 11,000 feet elevation along the continental divide giving those drive up top of the world views. With a little more effort you can hike up and you are literally on top of the world!
Elevation: 11,991 ft
High mountain pass with small parking lots
Easy hiking/short walk required with more difficult trails giving more views
Permit: Not required for small ceremonies or photos
Maroon Bells in Aspen, Colorado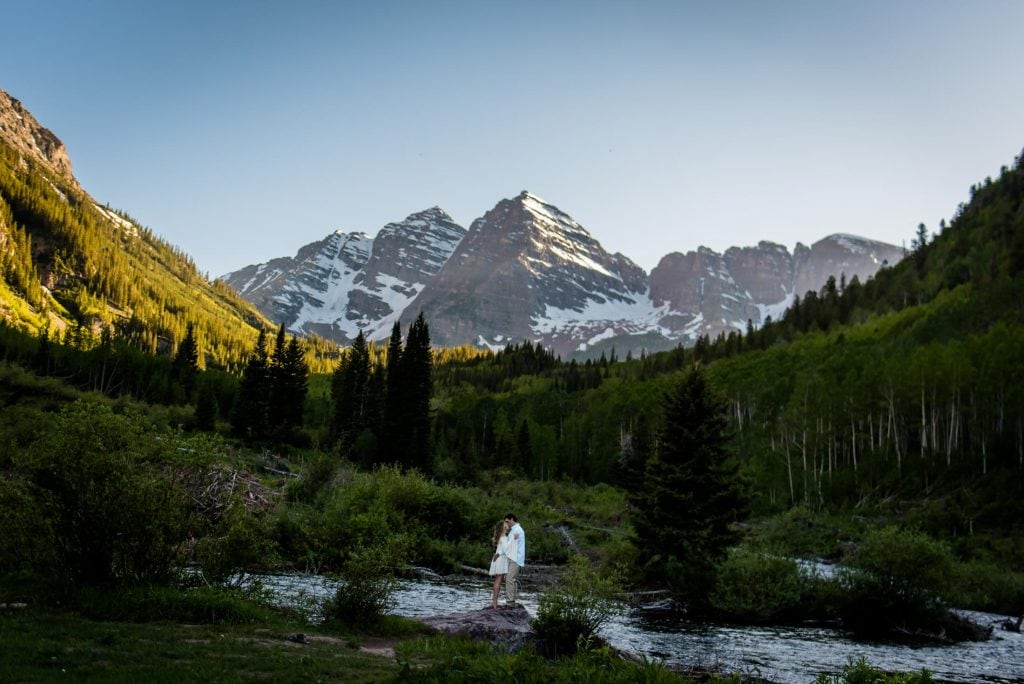 Maroon Bells is one of the most iconic set of peaks in the United States. I'm pretty sure it's one of the most photographed set of mountain in the world. With an easy access ceremony site it has become a popular destination for couples looking to get married. It's in Aspen and close to tons of gorgeous spots no matter what time of year. But the road in during the winter time is closed due to snow so you can either hike in or snowmobile in. I have a few great winter backup elopement locations near Aspen so if you're planning one contact me!
Click here to check the Maroon Bells amphitheater availability
Elevation of Maroon Bells Amphitheater: 9,585 ft
Great Hiking and Backpacking Elopement Location
Permit: Required
Rocky Mountain National Park
Rocky Mountain National Park is a staple of Colorado. With Dream Lake, Trail Ridge Road, and dozens of other places to explore for your elopement. RMNP requires a ceremony permit for a designated location within the park for your ceremony. Then you're allowed to take non ceremony photos around the park. The recent wildfires have greatly affected the park but a lot of the easy to get to beautiful spots like Dream Lake are back open!

Timed entry reservations are required for entry into the park during high season between 9am and 3pm. But if you have a wedding permit to have your ceremony in the park then you have entry. It's the same for a photographer who has their commercial photography permit, you do not need a timed entry to get into the park.
Permits: RMNP has started to limit the number of ceremony permits they release each month to only 60. So the first 60 people to make their reservation is all they allow. Even if the date and time you are requesting is available, they will not book more than 60 wedding ceremonies in the park per month. If you have your heart set on RMNP but you aren't able to get a ceremony permit don't freak out. I know of places nearby you can exchange vows and then go into the park for photos afterwards. You just are not allowed to exchange vows anywhere except their designated sites. For photos only you just need the $50 photo only permit and this I reserve for you. RMNP ceremony permit fee is $300. Click here for more information on Rocky Mountain National Park's wedding ceremony permit and reservation.
They open dates 1 year in advance. So on Jan 1, 2023 all of the dates in the month of January 2024 opened up. If you want a date during the busy season make sure you are book your date at your first chance. Especially if you desire of weekend date during summer and fall. T
Elevation: 7,860-14,259 ft
Photo Permits: required
Timed Entry into Park: required May 26, 2023 – October 22, 2023
Sapphire Point in Summit County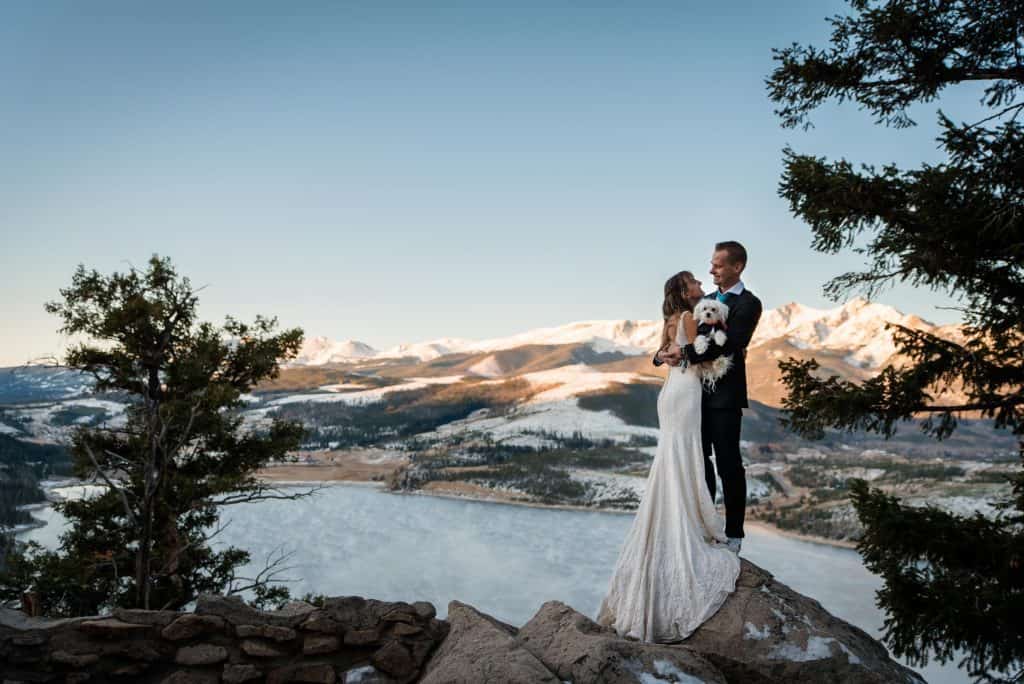 Sapphire Point is a popular overlook in Summit County. It's rented by the Dillon Ranger District. Here is the dedicated website with all the information to rent Sapphire point. It's a popular location that's best used at sunrise. It can fit up to 30 guests including your vendors and couples perfectly with a reception at Dillon Dam Brewery or a privately catered meal at your airbnb.
Elevation: 9,500 ft
Overlook that fits 30 guests
Open to the public, not very private, best at sunrise
Must rent for ceremonies on the overlook
Permit: no permit required just for photos, but not able to ask people to move without renting overlook
Telluride, Colorado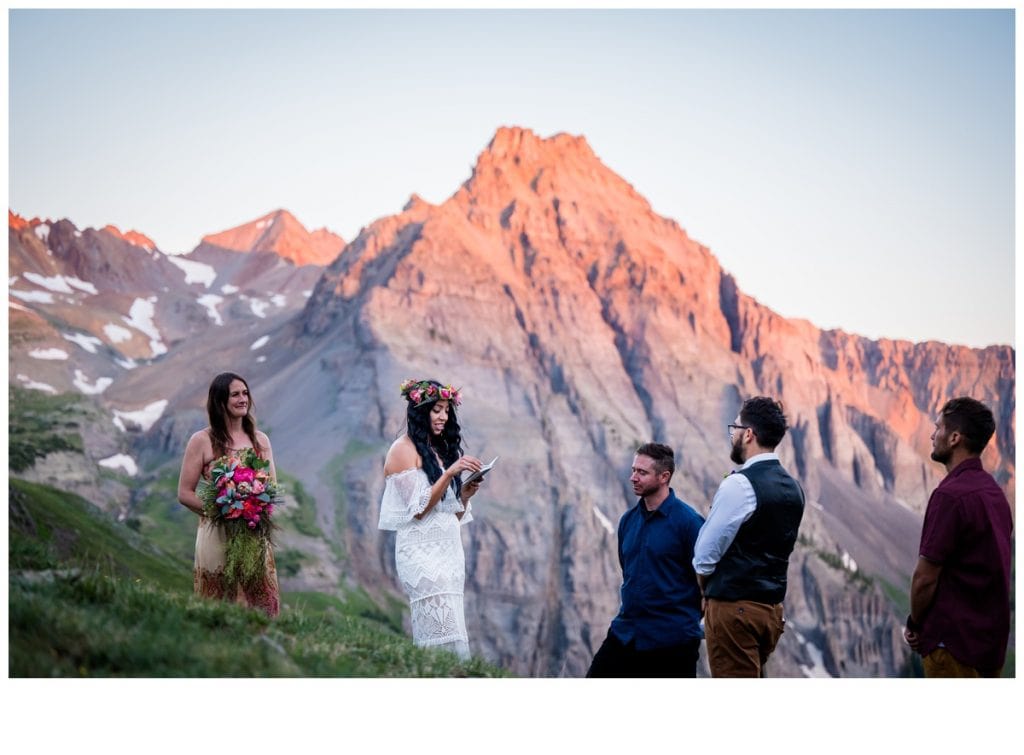 Telluride is an adventurous mountain town tucked in the southwest corner of the state. With world class mountain activities year round and accomodations it's the perfect location for an epic adventure elopement. And with epic hikes, water falls, mountain 4×4 roads, and world class skiing it's got it all. Here's a list of wedding venues in Telluride that are good for guests.
Elevation: 8,750 ft
Permit:
Ouray, the Switzerland of America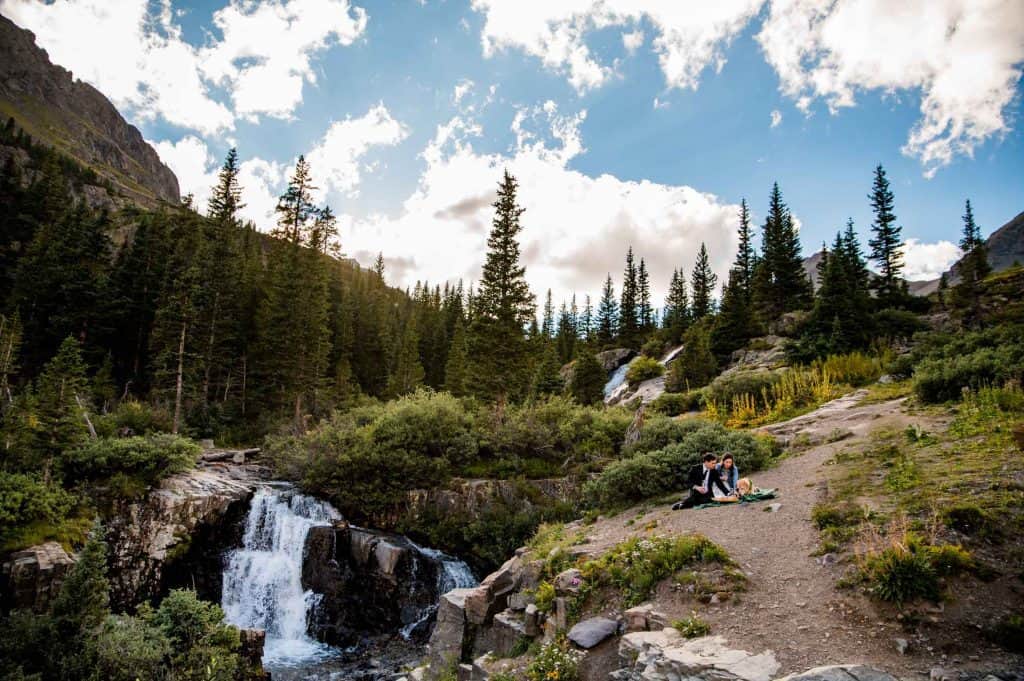 Ouray, Colorado is known the "Switzerland of America". It's a small town nestled between huge peaks and mountain ranges on all sides. There are endless 4×4 roads and places to hike with the most unreal scenery. Ouray is the perfect place for a 4×4 elopement with a mountain top picnic. Or you can hike to one of the many nearby lakes for your elopement before heading down into Ouray to check in to your hot springs hotel.
Elevation: 9,500 ft
Permit: no permit
Indian Peaks Wilderness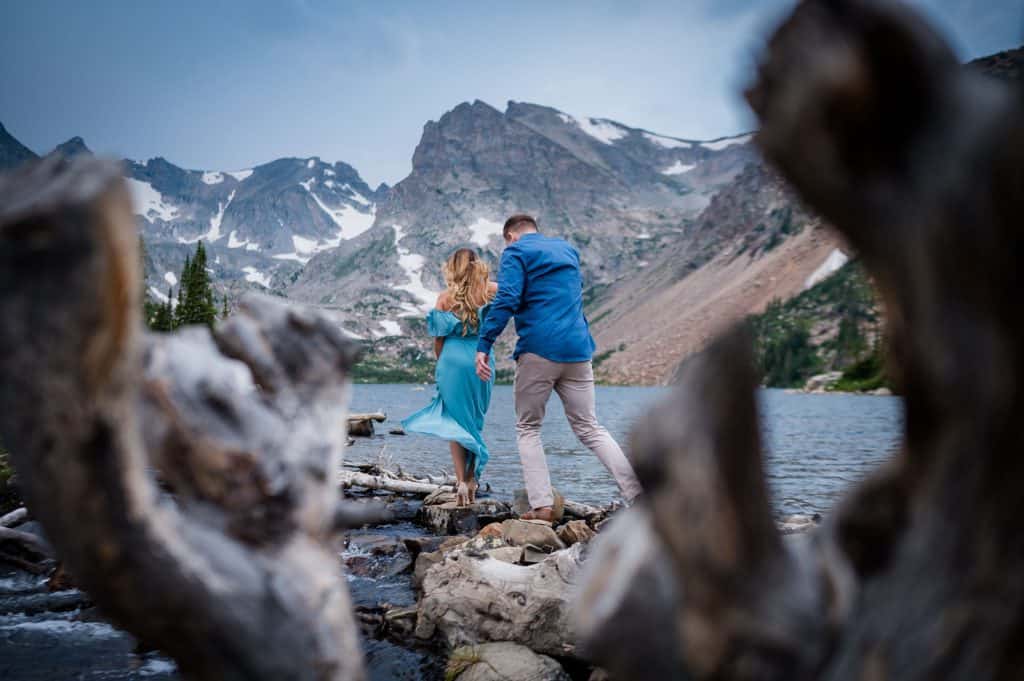 Indian Peaks Wilderness is known for its alpine lakes nestled underneath jagged, rocky peaks. It's got plenty of easy options for ceremonies with family and guests. With hikes ranging from easier too hard, you can get further away from the crowds with amazing high country views but without working too hard.
Elevation: 10,500 ft
Permit: no permit required but timed entry reservation into Brainard Lake Recreation is required during peak seasons
Steamboat Springs, Colorado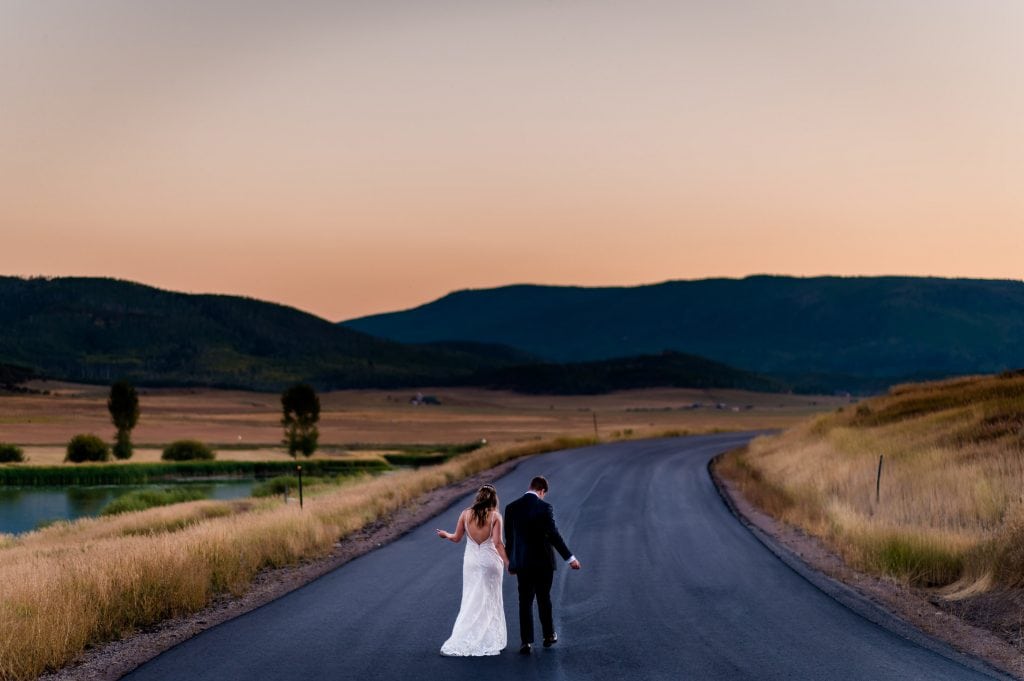 Steamboat Springs is a favorite little mountain town amongst the many. With a gondola, tons of surrounding hikes and lakes, and a super cool hot springs it's a great place for an elopement. In the summer time you can tube the yampa, hike Hahns Peak, or paddle board Pearl Lake.
Elevation: 6,732 ft
Permit:
Vail, Colorado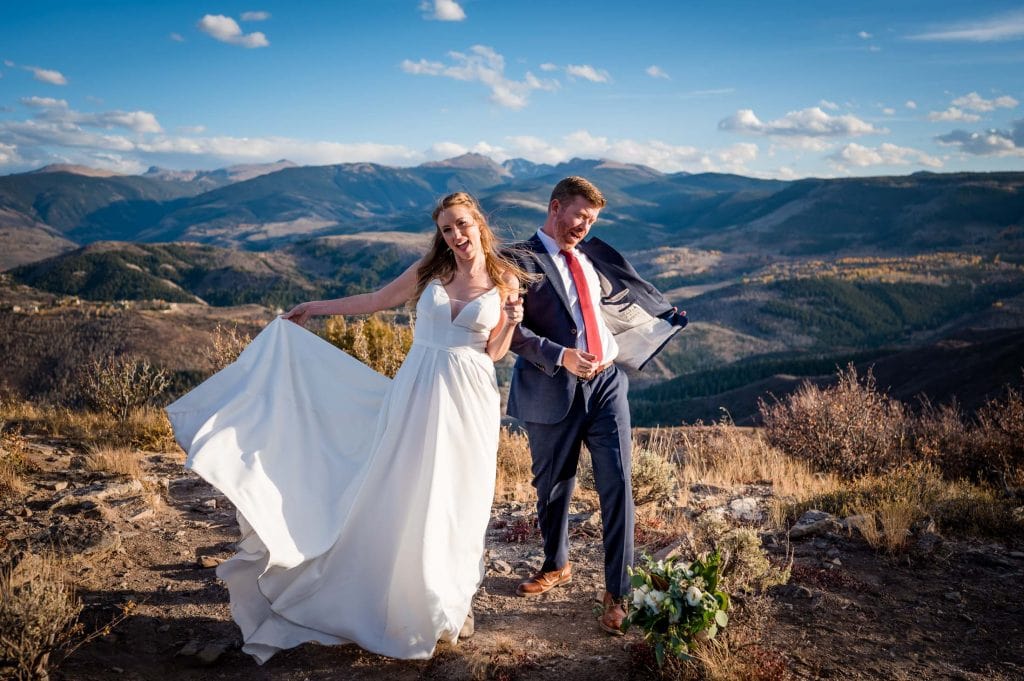 Vail, Colorado and the surrounding areas in Eagle County have a little something for everyone. A luxury town and rugged mountains come together in Vail.
Vail has multiple elopement ceremony locations like the Vail wedding island, Holy Cross Event Deck, Piney River Ranch, plus some of the most gorgeous moderate to hard hikes in the Gore range.
Elevation: 8,120 ft
Gondola: Available almost year round
Permits: depends on location
What should you plan to invest for your Colorado elopement?
How much does it cost to elope in Colorado?
Here are some of the costs to think about for the full Colorado elopement experience for 2. If you want to have guests at your elopement then costs will vary from what's listed below. Your elopement budget can be as minimal or as large as you'd allow it to be. Technically, to get married in the state of Colorado all you need is a marriage license. Everything else is optional and this gives you room to put money towards what will make you happy and express yourselves at your elopement.
| | |
| --- | --- |
| Lodging | $250-600/night |
| Transportation | $25-100/day |
| Dress, Attire & Accessories | $1000-$5000+ |
| Small cake or desert | $75 |
| Private Chef Dinner for 2 | $200 |
| Decor and Florals | $100-$500 |
| Elopement Photography | $2500-$8000+ |
| Marriage License | $30 |
| Location Permit | $50- $300 |
| | |
Adventurous Elopement Activities
If you're here then it's likely you're the mountain and adventure loving humans who want to get married in a magical place like the ones you've experienced on your past adventures. You're probably looking at Colorado like a snack as your elopement location. The Colorado Rocky Mountains have so many different type of locations for eloping. With all the mountains towns you have a choice of luxury accomodations in most of them.
You can turn your favorite Colorado adventure into an elopement of a lifetime. That's a lot of the reason why couples choose Colorado for their elopements and adventurous weddings!
Want to add some epic adventure to your Colorado elopement?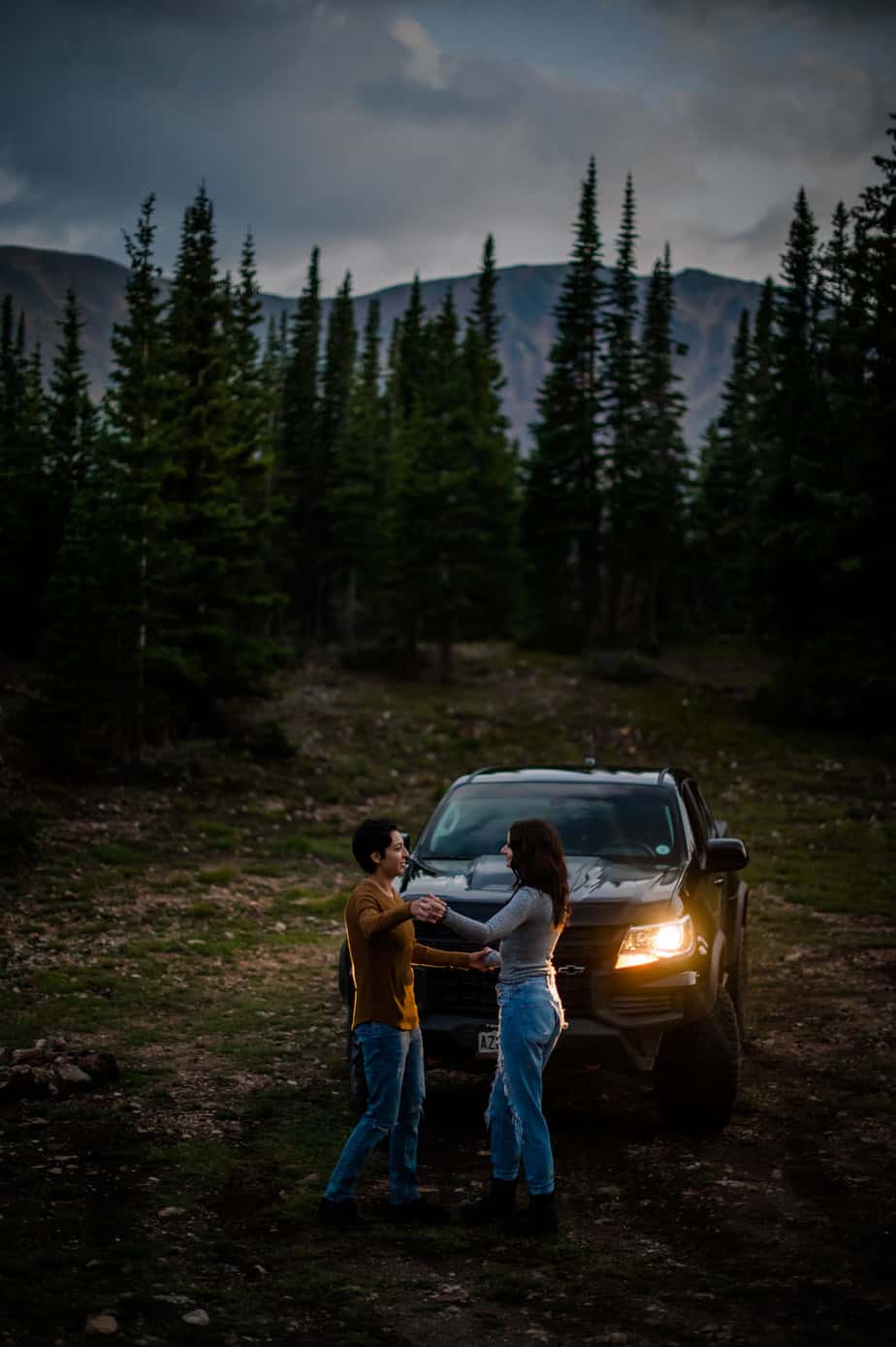 Check out some of these cool ways to have a unique experience on your elopement day!
4×4 rental vehicle: With many of Colorado's most epic summer elopement locations needing a 4×4 lifted vehicle I thought I'd just let you know that they rent for around $100/day.
Snowmobile rental: $600-$1000 depending on where and tour guide. In Leadville you can snowmobile and do a winter zipline at White Mountain Snowmobile Tours
Hot air balloon elopement: private hot air balloon rides average $1200 for the couple. Check out Hot Air Balloon Rides Colorado for more info.
Helicopter Mountain top Elopement Adventure: you can do a helicopter elopement in Telluride for around $3500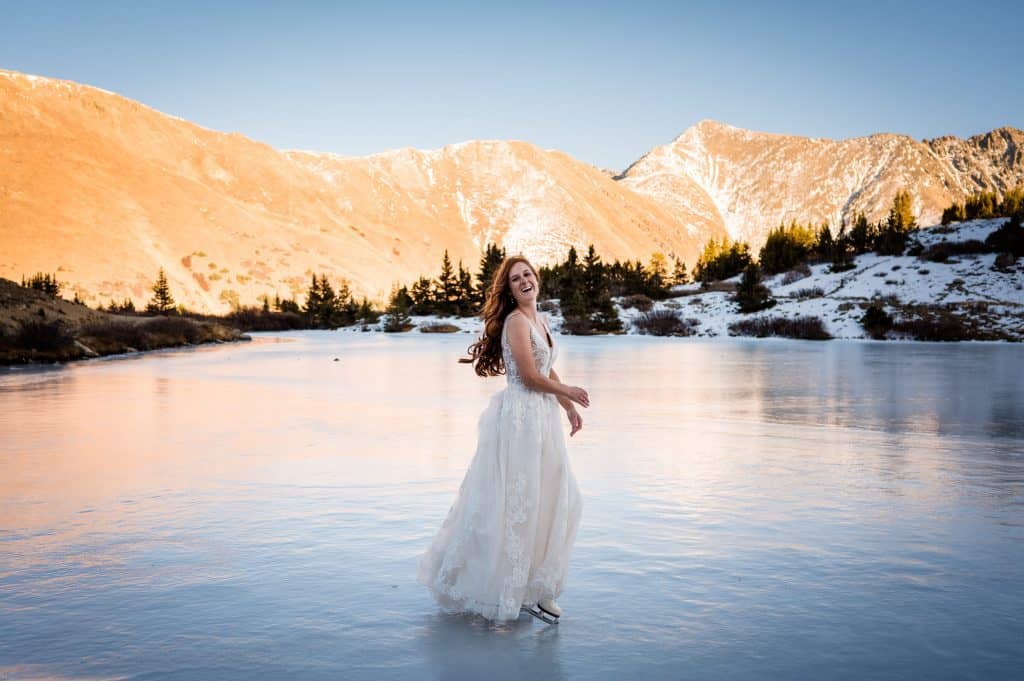 Hot Springs: visit a hot springs lodge or hike to a primitive hot spring. Check out my list of unique places to stay below for the best hot springs for elopements!

Ice Skate an Alpine Lake: if you're a skating couple, then let's hit up a frozen alpine lake so you can lace em up and take a spin on that raw ice. Not all alpine lakes freeze smoothly so you definitely want a photographer who knows which ones do. 😉
Need Adventure Elopement Timeline Ideas?
Mountain Venues in Colorado for Micro-Weddings
Colorado is home to some of the most amazing mountain wedding venues in the world. As the need for larger venue space is replaced with a new generation of smaller, more intimate, weddings and elopements these mountain venues are pivoting with demand. Here are some of my favorite mountain venues that offer micro-wedding and elopement packages.
Click here to see a list of wedding venues in Colorado that offer elopement packages by Here Comes the Guide.
Best Wedding Dresses for a Mountain Elopement
Elopements are very different from your traditional wedding. You want to be able to easily move and comfortably hike in your dress. Think free-flowing and lighter materials, not super tight around your legs.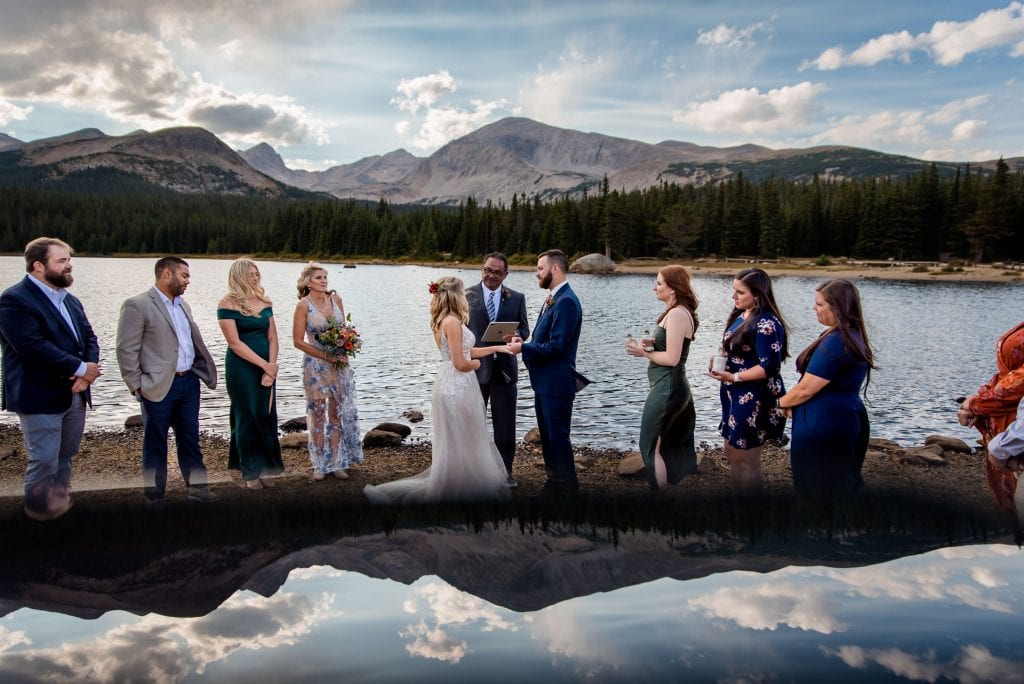 You wear what best represents your style and personality on your elopement day.
Remember, just because you are eloping doesn't mean you can't wear that fit and flare or tight around the legs wedding dress. You get to wear what you want! The great thing about laid back elopement days is there is enough time in the day for you to change 5 times if you want. Wear your hiking gear on the way up, then change at the top and have your first look and ceremony, then adventure a little for photos, and then you can even change before you head back down if you want.
The best places to buy your elopement dress online and on a budget.
Amazon.com
Colorado Elopement Vendors
Colorado Elopement and Wedding Planners
Knotted Events Jes is an awesome planner who can help with anything mountain elopement planning!
Roz Events Miranda is awesome with an amazing attention to detail and an eye for design.
Colorado Elopement Florists
Colorado Elopement and Wedding Hair and Make Up Artists
Unique Places to Stay for your Colorado Elopement
Crested Butte 5 star Mountain Home
Cool Yurt Near Creed, Colorado
Luxury Tent in Pagosa Springs, Colorado
Here is a list of more of Colorado's coolest places to stay!
Want to see some of my past Colorado elopements?
Check out what my eloping couples have done in the past!
Are you ready to start planning your Colorado elopement?
Colorado Elopement Guide
Are you looking for your Colorado Adventure Elopement or Mountain Wedding Photographer? Contact me to set up your free consultation!
Colorado Adventure Elopement Photographer based in the Rocky Mountain Region
Telluride | Silverton | Wolf Creek | Ouray | Durango | Silverthorne | Breckenridge | Steamboat Springs | Vail | Aspen | Keystone | Rocky Mountain National Park | Sand Dunes National Park | Black Canyon of the Gunnison