Adventure Session Style Guide | Colorado Adventure Photographer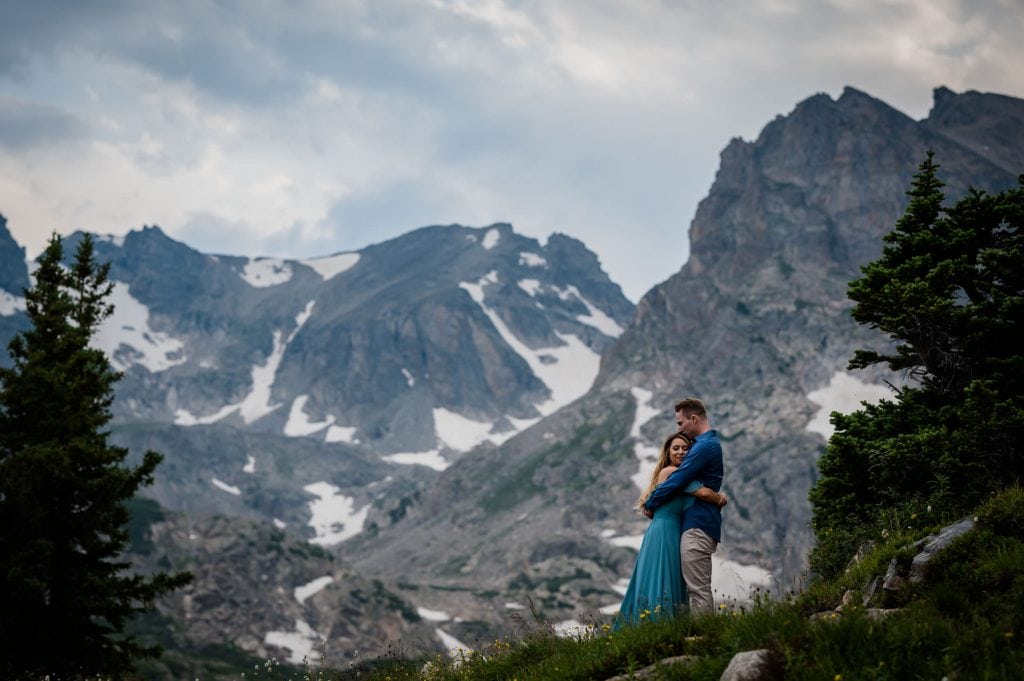 How to look cute and be comfortable for your adventure session!
So you've booked your session with an adventure lifestyle photographer. Now what? This Adventure Session Style Guide is here to help! You might already know what kind of adventure you're up for. Or you might still be deciding what sorts of exciting thing(s) you want to explore doing for your session. The reason I bring this up is because the adventure(s) you choose will directly affect how you dress and style yourself. The location, weather, activities, and who you might be doing them with will all determine your clothing style. But even more important than how you look is how you feel.
It's more about what you shouldn't wear when in comes to visual style | Adventure Session Style Guide
Most clothes look just fine in photos. As long as the person wearing them is comfortable the photos usually turn out great. But there are a few things that YOU SHOULD NOT WEAR WHILE BEING PHOTOGRAPHED. And those are…
small prints
Small prints on clothes can be tricky buggers for cameras. Sometimes it's just too busy for the viewers' eye and distracts from the moments being documented. But for the most part, it just tricks the camera into thinking it's one bigger print. For instance, take this shirt with small geometrical shapes for example. When the camera is far from the shirt it distorts it and gets this weird look. If the photographer crops or comes close the camera can see and display the pattern properly. But from certain distances, it can really look wonky. And there is no editing to fix this. It's just the way cameras work with these small geometrical patterns.
the most important part of styling for any Adventure session is comfort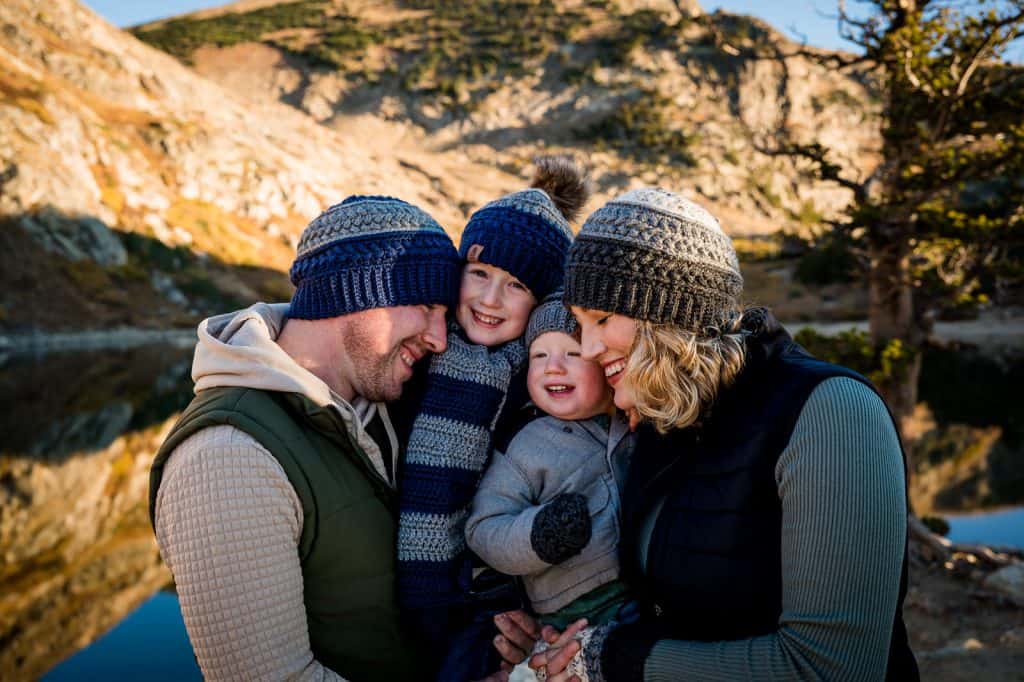 You know the sessions you see and you're like "omg they are having so much fun. Look at their personalities shining through. Look how happy they all are. They are going to cherish these moments forever. It's so cool they had this time documented." As an adventure lifestyle photographer, those are the remarks I strive for when people view my work. I want you to feel the emotion like you are meeting people in real life just from how much their personality is shining through in the photos. And to feel like you're right there in the moment, having fun with us. After all my years of being a photographer; documenting couples, families, weddings, corporate events, elopements, sports & adventures, and even my own family. I've learned that comfort is key. And not just your comfort, but mine, too. I can't create when my comfort levels are low. I can't direct and have fun. Sometimes it feels like my brain just turns off when I'm uncomfortable.

Comfort is at the core of every amazing session. But I'm not just talking about how comfy your clothes are. Even though that is just as important as how good your outfit makes you feel about yourself. Comfort starts in the core of our bodies and minds. We can be uncomfortable if we don't get enough sleep, don't eat well, aren't hydrated enough, are too cold or too hot, or are just not enjoying the experience. Just like we can be uncomfortable if our clothes don't fit or we don't feel good about ourselves in what we're wearing.

I began to foster a comfortable environment during our initial call; when we started to get to know each other more. After that, I think about how to keep comfort all through the research and planning. A huge part of every adventure is planning ahead. I've learned the hard way just how not feeling good (being uncomfortable) can affect every part of an adventure. You can literally do the hardest adventures if you plan and are properly prepared for them.
ways to plan ahead & style for everyone's comfort
You cannot plan for what you don't know. So the first thing is to do your research. Where are you going? How will you get there?/ What do you need to get there? What will the weather be like on the way there? What will the weather be like when you get there? What are the trail conditions (if you're hiking at all)? Who is going with you? Where is the nearest bathroom? How can you travel with food like snacks and water? All of these questions need to be answered as you're coming up with your plan. If you're a parent you might be thinking, piece of cake. But if you're not, or you don't adventure often, or if you just have a different way of moving through the world, these questions might not cross your mind at all. I've met a lot of people who don't think at all about these things. Or they might not think about them all. So my best advice as a seasoned adventurer who knows how to remain comfortable in most situations.
be prepared for it all – know before you go
Answering all the questions above while doing your due diligent research and coming up with a plan is how you best prepare. In places like Colorado, the weather can turn in a second. It can drastically change from what was forecasted – the mountains can literally create their own weather. If you are driving from a lower elevation to a higher elevation it can be completely different seasons of weather, let alone different temperatures. Knowing all the points can help you better prepare. Depending on the adventure, you might not need to carry all the things you brought in a pack on your actual adventure. But having them in the car or nearby can really save the day – or the adventure!

You would rather have and not need than need and not have. It can feel like overkill. But when it comes to preparing – especially for wild weather or with children who cannot control how they act when they get uncomfortable – it really can make or break a good time.
eat and drink enough (water) – bring extra food & water with you
I don't know about you but I get hangry. My brain can start to shut down. And well, being dehydrated is literally the worst. Especially at the higher elevations in Colorado where a lot of these adventures take place. If you aren't properly nutritioned and watered in Colorado you can find yourself feeling really icky. And maybe even end up in the hospital for altitude sickness. Eating good and drinking water in the days leading up to your adventure is always an extra – but really smart – part of the plan.

Bringing snacks and water with you on your adventure is definitely recommended. I usually carry a pack with extra snacks, hand warmers, sunscreen, first aid kit, etc with me but I also don't shy couples or families away from bringing a pack with them. You don't have to keep the pack on during our whole time together. But I think it's better to bring it than to leave it in the car and have to go back to get it. Especially if we are a little walk or hike from the car.
have the proper clothing and gear – bring them with you
Okay, am I finally going to get to the actual style part of this styling guide? Well, maybe. Haha You see the proper clothing is less about style – though you can still be very stylish – and more about comfort. There's that "comfort" word again. Because what is even more important than how cute your outfit it is how…. comfortable you are. hahaha, I always suggest making sure base layers can fit under your outfits. Or that you have a cute top layer to put on if it gets chilly. Or that you can shed layers without getting naked if it gets really warm.

If you've been in Colorado awhile, or you've done any research into travel and adventures in Colorado. Then by now, you've probably heard it "Bring layers!". That weather I talked about earlier, well the only way to stay comfortable in bi-polar weather is to be able to strip or put on clothes at any given moment. The sun comes out and it's summer. The sun goes behind a cloud and there is a little wind and BOOM, it's winter. Never mind the chance for snow at ANY time of year in the high country. This is where that "be prepared for it all" really comes into play.

If you need to pick up gear here are a few of my favorite gear shops that are local to Colorado.
Feral – in Denver and Idaho Springs
REI – Flagship store in Denver with locations all along i70 and i25
Sierra Trading Post – Several along the Front Range and one in Summit County
have a backup plan for what to do in case someone is no longer comfy
This tip is more for if someone gets too cold. Like, say you plan a winter session or you plan a summer session just at a higher elevation. I always suggest an indoor location as a secondary spot to go. So say you want a winter wonderland session with the littles. I would suggest we do it near a little mountain town so that we can head for some cocoa or a fire to warm up if needed. Movement also helps with staying warm and keeping the brain active in colder environments. So we will literally always be on the move.
Hey I'm Nat, a Colorado adventure photographer who helps couples & families plan & document their epic celebrations of love all across the Rocky Mountains and beyond.
This Adventure Session Style Guide was written by Nat Moore Photography. An avid adventurer and professional adventure lifestyle photographer who helps couples and families plan and document their adventures in Colorado and around the world.

Colorado Adventure Lifestyle Photographer Serving Colorado's Rocky Mountains and Beyond | Breckenridge, Vail, Steamboat Springs, Aspen, Twin Lakes, Buena Vista, Crested Butte, Telluride, Ouray, Silverton, Estes Park, and beyond.
Adventure Session Style Guide | Colorado Adventure Lifestyle Photographer