Colorado is known for its mountains. There is over 5,683 miles of hiking trails in Colorado, making it a hot spot for visitors from near and far to bask in the beauty of the backcountry. With Denver sitting at a mile high in elevation (5,280 feet above sea level) most of Colorado's mountain trails are well above that. Preparing your body, having the right kind of gear and packing the proper supplies will make all the difference in your first experience of hiking. This Beginner's Guide to hiking and the outdoor in Colorado will help you get out on the trail with confidence!
Beginner's Guide to Hiking in Colorado
Here is what you need to know to get you started hiking in Colorado's beautiful mountains! From the proper gear to take with you to training tips to get your body in shape. I'll share some things I've learned over the years that make for a better experience on the trails.
Before you start heading out on your adventures make sure you know the 7 basic principles of traveling in the outdoors.
PLAN AND PREPARE AHEAD
TRAVEL AND CAMP ON DURABLE SURFACES
DISPOSE OF WASTE PROPERLY
LEAVE WHAT YOU FIND
MINIMIZE CAMPFIRE IMPACTS
RESPECT WILDLIFE
BE CONSIDERATE OF OTHER VISITORS

Pack The Essentials For Your Adventures
Packing the right items be make the difference between a happy hike or a hurting hike. It can even be the difference between life and death. So it's essential to get it the right supplies into your hiking pack. These ten essentials is the basic list of gear you'll want to pack every time you heat out.

These essentials aren't just for your hiking adventures but rather any adventures that will lead you into a mountainous or foreign terrain. If you're doing any kind of off-roading in remote areas you'll not only want these 10 essential things but also additional items should you get stuck and need to get yourself out or at least a helpful part of the recovery effort.

I'll drop my specific gear recommendations with links in the next section!
The Ten Essentials
Navigation– For planning your route before heading out and for on the trail to help you find your way again. I download trail maps on Alltrails pro so that I can track my location, miles and elevation gain. Learn as much about your trail before hand by researching past traveler's beta, in both the Alltrails reviews as well as places like 14ers.com.

Sun Protection- Sunglasses, sunscreen, hat, and the proper clothes can all save you from the sun's harmful UV rays. Remember that the sun is more intense at higher elevations and while traveling on reflective surfaces like snow.

Insulation- Nature is wild. Colorado's weather is often called bi-polar even. So bringing the right layers along on your adventures is important. Always pack an extra layer for the most extreme weather conditions. Your list will include thermal underwear, jacket, rain shell, gloves and a hat.

Illumination- When you're in the wilderness where no other conventional light can be found, having light is indispensable. Having either a headlamp, flashlight or lantern is important.

First Aid Supplies- Be prepared for emergencies with a first aid kit. You can start with a standard kit and add to it for each specific trip, making sure nothing has expired. Having a guide for wilderness medical emergencies is also smart.

Fire- Fire can be a smoke signal and a heat source for cooking and staying warm . Bring waterproof matches, a lighter and fire starter with you on your trips. Make sure to update yourself on the fire rules in the areas you'll be traveling.

Repair Kit and Tools- If anything happens to your gear you'll want what you need to repair it out there. So bring duct tape and a multi-purpose tool on all your trips. Each trip can require its own additional tools. That is up to you to research and figure out what is needed for the trip you're taking.

Food & Nutrition- always bring an extra days worth of easy and good nutritional food. Salty stuff helps you retain your water and so nuts, trail mix, granola etc are all good trail snacks. I enjoy making a peanut butter and jelly sandwich. Tip* if you have the space, CBD celtzers are the best to drink at the top of your hike! It takes a lot of the inflammation down before your hike back out.

Hydration- When you are recreating, especially in hot environments, you should drink water often and before you feel thirsty. This is especially true in dryer climates and higher elevations such as the ones here in Colorado. Drinking additional water and taking potassium, magnesium and electrolytes weeks before you get here will greatly lessen the chance of getting altitude sickness. Packing water or a water filter system while you recreate in the backcountry is essential. You always need to bring additional water or have a water to filter or clean your water. It's smart to have both at all times just in case.

Emergency Shelter- Tent, space blanket, tarp, or bivvy. Shelter is one of the most important elements during an emergency wilderness survival situation. These are all lightweight options for emergency shelter.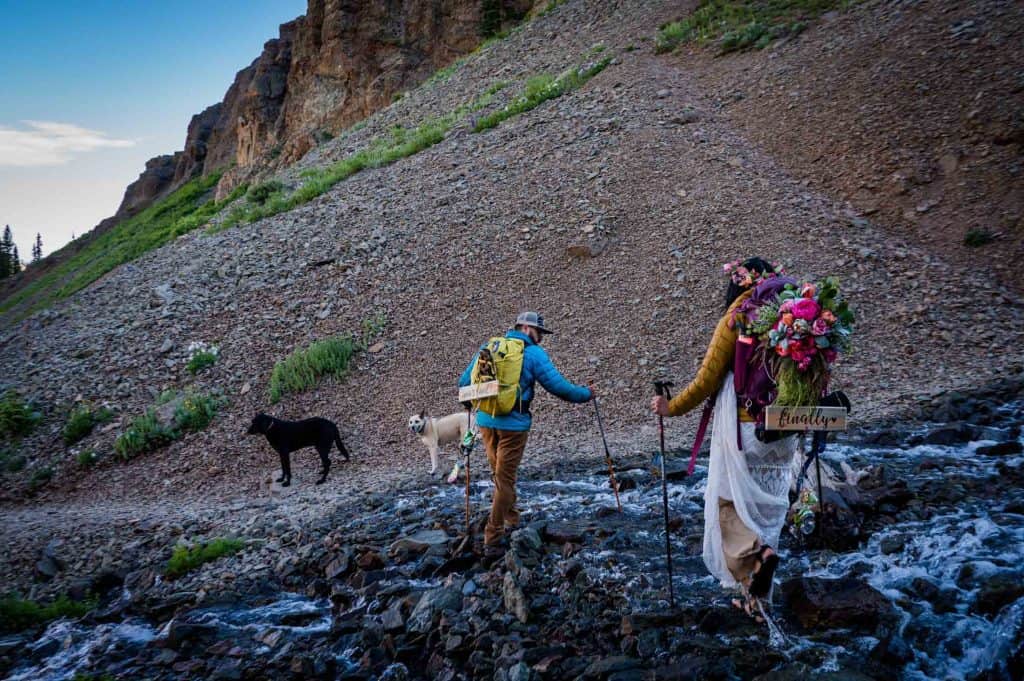 Hiking Gear You'll Need in Colorado
The gear you take with you on the trails will be the difference between a pleasant hike and one that's not so comfortable. This is the gear you'll want to look into purchasing before you head out to the high country for a hike in Colorado.
Hiking boots
I believe shoes are the most important, yet often overlooked, essential item for day to day living. Add hiking to the mix of life and what goes between you and the earth becomes even more important. Being fitted for hiking boots is recommended. You can go to any REI and they will get you all set up! But if you're a cheapo like me, you'll find a pair online and maaayyybbe go into a store to try them on before buying. I bought a pair of Columbia hiking boots and purchased an additional insole to wear with them and I love em!
Socks are also super important when it comes to hiking. Because getting a blister when you're 4 miles in SUCKS. Trust me, I know. 😉 I've found wool hiking socks to be the best. Moisture wicking helps a lot because the moisture causes friction. I always carry some mole skin and duck tape on me just in case. Mole skin can go over your hot spots or new blisters and stop the friction for you to finish your hike. It's an essential part of my hiking pack!
Layers
Layers are one of the single most important things when you are living in Colorado. Forget hiking altogether for a moment, and just whenever you think "Colorado", thank "LAYERS!". The weather changes so drastically and so quickly here that you can go out in 85 degrees with shorts a t-shirt and sandals but need pants, a jacket and a beanie when you go home later that night. On average, the temperature jumps 40 degrees between overnight and mid-day. Sometimes, more! If we start talking about the mountains then you can make those changes even more drastic. With tanning whether at one minute and a blizzard the next.
It's better to be prepared than to be sorry. Having layers can be the difference between a very nice and enjoyable hike in any weather or being very miserable.
In the summer, I wear a tank top and always bring a lighter long sleeve shirt and a raincoat. I often wear 7/8th leggings and bring shorts when I hike in the mountains. Denver is insanely hot in the summers so I usually avoid outdoor rec there unless it involves getting into water.
Water Repellent Coat
The kind of jacket you bring will depend on what you find when you research weather in the area of the trail you choose. In the winter it'll be a full on winter coat or a medium jacket with the right layers under. In the spring and fall it's usually a medium coat with layers. And in the summer it's always layers with a raincoat.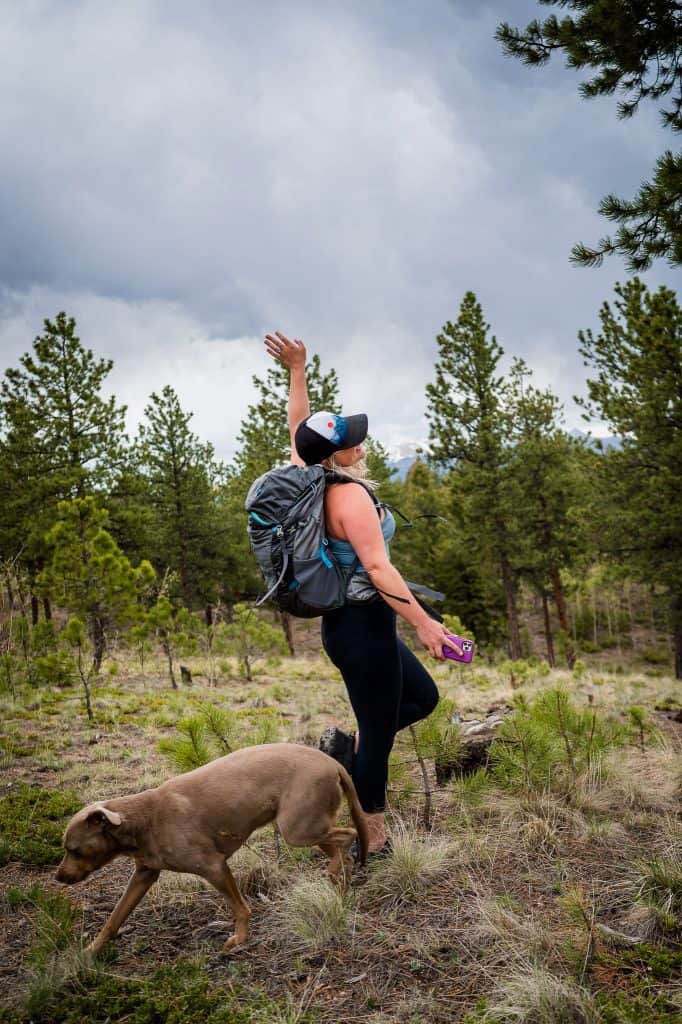 Hiking backpacks
Hiking packs are important because long treks with weight on your shoulders that isn't distributed properly can really suck. Even shorter hikes, this pain can be immense. I recommend a backpack that is made for hiking like those by Osprey or Gregory. They have hip support, spine alignment, and usually have a hydro compartment and come with a camelback of sorts for you to store and access your water more easily.
Traction
When it comes to the kinds of hikes you do and the time of year you do them, traction becomes ever so important. What do I mean by traction? It's additional footwear that is added to the outside of your hiking boot or shoe to give you more traction on different surfaces. Spring, Fall and Winter hiking can include copious amounts of snow and ice. Additional traction like micro-spikes or crampons are often required to even be able to access certain trails.
Kathoola microspikes are the best on the market. They're a little more expensive than other brands but worth every penny. I've gone through TWO of the cheap pairs in less than a year. They each broke. The second pair broke on my first hike with them. They broke dangerously so as they broke and then got attached to each other. I went down like a 200lb 2×4, it was not pretty. Spend the money, you won't regret it. Microspikes are a great thing to go to REI for because they have such a wonderful return policy and customer service!
Large Water Reservoir
No, this isn't a large body of water you can jump in. I'm talking about the way you store your drinking water on your hike. You can always just bring a bottle of water ( make sure it's reusable and you aren't still using one time use plastics!) but a large reservoir that you can wear really comes in handy during those strenuous moments of a hike. Bladders Companies like Camelbac make wonderful hydration products. But there are tons of other places to buy yours, that's just the first kind I ever had so I like to recommend them. I was able to get an insulated "bladder" to just be able to toss into my snowboarding backpack which was a game changer on the slopes.
A lot of hiking backpacks come outfitted with their own reservoir. So be sure to check out the backpack you are eyeing to see what it includes before you go out and buy a reservoir a la carte!


Emergency Shelter
This bivvy is great to have on all your adventures!

Local places to buy new and used hiking gear in Colorado
REI– we have a flagship store in downtown Denver. It's a great location as it's right off the highway. You can get everything you need to hike from there. They have used and new gear!
FERAL An Indie Outdoor Store– is located in Denver off Tennyson St. They have everything from new and used gear to rental options as well! They are a local small business so that's always good to support in my opinion. Great and knowledgeable staff to help you with all your outdoor needs!
Mountain Side Gear Rental– is located in Golden, just shy of the foothills making it a great place to stop on your way up the hill. They've got used gear for purchase plus all the outdoor rental equipment you could ever need. Also a small, locally owned business making your hard earned dollars spent there even more valuable!
Hiking Trails in Colorado
Choosing your hiking trail can get intimidating at times. Colorado has over 5,600 miles of hiking trails. There are 58 mountain peaks that are over 14,000 feet high, also known as it's "fourteeners".
Don't worry, Colorado is home to hundreds of easy to easier intermediate hikes that are perfect for when you are starting out. You want a trail that you'll be able to enjoy, pushes you a little, and has awesome payoff. According to 14ers.com there are 637 peaks that range from 13,000 – 13,999 feet in elevation. These are considered Colorado's "thirteeners" and lots of them are on the intermediate side and can be fun for folks who are just starting out on their hiking journeys.
Alltrails.com is an amazing website (and app) that has awesome free features for researching trails and seeing reviews. A few things you want to look at when choosing your hike are distance, elevation gain and trail conditions. The difficulty of the trails you should start out on will range depending on your physical fitness and how much you hang out at high altitudes. A nice feature is that you can scroll down on any hike to find people's reviews and their tracked activities. If you click on their activity (not all reviews have this) and click "see splits" it'll show you how much elevation gain in each mile. Just be sure to check that person's map to see they are doing the trail and direction you are wanting to!
Good Beginner Hiking Trails in Colorado
Colorado's front range is perfect for a variety of beginner hiking trails. Lair O the Bear park has several that go along a beautiful creek near Idledale, Colorado. Mt. Falcon Park is another area that has great trails that are friendly for every level hiker. But your best bet would be to go Alltrails.com/explore and put in your search parameters at the top to do your own trail scouting online. This will give you all the information you need to know. Be sure to look at the most recent reviews to see what others have to say. Looking at reviews is also a helpful way to find out if any additional traction is needed.
How long will a mountain hike take?
There are lots of variables when trying to figure out how long a hike will take you. But knowing how long a hike will take you is crucial in figuring out how much food and supplies you'll need to carry with you. Another huge factor in Colorado are the afternoon thunderstorms that we get almost daily in the warmer months. Hiking early and being off any peaks by noon is the consensus to keeping yourself safe.
A few things that affect our hiking time are distance, elevation gain, trail conditions, your hydration level and body condition, altitude of the hike, and air quality. These are things that can you take into account when factoring how long it'll take you.
I figure out my per mile averages at different elevation gains and altitude and use other hiker's splits shown on Alltrails to figure just how long I should give myself to get up. Don't forget time for breaks to eat, drink water, catch your breath and take pictures!
Looking to bag your first 14er? Here are some that are on the easier side!
Mt. Bierstadt is known as Colorado's "easiest" 14er. With it's closer proximity to Denver and it's not so bad elevation gain, it's a very popular peak to bag. Sitting at 14,066 ft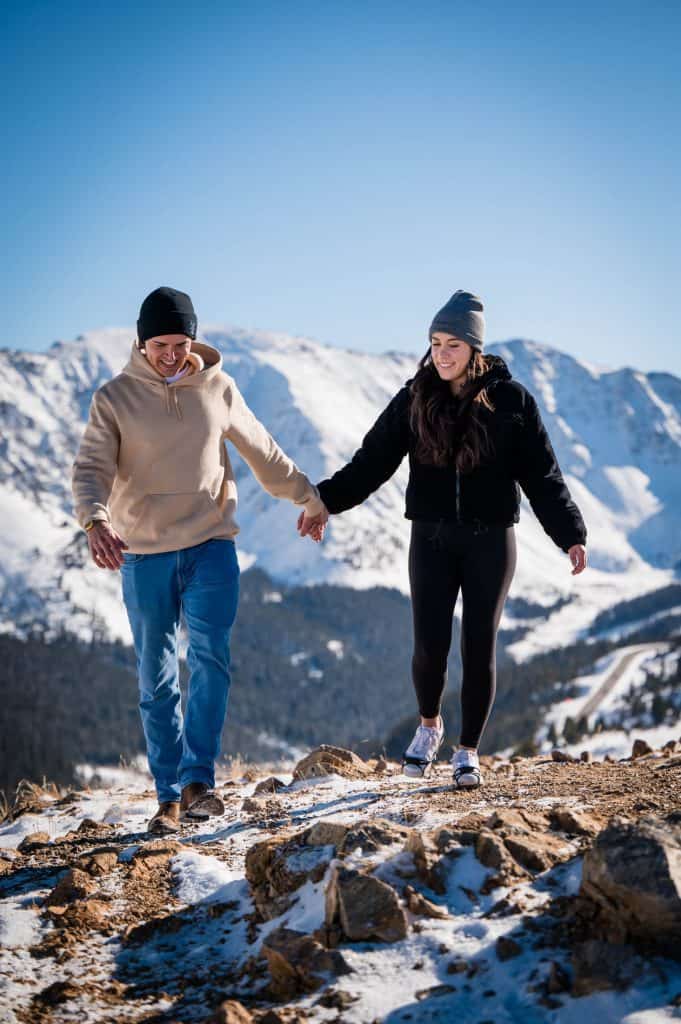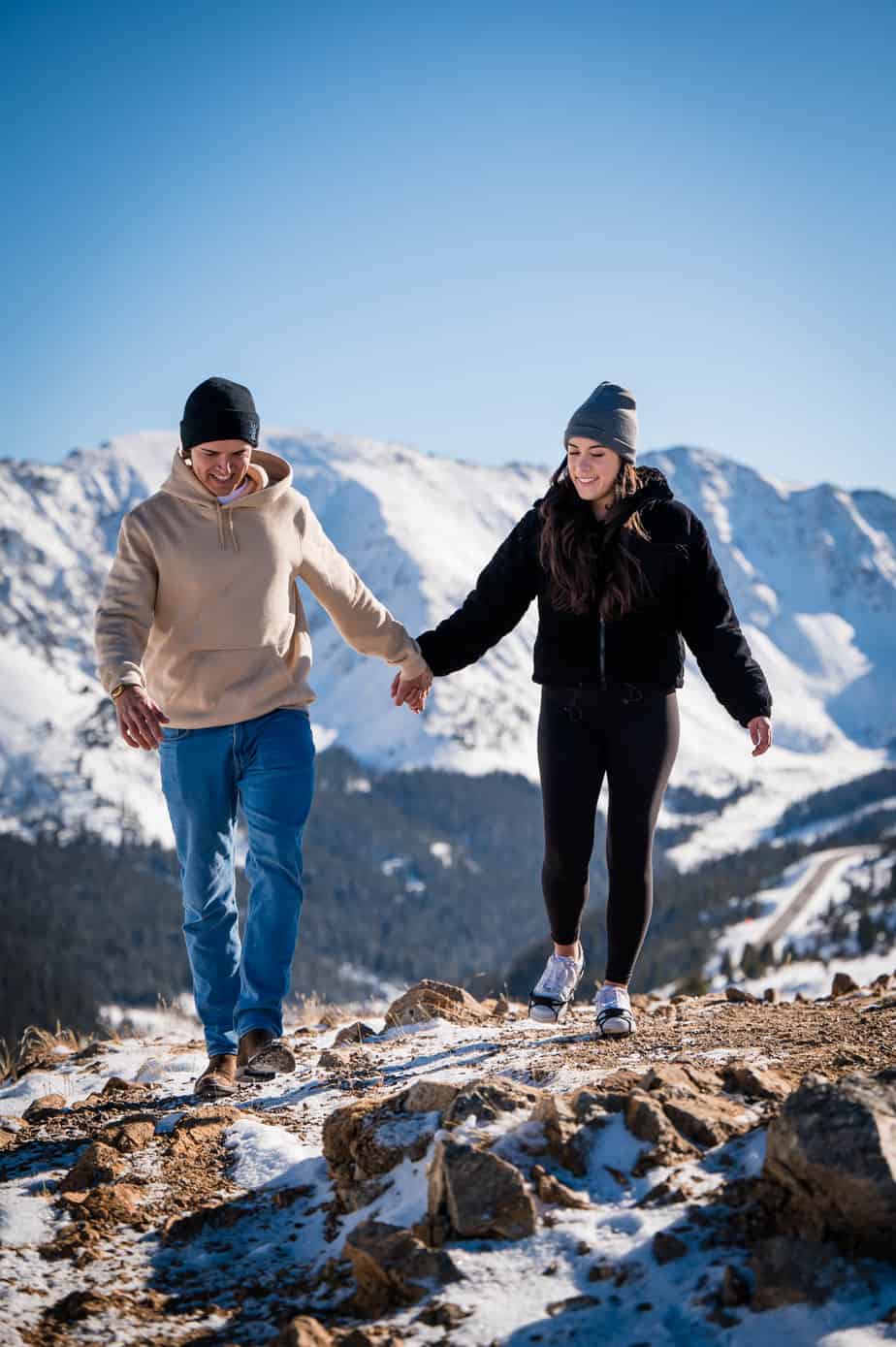 If you're looking for epic places to stay in the mountains while you're hiking around Colorado here is a list of my faves!