Colorado hiking elopement guide | Colorado hiking elopement photographer
As a hiking elopement photographer, I'm one of those people who can hike year-round and love every second of it. I mean, as long as I have the right gear that is. haha, I chose Colorado because having college 45 minutes from snowboarding was just too good to pass up. Then I met hiking and 4x4ing and my love for the mountains expanded to an infinite universe.

Colorado has 15 separate mountain ranges with the San Juan Mountains (my personal favorite) being the largest. They're made up of fifty-eight peaks exceeding 14,000 feet, over seven hundred 13,000 ft peaks, and more than one thousand mountains above 12,000 feet. And more 10,000 feet peaks that haven't even been counted. With that many mountains, it has any and every kind of hike you can imagine, plus some. Hiking is very special here. It's like this sacred thing when you can hike yourself into certain places barely anyone else is there. And it gets you to some of the most epic locations that can't be accessed any other way.
Why is Colorado the Best Destination for Your Hiking Elopement?
If you don't already know the answer to this question I'm just going to assume you have never been here. I just want to say that our mountains are the best. I'm a bit biased but you're here searching this so I don't think I'm too far off. Colorado's diverse landscapes with 4 distinct seasons give it a unique draw that a lot of other places don't have. If you like mountains and the outdoors just tell me your favorite season and I'll tell you you can't go wrong with eloping in Colorado during it. I've been blessed to have seen a lot of places in my life and this state is by far one of the most gorgeous places I've ever seen.

For the most part Colorado's weather is unreal. But it can be a little bi-polar at times. It can snow in the mountains in the middle of summer in some freak thing. And it can feel like 75 and be sunny with 5 feet of snow on the ground. In the summer it'll melt within a day usually. And mid-winter I can lay in my hammock when the sun is out and the wind is low and get a really good tan. It's a state where you bring what you need for all weather anytime, for the 'just in case'. Then be happy you don't need it and happy you have it if you do.

If you're thinking about a hiking elopement in Colorado this guide is for you.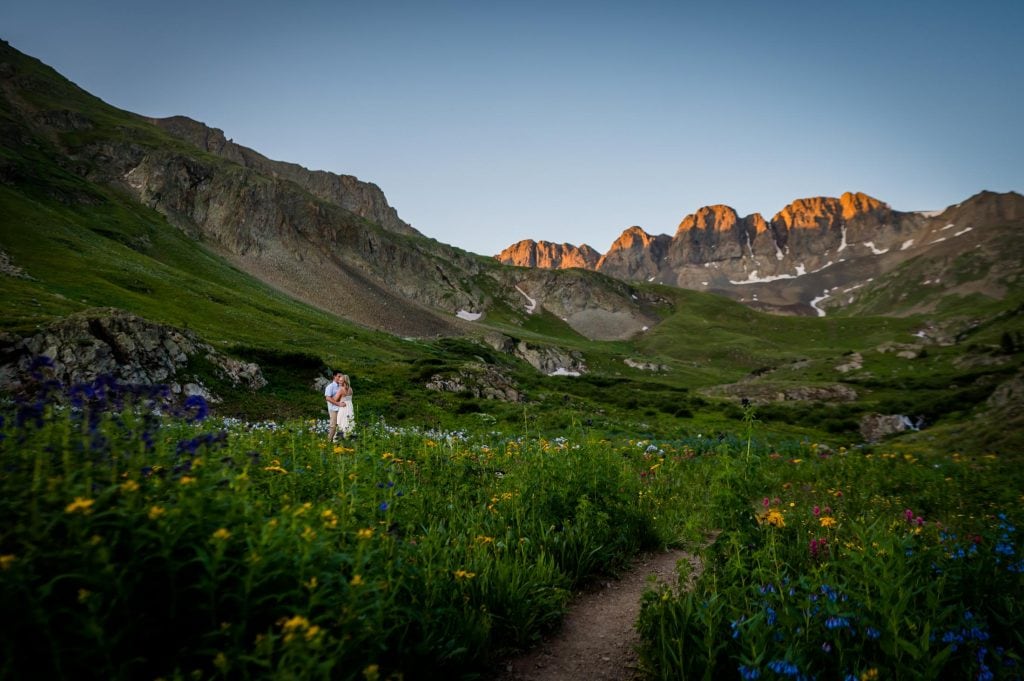 The Best Seasons for Hiking in Colorado
All year round. No really. For the most part Colorado's weather is unreal in the best way possible. I can't lie though, it can be a little bi-polar at times. It's snowed in the mountains in the middle of summer before. But it usually melts the next day. It can also feel like 75 and sunny even though there is 5 feet of snow on the ground. I can lay in my hammock mid winter when the sun is out and the wind is low and get a really good tan. But it's definitely a state where you bring what you need for all kinds of weather anytime, for the 'just in case'. Then just be happy you don't need it or happy you have it if you do.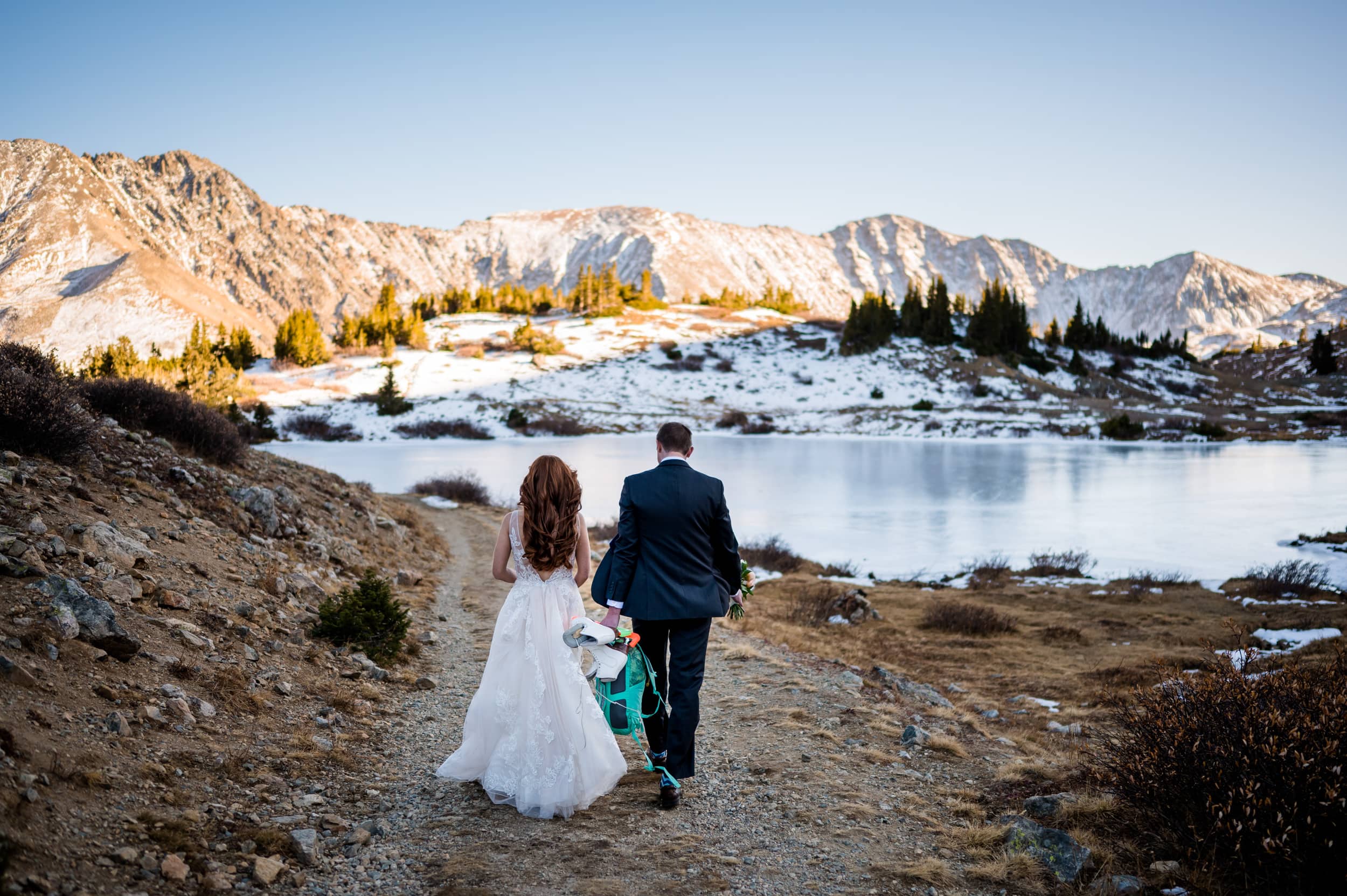 A guide for couples who want to infuse their love of hiking & the mountains into their elopement day
Hiking Elopement Planning Checklist
12-18 Months Before:
Trail Vision Quest:

Discuss your hiking elopement vision, considering the terrain, difficulty level, and scenery.

Budget Trailblazing:

Set a budget that covers hiking gear, permits, travel, and any additional expenses.

Select a Seasoned Date:

Choose a date conducive to hiking conditions in your desired location.

Explore Trail Options:

Research hiking destinations, ensuring they align with your skill level and preferences.

Capture the Adventure:

Find a photographer experienced in outdoor and adventure photography.
6-12 Months Before:
Hiking Gear Hunt:

Invest in quality hiking gear and attire suitable for the trail and weather.

Topographic Itinerary:

Create a detailed itinerary considering trail distance, elevation gain, and estimated hiking times.

Hiking Attire Selection:

Choose comfortable and practical attire, including layers for changing weather conditions.
4-6 Months Before:
Trail Permits and Paperwork:

Secure any necessary permits and complete paperwork for your chosen trail.

Trailside Ceremony Plans:

Plan your ceremony considering a scenic trail spot, with practical aspects like level ground and accessibility.

Trail Officiant Coordination:

If an officiant is part of your plan, ensure they are comfortable with a trailside ceremony.

Wildflower Bouquet Planning:

Opt for a wildflower bouquet that complements the natural surroundings and is made sustainably by a local florist.
2-4 Months Before:
Final Trail Blueprint:

Confirm your trail itinerary, considering safety, and make adjustments if necessary.

Permit Confirmation:

Double-check and confirm all permits for your hiking elopement.

Trailside Picnic Arrangements:

Plan a practical and portable post-ceremony meal for your trailside celebration.
1 Month Before:
Trail Logistics Check:

Confirm logistics with your photographer, ensuring they are equipped for a hiking adventure.

Ceremony Rehearsal on Trail:

If local, conduct a ceremony rehearsal on the trail to familiarize yourselves with the chosen spot.

Hiking Essentials Pack:

Assemble a backpack with essentials like water, snacks, first aid, and any necessary items.
Week of Hiking Elopement:
Weather Trail Watch:

Keep an eye on the weather forecast, making any adjustments to your plans as needed.

Vendor Communication:

Confirm final details with your photographer and any other vendors involved.

Trail Mindset:

Adopt a hiking mindset, staying flexible and embracing the unpredictability of nature.
Hiking Elopement Day:
Trail Execution:

Embark on your hiking adventure, following the trail itinerary meticulously.

Nature's Capture:

Allow your photographer to capture the raw beauty of your trailside ceremony and the surrounding landscape.

Sign the Trail Register:

Symbolically sign a trail register or a unique document to mark the beginning of your shared journey.

Trailside Toast:

Celebrate your union with a trailside toast, reveling in the accomplishment of a unique and adventurous elopement.
Mountain Activities with No Hiking Required
There are lots of ways to get into and onto the mountains without having to hike at all. A lot of the places you can drive right up to are some of my favorite views in the state. These activities can also pair well on your elopement day with a hike. Or they can come in handy as a backup plan in case you need it.
Road Tripping
4x4ing
Skiing or Snowboarding
Taking a Gondola to the top
Hot Air Balloon
Taking a helicopter (only in the winter in Colorado near Silverton and Telluride)
The Best Places for a Hiking Elopement in Colorado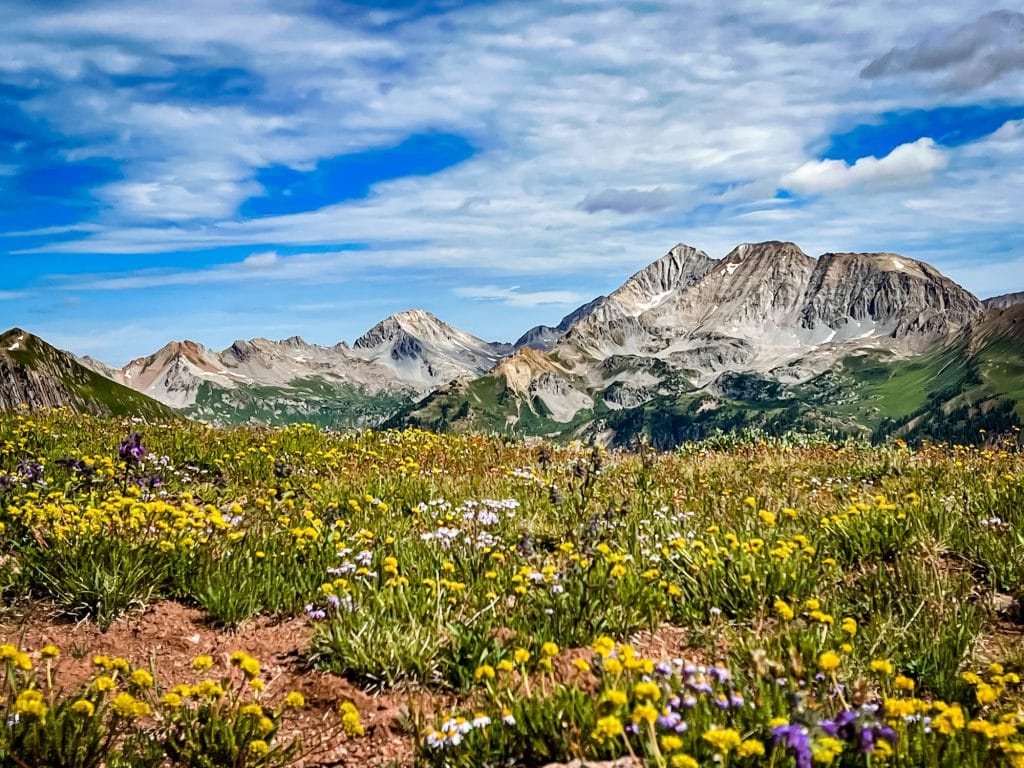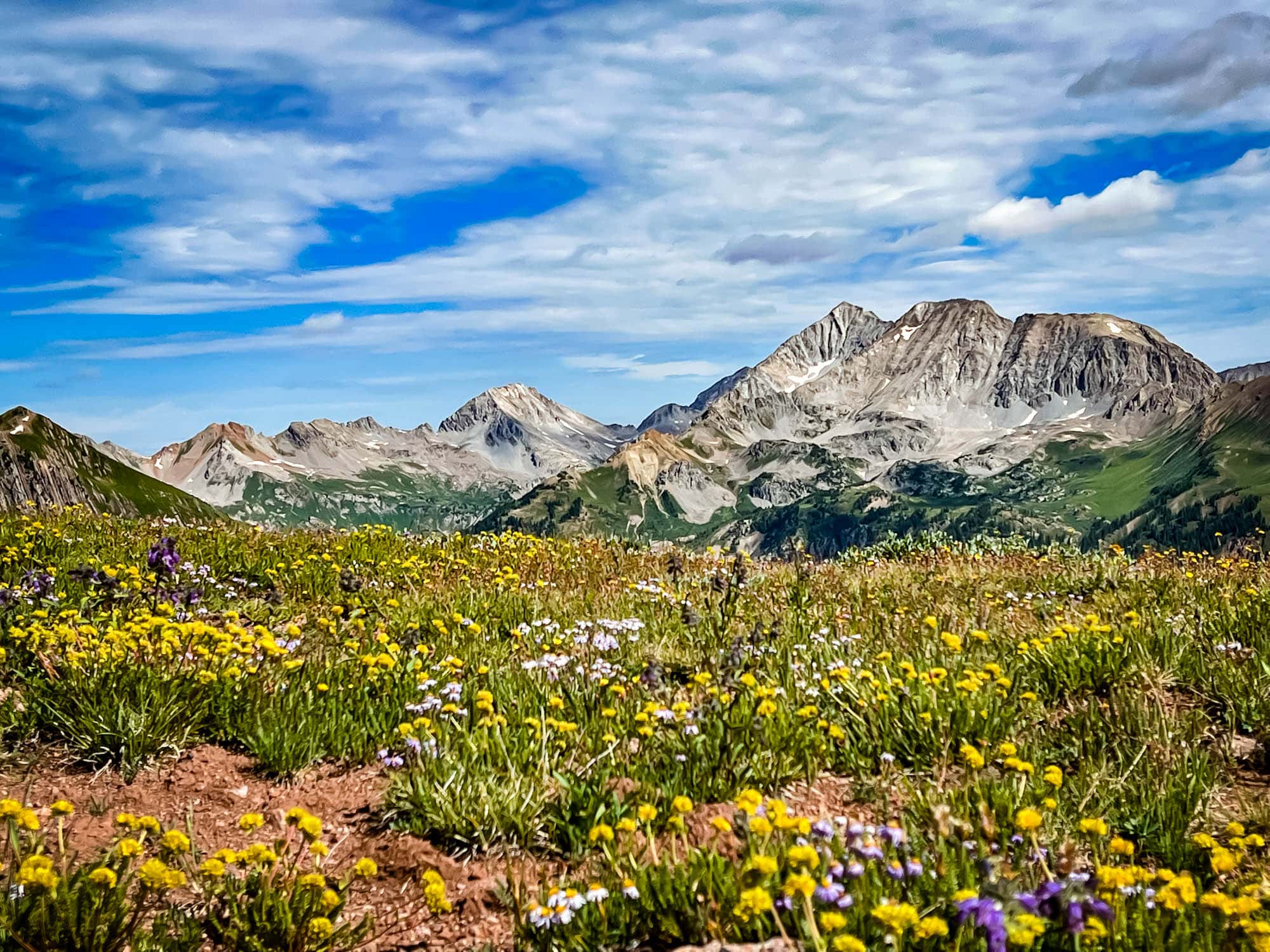 Ouray
Telluride
Silverton
Durango
Crested Butte
Breckenridge
Twin Lakes
Aspen
Vail
Cottonwood Pass
The Great Sand Dunes National Park
Black Canyon of the Gunnison National Park
Summit County
Best Colorado Hiking Trails For an Elopement
McCullough Gulch – Breckenridge, Colorado
Mayflower Gulch – near Copper Mountain
Blue Lakes – near Ridgway, Colorado
Ice and Island Lake – Silverton, Colorado
Permits & Reservation Requirements
Many locations require a permit to be applied for, and even approved sometimes. If you are trying to obtain information about a wedding ceremony permit start by reaching out to that area's ranger district or who manages the land. Ask them what their policies are and if they require a permit for you to get married on that land. Some places do and some places don't but getting the story straight for the horses mouth is best. Don't worry, when you hire me I help you navigate this part and just point you in the direction in which you'd need to take action. 🙂

State Parks and National Parks often all require a permit or reservation of some kind. Rocky Mountain National Park requires a reservation of one of their dedicated ceremony sites. In which, you are allowed to only share vows and rings at that site but you may hike anywhere in the park for photos. Just like most of the camping in this state, reservations for RMNP's ceremony sites go really fast.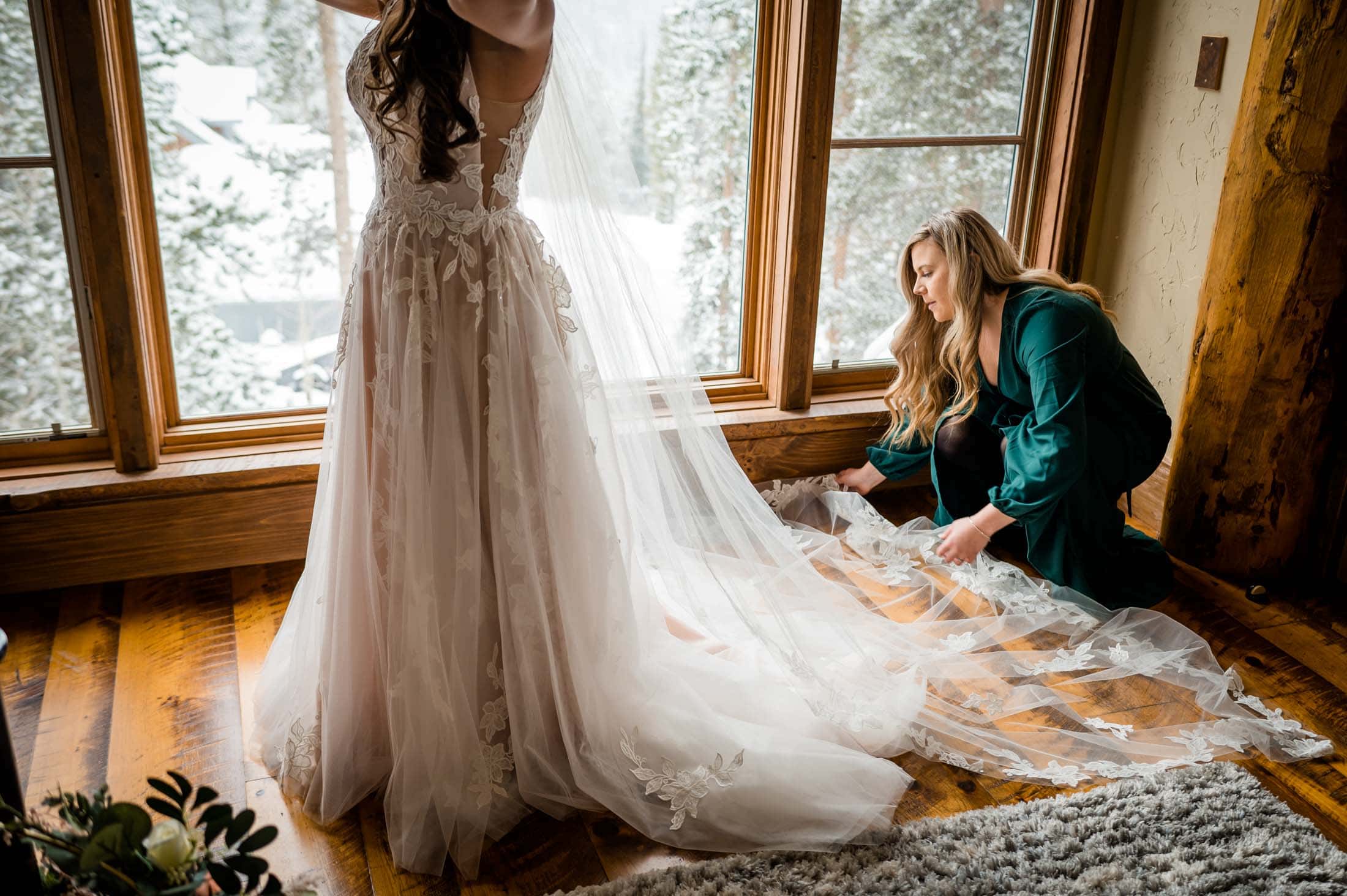 How should you prepare to hike at high altitude in Colorado?
Hydrate: make sure to stay hydrated with water in the weeks leading up to your high altitude elopement. Make sure include electrolytes and minerals like magnesium and high quality salt into your water to keep a proper balance. These things flush out more quickly with higher water intake.
Eat Well: eating healthy and nutritious meals in the months before your hiking adventure can help ensure better functioning body processes. You want your muscles to be ready to carry you and your stuff on your hike to your ceremony.
Train For It: adding weights (or heavier weights) to your workouts can help grow your leg muscles which is a great way to help lessen the chance of muscle fatigue and strain on your elopement day.
Research Your Hike: knowing just how high in elevation you'll be, how far you'll be hiking and how much elevation gain is important. Don't sign up for a hike that is beyond your abilities. At least not on your elopement day.
Hire a Professional Hiking Elopement Photographer: hiring a pro who knows what they're doing is so valuable. They'll guide you to the right hikes for your abilities. They'll give you gear recommendations. You'll get logistics plans and an accurate but flexible timeline. Well, that's what you get when you hire me anyways. ** Not every photographer who will book a hiking elopement in Colorado is an experienced hiker in Colorado. Do your research and invest in someone who is. Like me. 🙂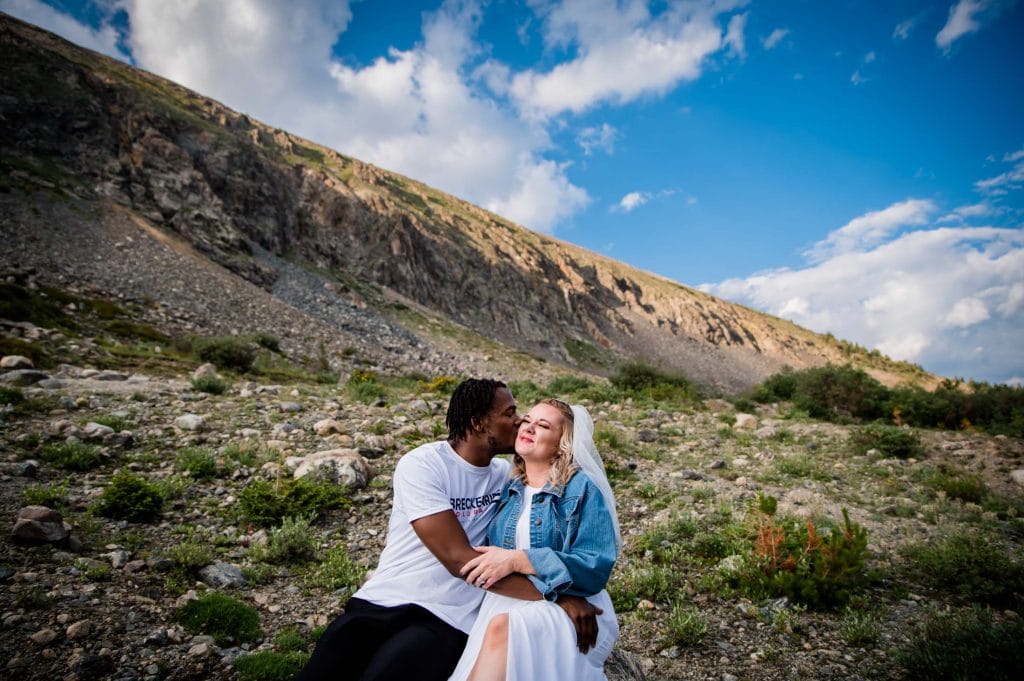 What should you wear?
Your outfits are completely up to you and your individuality and personality. Wear a dress or don't, wear a black dress, wear a suit, have flowers, wear a veil or don't. There are only a few things I surely recommend to wear when it comes to hiking in Colorado.
Layers, Wool Socks and Hiking Shoes
Layers are crucial in Colorado because the weather here is wild. It can be 20 degrees in the morning and 70 in the afternoon. I always suggest having a pair of thermal leggings for underneath your dress and dress slacks that you can put on and take off it needed. Depending on the season you're hiking/eloping in and the time of day the amount and type of layers you'll want can vary. If you're doing a sunrise hike then you'll definitely want a warm layer for your upper body as well. I really like my puffy jacket that is lightweight but super warm and can be packed down really tiny into my hiking pack.
Wool socks are a staple to hikers in Colorado for their warmth and their ability to wick away sweat and water. If you are doing a summer hike in the middle of the day you may not want them to be very thick or tall. But you will still want them to be wool because feet are more susceptible to blisters when they get wet.
I always suggest some kind of hiking shoe because well, you're going on a hike. Having the proper footwear is a safety precaution. The soles help grip on possible slippery surfaces. Hiking boots that have ankle protection help you walk more safely over uneven surfaces to serve in case of a misstep and rolled ankle. If you are the type to wear heels or fancy speciality shoes that's totally fine, just bring them in your pack to change into for the ceremony. If you wear a pair of white boots just be prepared for them to get dirty. But if you're choosing a hiking elopement you're likely prepared to get dirty anyways.
Hiking Gear List
hiking day pack with 2+ liter water bladder compartment
H2O
headlamp
hiking boots
microspikes
outer rain/wind shell jacket
thermal base layers
wool socks
snacks- lots of snacks
hiking poles
sunblock
sunglasses
Feral Mountain Co is a great place to buy and rent outdoor adventure gear in Colorado! Check out my beginner's guide to hiking that's linked below for more places to purchase or rent gear.
How To Choose What Hike To Do?
Colorado's Rocky Mountains are full of beautiful hikes that can be the backdrop of your epic elopement. There are trails for every level of hiker. But choosing your hike is as much about your hiking level as it is about the rest of your vision for your elopement experience. You want to choose a hike in an area that fits your stamina and the rest of your activities. You don't have to limit the rest of your elopement day just to get to hike. Here are few things to take note of us when choosing a hike for your elopement.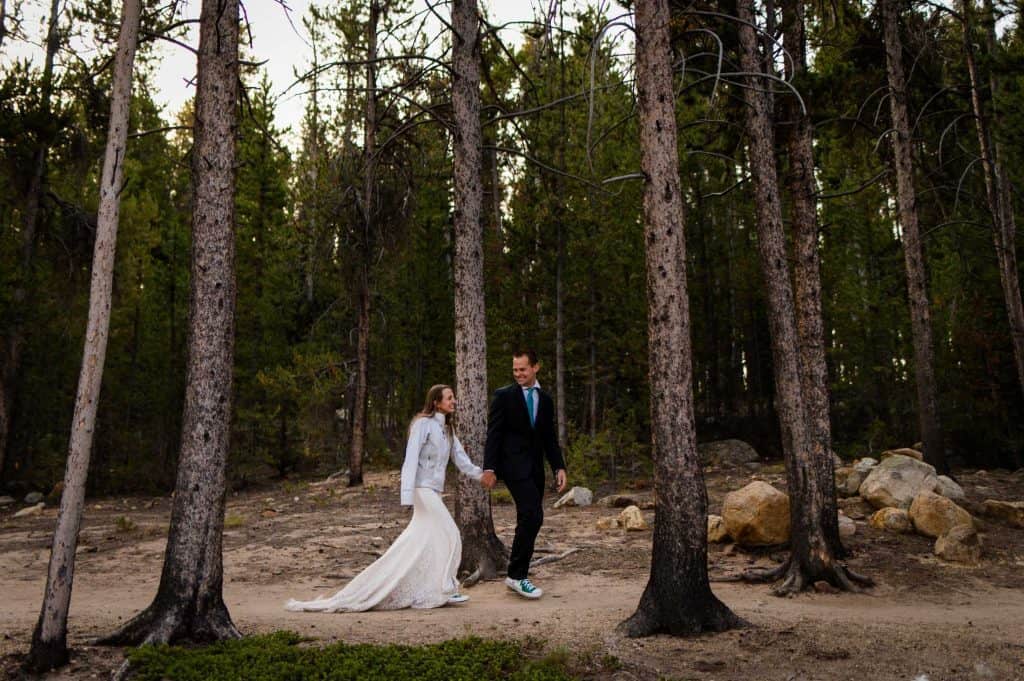 What is your hiking time? How long does it take you to go a mile and at what gain is that time covering?

Make not of the various times that you have from past hikes so you can keep those notes while you're researching different hikes. Or just choose a hiking elopement photographer (like me) that does this step for you!

Will you be having guests who are hiking with you?

You'll want to take into consideration each of their average hiking paces when choosing a hike.

What area are you wanting your elopement day to take place?

Choose a mountain range, mountain town or a mountain resort that is your favorite. This way you have a reference for where to look for hikes as well as an idea where your base camp will be. If you want to rent a cabin or stay at a fancy mountain resort this will help you narrow those down as well.

What other activities do you want to include on your elopement day?

Maybe you want to hike your paddleboards to a lake for sunset paddle. Or have a chef meet you at the top of a 14er to make you breakfast after your sunrise ceremony.

How much time do you have with your photographer?

Hiking time is generally included in the hourly coverage from your photographer. So you want to use your average hiking time that you figured out in #1 to make sure you aren't choosing a hike that will take too long for your elopement photography package.
Should you choose an all-day elopement photography package?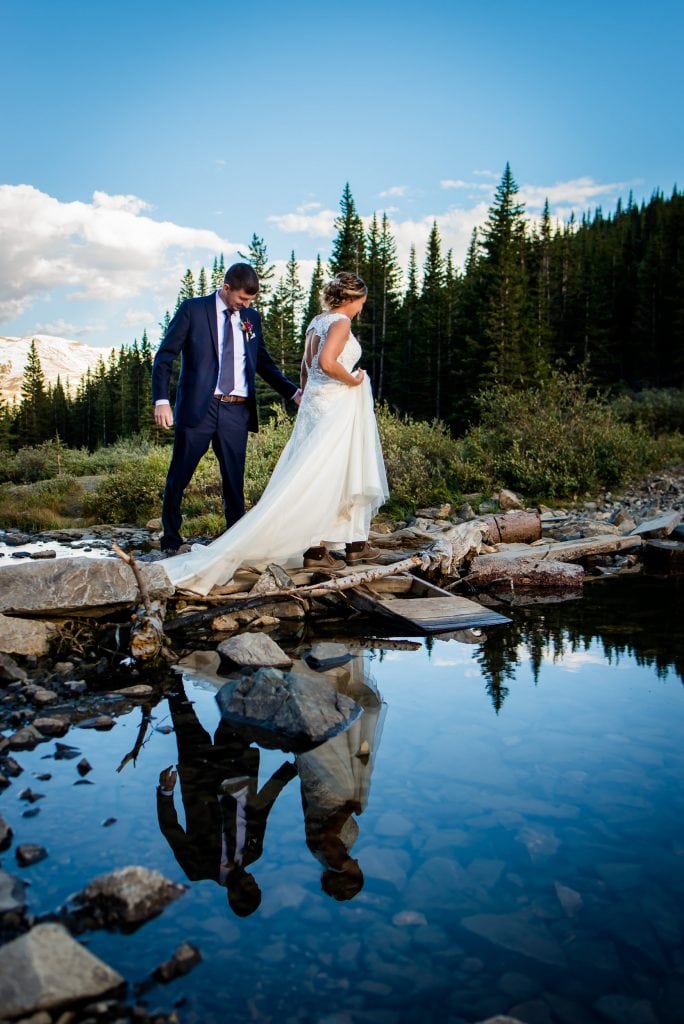 For most hiking and adventure elopements I suggest all day elopement coverage. The last thing you want on your elopement day it to feel rushed. You don't even want to have to look at the clock at all this day. When you're hiking to your ceremony location you want it to be like many of your other outdoor adventures; laid back, wandering, exploring and fun. Your average hiking pace along with the kind of hike you choose has a big affect on just how much time you'll need. Before the ceremony you'll also want to factor in time to change into your wedding wear, maybe write your vows, do a first look and just take in each and every moment together. After your ceremony, you might want to celebrate with a dance, sharing your favorite beverages, having a picnic and maybe even reading some letters from loved ones who aren't there but want to be part of your perfect day.
A lot of couples want to do another activity that is dear to them along with their hike. For example some couples may hike to an alpine lake to paddle board in the summer or go ice skating in the winter. You may want to have a sunset picnic and enjoy the gorgeous stars under the dark skies Colorado has. Or maybe you want to take your 4×4 vehicle up to a trailhead and camp under the stars before hiking in the dark to have your ceremony on a peak at sunrise the next morning. There are so many options for you on your elopement day and they all play a role in what package is best for you. Talking through everything with your photographer and getting their expert advice is important.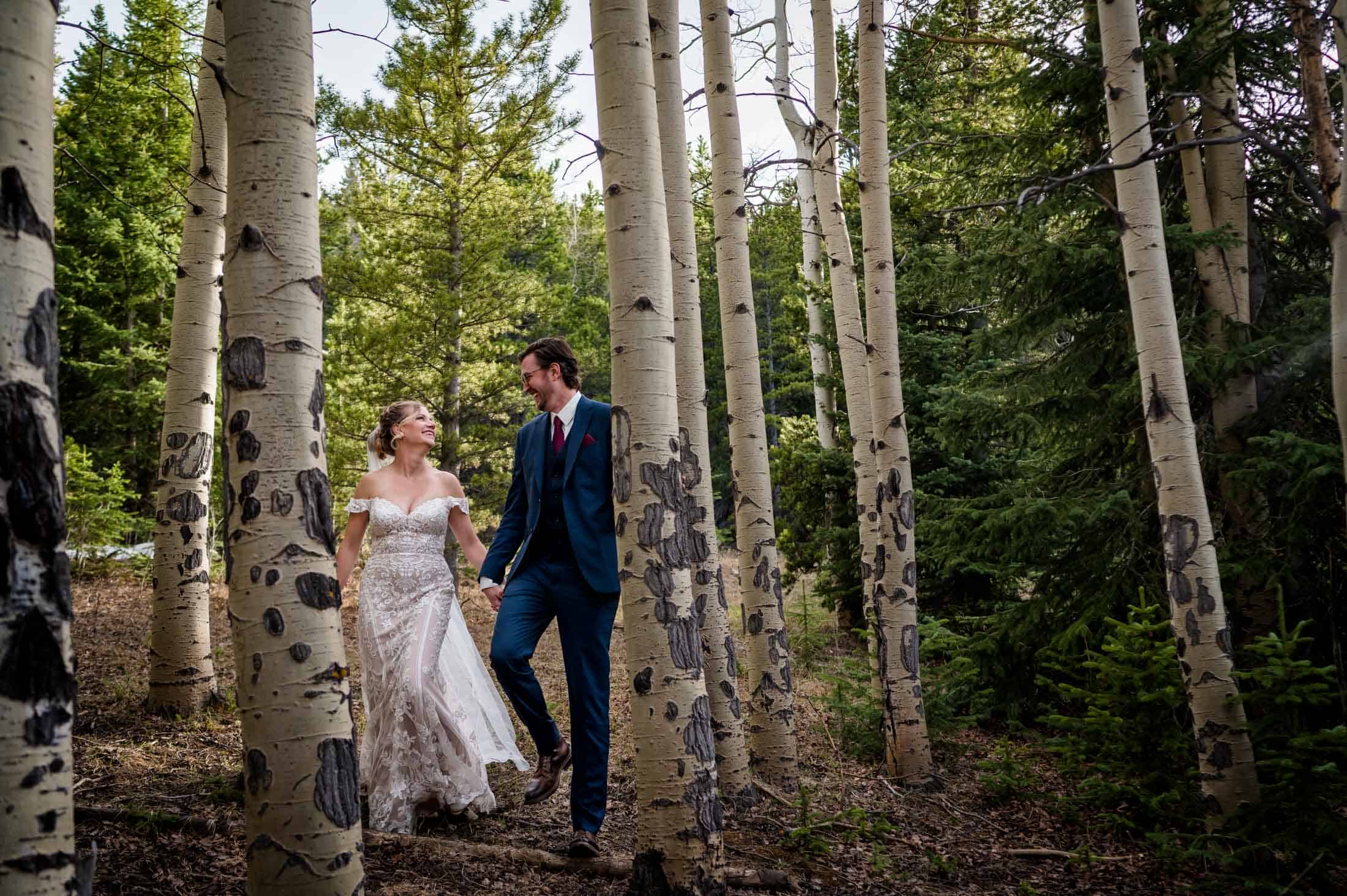 Hiking Elopement Timeline Example
4:00 AM – 4:30 AM: Getting Ready
The couple begins their day in the mountain cabin at 4:00 AM, getting ready for an entire day of celebration. They opt for comfortable yet elegant attire suitable for both the hike and festivities that follow. After a quick shower, they have a light breakfast, ensuring they have the energy for the day ahead.
4:30 AM – 5:00 AM: Drive to Trailhead
Packing essentials into a backpack, including water, snacks, the marriage license, and a small first aid kit, the couple embarks on a scenic drive to the trailhead. The mountain roads offer breathtaking views as the first light of dawn starts to break.
5:00 AM – 5:30 AM: Arrive at Trailhead
At the trailhead by 5:00 AM, the couple takes a moment to acclimate to the elevation. The pre-dawn silence surrounds them, creating a serene atmosphere. They begin the hike with excitement, knowing it will be a day full of adventure and celebration.
5:30 AM – 6:30 AM: Sunrise Hike
As they hike up the trail, the couple embraces the challenge of the elevation gain, taking breaks to enjoy the unfolding sunrise. The panoramic views become a backdrop to their journey. They relish the quiet moments together, building anticipation for the ceremony at the summit.
6:30 AM – 7:00 AM: Ceremony Setup
Reaching the chosen ceremony spot, the couple sets up a small altar with flowers and exchanges vows as the sun continues to rise. The mountains provide a majestic backdrop to their intimate ceremony. After saying "I do," they share their first dance, commemorating the start of their married life.
7:00 AM – 8:00 AM: Breakfast and Coffee Break
Following the ceremony, the couple enjoys a well-deserved breakfast and coffee break. They unpack a picnic with delicious treats, savoring the flavors amidst the mountain scenery. This leisurely meal becomes a moment to reflect on the morning's events and the exciting day ahead.
8:00 AM – 9:00 AM: Descent and Exploration
The couple begins their descent down the trail, taking their time to explore new paths and enjoy the beauty of the landscape. They capture candid moments together and with their photographer, creating memories to cherish.
9:00 AM – 10:00 AM: Champagne Toast
Back at the trailhead, the couple celebrates with a champagne toast, toasting to their love and the adventures that lie ahead. The crisp mountain air enhances the sense of joy and accomplishment.
10:00 AM – 11:00 AM: Reading of Vows and Letters
Returning to the cabin, the couple takes a moment to relax and read their vows aloud to each other. They also open letters from family, adding a personal touch to their day. These heartfelt moments strengthen the bond they've just celebrated in the mountains.
11:00 AM – 12:00 PM: Dog-Inspired License Signing
With their furry friend by their side, the couple has their dog "sign" the marriage license as a witness. This playful and unique touch adds a touch of whimsy to the legal aspect of their union. The dog's paw print becomes a cherished symbol of their commitment.
The rest of the day unfolds with leisurely activities, perhaps a quiet dinner, and stargazing under the mountain sky. The couple can relish the start of their married life with the memories of a day that seamlessly blended adventure, love, and celebration.
Check out my
Beginner's Guide to Hiking in Colorado
to get started with hiking or for the best places to buy new and used gear, how to prepare for altitude, signs of altitude sickness and so much more!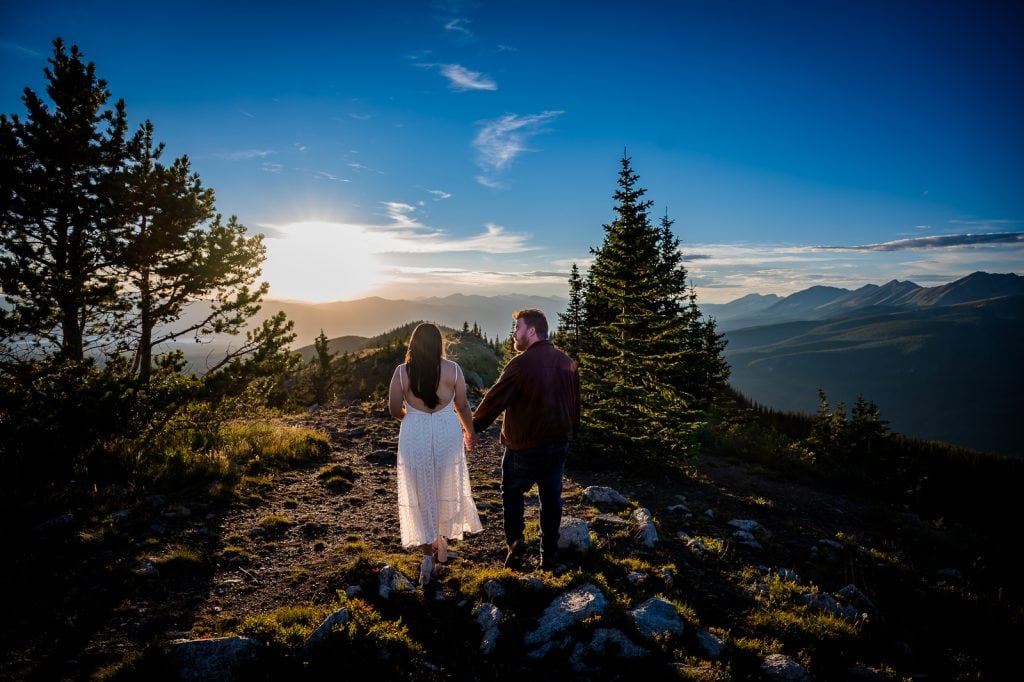 If you're looking for a hiking photographer to adventure with you on your elopement day in Colorado
I'D LOVE TO HELP!
More Elopement Planning Resources