Boulder, Colorado Mountain Top Elopement with Friends
My First Ever Mountain Top Elopement | Boulder Elopement Photographer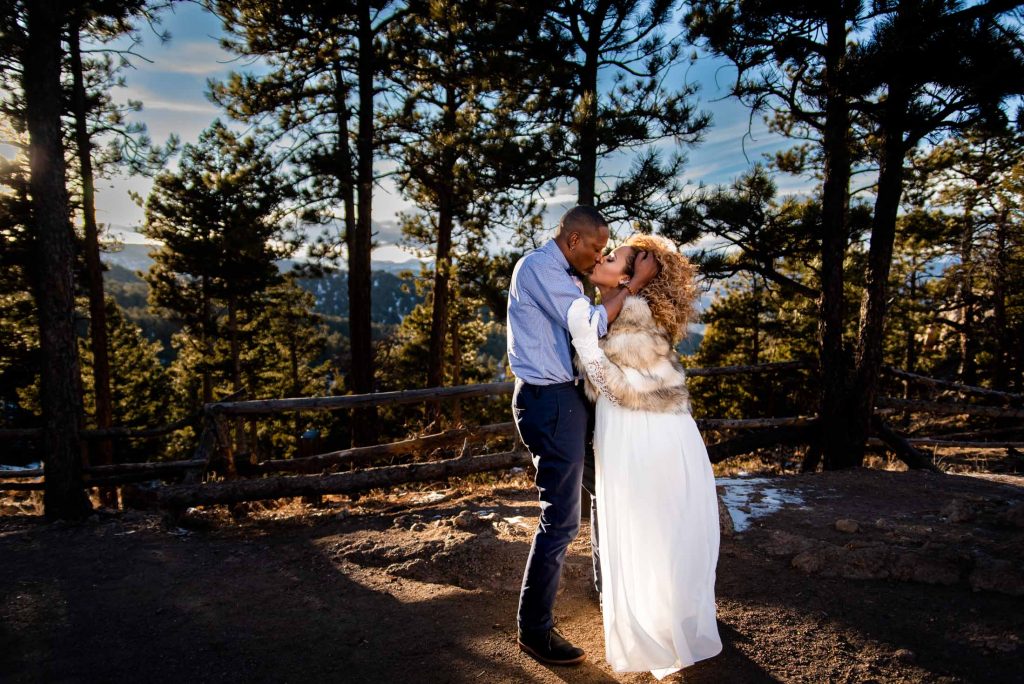 This was my very first adventure wedding that I helped to plan & photograph back in February of 2018. This was when I became a Boulder elopement photographer. I fell in love with the entire concept of these little teeny tiny weddings that have the biggest character and charm to them. They fit my personality and passion like a missing puzzle piece.

This day was completely spontaneous and wild yet so calm and soft. It was effortless in the sense that is just flowed so beautifully. I have to update the gallery with more images from this epic day. But you can get a taste here.
Cris was the most beautiful bride. She wore a simple, flowy white dress Lulus.com and a cute faux fur shawl. She made the flowers and boutonnieres herself with an array of Whole Foods and King Soopers flowers she picked up the night before the wedding. The cake was a perfect little cake they had for sale in Kim and Jake's Cakes in Boulder, CO. She decorated it with flowers on the spot at dinner and it was perfect.
A Stop on Pearl Street for Dinner after the Ceremony
The day before their elopement we got together to check out a few mountain spots for their ceremony. Then we headed down into Boulder for dinner on Pearl Street. We happened upon this little Louisiana style restaurant and everyone agreed the menu sounded delicious. Once our waitress learned what we were doing in Boulder she told us about their private speakeasy in the basement. We told them we were looking for a spot for them to all have dinner the next day after the ceremony they invited us back. And they graciously offered up their private speakeasy for the first dance, cake cutting and toasts free of charge. Unfortunately, the restaurant closed a few years later so I've taken the broken link to it down.
PERMIT INFORMATION FOR THIS BOULDER MOUNTAIN TOP LOCATION: If you want information on the permit(s) and rules to have your small wedding or elopement click here!
If you're looking for a photographer to help you find a great location for your mountain top adventure elopement with guests reach out to me here! I work with couples to help them find the best area for them and their guests to have that epic Colorado mountain wedding experience.
Want to see another one of my Colorado mountain adventure elopements? Click here
Planning an Adventure Elopement With Guests?
Choose an easy to get to location
Or rent a mountain top venue
Keep the guestlist tight
Have a backup plan or backup day in case of bad weather
Photographing across the Rocky Mountain Region
Estes Park | Telluride | Silverton | Ouray | Durango | Silverthorne | Breckenridge | Steamboat Springs | Vail | Aspen | Keystone | Rocky Mountain National Park