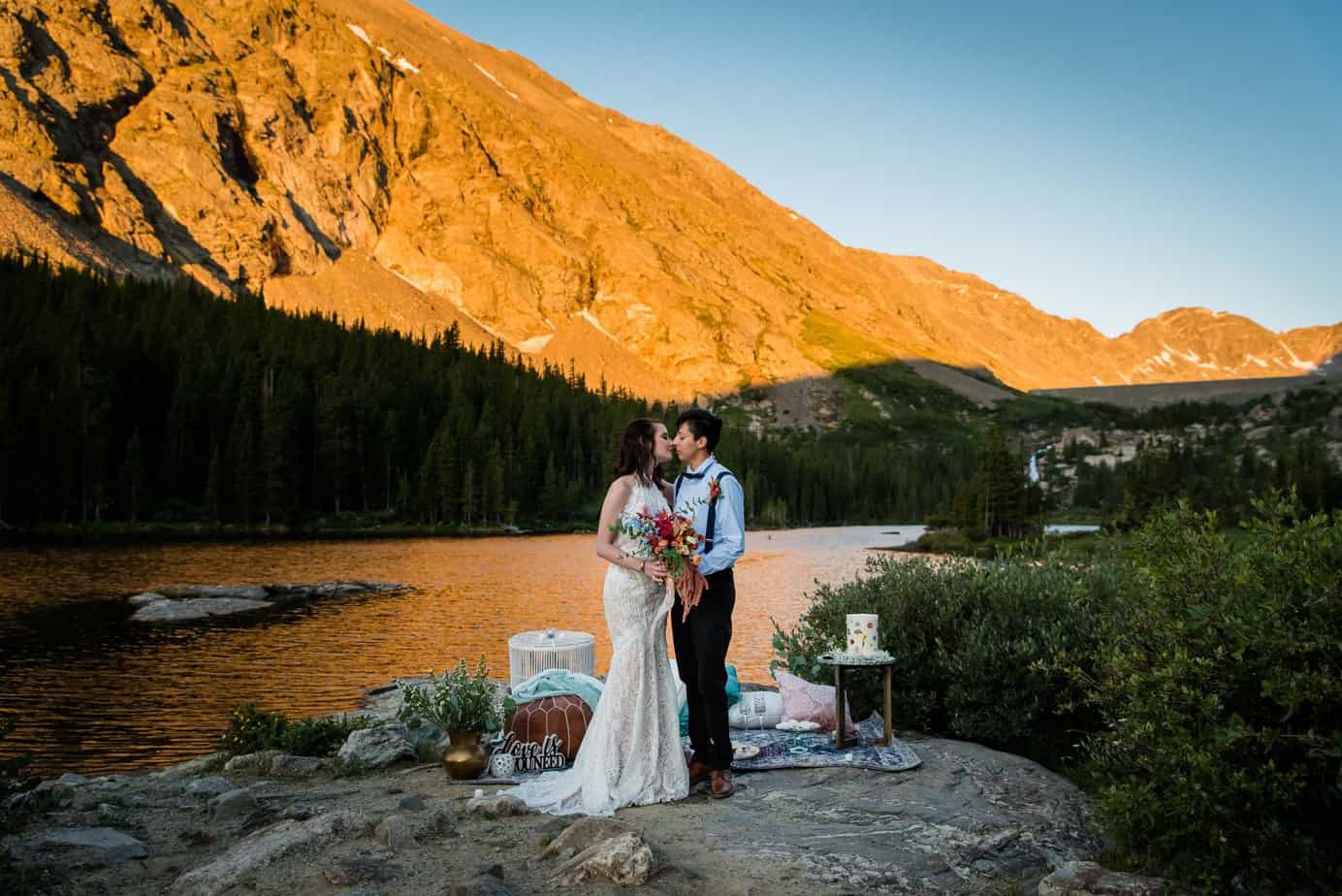 Picnic Elopement in Breckenridge, Colorado
I set up this shoot as part of a new picnic elopement service I'm planning to offer in summer 2022. But as a very candid and lifestyle photographer to my core, posing models and all that jazz is just not my kind of jam. So when looking for people to "model" for me it was super important that I find a real couple and one who would really dive into the experience of it all. Almost as if it was their real elopement day. Sarah and Kim were perfect and did just that. When we spoke about it, they had mentioned that their real elopement ceremony not long ago just wasn't what they were hoping it'd be. I let them know this was the perfect chance for them to have a redo as I really wanted the images from this shoot to be of REAL moments and not just them modeling some set and dresses for me.
I set everything up to be as authentic as possible and as close to what my clients would really experience as I could get it. With the help of some amazing vendors I worked with, I think we gave these two the ceremony they were dreaming of. They both wrote vows and exchanged them during the shoot. So perf! I invited one videographer to come and they were more than happy to mic Kim up so they even have recordings of the vows they exchanged this morning. Everything went more than amazingly and I can't thank the vendors who participated, and our lovely models enough for helping me execute this vision so seamlessly.


The amazing vendors I worked with for this shoot were:
Photography, design and logistical planning: (me, Nat) Nat Moore Photography
Planner who helped secure other vendors, set up and tear down, and let me use some of her client supplies: Miranda (she's amazing ya'll and who I suggest for all elopements and intimate weddings that need a planner!) Roz Events
bridal shop who graciously opened their doors for me to not only pick dresses out but again so Sarah could come try on and pick out her two favorite dresses: d'Anelli Bridal
Baker who made the most epic cake that fit my vision perfectly and some delicious treats we could all have after a productive morning: Sweet Ride Bakeshop
Florist who TOTALLY killed it with everything I was looking for: Emily Rose Florals
Jeweler who provided gorgeous and unique pieces for Sarah to wear: Balefire Goods

I styled the picnic for this shoot, hit me up if you want this style of picnic on your elopement day!

But I want to drop a few companies that specifically do picnics as well as a few chefs who can deliver food for your elopement picnic in Colorado. 🙂
outdoor picnic companies to hire in Colorado
CO Luxe Picnics

Denver Picnic Co.

Urban Picnic Co.

The Colorado Picnic Company

Mod Picnic Co (services within 15 miles of Fort Collins)
Nat Moore Photography | Based in Denver Colorado | Available for travel Worldwide
Breckenridge Elopement Photographer | Blue Lakes Wedding Portraits

Photographing across the Rocky Mountain Region
Estes Park | Telluride | Silverton | Ouray | Durango | Silverthorne | Breckenridge | Steamboat Springs | Vail | Aspen | Keystone | Rocky Mountain National Park