How do you plan a budget-friendly wedding? Is there even such a thing? Maybe not. But there are so many ways to cut costs on a wedding day. Here are 12 Ways to Save on Your Wedding Budget!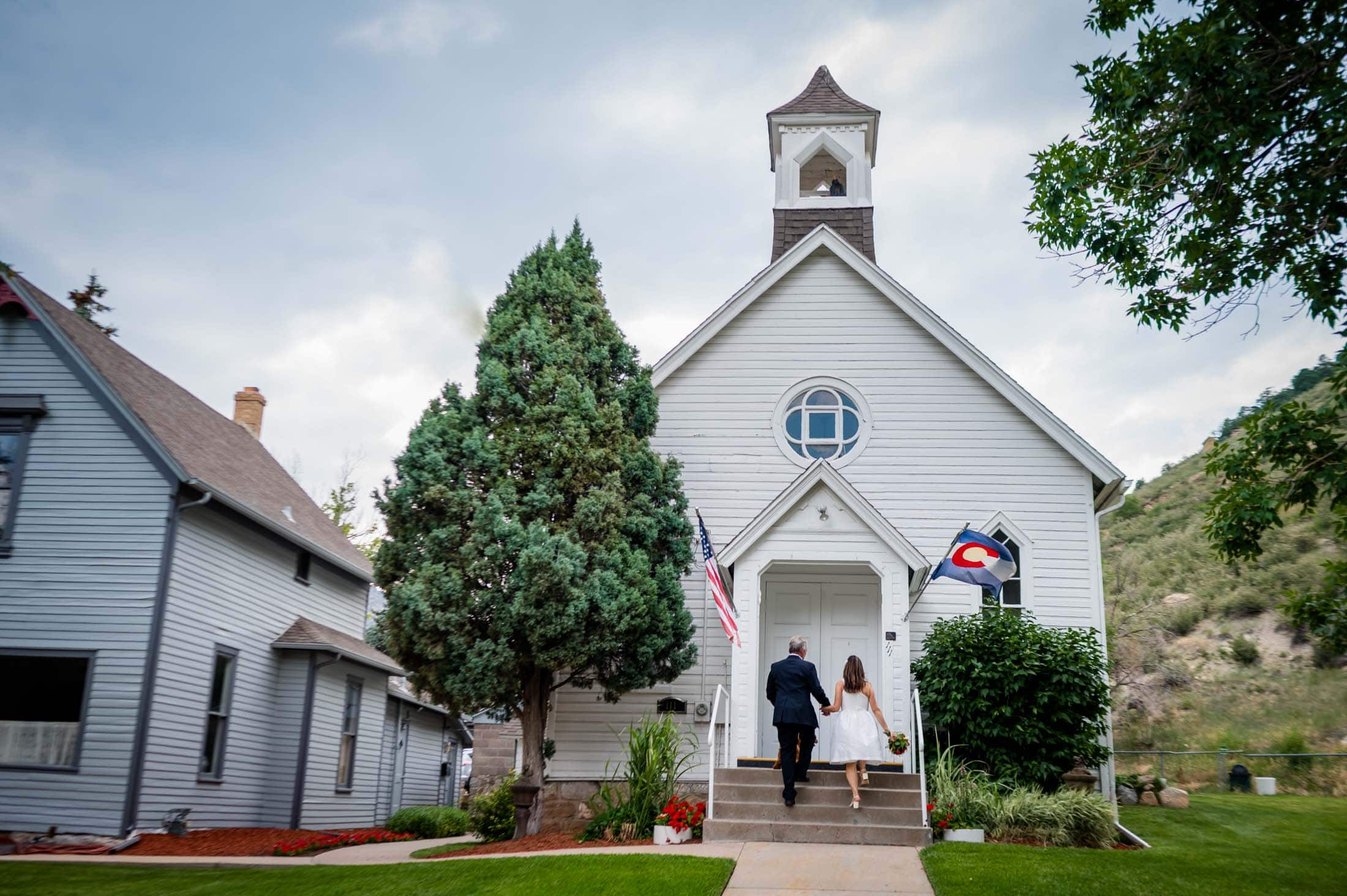 12 Ways to Save on Your Colorado Wedding
CUT YOUR GUEST COUNT DOWN TO ONLY THE VIPs
The fewer people you have in attendance at your wedding the less money you will spend. Cutting the number of guests you have will cut down on every guest cost associated with your wedding. This includes food and drinks, desserts, rentals, and the size of the space you will need. This could also cut down on your floral budget if you are doing floral centerpieces at each table.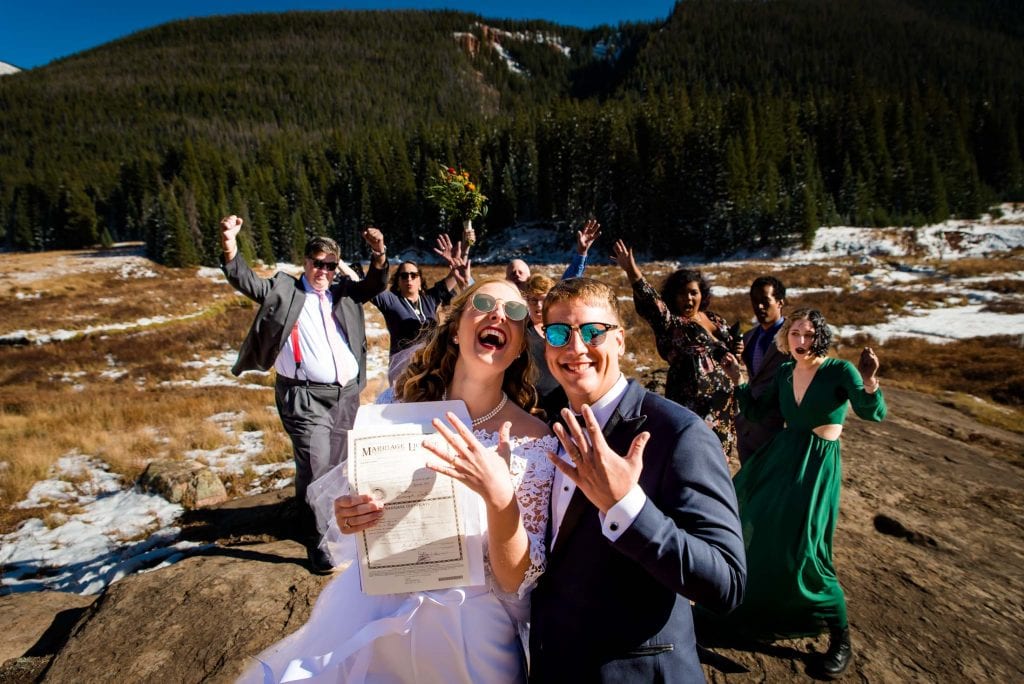 HAVE A PRIVATE CEREMONY THEN PARTY WITH GUESTS AT A LESS FORMAL SHINDIG
Have your ceremony with just the two of you at an epic location somewhere special and amazing. It's kind of like half eloping in a sense. There are so many locations across the US where you can have a ceremony for a very small fee at a gorgeous location. These spots could be in a national park, at a city hall, or just about anywhere your heart desires. There are even dozens of spots you could do this ceremony completely for free. Bingo! Then, at a later date or even that evening, have your reception (party) at a venue, event hall, Airbnb, or family home. Depending on the location of your reception you can significantly save on rental costs. If you find a location that allows you to bring in your own food and beverage then you can save even more.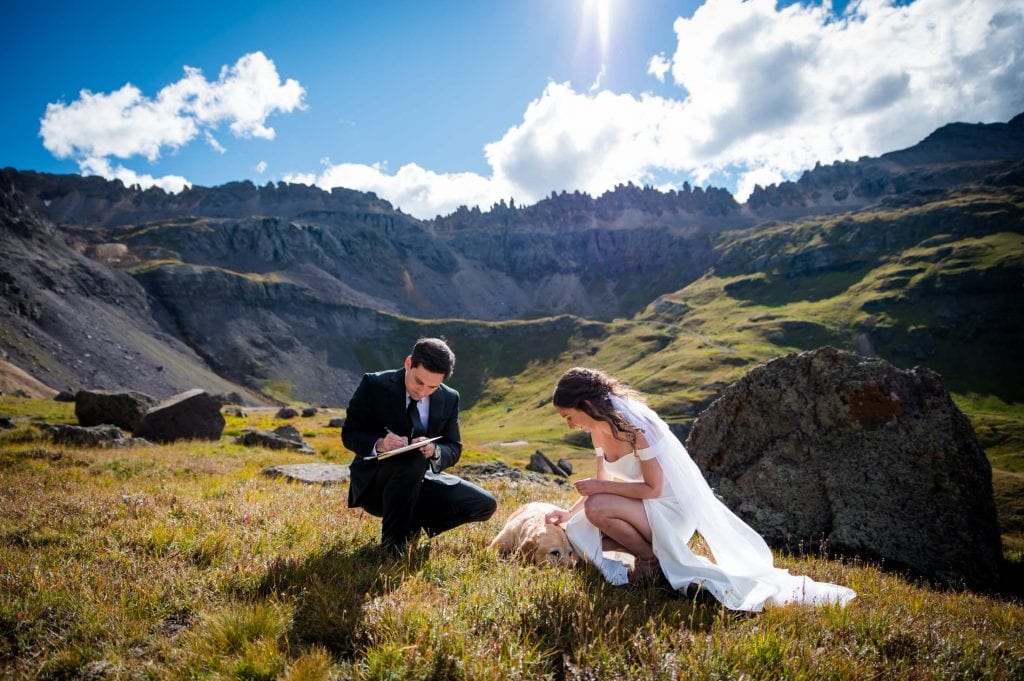 BUY FLOWERS IN BULK AND DIY WHEN YOU CAN
Doing your own flowers and decor is a lot easier than it sounds. There are even floral companies that will send you DIY bouquets with all the materials you need to put it together. What a fun idea huh? I've had brides go straight to Costco, Sams Club, King Soopers, and Whole Foods to pick out their flowers the night before and make their bouquets and boutonnieres. You could also do fake flowers that would last forever afterwards. I've seen some beautiful wooden flowers that were hand-dyed by the bride. It has the perfect DIY touch and saves you bunches while let's you keep a little decor from your wedding day in your home afterwards.
If you want a professionally done, beautiful & wild bouquet but still want to save… hire a florist for you and your partner's floral pieces and then buy bulk for any decor stuff that you can do yourself.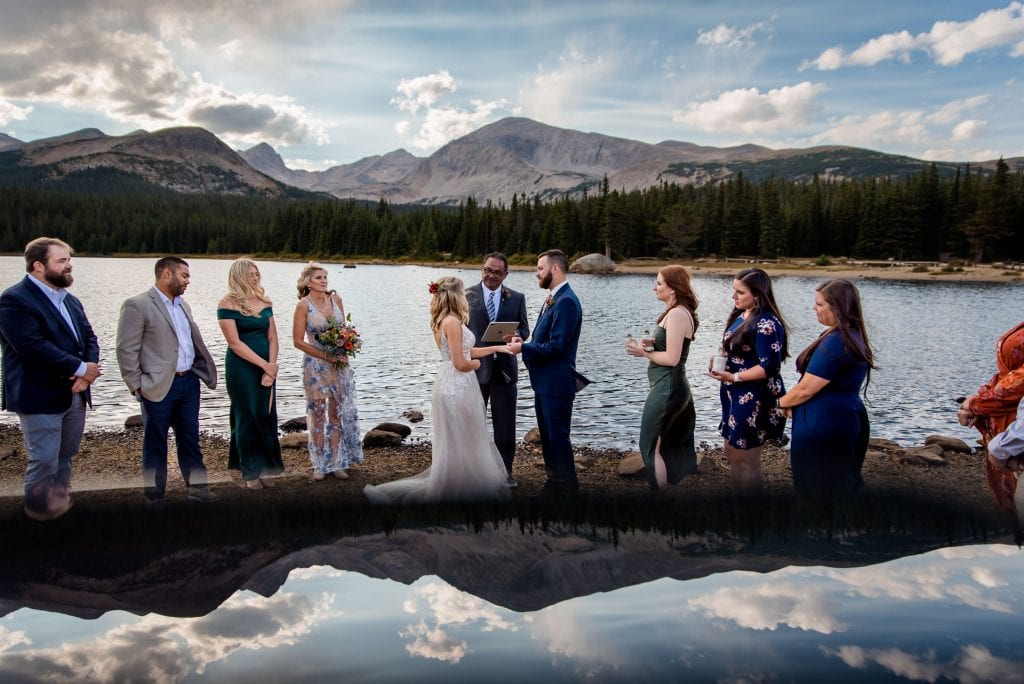 SKIP THE BIG, FANCY VENUE. OR GO ALL INCLUSIVE
Some venues are very high priced. But the smaller the wedding the more you can do with a less expensive venue to really make it shine. If you are having an intimate wedding with less than 40 guests then your inexpensive venue options really open up. I've seen brides transform one of their family member's backyards into a wedding space, going completely DIY. You could also rent out a campground area. There are several in the mountains of Colorado that have a large covered dining area with beautiful views that can be rented. You can decorate these so beautifully and not even be able to tell you are at a campground. Vacation rental properties offer lots of options when it comes to large homes that have ample space for an intimate wedding. You just have to ensure the specific property you want to rent allows parties as some do not. There are even some restaurants that have great patio space options to rent for your ceremony and reception.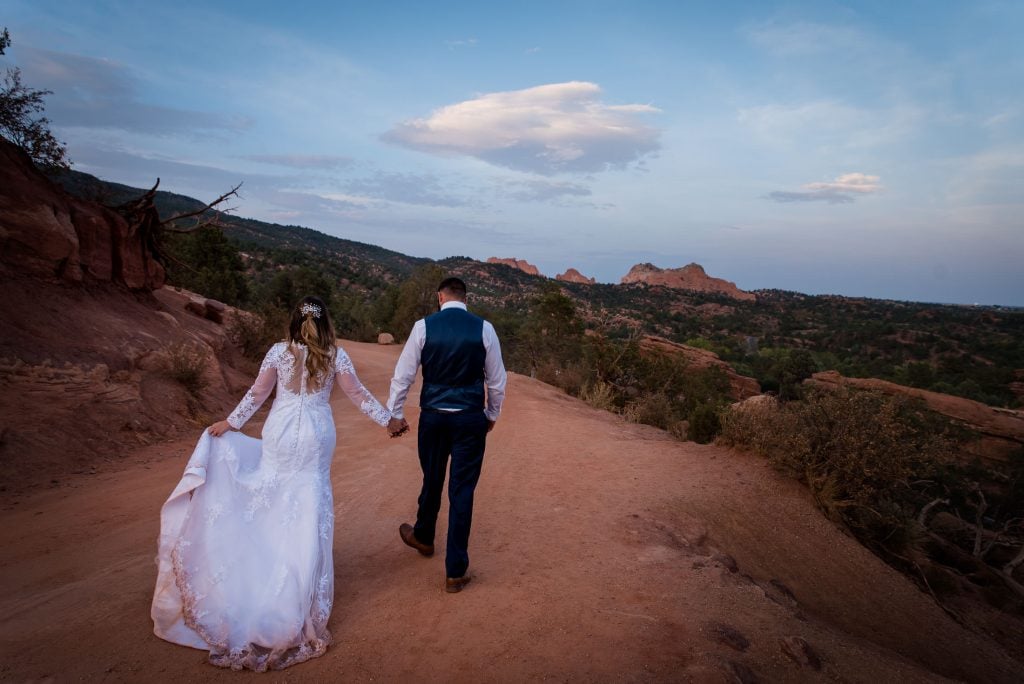 CHOOSE A BUDGET FRIENDLY WARDROBE
Purchasing wedding dresses and tuxedos can come at astronomical prices. There are many companies, including Amazon, where you can buy gorgeous wedding dresses online. Always read the reviews from real brides and do your research before purchasing but that's with any online order. I always suggest to go to an alterations place and have them do your measurements. For some reason I always feel like I mess up my own measurements when it comes to custom clothing orders. For the more masculine attire you can look at places like Asos. They have amazing formal wear for even more amazing prices. You can find really beautiful dresses at places like Lulus, too.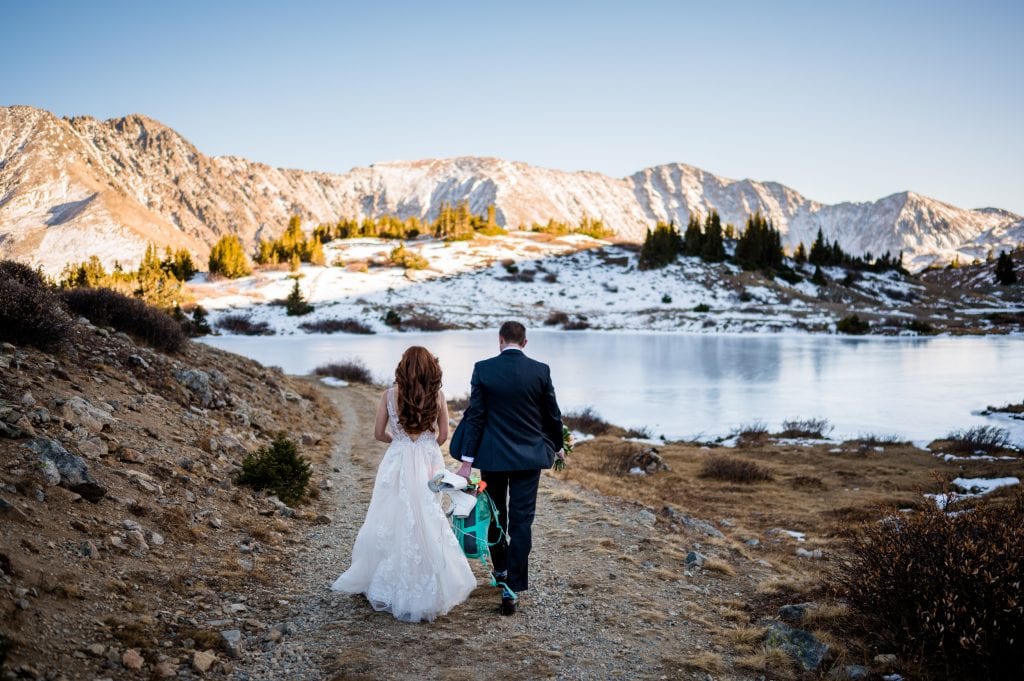 NO PLATED MEALS: BUFFET OR HOMESTYLE MEAL INSTEAD OR SIMPLY NO MEAL AT ALL
When some people hear the word buffet they think "cheap". But many of your more expensive venues offer a buffet or homestyle meal option at a fraction of the cost of their plated options. You can actually get just as fancy with your buffet options as your plated meal but your guest can choose what they want right there and they can go back for seconds if they'd like.
SKIP THE BIG TIERED CAKE: ORDER SOMETHING SMALL AND DECORATE YOURSELF WITH REAL FLOWERS
I remember from my own wedding cake that they are expensive. Rightfully so they are a ton of work and the baker has to have really perfected their craft. Not to mention transportation can be a crazy adventure, especially if your wedding venue is a backroads mountain venue like we have here in Colorado. But there are much simpler, less expensive options these days. And they are actually becoming super popular as couples will choose having a sorted dessert table that their guests can choose an array of options from rather than the traditional multi-tiered wedding cake. You can get as fancy as you'd like with this. If you and your partner prefer candy over cakes than do a candy bar. If you enjoy cookies and cheesecake over cake than do that. Your wedding day is still all about your and should be a reflection of your personalities.
SKIP HAVING A BRIDAL PARTY ALL TOGETHER
Having a large bridal party can get expensive for both you and your bridal party. Not only can you save money just skipping the bridal party altogether. But your bridal party can also save exuberant amounts of money by just getting to be a guest rather than a maid or man. From the wardrobe, ladies' hair and makeup, and costs for the bachelor and bachelorette parties it can get really expensive being in a bridal party. Going to a wedding as a guest is already expensive. But add on required wear and activities and it really starts to add up. Save yourself and your friends the money and allow them to enjoy your day as a guest. You can designate a friend or two to help you with the day of bridesmaid duties like holding your dress while pee and helping you in and out of the wedding dress.
DO YOUR OWN HAIR & MAKEUP
This can save you a little bit of money. But I also say this is your wedding day and you deserve to be pampered on it. Especially after all the planning and DIY stuff you are doing to already save you money. While this is an option to add to the savings I say keep it in the budget and pamper yourself on your wedding day.
HAVE A FRIEND MC AND CREATE WEDDING DAY PLAYLISTS FOR EVERY EVENT
I've seen several people do this and it can work out great, or not so great. For this option, you really have to put some time and thought into your playlist. You also have to make sure you find the right friend for the job of your DJ. Your DJ doesn't just change the song when the crowd is dying they also announce you to your reception, they announce when dinner will be, the first dances, cake cutting etc, etc. Now you can choose to skip all these things all together or announce them yourself. But if you are having a larger wedding than I suggest having someone who loves you and who isn't shy of speaking in front of large groups to designate this job to.
HIRE HELP!!
Hiring professionals to help you on the day of your wedding OR elopement is one of the things I never suggest cutting out of the budget. If you are going to spend time to help cut the budget the last thing you want to do is have that also cut into your actual day. On your day you want others to do all the set-up, deal with vendors, and clean up. Whether you are hosting a private dinner for guests at a campground or just having a ceremony in the mountains with decor, you'll want someone to help you with getting all of that ready so that you can just enjoy the day and have time for more fun adventures together.
HAVE AN INTIMATE WEDDING INSTEAD
Eloping is becoming more and more popular as people are realizing they can 1: spend their money on an epic experience for just the two of them and 2: don't need (or want) to have a huge audience on their wedding day. There are so many reasons why people are choosing to elope rather than have a big wedding. And everyone's reason, whatever it is, is valid. With this, you can spend money on the things that matter and plan out an entire day around who you are as a couple and individuals. Elopements are intentional in planning a day that reflects who you are and allows you to celebrate your love doing what makes you happiest.
An elopement can look like whatever you can dream of. It can be a hike to the top of a mountain and a picnic with a little cake cutting and champagne popping. It can be an intimate ceremony at a beautiful location and then beers in your favorite pub before you head out to the fire pit and finish the night off. It can be so many things but best of all it can be you. You can have a complete say about your wedding day. Plans can change without messing anything up at all. It can be whatever you want it to be.
The point of this blog was to not only point out a few key ways to save money on your wedding day but also say that when you invest in good photography you will always get your money's worth. A photographer is more than just a person with a camera that will show up on your wedding day. We are your hype person, we are there to help you through the entire process start to finish. You want your photographer to be all in with you and making your day the absolute best it can be no matter what you spent on it. In the end, hiring your photographer will be the most important decision from your wedding day planning. So be sure you find the right one for you, the one who has experience and expertise, and who has a great attitude and a love for people.