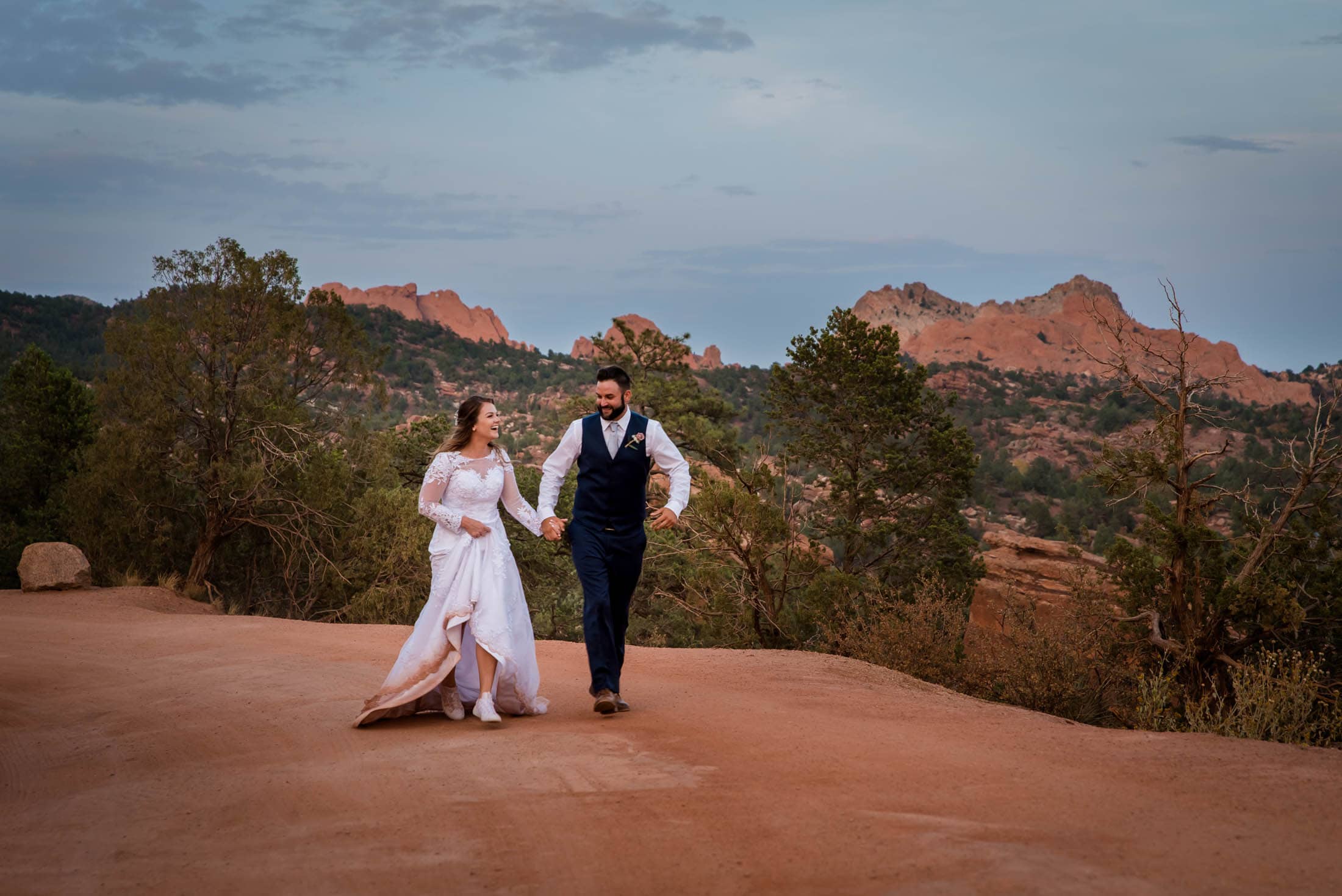 A Guide to Eloping at Garden of the Gods in Colorado Springs | Elopement & Travel Adventure Photographer
Garden of the Gods Elopement & Intimate Wedding Guide | Colorado Springs Adventure Elopement Photographer
This Garden of the Gods Elopement Guide will help you plan your elopement or intimate wedding in the park and in Colorado Springs area. GoG is one of the most popular parks in the state. For good reason as it's gorgeous and has incredible access for everyone. It's located in Colorado Springs just before the mountains. The 14er, Pikes Peak, sits just behind it making for the best mountain view location in all of Colorado Springs. This park is so unique and extra gorgeous because of its red jagged, juxtaposition with Colorado's grand Rocky Mountains behind it. The way the various landscapes layer each other is truly something for the storybooks. The depth, contrast, and textures all make for my favorite views in all of Colorado Springs. Sunrise and sunsets at this park are both a thing to be seen. Each one are unique so be sure to read my section about when to elope in GoG.
how to get Married in garden of the gods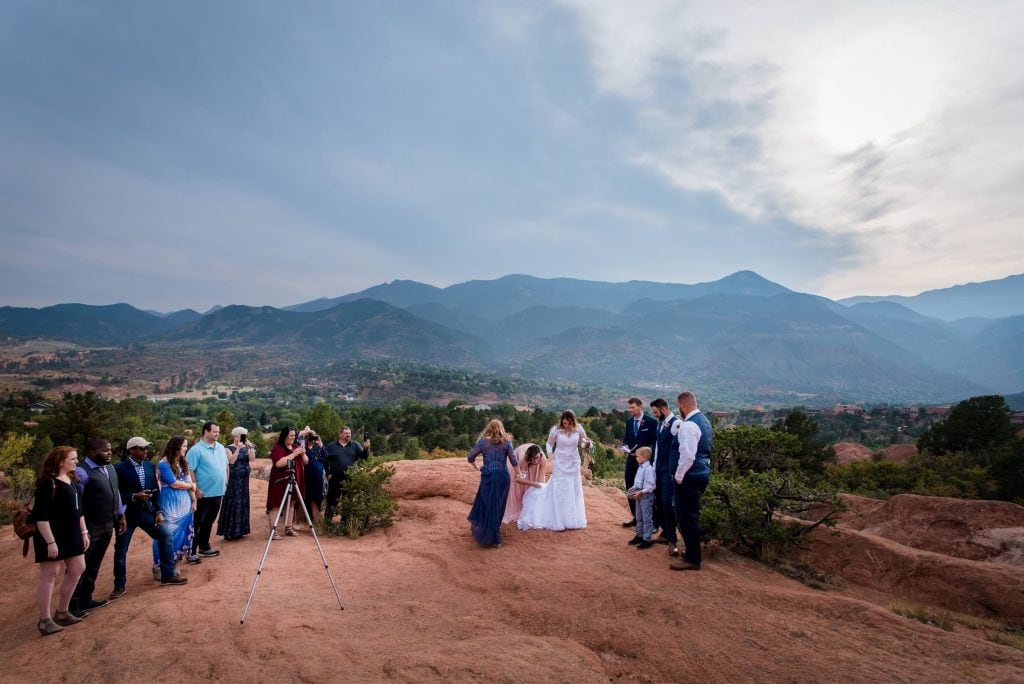 Small ceremonies are allowed at certain sites in the park. The park is open to the public. No reservation is required to have your wedding, it's first come first serve. You aren't allowed to set up any kind of alter or have seating, unless a guest requires a chair. You must leave no trace so no confetti or trash of any kind can be left behind.

The photography community is so grateful for this space for our clients as it is a beloved park and it doesn't require a permit. So we want to remind everyone who is marrying there or documenting any kind of story to always leave no trace and be kind & courteous to everyone else who is enjoying the space as well. The park gets busy so that's always something to keep in mind if you're helping your client to plan a session or wedding here.
Colorado Springs lists all of the information about having weddings in parks in the city including links to pavillions & chapels available to rent. They have a list of open spaces that do not allow wedding ceremonies so be sure to check it out if you decide not to get married in Garden of the Gods.
getting around THe park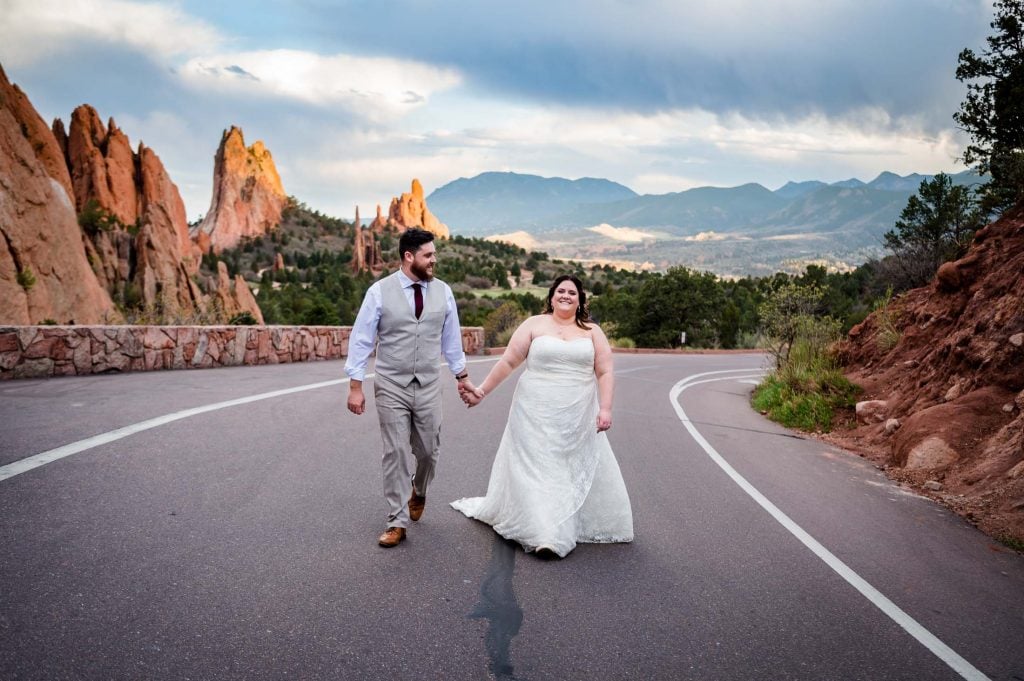 Garden of the Gods is very accessible for all guests. There is a drive that goes around the park with parking areas to stop along the way. The northmost parking lot along Juniper way loop is the largest and has restrooms. The Highpoint Overlook and Balanced Rock are the next two parking areas with more than 4 spots. It's very easy to park in the north lot and then walk from there to various sites. The best visiting hours for the park are sunrise and sunset and weekdays.
When to elope at garden of the gods in Colorado
Sunrise and sunset on a weekday during a lower volume season are the best days to plan an elopement or intimate wedding ceremony in the park. With sunrise beating out sunset for best time of day. My reason for saying that is because the park gets so incredibly busy at certain times, especially on weekends and holidays. There is no guarantee of privacy here since it is open to the public. Sunrise is the best time to visit this park if you want the least amount of other guests plus the highest chance for animals to join your ceremony. Sunrise also carries less of a chance for rattlesnake encounters in the summer since they won't be out on the trail sunbathing yet.

Okay so I bet you thought I was going to say a specific time of year in this section. But this park is a wonderful place to visit all year round. It beautiful and somehow so different in every season that it's a sight to see. The only thing that does make what season you visit matter is how you prepare. Colorado has 4 very distinct seasons but is a bit of a chameleon in terms of weather. We can (and often do) have all four seasons in one day. It doesn't matter if you're in the plains, Denver, Colorado Springs or the foothills or the high elevation mountains. You want to always be prepared for every weather.
Every season is beautiful in Colorado. The summer can get really hot in the lower elevations and our desert climates. If you want to elope in GoG during the summer I always suggest sunrise time to explore and exchange vows. Not only does the park get packed in its busiest season but it gets so hot if there are no clouds to protect you from the sun and heat. If you venture into the higher mountains to west of the Springs then you'll find some reprieve from the heat usually. If you decide to get really high and visit Pikes Peak be prepared for much much cooler temps at 14,000′. You want layers in case of very warm and very cold temps in Colorado in any season.
Garden of the Gods elopement timeline examples
I know a lot of couples struggle figuring out what to do to celebrate their elopement. I always give them a few ways to start thinking about it. First, think of it as the most epic date day, weekend or experience (you can celebrate your union for multiple days!) that you would ever plan. Like money is no issue type of date. Just because it's not a big wedding doesn't mean it doesn't still deserve a big celebration. Now discuss what you're each thinking and find the things that light you both up, make you happiest to be alive and together, and for sure do those. If you haven't already done this in the dreaming up of your most epic date, then think of each other's love languages.

This is how you're starting your marriage together – soak it in the love, attention, intention and meaning of your relationship. Next, think about how you want to continue these things into every day of your marriage so you never lose focus on the strong foundation that you must nurture. We so easily get caught up in life and can forget about needing to nurture our marriage. Elopements have such symbolism for the marriage. Your elopement day should serve as a reminder to continue these moments of love, focus and intention in our marriage. Never stop dating each other.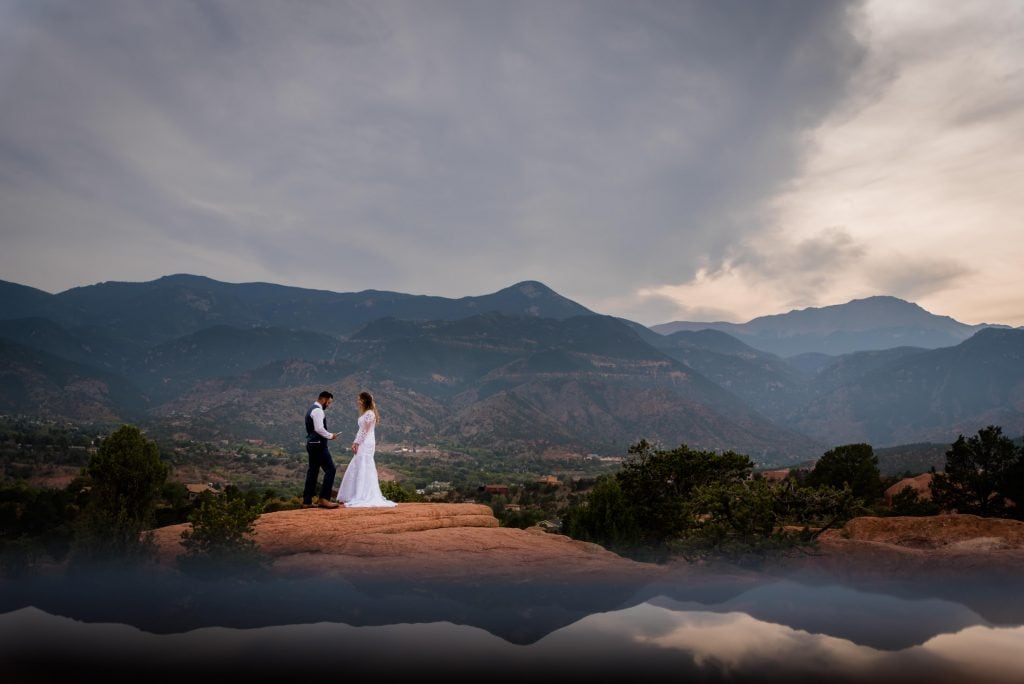 High Point Overlook is on the south side of the park with the ability to walk out on some red rocks for your wedding. These are the most mountain views you get in the whole park, and possibly anywhere in Colorado Springs really. The views of Pikes Peak and Almagre Mountain really make the giant red rock formations pop in a layered landscape sort of way.
This is a large space for up to 50 people with a circular stone structure that can be made seating for guests.
This gorgeous little nook is tucked along the paved trail through the park. About a .25 mile from the large north parking lot and bathrooms.
Tucked another .25 mile up the trail from Sentinel Plaza with just a short climb up the red rocks where you can often find climbers is Three Graces Plaza.
Scotsman Picnic Area is next to a small parking lot of 7-8 spaces off of Garden Dr. just after the split for Juniper Way to loop around or go to High Point Overlook.
Interactive Map of Garden of the Gods Ceremony Locations, Restaurants & Local Attractions
personalize your elopement with some local activities near colorado springs
Personalize your elopement with some unique to Colorado Springs activities. Eloping gives you two so many options for how you get to celebrate. Imagine saying your vows at sunrise in the park. You set up a picnic breakfast shortly after before the real hustle and bustle of the park starts. Explore, relax and take it all in before you head off to the next adventure. Like playing pinball in an old school arcade or taking a train up through the royal gorge. Maybe you head to your cute mountain cabin to chill before you have a private chef dinner in your living room. There are so many ways to infuse your personalities into your elopement day as a way of celebrating who you two are together.
the best lodging in colorado springs
Staying somewhere unique and fun for your elopement not only makes it feel more special, but it gives you somewhere to go in the future that will be even more meaningful to you. So I knew I have to include the best places to stay in my Garden of the Gods Elopement Guide. Colorado Springs and surrounding towns like Manitou Springs and Woodland Park has a variety of accommodations that will make the start of this next chapter feel extra celebrated. From secluded mountain cabins to hotels and epic airbnb rentals. Here's a list of the top places to stay that can really elevate your elopement celebration experience!