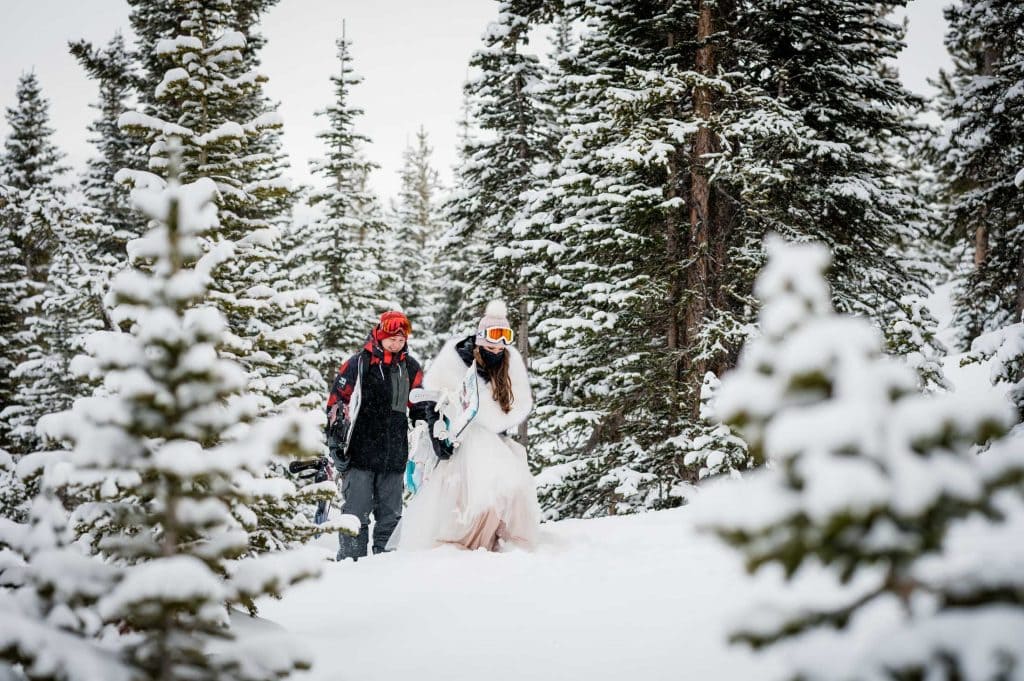 Top 10 Reasons to Have a Winter Elopement
In colorado's Rocky Mountains
10 Reasons to Have Your Winter Elopement
In Colorado's Rocky Mountains
Why my top 10 reasons to have a winter elopement in Colorado? Well for starters, winter is the most underrated season to get married in Colorado. Especially for elopements. If you love snow and winter things like keeping warm all bundled up by a fire or shredding down a ski run, Colorado will rock your world. You just have to come prepared for our Rocky Mountain winter conditions. With the right mindset – plus the right knowledge, vehicle, tires, shelter, gear, food and water – you can pretty much have an epic winter experience no matter what nature throws at you here. You can rent winter gear from local outfitters, too. Taking a little bit of the edge off the cost of winter outdoor gear. It's heinously expensive.
There is no other calm quite like the calm of snow falling
It's like everything ceases to exist during a storm. Winter in the Rocky Mountains carries a surreal sense of calm. It's also said that the color white causes feelings of calm and concentration. So it's only science that a magical winter wonderland makes you feel so relaxed and focused on each other.
The best locations have far less people visiting them than in the summer
Some locations become unable to be reached without snowshoeing or ski touring in. But the popular, easy to get to spots don't have the summer and fall crowds.
Winter activities are epic!
If you like winter at all then Colorado is the place to go for it. We've got so many fun mountain activities for winter here. You can ski or ride snowmobiles or be in an Ice Castle or cozy up in a log cabin by the first with a mountain view and everything you might ever need for 3 days of unplugged fun in nature. We've got luxury winter adventures and the backcountry ones.

The new warm tech in base layers is primo!
Gone are the days of being freezing when it's cold. With the right layers (don't worry, I know all the best gear!) you'll stay warm and toasty and get to enjoy the amazingness that is Colorado's winter.

Sunrise is the latest it gets!
This one is my favorite. You don't have to wake up at 3am to enjoy a mountain sunrise in the winter. But sunset is significantly earlier so you have to keep that in mind for later in the day.

The sun stays low in the sky all day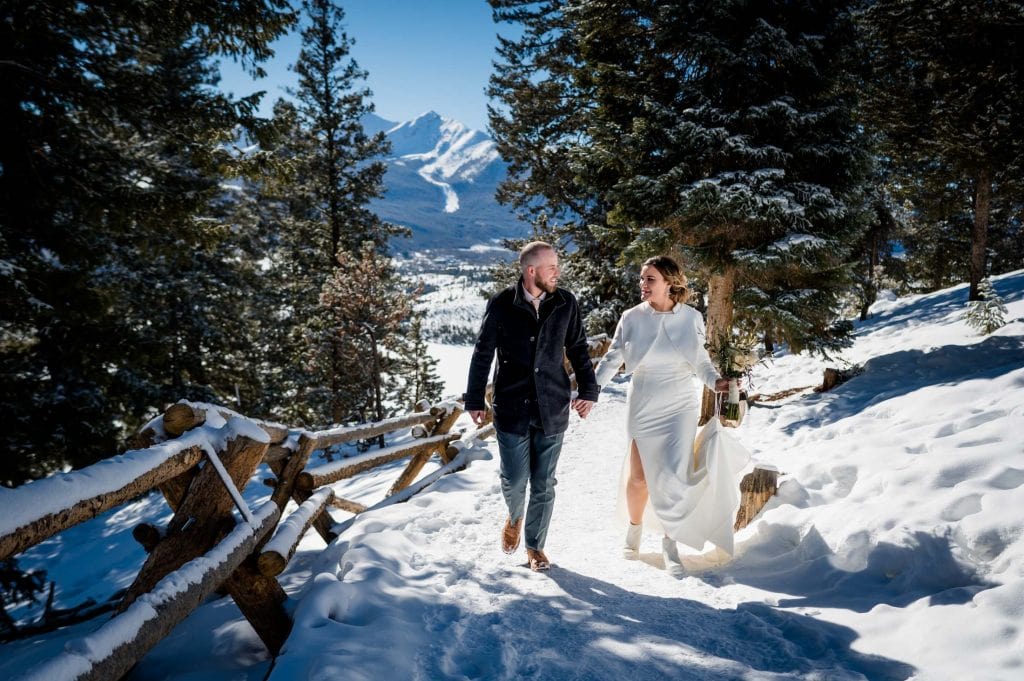 A photographer's dream for lighting just about all day. Colorado gets more blue bird days than blizzards. And with that sun low in the sky it means you get that pretty backlight all day rather than those crazy shadows from high noon like in the warmer months. Making winter ideal for an all day adventure elopement, at least from this photographer's stand point.
Some vendors and venues are usually a little cheaper in the off season.
In times past, some wedding and elopement vendors have been known to lower prices in the off seasons. Not all of them but definitely some of them. And if you or your photographer (me 😉 ) are able to pick up your things like your bouquet or charcuterie board etc then they won't charge you a delivery fee into the mountains. You want to stay as local as possible with your vendors for winter elopements because you just never know when mountain access from the city is limited due to weather.


You can do your own research and properly prepare your vehicle to make sure you make arrive safe and sound
Long gone are the days of no information at our fingertips on the internet. You can google everything one's vehicle might need to be prepared for winters in Colorado. We have a winter chain law for i70 that goes into affect every Fall until May. Having an AWD of 4WD with good tread on your tires can be the deciding factor to whether you're stuck on the highway or not. Don't get stuck. Just get the right truck. LOL just kidding, you don't need a truck. It's about using all four tires and the tread of those tires mainly. But having a shovel, kitty litter, and emergency supplies in case you get stuck is always a good idea when you're winter traveling in Colorado!!

So if you love snow play and aren't afraid of the cold, then consider a winter elopement in Colorado's gorgeous Rocky Mountains! I've got you when it comes to specific winter gear, logistics, the best locations, etc to make your winter elopement absolutely epic!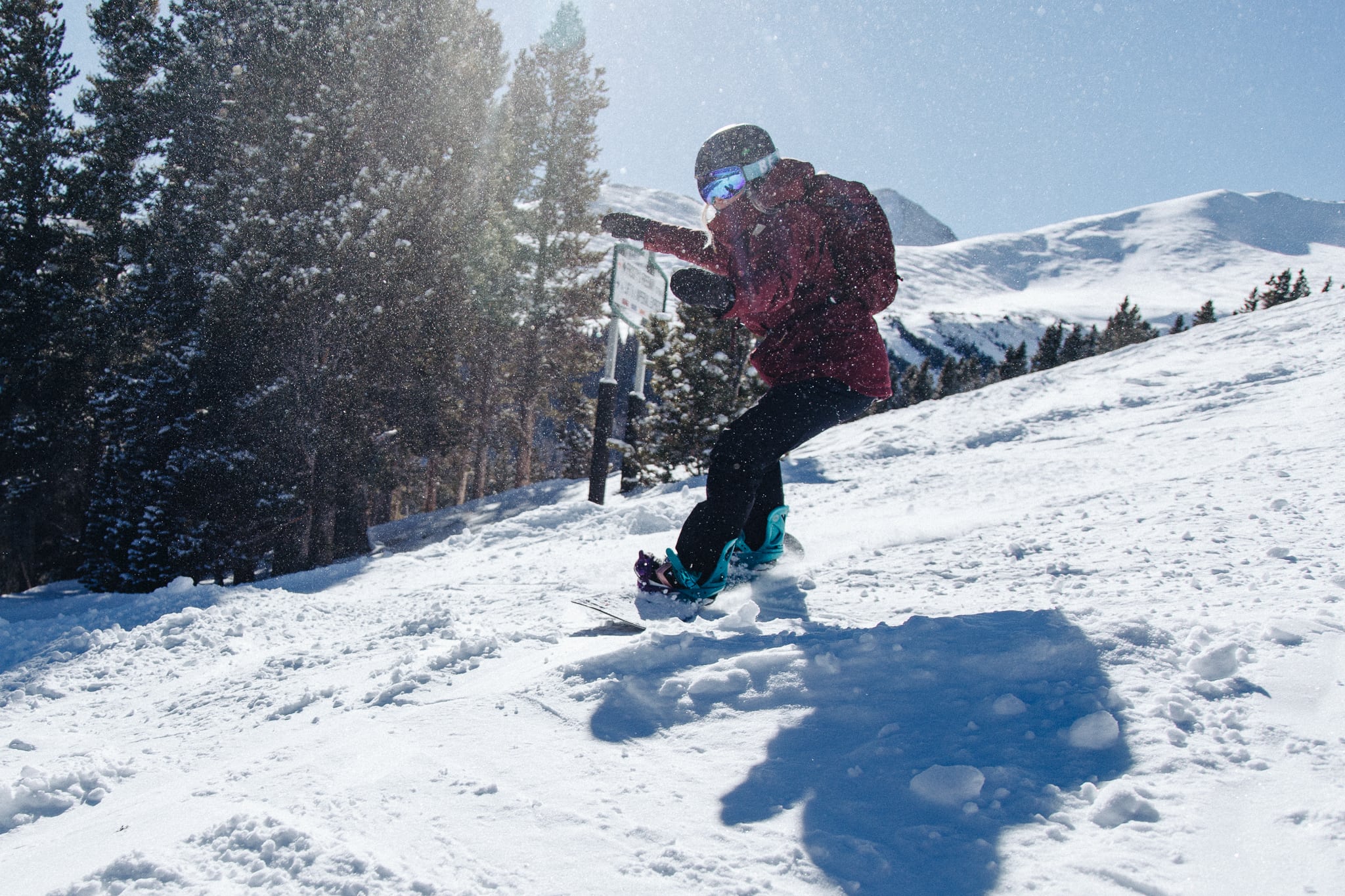 10 Ways to Have a Winter Elopement in Colorado
Incorporate a fun activity or two into your elopement celebration for a sure fire way to have an epic experience. Whatever sounds like it's most you or just sounds fun to be adventurous and try something new. You don't want to try anything too hard on your wedding like skiing and snowboarding for your first time. But everything else on this list is totally doable for beginners with little to no experience and no gear.
Snowshoeing or Winter Hiking
Drop in Heli or Ridge Cat Skiing & Riding
Cozy Winter Cabin (maybe with private geothermal pools)
Snowmobiling
Snowtubing
Ice Castles
Winter Adventure Elopement Timeline Ideas
Snowboarding elopement at a ski resort in Colorado
9am: start getting ready like hair & makeup before getting dressed at the cabin rental
11am: have first look at the cabin – family photos
12pm: have lunch and then pack up and head to the mountain to ski and snowboard
1:30pm: ceremony jus the two of you on the mountain somewhere
2pm: some shred time together
3:30pm: stop at the mountain top lodge for a quick snack and warm up by the fire before heading down for the day
4pm: lift stop running
4:30pm: sunset photos on the way back to the cabin – stopping at random or pre-scouted spots along the way
6:00pm: catered dinner at the cabin with family before cake cutting and signing the marriage license with everyone there
all day elopement with snowmobiling and a micro-reception with guests
7am: start getting ready like hair & makeup before getting dressed at the cabin
9am: have first look and breakfast at the cabin
10pm: pack up and head to your private snowmobiling tour
12pm: find your ceremony spot along your tour
1:30pm: stop for a private picnic in the mountains that is already set up for you
2:30pm: head back on the snowmobile stopping along the way for fun & romantic photos
5pm: back at the cabin for your micro-reception
6pm: catered dinner
7:30pm: cake cutting and celebrating
9pm: set up for star photos if conditions permit

Elopement Vendors in Colorado | Colorado Elopement Photographer & Planning Assistant

Why You Should Elope in Colorado

Adventure Elopement Gear | Packing Lists & Links
NAT MOORE PHOTOGRAPHY | Colorado Mountain ELOPEMENT PHOTOGRAPHER
PHOTOGRAPHing ACROSS THE ROCKY MOUNTAIN REGION | AVAILABLE FOR TRAVEL WORLDWIDE
TELLURIDE | DURANGO | SILVERTON | OURAY | CRESTED BUTTE | GUNNISON | ASPEN | BRECKENRIDGE | KEYSTONE | STEAMBOAT | SILVERTHORNE