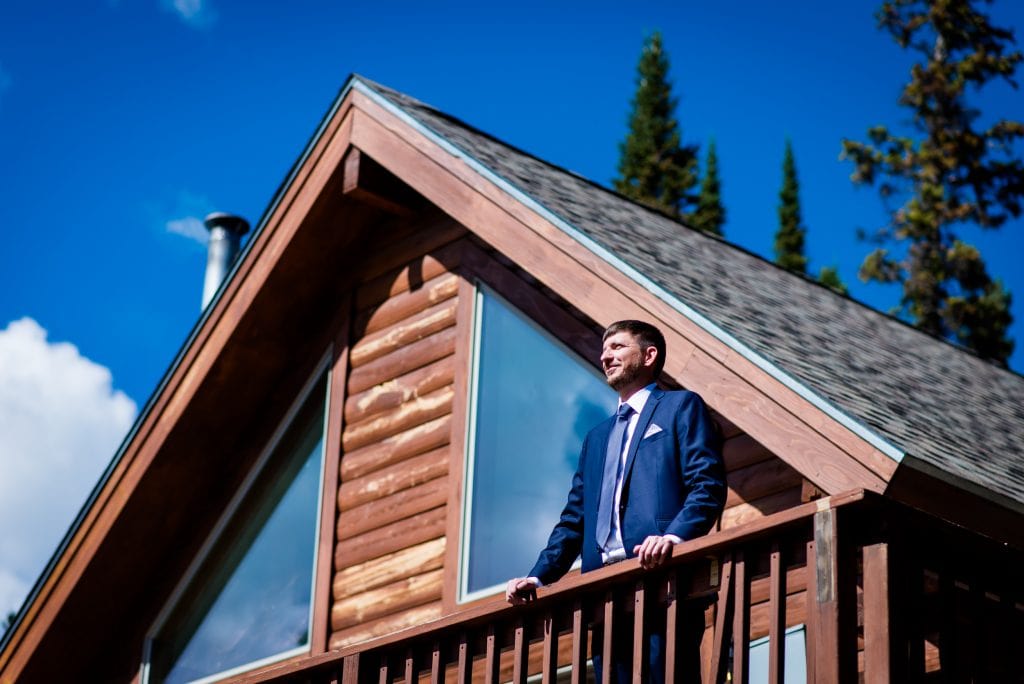 The Best Places to Stay in Colorado
Colorado is the adventurer's dream. It has hundreds of options for that old mountain lodging feel. And if you want to step into 21st century mountain lodging you can with things like 'glamping' or Airbnb someone's private mountain chalet. A few years ago, I vowed to my husband to start taking advantage of living in one of the most beautiful and expensive states in the country. So I started to put together a list of the coolest places to stay in Colorado because I wanted to really explore my state. But I'll be the first to say that we aren't rich so my list also includes some of the cool, more cheaper places to stay at in Colorado, too.

All of these places are ideal lodging for celebrating your elopement in Colorado! They are in gorgeous mountainous areas with tons of activities. Get married on a mountain top somewhere, adventure for awhile, and then come back to unwind and relax at any one of the places. Most of them offer the options of a private chef to help you finish of your night with some dinner. But even if they don't hit me up and I can give you some amazing local private chef recommendations!

Let's start with Colorado's fanciest places to stay first. Just click the heading names for links to the website and more info. 🙂
Colorado's Swankiest Mountain Lodging
I have to start with Colorado's most unique and fancy places to stay since that's what my personal list started as. I grew up working in adventure hospitality and I'm a firm believer in experiencing life and not just working our lives away. So to no one's surprise I have a list of the most epic places to stay in the the state already made in my apple notes. It's my goal to get to staycate at them all eventually! Even more so a dream to get to photograph elopements and families having a wonderful time taking advantage of these amazing places to stay with their loved ones.

So here's my list of the coolest places to stay in Colorado! Check em out and let me know if you stay at one of them and what you think!
Dutton Hot Springs is first on my list because it's the macdaddy of all cool places to stay in Colorado in my opinion. They have fancy cabins with private hot springs and are all inclusive for two people. So you don't have to worry about a thing once you get there, just take in the scenery and relax. It's definitely one of the more expensive lodging options but they offer a really unique experience so they can do that.

They have cabins as low as $1030/night for two people and The Well cabin with a private hotspring ranges between $2200-$2800 depending on the time of year you stay.
The Four Seasons Vail is perfect if you're looking for that very upscale experience and want to be located in the heart of a mountain village that makes you feel like you're in Europe. Vail village boasts Bavarian village style architecture with pedestrian streets. The whole place is lit up for Christmas making it a magical place for the holidays. It also gives you access to the fourth largest amount of skiable terrain in the country at Vail Ski Resort, with access to the mountain only a few minutes walk away. If you are looking for modern amenities and an experience that transports you to other times, then staying in Vail Village is the right place.
The Vail Collective is the ultimate glamping experience with fancy tents, mountain activities, wine tasting, and complimentary breakfast brought to you in bed.

$320-$870/night for two people including breakfast in bed
Piney River Ranch is located just 45 minutes outside of the town of Vail, Colorado. It's a personal favorite of mine as I have been here before. There is something so perfect about the Gore Range reflecting off Piney Lake with the canoes in the water at the ranch. They have 6 lakefront cabins and 3 glamping tents to stay in which look amazing from the photos. They have a restaurant that's open to the public during the season. You can rent canoes and paddle boards for the lake even if you aren't staying at there.

They are closed for the winter season and open booking for the 2022 summer and fall season on January 10th 2022 11AM MT! An all-accommodation buyout is available at a group discounted rate of $2,550 plus tax for 2022 or $3200 plus tax for holiday dates of July 1st – 4th and September 2nd – September 5th 2022.

If you want to see an elopement I photographed in the area around Piney River Ranch, click here!
Mount Princeton Hot Springs is in Nathrop, Colorado just south of Buena Vista with views of the Collegiate Peaks. It has tons of lodging options including fully equipped cabins and suites from $202-$556/night. They are a great location and have an adventure concierge to help you add on extra activities like white water rafting, backcountry ski tours, hikes and more. They even have this great list of hikes in the area to check out when you stay.
Juniper Mountain House is a gorgeous estate just 30 minutes outside of Denver in Evergreen, Colorado. They have 5 guest rooms available to rent separately or you can rent out the whole house for an intimate weekend with friends. They also have gorgeous wedding and elopement ceremony and reception space. You can host a beautiful intimate wedding with room for your closest to stay with you. Juniper Mountain House wedding and elopement packages and info.
Chipeta is a nice resort in Ridgway, Colorado surrounded by the San Juan Mountains. There rooms range from $220-$400/night. The resort gives all the upscale southwest vibes with spanish style stucco, simple decor and natural colors. Their pools are heated with solar thermal energy. They have rooms with private hot tubs.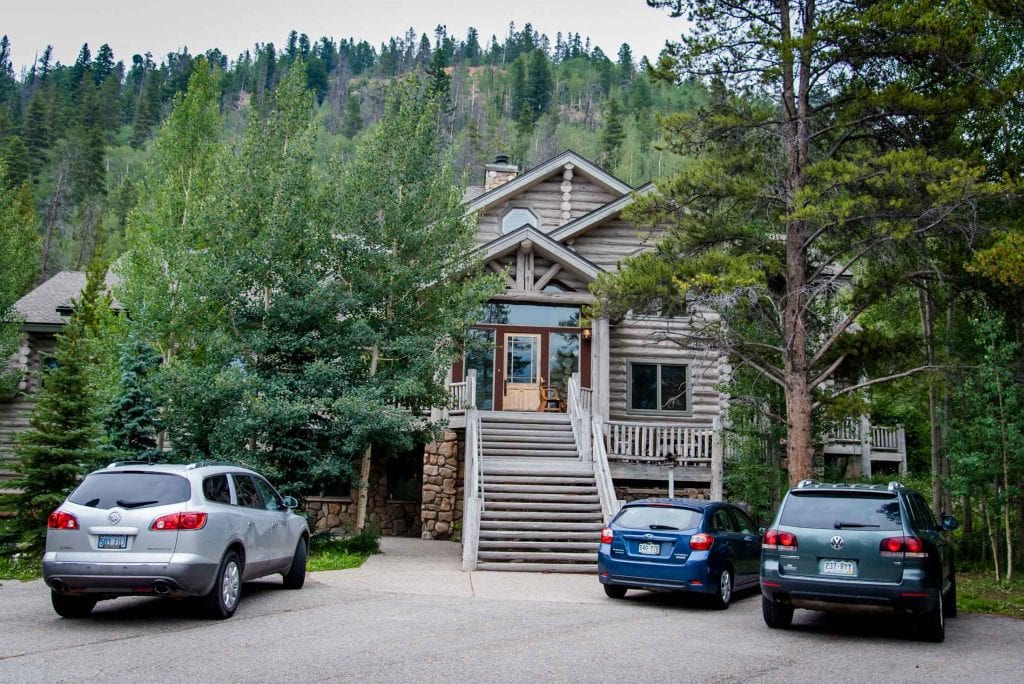 Full Cabin Rentals in Colorado
Colorado has no shortage of mountain homes to rent. If you got the budget, the sky's the limit on some of these rental homes. Colorado also has tons of super affordably priced and super rad homes for rent as well. You just have to do your research a little. But I'm here to help with that! I've put together my list of favorite cabins I've ever found. I personally want to stay at every single one of these as they all offer such a different environment. I'll try to keep these in order from most expensive to least expensive.
The Observatory at Alta Lakes is a private cabin located at an old mine at 11,000′, just above the town of Telluride, Colorado. It's an adventurer's dream (okay my dream) place to stay. They boast a list of activities in the summer and winter months. In the winter it's only accessible via snowmobile, skies, or snowshoes. Plus it's in one of my favorite mountain ranges in all of Colorado, the San Juan mountains. Alta Lakes is one of those surreal spots that you can only find tucked far away in the mountains somewhere. It has the peace and quiet that's not always promised in Colorado's outdoors anymore. In the summer, you access it 14 miles up a dirt road giving you plenty of space between you and town but close enough to go back for dinner if you want.

$1200/night for up to 7 guests- fully stocked cabin (no meals included)

If you're just looking for the swankiest mountain dinner you can find, check out Dinner at Eleven.
This Crested Butte 5 star Mountain Home sleeps 14 people with 5 bedrooms and 4 full bathrooms for less than $1000/night. It's perfect for 4 days of hanging out and exploring Crested Butte while having all the amenities at home to chill. has got a media room, arcade, jacuzzi on the top deck, and all the space you need for wonderful meals at home together. They allow 14 guests.
If you're looking for a relaxing place in nature with the most breathtaking mountain views, this is it. It's got great space to host up to 18 people with 5 bedrooms and 5 full bathrooms. It's the perfect space for a winter trip when all you want to do in the evening is relax around the house in your long underwear because you ripped it down the mountain all day. Making family meals or hiring a private chef would be a breeze in the large kitchen and dining space. It's priced around $1400/night.
Thoreau's Cabin is definitely one of the coolest ones I've found to rent in Colorado! Not only is it in the gorgeous Uncompahgre Wilderness in my favorite San Juan mountains. But it's close to hiking trails galore, and get this, it has its own suspension bridge. How cool is that?! It only has 2 bedrooms but can sleep up to 6 people.
The Triangle Cabin is probably one of my favorites on the list due it's A-frame stature and gorgeous mountain backdrop. I'm a sucker for an a-frame. It's proximity to a lot of different mountain towns is nice but you still get that way out there in the middle of nowhere feeling. There are great hikes and 14ers in every direction making The Triangle Cabin a great basecamp for some day trips.
Click the links below for more epic lodging options n Colorado!
Stay at a Hot Spring in Colorado
I know I already mentioned Dunton Hot Springs up top. And it can stay up there because the rest of these places, while nice and unique in their own ways, don't hold a light to the swankiness of Dunton. These are more budget friendly hot springs lodging in Colorado. I'm a water baby, so there was no way I was making a Coolest Place to Stay in Colorado piece without including every single lodge that has their own private hot spring.
Box Canyon Lodge has my favorite hot springs in Ouray, The Switzerland of America. You cannot beat waking up with the sun in one of their tubs on a 3 story deck climbing side of the hill where the spring comes out. There are 4 different tubs and they are all in large wooden barrels. It's very eclectic and reminiscent of the lodge's roots with early settlers creating hot spring tubs. The hot springs have been used for centuries as the area is originally home to the Ute Indians. The property became a hotel after World War II. It's the perfect place to relax and crash after a long day of hiking or 4x4ing on some of the San Juans' gorgeous trails nearby. Some of the most beautiful places I've seen in Colorado are in this area.
Strawberry Park Hot Springs is one of my favorite hot springs in the state. It's located in Steamboat Springs, Colorado; which if you know me, you know I have a particular affinity since childhood for Steamboat. Strawberry Park Hot Springs isn't totally primitive but they've kept all the primitive vibes while adding the necessary amenities like a bathroom and quaint little backcountry style lodging options. They have pretty unique lodging options like a train caboose. They only have one caboose and a few other options so if you want to stay make sure to book your lodging way in advance. Of course, you don't have to rent lodging to be able to enjoy the hot springs.

The road is a dirt mountain road and can be difficult to drive in the winter. In the summer and shoulder months before snow, it's known to have 2wd vehicles on it. Just know that if you get stuck on the road they do charge you a good bit to have your vehicle recovered. The last time I was in town and heard it was $500. But there are shuttles now that pick you up at your hotel and take you.
Avalanche Ranch Hot Springs is in RedStone, Colorado. It has several different kinds of cabins to suit different needs plus hot springs right there on site. They're open year round and offer activities along with access to their hot springs all year. They have cabins from $115/night to $500/night with 2 and 3 night minimums depending on the season.
Pagosa Hot Springs is in Pagosa Springs, Colorado in the Southwest corner of the state. It features awesome geothermal pools overlooking the San Juan river surrounded by the rugged (and my personal favorite) San Juan Mountains. Just north of Pagosa over the gorgeous Wolf Creek pass is Wolf Creek Ski area. Another personal favorite of mine as they rightfully boast large powder storms and have awesome hike to terrain as well as a snowcat! Pagosa Hot Springs Resort offers luxury accommodations and the town of Pagosa is a great place to stay with endless activities all year round in the area.
Orvis Hot Springs is a clothing options hot springs in Ridgway, Colorado. They offer lodging and camping as well as just entrance into the hot springs.
Yurt and Tent Rentals in Colorado
If you're looking for the truly rugged, Colorado mountain lodging experience where you can get away from everyone and bring all your own stuff as if you're camping, the Phoenix Ridge Yurts are it. This is a true backcountry experience where a high clearance 4×4 is needed and you are completely remote so you need to bring everything you might need. The road closes in the winter so the only way to get there is by ski touring and hauling all of your own stuff in like any other true hut trip. Be sure to read the FULL DESCRIPTION before booking this property to make sure you'll be able to have everything you need!

You book it through airbnb.
Sombrillo Ranch in Pagosa Springs, Colorado is home to 5 spacious tents with luxury bedding that accomodate 5-6 guests each. As well as revamped 1930s barn with a kitchen, 2 bathrooms, 1 shower, common dining area, pool table, flat screen tv, 12-foot screen for projected movies, yard games, giant firepit and plenty of room to entertain and enjoy the spectacular views. They offer additional services for a fee like guided fishing tours, horseback riding, massages, archery lessons, a private chef and more!

You can rent just one tent and enjoy the ranch with other guests. Or you can rent it all out for your for an adventurous family reunion, intimate wedding or retreat!
YMCA of the Rockies is in Estes Park and Winter Park, Colorado. This isn't your ordinary YMCA but rather a more affordable way to get immersed in mountain activities with just enough amenities to be happy. It has rooms and private cabins to rent for lodging that range anywhere from $109-$604/night. As well as seasonal camping yurts and tent camping.
If you have cool places to stay at in Colorado let me know what they are in the comments! I love traveling in state and supporting small businesses here!
Photographing across the Rocky Mountain Region
Estes Park | Telluride | Silverton | Ouray | Durango | Silverthorne | Breckenridge | Steamboat Springs | Vail | Aspen | Keystone | Rocky Mountain National Park