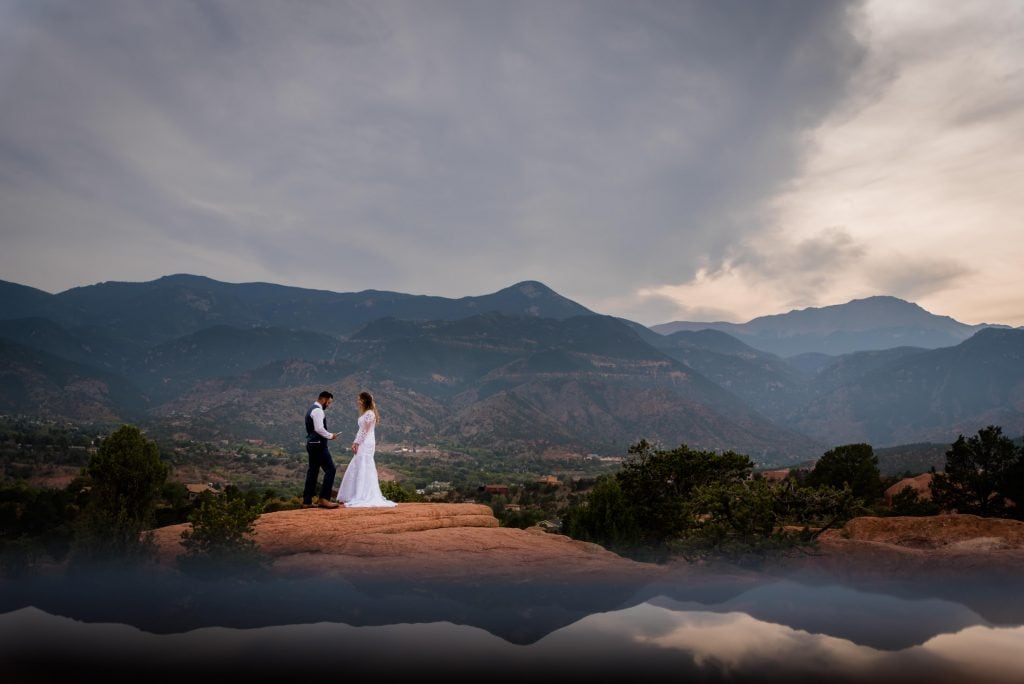 kacy & brandon | colorado springs elopement photographer
Garden of the Gods is a one of Colorado's coveted wedding and elopement locations. With incredible views of Pikes Peak and the giant, jagged red rocks in the foreground, it's like nothing else in the world.
For K+B's elopement we parked at High Point parking lot and walked down the trail a little ways to find their spot. They had their first look and then exchanged private vows before having their family join them. After the ceremony and some fun family photos their guests headed back to the airbnb in Colorado Springs they had rented to get ready for dinner. The three of us headed off into the park to explore. It was a super busy late September Saturday evening in the park so I was looking for anywhere we could maybe sneak off to. Luckily photoshop is a handy tool when working in busy locations!
K's brother is in the military stationed in Germany, and because of Covid, wasn't able to be at their wedding day. So she had a photo of him framed as a stand-in and we were able to get enough service to Facetime him at the ceremony. And K's father had passed away not too long before the wedding. B reached out to me wondering if I would be able to use an old photo of her dad to make a special photo of them together on her wedding day. I dug deep down into the photoshop skills I learned in college and was able to make some special for K to show her father was with her on her wedding day.
Planning a Garden of the Gods Elopement or Micro-Wedding?
There is no charge for use of Garden of the God's 6 locations across the park for your micro-wedding or elopement ceremony. It's first come first serve and has some rules like you can't bring in any decor, chairs, or have a reception unless you're having a picnic in their designated picnic area. For a full list of the rules and details on the 6 different locations where they allow ceremonies click here.
For help planning your Colorado Adventure Elopement or Mountain Wedding click here for my guide!