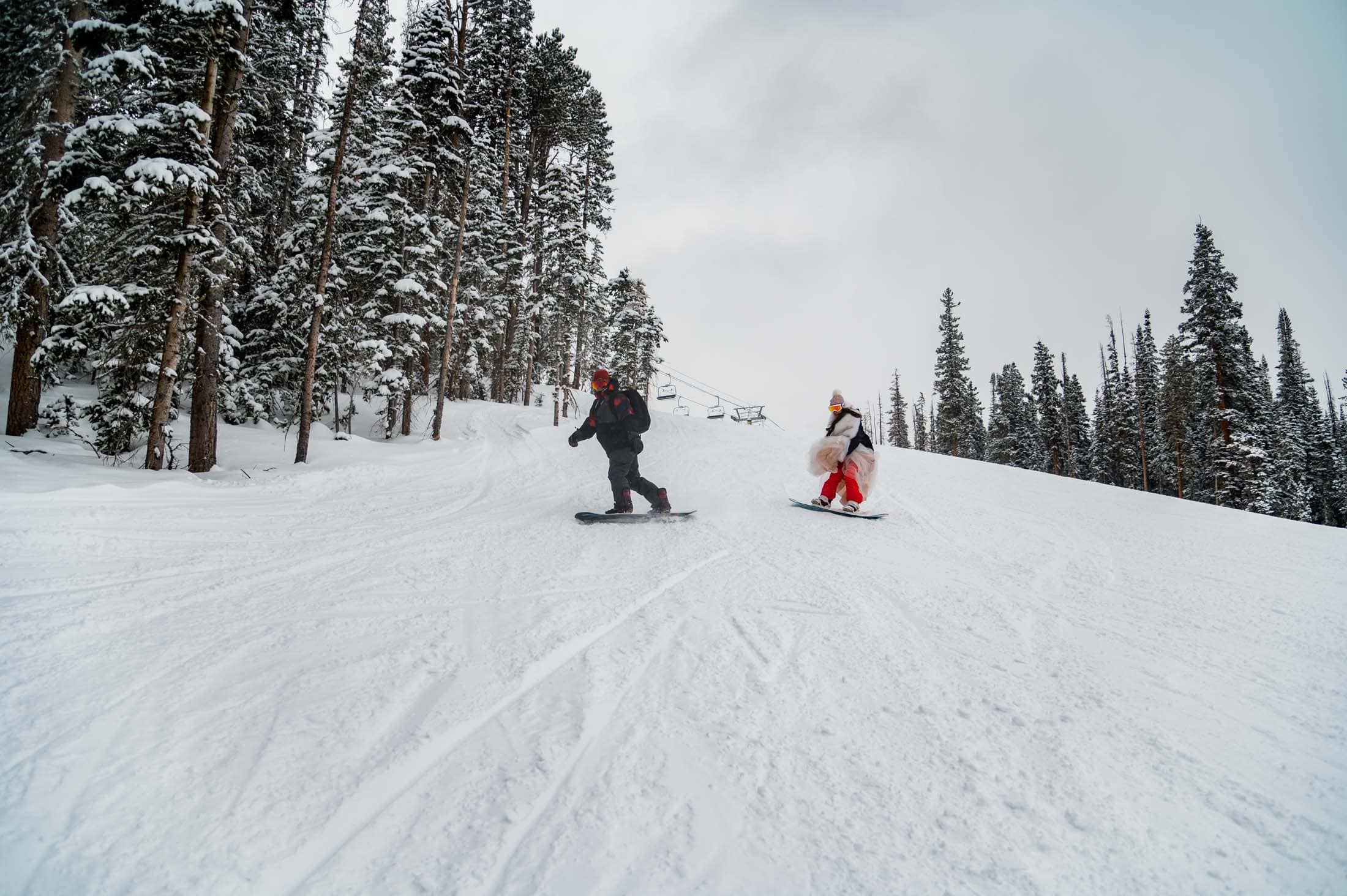 Colorado Ski Wedding & Elopement Planning Guide
Ski and Snowboard Wedding & Elopement Planning Guide | Colorado Ski Resort Photographer
Having professional photos taken while you ski or snowboard is a thing. That means you can get married and shred in the same moment if you want. Bring your friends and family and make a whole trip out of it! I so wish I could've gotten married this way. If you love riding snow and understand the stoke then you get why two would want to do this on their epic wedding day. You decide if you want to make your whole day around it or if you want to just have a shred session after your ceremony. If it's just the two of you, you can choose almost anywhere to say your vows to each other. And you can take laps with all your friends and family in celebration!
Best Months of a Ski Wedding or Elopement
March and April are notoriously Colorado's snowiest months. When you plan your elopement is up to you and the type of trip you're planning. You can host weddings all winter long if you and your guests are prepared for winter travel well.

December and January can be very dry and icy. It really just depends on the year. 2022-2023 season was epic records of snowfall across Colorado. The 23-34 season is said to be another El Nino which would mean significant snowfall again. But only time can tell snow conditions so if you are planning this out and want the most chance for a powder day then I say late February to mid-April is your best bet. Just remember that the later it gets the heavier the snow. A lot of resorts stay open into the end of April if they can. Arapahoe Basin owns their land so they are open earliest and stay open the latest in the season. They even have lifts turning on the 4th of July usually.
Ski & Snowboard Elopement Wedding Planning Guide
Choose a ski resort or area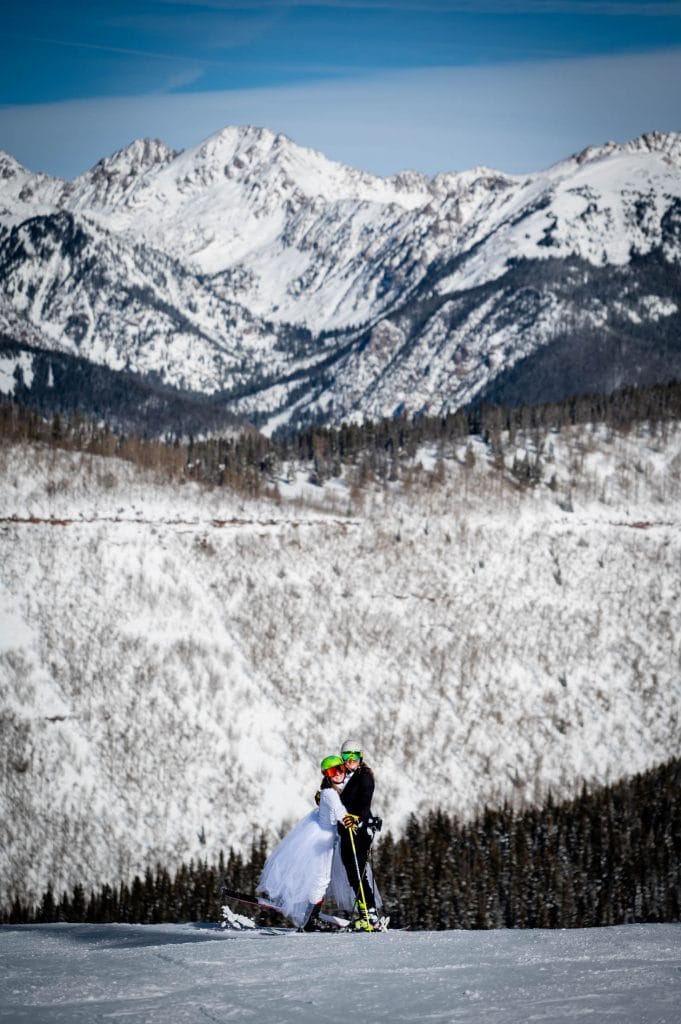 Choosing a mountain you're already familiar with helps with logistics for the day. It means you've run those runs before and will feel more comfortable rather than on a new hill for the first time. Plus the more you're on a mountain the more cool spots you know of. If you pick your favorite mountain or a bucket list ski resort, the mountain already means something to you.

If you choose a mountain you're unfamiliar with that is always fun and exciting, too! But it just helps to check out a ski map first. Hopefully, your photographer has done some reconnaissance. Construct a game plan and make sure everyone is on board with the level runs you plan to take. It's never fun getting caught in something that just feels too hard. Don't really want to do that in wedding attire on the best day of your life. Save the lessons for next time and keep it fun.
I can't think of a better time to go all out and visit your bucket list ski resort than when you are celebrating your wedding day. For me, it'd be between somewhere in Japan, Norway, Switzerland or Whistler. And I'd definitely be considering being dropped off by helicopter somewhere. But that's me, now is the time for you to really dream up what your most epic ski day would be and maybe incorporate that into your wedding day.
How to Prepare for Adverse Winter Weather
Plan B & C – Just in Case
Book a mountain cabin
Book a mountain cabin for the full ski wedding trip experience. This way you'll have somewhere nice to get ready in. And to come back and relax after ski days. Book the one with the jacuzzi, just trust me. Most rentals allow you to host family dinners with chefs or private catering as long as you are within the maximum occupancy & don't have plans to set up a full wedding with vendors, event rentals, and things like that. And there are some homes you can find that will allow ceremonies.
Plan part of your day off the mountain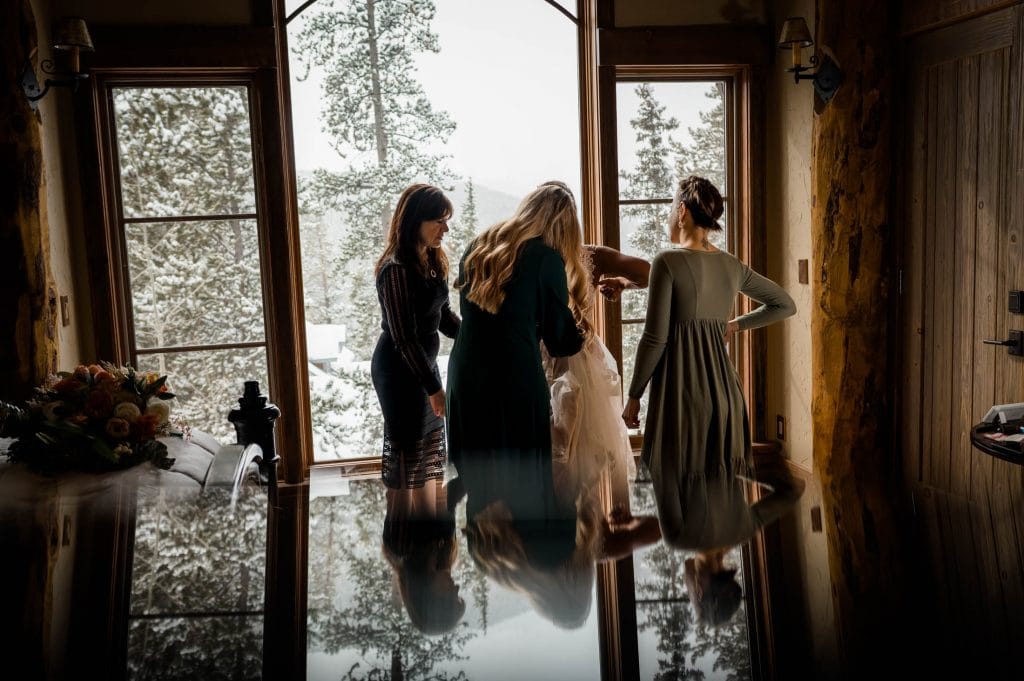 Plan on spending half your session somewhere off your board or skiis, either on or off the slopes. I don't know about you but sometimes my favorite part of a shred day is that stop in the trees or grabbing a sandwich at the top. Planning a little bit of both will give you the best of the day. It's not an all day photoshoot but really documentary of what a real shred day is. So do the normal things you'd do. By planning some time not riding you can give yourselves the opportunity to snuggle up somewhere. Skiing and snowboarding elopements aren't straight shredding the whole entire time either. It's all about balance baby.
Layers For Under & Over Your Wedding Wear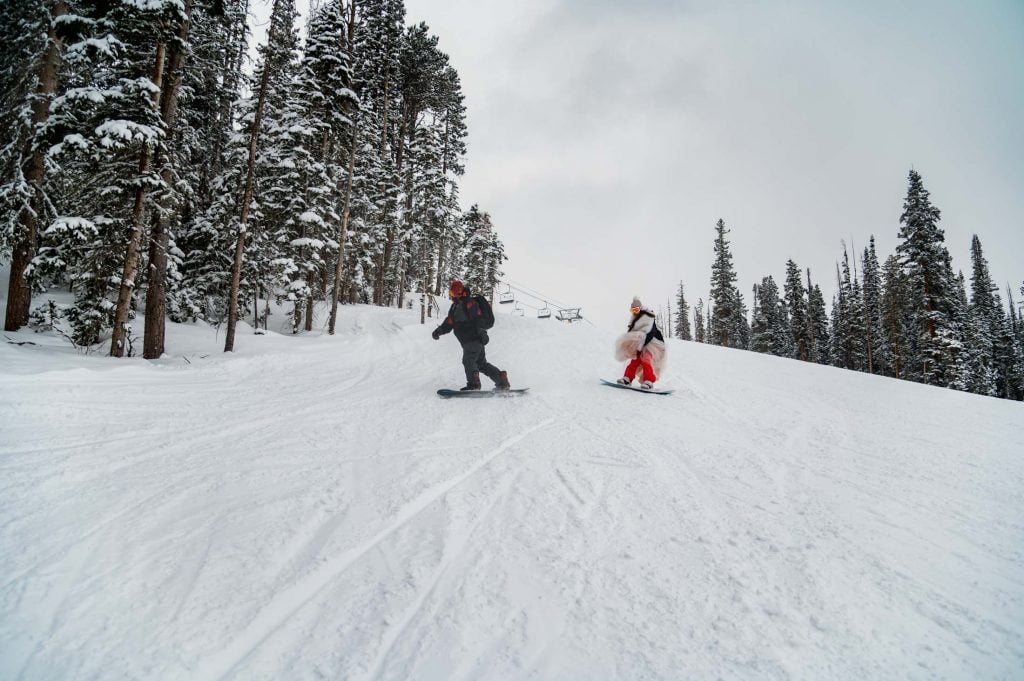 Choosing the right layers is key for your skiing or snowboarding wedding. You want it to fit layers underneath so it needs to have a little room. If you can do a squat in it then you're pretty much good. You can wear your base layers when you take your measurements or go shopping for better fittings.

My favorite layers are wool socks & base layers, my Burton jacket & Spyder Snow Pants. off-white or non-white wedding wear does better in photos against the snow.
Other Winter Activities for Your Elopement
rent a nearby cabin to get ready together – this can include making breakfast, writing vows, getting ready, or anything else you'd like to do to start celebrating your wedding day.
hot tub or hot springs after – you can do a rental with a hot tub and a view
dog sledding
explore the mountain town
snow tubing
backcountry hut trip
guided backcountry trip
sleigh ride
walk through the village & gondola ride
drinks in the village or nearby bar
Hey, I'm Nat. I've been snowboarding for over 20 years. I'm a former snowboarding instructor at Loveland Ski Area. I moved to Colorado to chase snowboarding and go to college for art & business. So I guess you can say I've come full circle with this business. It's been a dream of mine since I was an instructor the same year I started documenting & co creating-adventure elopements.

I'm writing this Colorado Skiing & Elopement Guide to help anyone thinking about having their elopement or wedding day involve skiing or riding. I want more stoked people to know that skiing or snowboarding on your wedding day is a thing and it isn't as hard as it seems when you have the right help!
Get My Colorado Winter Travel Guide
Visiting Colorado for the first time in the winter? Check out this guide to help you prepare for winter in the Rockies along i70 and elsewhere in the state.