Crested Butte Elopement Planning Guide | Colorado Adventure Elopement Photographer
Nestled amidst the majestic peaks of the Elks Mountain Range in Colorado, Crested Butte stands out as an idyllic destination for couples seeking an intimate elopement experience. Boasting enchanting landscapes, charming venues, and a vibrant community, Crested Butte offers a picturesque canvas for your special day. Pair epic views with activities like 4x4ing, paddleboarding, hiking amongst the wildflowers, camping, horseback riding, kayaking, and world-class skiing. With giant mountain views in every direction, it doesn't really matter where you go. I wrote this Crested Butte Elopement Guide to help you get started with your planning!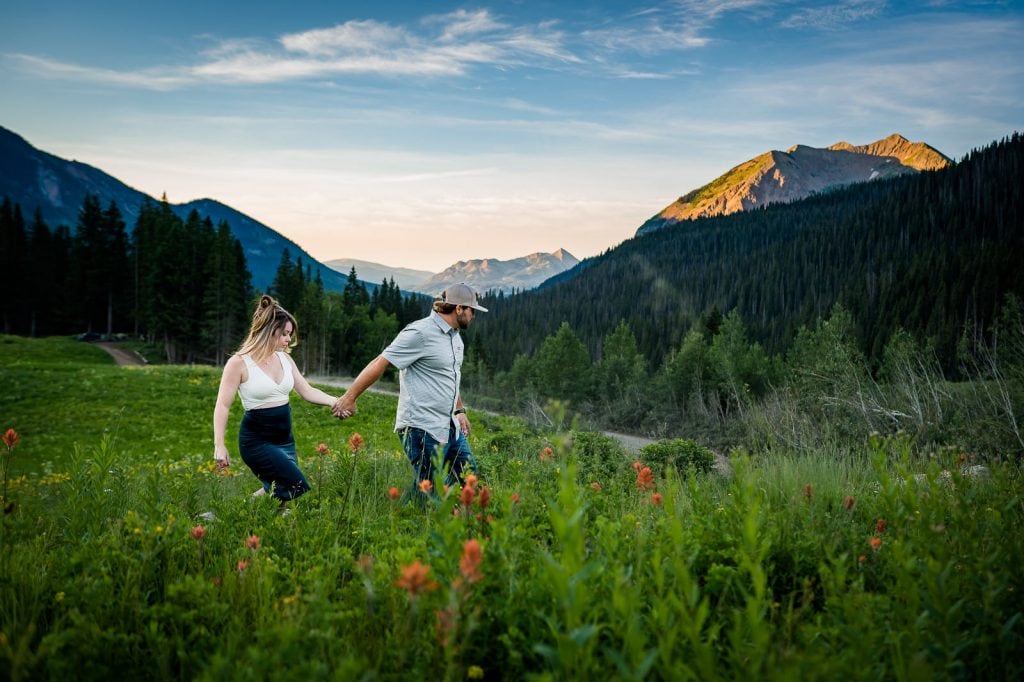 Best Season To Elope in Crested Butte
Summer and Fall are the best time of year to plan an elopement in Crested Butte. They will also be the busiest time of year but the views and vibes of this town are worth it. Just be sure to plan ahead when booking venues, lodging, and rentals. I suggest booking things 6-12+ months in advance because rentals and venues will get booked up.

Winter is also an epic time of year as the views at Ski Crested Butte are some of the best. Most of the areas you can access in the summer are inaccessible. But if you are ski and snowboard lovers then I highly suggest CB as your ski elopement or wedding destination.
Ceremony Locations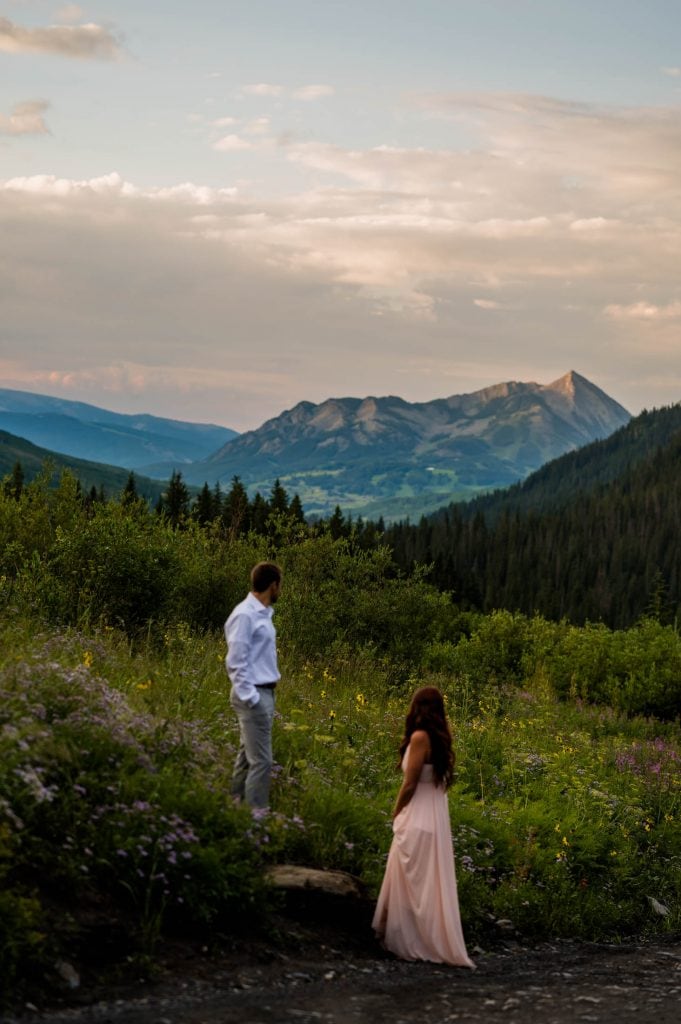 Crested Butte Mountain Resort (CBMR): With its panoramic mountain views, CBMR provides an enchanting backdrop for vows and elopement photography.
Oh Be Joyful Road: A beautiful road along the Slate River. Oh Be Joyful campground has access to many waterfalls up Oh Be Joyful Trail to Blue Lake.
Eleven Experience Venues: For an exclusive mountain retreat, consider the secluded elegance of one of the three options with Eleven Experiences; Taylor River Lodge, Scarp Ridge Lodge, and Sopris House.
Lake Irwin: A romantic alpine lake offering a serene setting for your waterside ceremony with dispersed camping nearby.
Crested Butte Community School Garden: Immerse yourselves in the beauty of a garden ceremony with vibrant flowers and a gazebo.
Crested Butte Land Trust: 3 gorgeous ceremony sites allowing 1 ceremony per day per site. $2000.
Lost Lake Paonia Campground: an easy hike to 3 beautiful lakes in a loop trail.
The Wildflower Observatory: you can rent out the facilities for a wedding and it's so beautiful and unique.
Gothic Road: lifted all wheel drive car recommended. This road gives you access to the next two locations.
Emerald Lake: Beautiful emerald teal lake at the top of Gothic Road. You can paddleboard and canoe here.
Rustler's Gulch: Hike to this gorgeous gulch with a waterfall and the most amount of different wildflowers I have ever seen in life. It's not a really hard hike, though there are a couple of water crossings that can be intense with snow melt.
The Secret Stash: Known for its delectable pizzas, this venue offers a cozy and intimate atmosphere for post-ceremony celebrations.
The Dogwood Cocktail Cabin: Rustic charm and craft cocktails make this spot ideal for intimate gatherings.
The Elevation Hotel & Spa: Elevate your experience with event spaces providing scenic views.
Crested Butte Mountain Resort (CBMR):

Offers various indoor and outdoor spaces with breathtaking mountain views.
Popular ceremony sites include the Wedding Garden and the Umbrella Bar.

The Club at Crested Butte:

A golf club with stunning mountain views, providing an elegant setting for weddings.
Indoor and outdoor spaces are available for ceremonies and receptions.

The Secret Stash:

Besides being a renowned restaurant, The Secret Stash also offers an intimate event space.
Ideal for smaller weddings and rehearsal dinners.

The Dogwood Cocktail Cabin:

A rustic yet charming venue that can be transformed into an intimate space for gatherings.
Perfect for couples seeking a unique and cozy atmosphere.

Wedding Garden at Crested Butte Mountain Resort:

A dedicated outdoor venue within CBMR, surrounded by mountainous landscapes.
Provides a picturesque setting for ceremonies and receptions.

The Elevation Hotel & Spa:

A luxurious hotel offering event spaces with panoramic mountain views.
Suitable for both indoor and outdoor wedding celebrations.

Ten Peaks Event Center:

Located at the Crested Butte Nordic Center, it offers a rustic mountain setting.
An ideal venue for couples looking for a mountain lodge atmosphere.

Scarp Ridge Lodge:

A private luxury lodge that can be rented for intimate weddings.
Offers an exclusive and upscale setting for couples and their guests.

Irwin Backcountry Lodge:

Situated in a remote and stunning mountain location.
Ideal for couples seeking a unique and secluded wedding experience.

Before finalizing any venue, be sure to visit, inquire about availability, and discuss specific details with the venue coordinators.
Vacation Rentals Allowing Events
Vacation rentals can be really nice to host your elopement at. Before you book a rental property for your event or elopement you should reach out to the owner directly and have it approved. Vacation Rentals can generally cancel on you leaving you scrambling so you want to be upfront with them about hosting a small elopement.
Alpenglow Retreat: A spacious rental with a mountain backdrop, ideal for hosting events.
Elk Mountain Lodge: A historic lodge with event spaces accommodating small weddings.
VRBO: Search VRBO for "events allowed" properties in Crested Butte
Majestic Views on 35 Acres: a large upscale property that allows weddings up to 25 guests
Here is a guide on how to find vacation rentals within 100 miles of Crested Butte that allow events like weddings and parties.
VRBO and Airbnb Search:

Visit VRBO (Vacation Rentals by Owner) and Airbnb websites.
Use the search filters to specify your criteria, such as the location (within 100 miles of Crested Butte), the number of guests, and event-friendly accommodations.

Location-Specific Filters:

In the search filters, look for options like "Suitable for Events" or "Allow Events" to narrow down listings that are open to hosting weddings and parties.

Contact Hosts Directly:

Even if the listing doesn't explicitly mention event hosting, consider reaching out to hosts directly to inquire about their policies. Some hosts may be open to special arrangements for weddings and elopements.

Special Event Venues:

Explore VRBO listings for properties that are explicitly marketed as event venues. These may include larger homes, estates, or cabins with ample space for gatherings.

Local Event Spaces:

Research local event spaces or venues that partner with vacation rental platforms. Sometimes, these spaces may have listings on VRBO or Airbnb.
It's essential to communicate openly with the property owners to ensure that their rental is a good fit for your specific event needs. Always check local regulations and policies regarding events and gatherings in the chosen location.
Lodging & Accommodations in Crested Butte
Purple Mountain Bed & Breakfast: A cozy retreat providing personalized service.
Elevation Hotel & Spa: Upscale lodging with mountain views.
Airbnb: Explore a variety of private cabins and homes, perfect for an intimate escape.
Pioneer Cabins: Quintessential Colorado Cabins
When searching, keep in mind the capacity of the rental, any additional fees for events, and the availability of outdoor spaces suitable for ceremonies and celebrations.
Local Elopement & Intimate Wedding Vendors
Florists:

Floral Bliss: Crafted with mountain inspiration, their floral arrangements add natural beauty to your special day.
Bella Rugosa: Renowned for elegant and seasonal floral designs.

Hair Stylists:

Alpenglow Beauty: Offering on-site bridal hair services for a personalized touch.
Crested Butte Hair Salon: Creativity meets style in their hairstyling services.

Officiants:

Crested Butte Officiant Services: Tailored ceremonies reflecting the uniqueness of each couple.
Mountain Vows: Officiating services that capture the essence of mountain weddings.
Outdoor Activities and Recreation in Crested Butte
Embrace the surrounding natural wonders with outdoor activities like hiking, biking, paddleboarding, kayaking, 4x4ing, camping, and skiing, depending on the season.
Explore local businesses for outdoor recreation gear rentals, such as Crested Butte Sports and CB Nordic Center.
Additional Elopement Planning Tips | Crested Butte Elopement Guide
Marriage License: Obtain your marriage license via appt only from the Gunnison County Clerk's Office. You can also get it from any county you pass by as well. You don't have to get married in the county in which you apply.
Weather Considerations: Be prepared for changing mountain weather, especially for outdoor ceremonies. Check out my Colorado adventure travel guide to prepare for the weather.
Photographers: Consider hiring me as your photographer as I'm familiar with the area's locations and all the activities.
Local Restaurants
Soupçon Bistro: A cozy French restaurant known for its exquisite cuisine and intimate ambiance.
The Sunflower: A farm-to-table gem offering a diverse menu of locally sourced ingredients.
The Last Steep Bar & Grill: Casual and welcoming, featuring a diverse menu and a lively atmosphere.
McGill's at Crested Butte: Upscale dining with a diverse menu and a focus on locally inspired dishes.
Crested Butte, with its captivating landscapes, welcoming community, and culinary delights, provides the perfect setting for an intimate and unforgettable elopement experience. Capture the essence of your love amidst the breathtaking scenery of this Colorado gem, followed by a delightful celebration at one of the town's finest restaurants.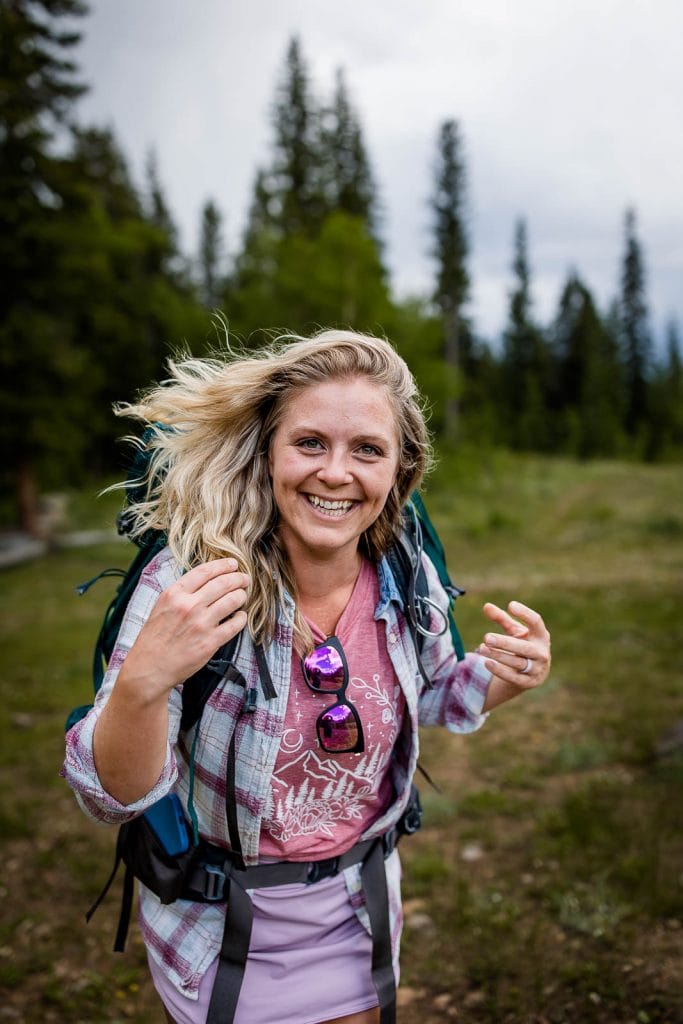 Hey! I'm Nat, I'm an adventure elopement photographer in Colorado who helps couples plan and document their epic celebrations of love across the Colorado Rocky Mountains and beyond. I specialize in showing off your genuine moments & the epic views.
Crested Butte Elopement Guide | Colorado Elopement Photographer
Crested Butte Elopement Guide | Adventure Elopement Photographer serving Colorado's Rocky Mountains | Aspen, Buena Vista, Durango, Silverton, Telluride, Steamboat Springs, Breckenridge, Estes Park, Vail, San Juan Mountains