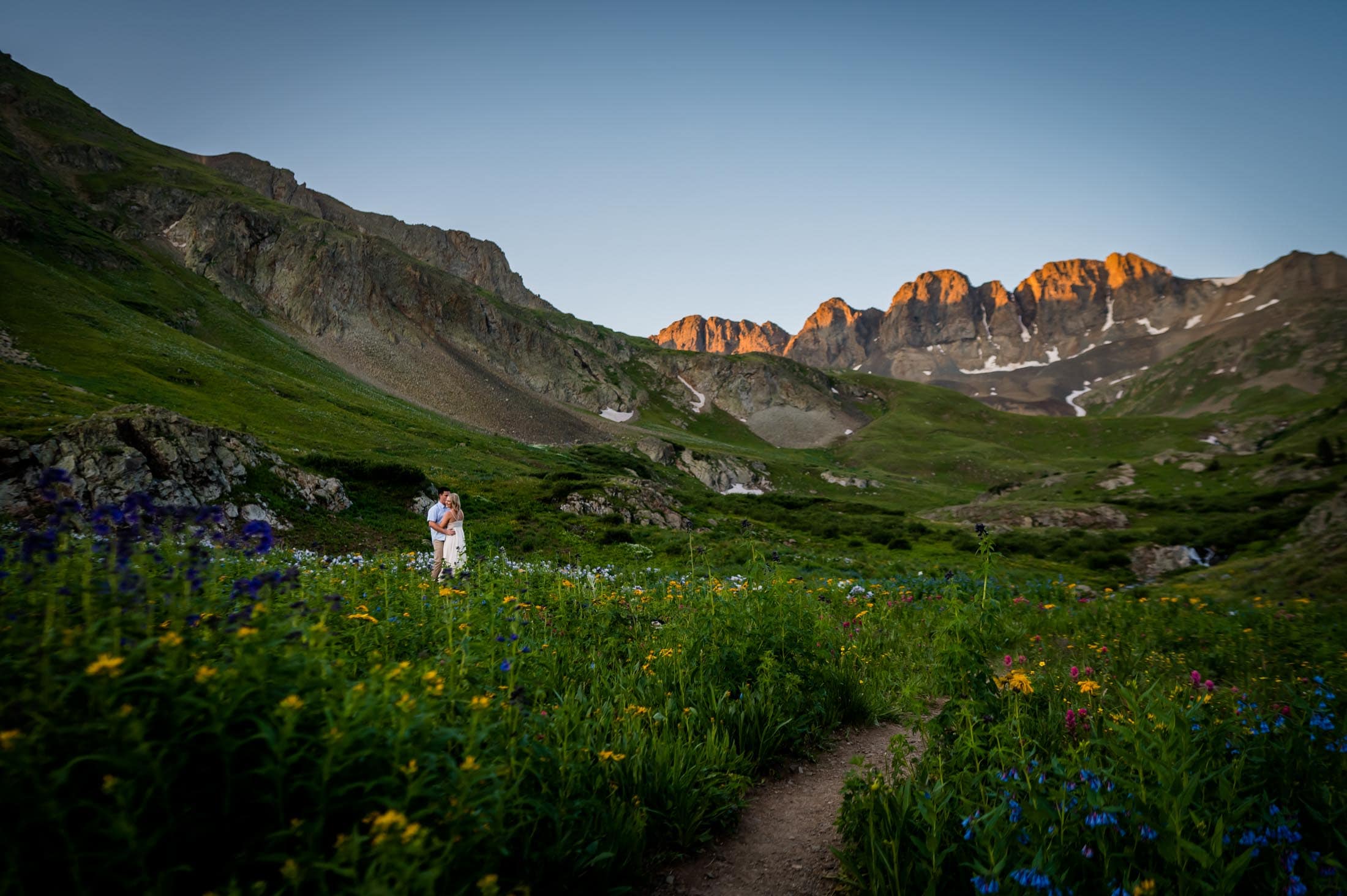 American Basin Engagement | San Juan Mountain Couples Photographer
American Basin in the San Juan Mountain Range in Colorado's Rocky Mountains. It's quite literally the perfect place for an adventurous engagement or elopement. It's an epic spot for a camping or hiking elopement in the summer and fall. American Basin in the home for one of Colorado's easiest and most gorgeous 14ers, Handies Peak.

In the summertime, it's filled with every color wildflower. Sunrise is the best time to visit the area. It's a very popular 14er because of how easy it is. An early start is the only way to avoid the hoards of people as they begin their trek up Handies. The way the peaks get lit up by the morning alpenglow is a sight to see like no other. Colorado is also known for its afternoon thunderstorms in the mountains in the summer. So sunrise is also a way to make sure you aren't out there when a lightning storm rolls in. This is one of the most gorgeous basins in Colorado and definitely my favorite 14er trailhead.
How to Get to American Basin

To get to American Basin you need a 4×4 vehicle that has high clearance. It's up a 4×4 road from Lake City and it can get pretty rutted out. There is a 2×2 parking lot a little ways down. It adds on just a bit of extra mileage if you're hiking Handies Peak. I'd say it's worth the trek up just to the basin if you're in the area in a 2×2.

You can also take Cinnamon Pass up and over from Silverton but that is a much more difficult 4×4 road. It definitely requires experience and a higher skill level with offroading, as well as a 4×4 vehicle with high clearance.

Are you looking for a photographer who can get to American Basin or hike Handies Peak for your adventure elopement? Or for your adventurous engagement session? I'd love to help!

This engagement was shot with the ever amazing and my best friend, Savannah Chandler. We love adventuring and hiking together all over Colorado in our 4x4s!
Want to see more from the San Juan Mountains?
Photographing across the Rocky Mountain Region
Telluride | Silverton | Wolf Creek | Ouray | Durango | Silverthorne | Breckenridge | Steamboat Springs | Vail | Aspen | Keystone | Rocky Mountain National Park | Sand Dunes National Park | Black Canyon of the Gunnison