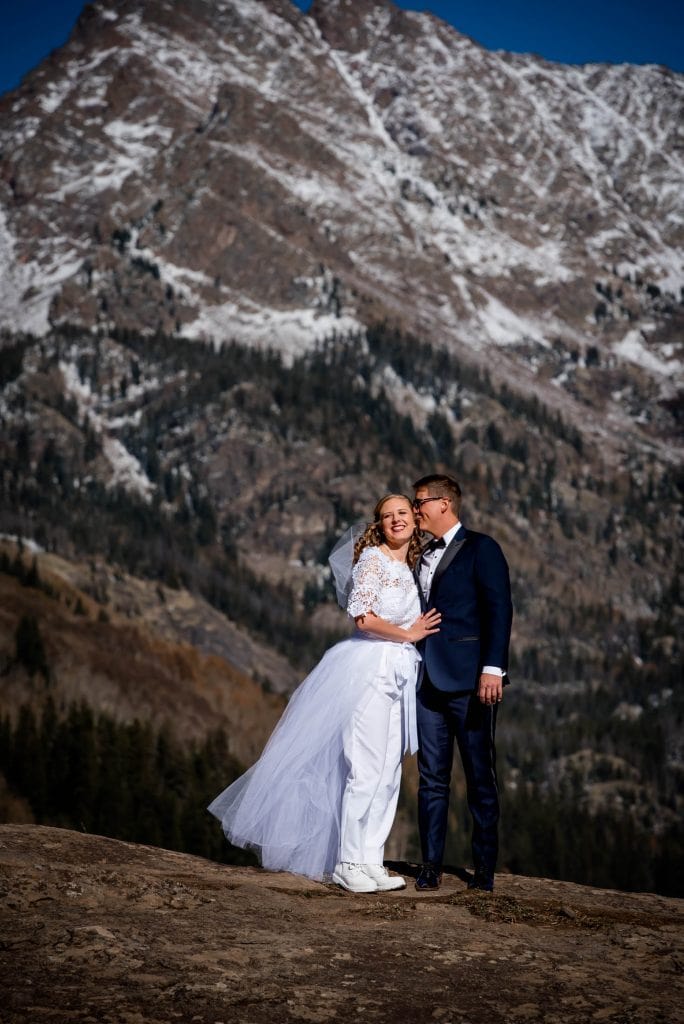 Check out this Hiking Elopement at Upper Piney Lake Trail near Vail in Colorado's Gore Range! This trail is in the Eagles Nest Wilderness in the White River National Forest.

It was mid October in high country so all the golden leaves had fallen. Snow covered every crevice of the ridge between Peak C and Peak Q. But the sun was warm and we had no wind. It was the perfect day for a hike. We hiked a mile up the trail above Piney Lake to a large rock outcropping just off the trail. The most perfect spot that Cate & Ben had scouted earlier in the year on their hike. They said they immediately knew that was where they wanted to elope.

With just their parents, siblings and best friends in tow they eloped an epic spot in the Rocky Mountains.

Piney River Ranch is closed in the winter season. The road up to the ranch also gets closed at some point each winter due to snow. This location is only accessible while the road is open. The ranch own rights to Lower Piney Lake, dock and some of the area around Lower Piney Lake. But the trail past the lake to Upper Piney Lake is public forest land in the White River National Forest.

In the summer season you can rent an awesome cabin or dine at Piney River Ranch. We can finish off your Vail hiking elopement with a paddleboard or canoe in Piney Lake.

Looking to elope in Colorado? I'd love to help! Check out my Colorado Elopement Planning Guide. We start and hit me up to start helping you find you special spot to elope in Colorado!
Vail Hiking Elopement Photographer | Upper Piney Lake Trail Elopement