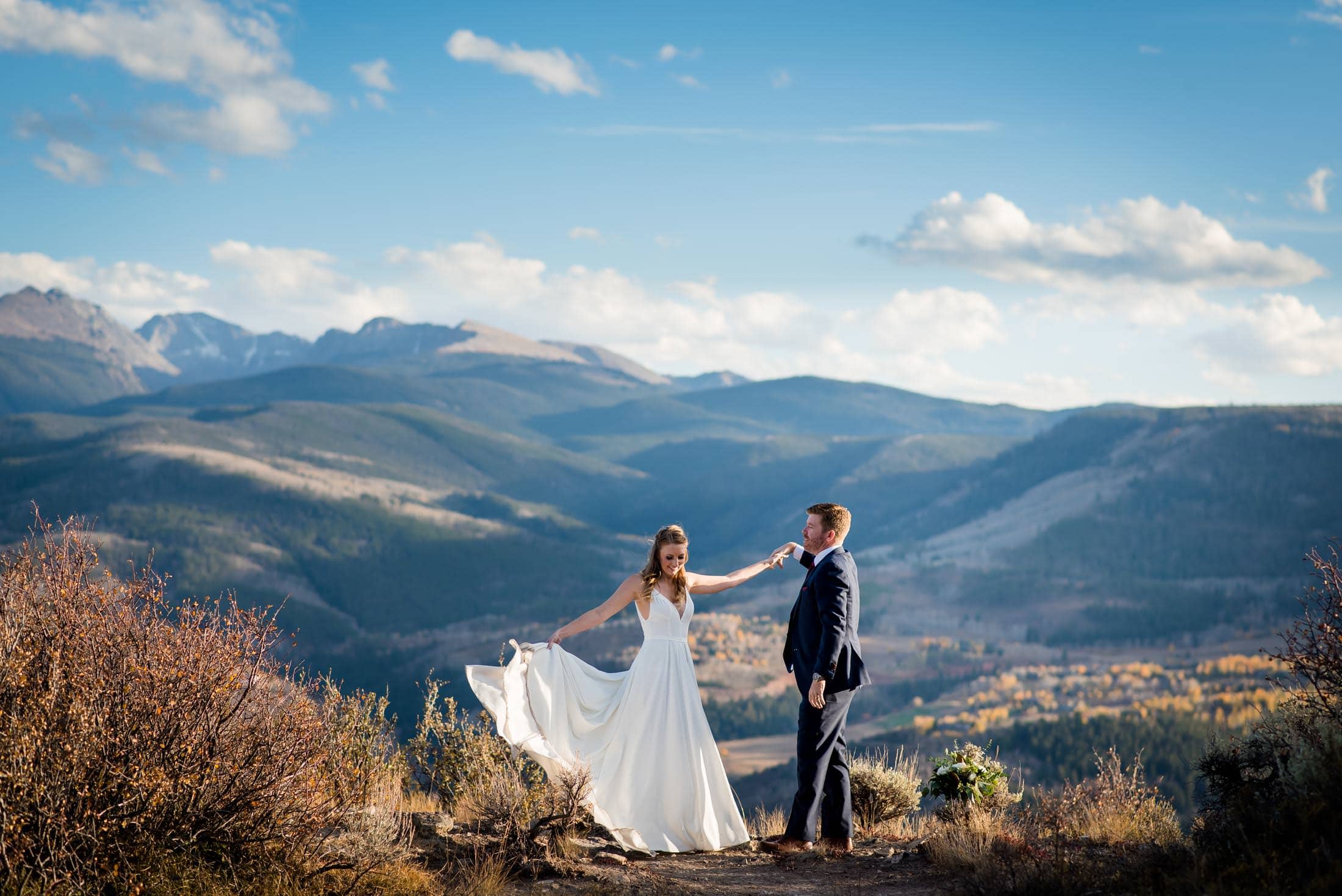 Vail Elopement Photographer
Vail Wedding Island Elopements
Vail's Wedding Island is maintained and rented by Vail Golf Club. You can use the island for your elopement if it isn't being rented out already. If you call and ask they'll tell you if it is currently booked or not. In the summer and early fall during peak colors the wedding island gets booked more. But in the off season in Vail it's more likely to find an open wedding island. The only downside to not renting it is that it is open to the public. So if another couple is using it or if people or enjoying the island then you can't ask anyone to leave, only wait your turn. If you are looking for a spot to have a tiny, quick elopement with a small amount of guests it can work. You have to walk down a bike path through a gorgeous Aspen grover from a cul de sac down (where you need to carpool to park at). It's only about a quarter mile before you'll see the wedding island in the middle of a lake in front of you. This location is ideal for small elopements that are flexible in day, time, and location being moved last minute if it ends up booked by the golf club last minute.
You have to rent Vail's Wedding Island to be able to bring in chairs and decor if you want that. Otherwise it's a public, first come first serve spot that is great as long as you are super flexible if you decide to use it.
Crystal & Pete's Vail Elopement at the Wedding Island
This Vail elopement was absolutely perfect for Crystal and Pete's laid back wedding day. They had a handful of family members with them in Vail to help celebrate. Pete had scouted locations all around Eagle County and settled on the wedding island for their vow exchange and ceremony. He'd found a few locations out of town that we'd drive to afterward for more adventures. Pete has a love for rivers and found the most beautiful spot to stop along the Eagle River. We drove along random mountain roads and got lucky finding the last bit of fall still hanging on.

Crystal & Pete privately shared their elopement vows on the wedding island while their family stayed off and aways away. When they were done they invited their family back to the island for Pete's sister to finish the ceremony where they exchanged rings. It was short, sweet, and took maybe 30 minutes. Then we all headed off to a second location in Vail that Pete had found while walking through town. It was this portion of lawn at a condo complex that had lots of Fall colors still sticking around. It was the perfect little nook for some quick family photos. After family photos we were off on our mountain adventure just the three of us. We headed west on i70 and up a mountain to a local hang gliding spot in a neighborhood. It gave us the perfect views of the Mount of the Holy Cross 14er and the Gore Range in the distance.