So many of my clients travel from out of town or are unfamiliar with Colorado in the winter time. This Colorado Mountain Winter Adventure Guide will help! Some of you may want to elope on the slopes and need the low down on winter routes. Some of you may just be looking for the best way to keep your family safe this winter driving season in Colorado.
Colorado Winter Adventure Guide | Adventure Elopement Photographer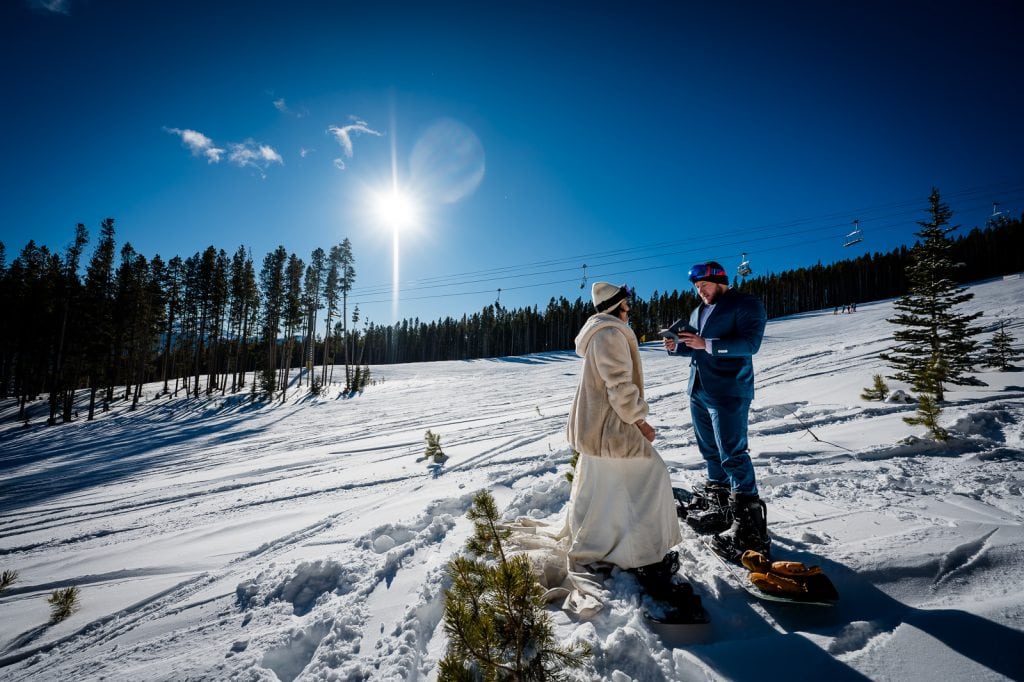 I'm here to help you safely move about and recreate in the mountains no matter what time of year it is. Winter adds a whole new element to mountain travel. Winter conditions in the mountains can last from late September all the way to late May. The snow doesn't melt out from some of the high country parts until late July sometimes. Occasionally, you'll see a blizzard on the first day of summer up in the high country. If you want that winter adventure and are looking for more info to plan your trip, this Colorado Winter Adventure Guide is for you!

I've been traveling in the mountains Colorado in the winter time for over a decade now. My father grew up in the mountains and has always given me a few tips for adventuring in Colorado. So some of these are passed down from him, like "Always have an emergency kit in your car.", and some of them are from my personal experience.
Colorado Winter Adventure Guide | Preparing for Winter
GEAR
Microspikes or some type of foot traction is advised to do any winter mountain hiking in Colorado. These foot contraptions are also super helpful in town when it gets so icy and dangerous to walk. I suggest microspikes if one will be going on any backcountry trails. Yaktrax work for those who are just staying in town and not hiking at all. To help get you fitted with all the right gear for a wonderful experience in Colorado's winter mountains I've put together a list of shops to buy or rent outdoor winter gear in Colorado.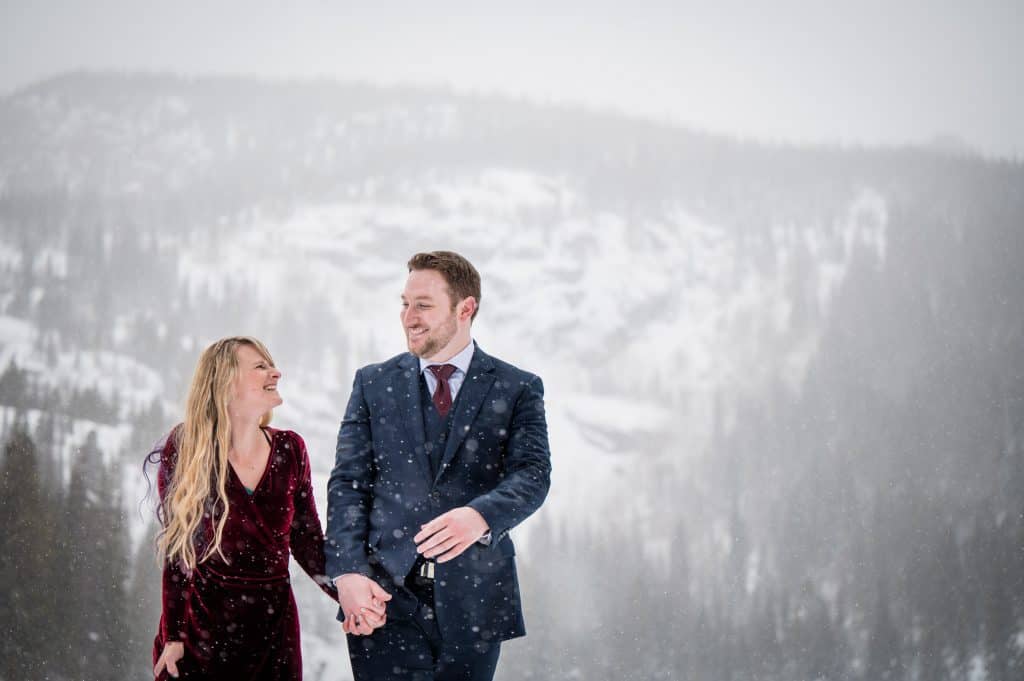 VEHICLE & TIRES
A front wheel or all wheel drive vehicle with safe winter or all season tires are very necessary for winter driving in Colorado. While our winters can look mild in Denver, if we get a winter storm the roads turn treacherous. Colorado's main East to West Highway i70 has a vehicle traction law in the winter in the mountains. If you enter the park via Grand Lake then you'd have to take i70 into the mountains where this law is in effect from the end of September until May. Hwy 36, 34 and 7 are the only ways in and out of Estes Park. These highways are mountain highways that can get very icey in the winter. Having a safe winter vehicle is very important for visiting Colorado, and especially the mountains or backcountry. Check out CODOT.GOV to get up to date road conditions in Colorado.
CLOTHING: LAYERS, LAYERS, LAYERS
Because our weather is so crazy it's not uncommon for it to be below freezing when you leave in the morning and 60 degrees and sunny by lunch time. This means layers are your best friend. Wool socks and long underwear are very important for winter mountain travel and play. I give a list of clothing items in the planning section below so you know what you'll need for your winter vacation in Colorado.
EMERGENCY KIT FOR HIGH COUNTRY CAR TRAVEL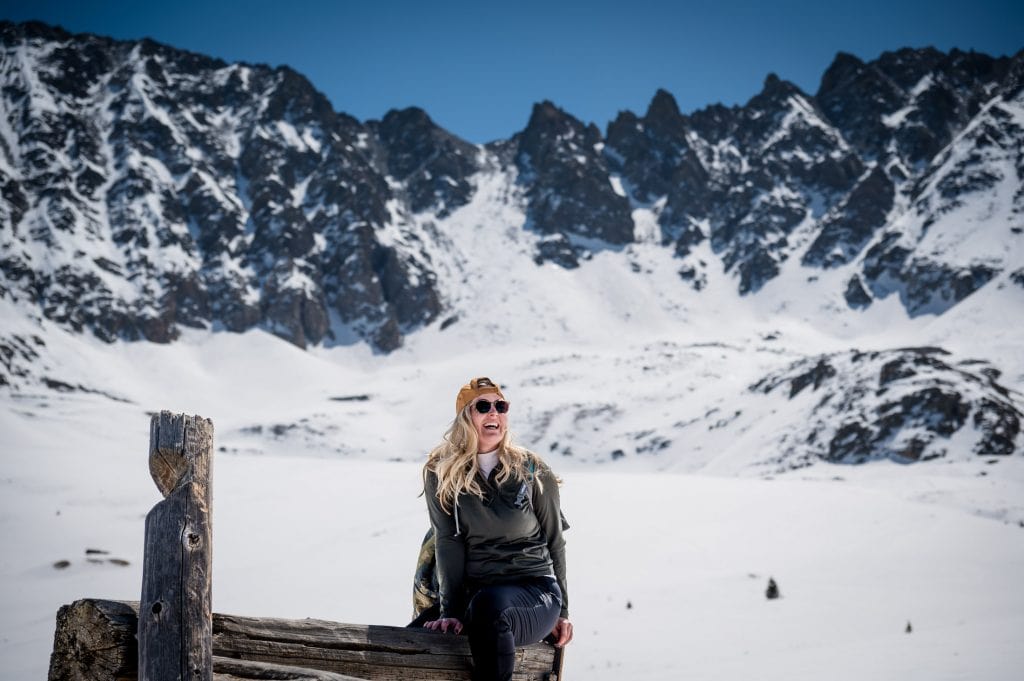 All year round I travel with an emergency kit in our vehicles. This emergency kit won't look the same as travellers in other parts of the country as Colorado is unique in topography, weather, roads etc. This guide is only taking into account traveling along main roads with no off roading. Staying to the paved, main roads if you're visiting from out of state is a good idea until you're experienced with winter mountain driving. Things to have in your vehicle just in case of an emergency are:
always top off your gas tank*
water
snow pants and jacket
blankets
snacks or food
chains (optional if you have great winter tires but can always help in bad winter conditions)
window scraper
windshield wiper fluid- make sure it's full for your mountain winter trips!
shovel- always helpful if you need to dig your vehicle out of deep snow
LOCATION
Where you go in the mountains is so important. If you are driving, hiking or snow riding every location has its dangers, challenges and different logistics to think about.
Access during the winter is very limited. A lot of winter trailheads are further than down the mountain than in the summer, adding miles and elevation gain to winter hikes. Some hiking trails can put you in avalanche zones and can be extremely dangerous. So doing research, or hiring a photographer who does the research for you, is super important for any winter mountain activities. Lots of places are safer and more easily accessed, but they will also be the more populars places as well.
Most Colorado mountain photographers help with location planning, logistics, gear suggestions, etc. So don't be afraid to lean into your photographer for help. Do make sure they are knowledgeable for the activity you are doing with them, though!
LEAVE NO TRACE
Leave No Trace is a set of principles taking into the outdoors so that we leave the space we use better than before. It is so important that we're all good stewards of the outdoors so that it remains open and free for future generations. There are 7 simple principles to familiarize for leave no trace and that will help you have the best time recreating in the outdoors.
plan ahead and prepare
travel and camp on durable surfaces
dispose of waste properly
leave what you find
minimize campfire impact
respect wildlife
be considerate of others
WEATHER
The weather in Colorado varies like it doesn't know up from down. The temps often jump quite a bit in the day time. We average 30 degree temp changes from overnight to daytime all year round. The unpredictability of the weather means the most accurate forecast will come only days before. The wind in the winter can be brutal, like knock you over, extra dangerous brutal. So making sure the forecast doesn't call for storm force winds is always a good idea when going into the backcountry. I like to use mountain-forecast.com to find the closest peak and check the forecast at same elevation where I'll be.
Colorado Winter Adventure Guide
PLANNING
Be sure to plan your clothing and car supplies accordingly if you are leaving from Denver to head to the high country. The crazy weather can happen any time of year. Always wear layers or have layers with you. Here is a list of items to bring with you for winter adventures in the Colorado mountains.
Wool socks *do not wear cotton!
snow boots
long underwear– top and bottoms
gloves
warm hat or headband
hand warms
water resistance jacket
Microspikes, snowshoes or traction
Lots of water
Snacks
Hot drinks in a thermos- this always makes for a nice moment after a cold adventure
ALTITUDE
Altitude is much higher in Denver than most of the other cities in the US. So going into the mountains of Colorado means you are likely at 8,000 feet or above sea level. Altitude sickness is very real and can be a very scary thing. Knowing the signs of altitude sickness and the ways to prevent or treat it can save someone from a very crappy experience. Here is information regarding altitude sickness from the NHS (https://www.nhs.uk/conditions/altitude-sickness/
Altitude Sickness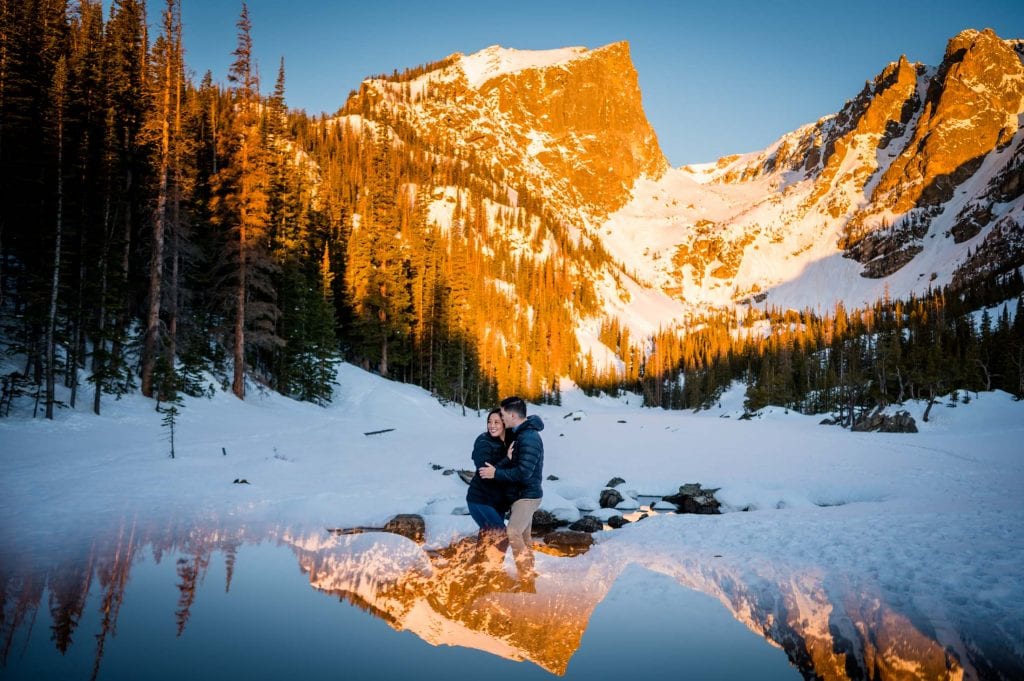 Some symptoms and signs of altitude sickness to look for are
headache
feeling and being sick
dizziness
tiredness
loss of appetite
shortness of breath
Ways to prevent altitude sicknes
The best way to prevent getting altitude sickness is to travel to high altitudes slowly. It usually takes a few days for your body to get used to a change in altitude. When flying into Denver I suggest staying overnight in Denver one night before heading up to the high country.
You should also:
avoid flying directly to areas of high altitude, if possible
take 2 to 3 days to get used to high altitudes before going above 2,500m
avoid climbing more than 300m to 500m a day
have a rest day every 600m to 900m you go up, or rest every 3 to 4 days
make sure you're drinking enough water
avoid smoking and alcohol
avoid strenuous exercise for the first 24 hours
eat a light but high-calorie diet
Treating altitude sickness
If you think you have altitude sickness:
stop and rest where you are
do not go any higher for at least 24 to 48 hours
if you have a headache, take ibuprofen or paracetamol
if you feel sick, take an anti-sickness medicine, such as promethazine
make sure you're drinking enough water
do not smoke, drink alcohol, or exercise
Acetazolamide can be used to reduce the severity of your symptoms, but it will not completely get rid of them.
Tell your travel companions how you feel, even if your symptoms are mild – there's a danger your judgement may not be clear.
You can continue going up with care once you feel you have fully recovered.
If you do not feel any better after 24 hours, go down by at least 500m (about 1,600 feet).
Do not attempt to climb again until your symptoms have completely disappeared.
After 2 to 3 days, your body should have adjusted to the altitude and your symptoms should disappear.
See a doctor if your symptoms do not improve or get worse.
HYDRATE
Hydrating is a huge part of playing in the high country. Even the most healthy and fit people can have problems at altitude. Making sure you are well hydrated before your trip to Colorado and throughout your time here is important. Including electrolyte tablets into your daily water intake a few days before your trip and while you're here helps. I use Nuun sport tablets and LMNT salt packets.
PHOTOGRAPHY
Hire a photographer who is familiar with, and has confidence and knowledge in winter hiking. The winter brings on different challenges and dangers, especially in the mountains. So you want a photographer who you can trust to not unknowingly take you in a dangerous situation. If you're just taking photos yourself in the cold high country here are a few things to help you get the most out of your camera gear.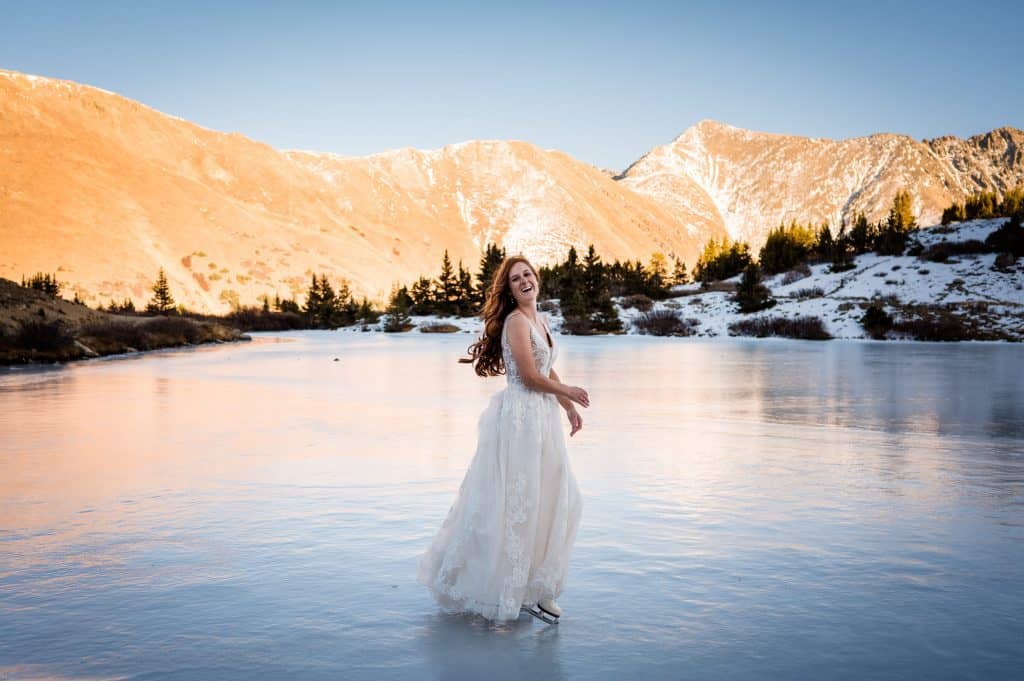 Bring extra batteries or a way to charge- the cold drains batteries more quickly than normal- put your extra batteries somewhere warm like in a pocket close to your body heat so they don't drain while you aren't using them
Having weather sealed gear or a way to protect your gear from possible crazy, wet snow is always a good idea
Fogging generally isn't an issue here since it is so dry. But keeping your camera bag in your trunk on your way to your snowy mountain shoot can help keep away fogging and condensation build up.
Having hand warmers in your pocket or stuffed in your gloves can be a finger saver! It gets so cold that exposed appendages can start to heart and be in danger or frostbite. So keep on eye on those fingers, toes and noses when playing in the cold high country!
If you like this How To Guide for Winter Mountain Adventures | Colorado leave a comment before you go! Keep reading for ideas of what to do your for Colorado Winter Adventure!
Colorado Winter Activities
Snowshoeing and Hiking. You can rent snowshoes and microspikes from a lot of places. The lighter the snowshoe the better. Be sure to bring your poles, layers & sunblock!
Skiing and Snowboarding. Colorado is full of ski resorts. Some of my personal favorites are Copper Mountain, Winter Park, Loveland, Steamboat Springs, Vail, Breckenridge, Telluride.
Ice Castles (not coming to Colorado for the 22-23 winter season)
If you're thinking about a snowboarding or skiing session or elopement check this out!
Ice Skating on a Frozen Alpine Lake at 12,000′
Winter Hiking in Colorado
Winter hiking is magical! And brutal. Often times, hiking in general hurts while simultaneously being magical and something you want to endure again and again. But snow, wind and temps are factors that will can make you wish you had rescheduled already. A little secret is if you can time your hike to be right before or right after the winter storm, it's calmest then, maybe. If you aren't scheduling around a storm then generally, winds are calmest in the morning so getting out early is best. Light runs out quick in the winter and temps drop fast so just always be prepared.

Some gear you'll definitely want before heading out for your winter hike!
Trail map & tracking equipment (if it's snowing the trail will get covered up quickly)
Non cotton layers (wool and polyester are great base layres)
Waterproof layers (protects from wind & snow)
Microspikes (don't slip and break a bone on the ice- it'll hurt)
Hiking Poles (these also help with slippage but just hiking in general)
Headlamp (don't get caught in the dark without light)


Best Winter Hikes within 2 hour of Denver, Colorado

If this guide helped you get outside this winter drop a comment below! Share a photo of your adventure.

Thanks for checking out my Colorado Winter Adventure Guide! Contact me about documenting your winter adventures!