Having professional couples photos taken WHILE you snowboard is a thing! Snowboarding and photography are my two favorite things to do. I can teach you how to do both, but I never thought about doing them at the same time for clients. After my first Colorado snowboarding engagement session in Vail I was hooked. Shortly after I photographed a snowboarding elopement where the bride actually wore her dress and I almost lost it. I know this is something I want to do more of for other people who are just as obsessed with snowboarding as I am. In this Colorado Snowboarding Engagement and Elopement Guide I'll share how to plan an epic day on the mountain while keeping your love at the center.
But first, snowboarding is hard. Taking photos while you snowboard is a whole different level of hard.
Because of this you want to be sure to find a photographer who can display work while actively on the mountain. Your photographer needs to ride or ski on your level, or even above your level since they are also carrying gear. The last thing you want is to get on the mountain and find out that your photographer can't hang. This is also where the game plan comes into play. I'll talk more in depth about this later but having a game plan for the day comes in handy because you choose the runs ahead of time.
Tips for your snowboarding ( OR skiing) elopement or engagement shoot!
Choose a mountain you're familiar with.
Choosing a mountain you're already familiar with helps with every logistic. It means you've run those runs before and will feel more comfortable rather than on a new hill for the first time. Plus the more you're on a mountain the secret spots you find. So if you've found any cool spots at your local mountain, let me know and we can shred to them for some unique photos there!
Plan half your session on the mountain and half your session at the base, a nearby pass, or a private cabin.
Plan on spending half your session somewhere off your board or skiis. I don't know about you but sometimes my favorite part of the day riding is that stop in the trees or grabbing a sandwich at the top. Planning a little bit of both will give you the best of both worlds. Give yourselves the opportunity to snuggle up somewhere in regular clothes, too. These sessions don't have to be straight shred the gnar sessions. Don't forget that this is about you and your love for each other.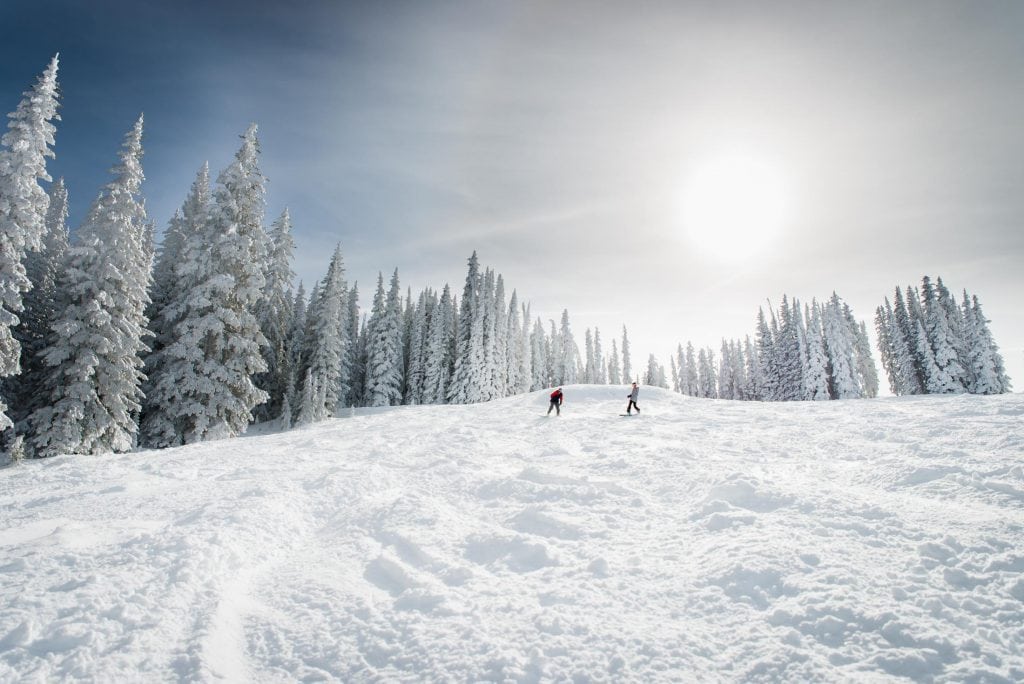 The Best Winter Mountain Elopement Locations in Colorado
Crested Butte
Crested Butte is a mountain town that is perfect for elopements year round. In the winter it becomes a magical winter wonderland. Personally, I think Crested Butte is one of the most gorgeous mountain towns. It doesn't matter what season we're in, everything is just stunning there. The snow on Mt. Crested Butte makes for an iconic scene though. And you can almost be certain, that they will have a ton of snow!
Vail Mountain
Vail Mountain is a Colorado favorite for a lot of people. The Legendary Back Bowls are something special on a powder day. Vail Village offers that epic mountain luxury right at the foot of the slopes with those romantic winter vibes.
Breckenridge
Breckenridge is an awesome mountain for engagement or elopement photos. It's only about 2 hours from DEN and it's tucked back into the mountains off the main highway. It has one of the most post storm 'Norway vibes' tree run for the advanced rider I've ever been on. It's a really beautiful mountain just to explore. Then the adorable town of Breckenridge with tons of dining and lodging options. Plus lots of options for surrounding snowy trails in town.
Keystone
Keystone is a super popular mountain to visit. It's tucked right along the continental divide and is close to the larger mountain towns in Summit County. It's got great runs for photos plus tons of views and a gondola to ride.
Loveland Ski Area
Loveland Ski Area is a smaller, local mountain. The beers are cheaper and the mountain has a laid back locals vibe. But the snow is great and they even have a cat that runs along the top of the continental divide to drop in off of. On Valentines Day each year they hold a large marriage ceremony at the top of their Ptarmigan chairlift on their outdoor deck. It's a great little mountain with tons of cool cabins to stop off at for some relaxing together. On Valentine's Day, they do a large marriage ceremony at the top of their Ptarmigan ski lift. Every year it boasts dozens of couple's who say "I do" on the deck just under the continental divide. It's surely an iconic way to make it official!
Aspen
Aspen is well known as one of the more upscale mountain towns. You can see it in the prices. But if you're down to celebrate your day in Aspen they have some of the most iconic Colorado views around. Maroon Bells isn't always a drive in option in the winter because the road closes after the first few big storms. If you're looking for a multi day winter elopement adventure Aspen is great. It's got the mountain to ride, Maroon Bells to snowshoe, and the grottos to explore ice caves. It's a epic winter activity packed location.
Telluride
Telluride is a gorgeous mountain town located in the Southwest side of the state. The southwest mountains are a different kind of breed, that you can clearly see as you drive into Telluride. Telluride is another town that is perfect for an elopement any time of year. The mountains surrounding Telluride are nothing short of breathtaking, making the little town one amazing place to experience in the winter.
Are you looking for a snowboarding photographer who can come along on your mountain adventures? Contact me!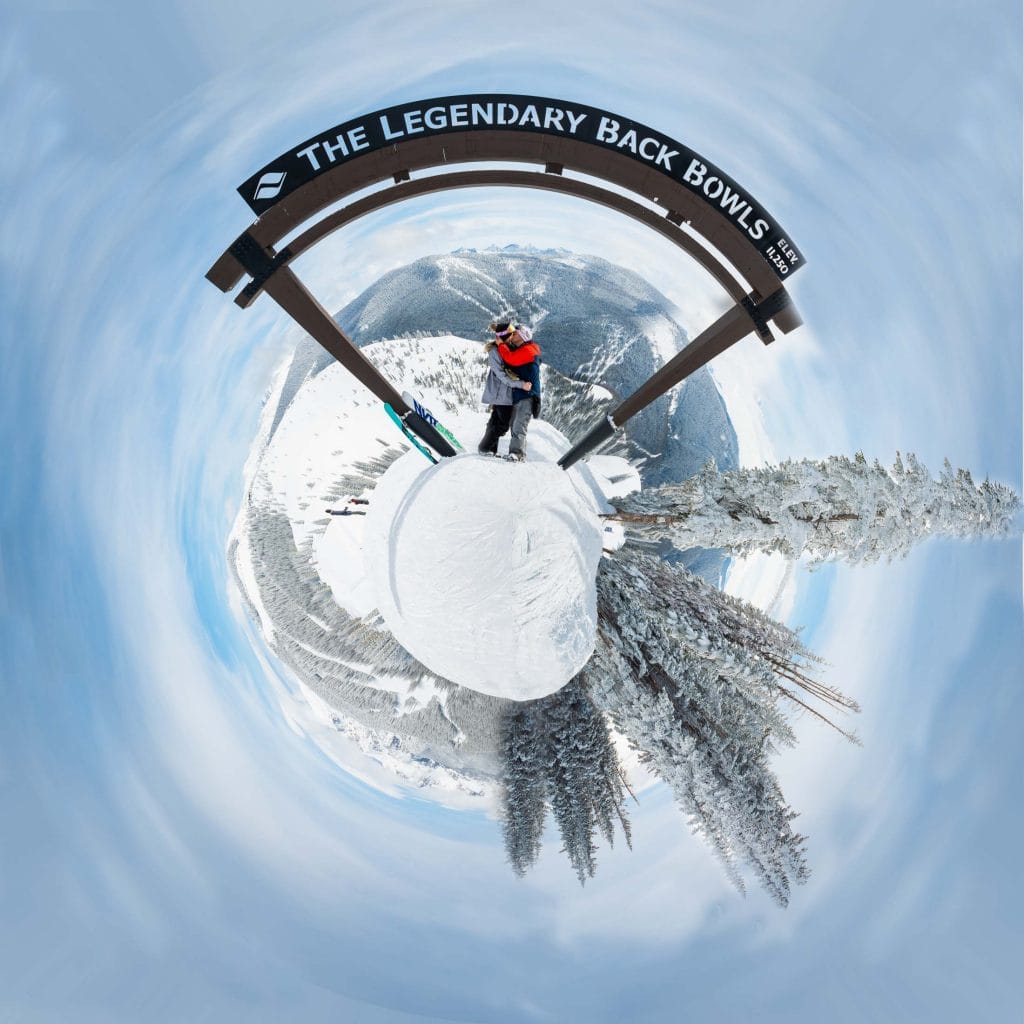 Colorado Snowboarding Engagement Session at the Legendary Back Bowls in Vail, Colorado
Want to see my Colorado Snowboarding Elopement photography? Click here