Elopement Locations within 2 Hours of Denver, Colorado
There are so many amazing spots to adventure to for your elopement in Colorado. This list won't even begin to skim the top of epic spots in Colorado. But if you want to be able to fly into Denver and elope in the mountains without a ton of extra work like long hikes or a 4×4 vehicle then this list of Colorado Front Range Elopement & Micro-Wedding Locations is for you! It's even perfect for engagement sessions, too!
These mountain elopement and micro-wedding locations are perfect for ceremonies with anywhere from 2 to around 25 guests. Some of them are less ideal for micro-weddings but don't worry, I'll let you know in that locations excerpt below. This list is a list of locations for the ceremony only. None of these spots can host a reception and most of them have rules like no erecting structures or bringing in seating.
The closest to Denver, and therefore easiest to access, mountain range is the Front Range. In this guide I'll include the best Front Range locations plus a few of my favorite locations that are on the cusp of 2 hours and are 2-2.5 hours from Denver. I like to include these because as you get farther from Denver (some of) the locations become less crowded. I'll note which locations are bit busier, but for the most part these locations will usually be on the more crowded side because of their ease (minimal hiking and/or no 4×4) to get there. I'll also list my favorite small hike locations within these areas because these hikes are relatively easy.
PLEASE NOTE: Mountain weather and traffic varies greatly all year long. The times I'm giving are with no traffic. Please always be prepared for mountain traffic, road closures etc with the proper supplies in your vehicle. Mountain weather can change quickly so be prepared with layers, a light jacket, and sunblock. And always be sure to stay hydrated before and during your adventures in the high country. If you aren't familiar with winter mountain driving or gear you'll need to enjoy it check out my How to Guide for Winter Mountain Adventures!
Locations Under an Hour from Denver
Lookout Mountain in Golden, Colorado
Lookout Mountain is located above the historic town of Golden, Colorado. It's a popular spot for tourists and locals because it's only 30 minutes from the city but gives you all the mountain feels. Since Lookout Mountain is the first mountain next to the plains you get great views looking east, over Denver's cityscape. This location is ideal for just the couple, or the couple and 1-2 guests max. It's not a large space on a mountain side with some exposure.
Lookout Mountain is a great spot for winter elopements who aren't always wanting a ton of snow but want mountains. It's an easier mountain to access in the winter but can be slippery with ice so always wear additional footing like micro-spikes.
Miles from Denver: 19 miles
Elevation: 7,379′
Permit: Yes. Must fill out at least 5 days prior and will need to submit proof of general liability insurance.

Permit Application: https://www.denvergov.org/content/denvergov/en/office-of-special-events/film.html
Contact:
Nneka Johnson | Special Events Liaison
Office of Special Events, City and County of Denver
Direct 720.913.1598 l Office 720.913.1501 l
Nneka.johnson@denvergov.org

Want to see more from the above Lookout Mountain elopement? Click here!
Click here to see a sunrise Engagement session on Lookout Mountain!
Lost Gulch Overlook in Boulder, CO
Lost Gulch Overlook on Flagstaff Mountain in Boulder is another great spot for an elopement ceremony in Colorado. It has gorgeous sweeping views and you stand on a large, rocky outcropping with cliffs that you would not want to fall off of. It's a popular hang out spot and pretty popular with the tourists as well. But most people are really nice when they see a bride in her wedding dress. But it is not a place you can reserve so they do have a right to be there as well. You will need a photography permit for OSMP but your photographer will have to apply for it as they ask for proof of general liability insurance.
Miles from Denver: 32.8 miles
Elevation: 7,333′
Permit: Yes. A permit from Boulder's OSMP is required for Lost Gulch Overlook. During covid you must also email the permit contact to make a reservation for the location, date and time you'd like. They are limiting special use of the areas so to continue social distancing. Permit Application: https://bouldercolorado.gov/osmp/apply-for-a-commercial-use-permit

Click here to see more from the adventure elopement with friends I shared above.
Mt Falcon West in Indian Hills, Colorado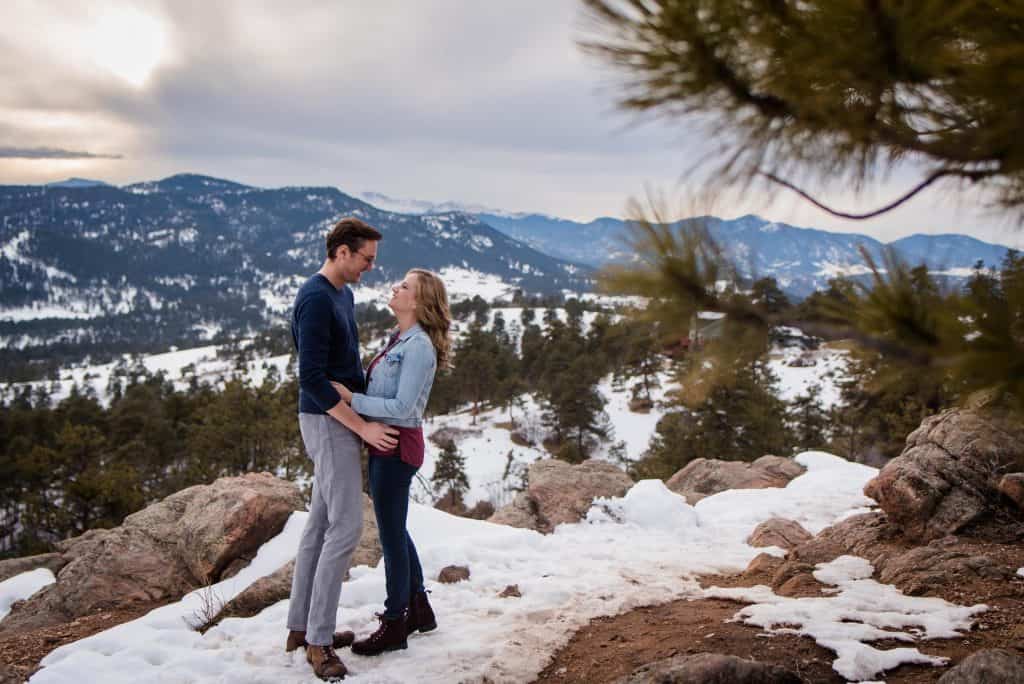 Mount Falcon West is a popular spot for hiking and photo sessions alike. It's got tall grass, pine trees, and big boulders with view mountain views.
Distance from Denver: 27.2 miles
Elevation: 7,847′
Permit: Yes
Permit Application: https://jeffco.us/open-space/permits-and-reservations/


Squaw Pass Road in Evergreen, Colorado
Squaw Pass is located in the Arapaho National Forest halfway between Evergreen and Idaho Springs. It connects the two towns along a beautiful road with mountain views, aspens, wildflowers, lakes, waterfalls, and lookouts. It's a gorgeous area to explore for an adventure elopement!
Distance from Denver: 32.9 miles
Elevation: 9,790′
Permit: No


St. Mary's Glacier in Idaho Springs, Colorado
I haven't been to St Mary's Glacier yet but have plans to check it out this summer and do a little 4x4ing over in the area. St. Mary's Glacier is a popular spot for its ease of access and short trail. I highly suggest sunrise at locations like this to avoid the crowds and have some privacy.
Distance from Denver: 43.9 miles
Elevation: 11,236′
Permit: No
Hike: Yes. 807′ elevation gain in just under a mile. It's a butt kicker but the views are worth it at sunrise!
Locations Around 1.5 Hours from Denver


Sapphire Point Overlook in Dillon, Colorado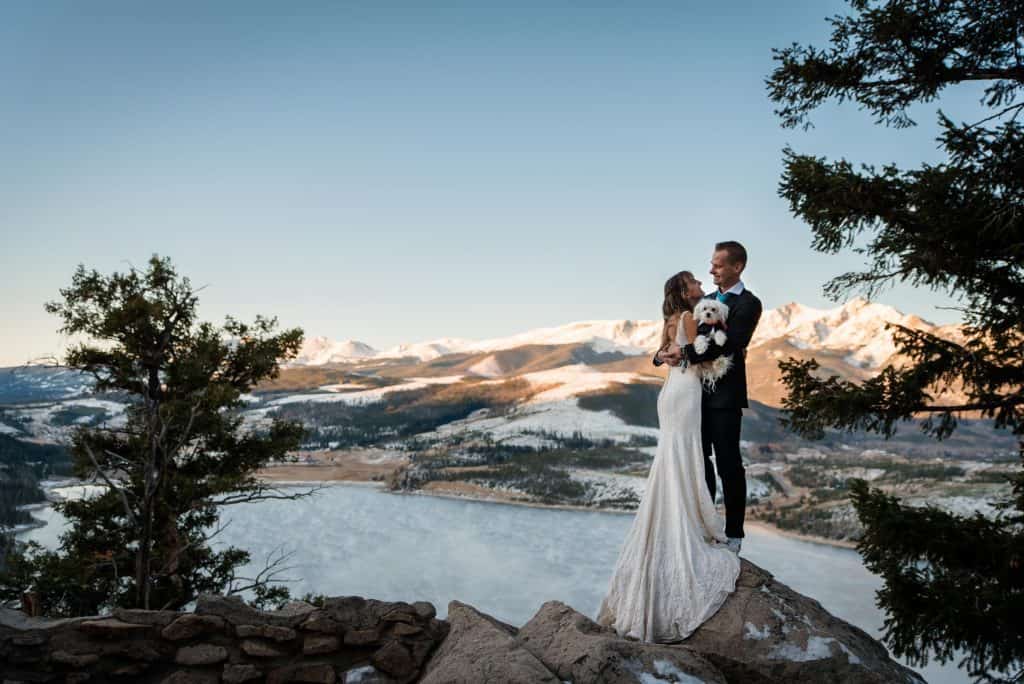 Distance from Denver: 74.5 Miles
Elevation: 9,500′
Permit: Normally yes, currently no. Weird rules due to covid right now. But this is a public place so without a permit you cannot kick anyone out of the overlook area.
Sapphire Point is one of the most popular overlooks in Colorado. It's perfectly situated between Dillon and Breckenridge along the Dillon Reservoir. It's along a trail but it has a beautiful little overlook surrounded in natural stones making the perfect elopement ceremony space. It can even host more guests for an intimate wedding if you were having a micro wedding in Colorado. You have to rent the space out but it's an affordable cost of only $110. Click here for Sapphire Point Overlook's reservation website and calendar. You can rent chairs and have them brought out to the point for your guests if you'd like. This rental company does this for intimate weddings at Sapphire Point often.
Rocky Mountain National Park near Estes Park and Grandby, Colorado
Rocky Mountain National Park has so many great spots to elope. They require a wedding permit and that you use a specific location for exchanging vows but it's a reasonable price at only $250. Each of their specified ceremony sites are gorgeous! And, once you exchange vows at one of their ceremony sites you can then adventure to anywhere in the park you want for photos. You can find all the information about ceremony sites in Rocky Mountain National Park here. Just keep in mind that these ceremony sites are super popular, so book your spot in advance. I'd start to try to reserve it 12 months in advance if possible. Only 250 permits are issued a year with only 6 weddings allowed in the park per day, and only 2 weddings at each location per day.
You can always have your ceremony outside the Rocky Mountain National Park, in Estes Park or Grand Lake and then go into the park for photos. The permit just for photography is only $50 and has to be secured by your photographer.
Distance from Denver: ~70 miles
Elevation: 7,860 feet to 14,259 feet
Permit: Yes.
Garden of the Gods in Colorado Springs, Colorado
Garden of the Gods in Colorado Springs is one of the most iconic destinations in the state. It boasts stunning red rock formations that only the god's could have created, hence the name. They don't require a permit for small and quick ceremonies. They have a list of locations they you can use and their rules. Check out their wedding information here.
Distance from Denver: 68 miles
Elevation: 6,400′
Permit: No.
Loveland Pass on the Continental Divide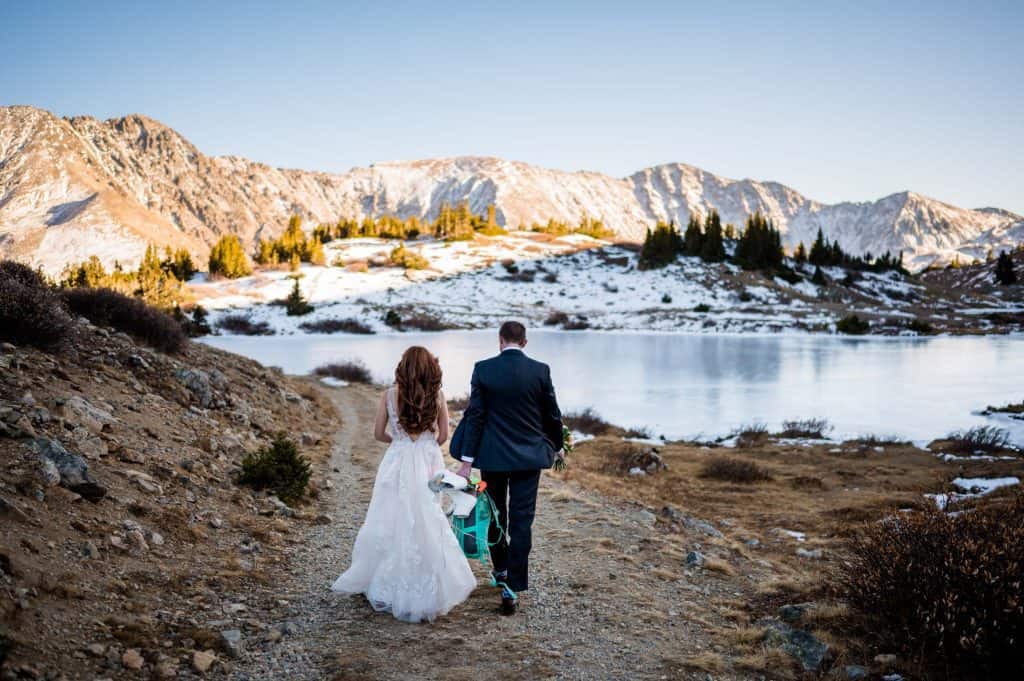 Loveland Pass is one those on top of the world mountain elopement locations. If you have dreams of being above tree line and surrounded by Rocky Mountain peaks than Loveland Pass may be the perfect spot for your elopement. No permit is required for up on the pass. You just have to be careful coming from Denver or lower altitudes because it's above 12,000 feet elevation and includes some hiking to get to the best spots. Altitude sickness is a real thing so always be sure to take caution of the signs and stay hydrated. It's an awesome place hike around and enjoy the views. Be sure to check the weather before you head up as it can turn in the blink of an eye and sometimes the wind can be a bit too intense. Luckily just driving down the pass road towards the west end will give you lots of other beautiful options for your intimate elopement as well.
Distance from Denver: 60 miles
Elevation:11,991′
Permit: No
Want to see more from this epic winter elopement at Loveland Pass? Click here!
Brainard Lake Recreation Area near Ward, Colorado
Brainard Lake Recreation Area near Ward, Colorado has some beautiful spots throughout it! The most popular spots in this area is Lake Isabelle. It's a gorgeous rocky mountain setting with an alpine like at 10,000′. The hike to the lake is long but has barely any elevation gain, only 734′. So it makes the 7.3 mile hike more of a high altitude walk with a little bit of incline here and there. Alltrails for the summer hike to Lake Isabelle.
In the winter the parking lot right near Brainard Lake gets covered in snow and closes the road. The winter lot adds on 4+ miles round trip. For winter elopements past Brainard lake you're very likely to need snowshoes all winter long due to the fact the area is at such a high elevation. Alltrails for winter hike to Lake Isabelle.
Distance from Denver: 52 miles
Elevation: 10,300′
Permit: No. Just entry fee needed to get into the parking area.
Kruger Rock in Larimer County near Estes Park, Colorado
Distance from Denver: 63.5 miles
Elevation: 9,355′
Permit: Yes. Permit needed from Larimer County.
Kruger Rock has a short but steep hike at 4 miles round trip and almost 1,000 ft of elevation gain. It's pretty much up the whole time but for the views it's worth it. We'll take our time with lots of breaks for photos on the way up. No rush, it's your day to have fun!
Locations around 2 to 2.5 hours from Denver
As you get further from Denver the amount of tourists can start to taper off. But that's not to say these spots don't also fill up in the summer time. Colorado is a popular state for mountain recreation. No matter where you choose to get married, if you want more seclusion at the easier to get to locations, I suggest a sunrise start or a weekday.
Blue Lakes near Breckenridge, Colorado
Distance from Denver: 80.6 miles
Elevation: 9,600′
Permit: No
Turquoise Lake near Leadville, Colorado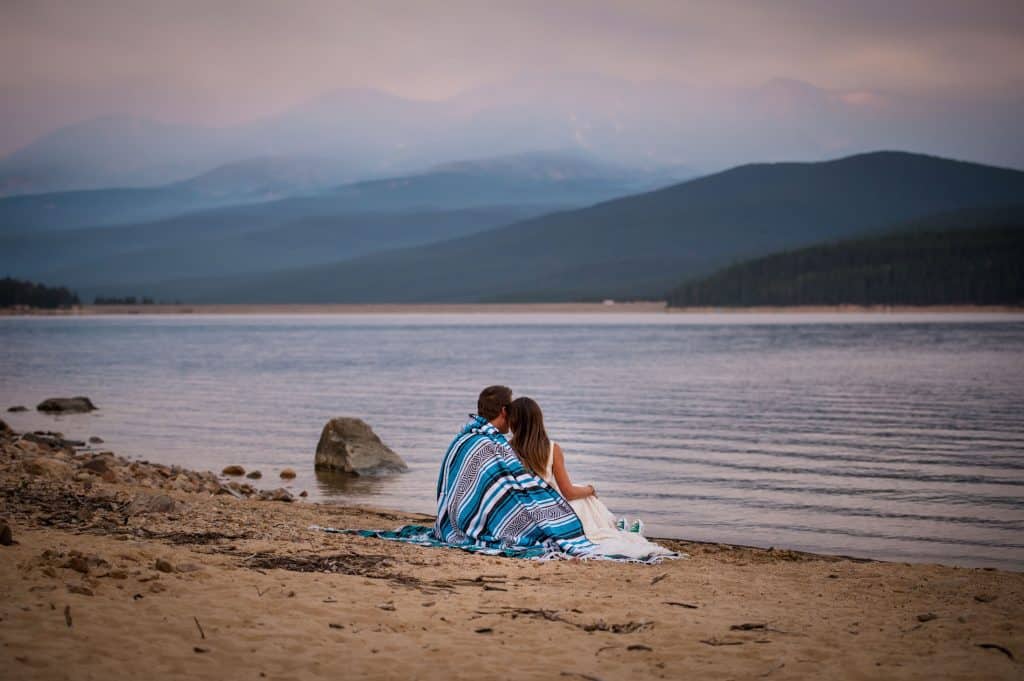 Distance from Denver: 65.5 miles
Elevation: ~10,000′
Permit: tba


Twin Lakes, Colorado
Distance from Denver: 122 miles
Elevation: 9,603′
Permit: tba


Buena Vista, Colorado
Distance from Denver: 122.6 miles
Elevation: 7,965′
Permit: tba


Colorado Front Range Elopement & Micro-Wedding Locations