You deserve to celebrate your day as unique & adventurous as you are..
Congrats on following your heart and choosing an elopement or intimate wedding in Colorado with your closest people! You're here because you care about your wedding or elopement experience. You want to have a day that really speaks to who you two are and celebrates your love story in a way that makes you giddy. I'm here to help with every aspect from planning assistance to experiencing an epic day to professional printing guidance to make sure your photographs live on your walls.
Your love is unique and imaginative. You deserve a stress free experience that unforgettably and wholeheartedly celebrates it! From helping you craft it to the epic and fun photography, I'm here to help you through the entire elopement experience.

No two elopements are ever the same. You don't fit into the big wedding box and your elopement shouldn't be boxed in either. You don't have to hike or do anything extreme for your day. It can be as chill or as adventurous as you are.

Whatever your heart desires it deserves and I'm here to help you have it.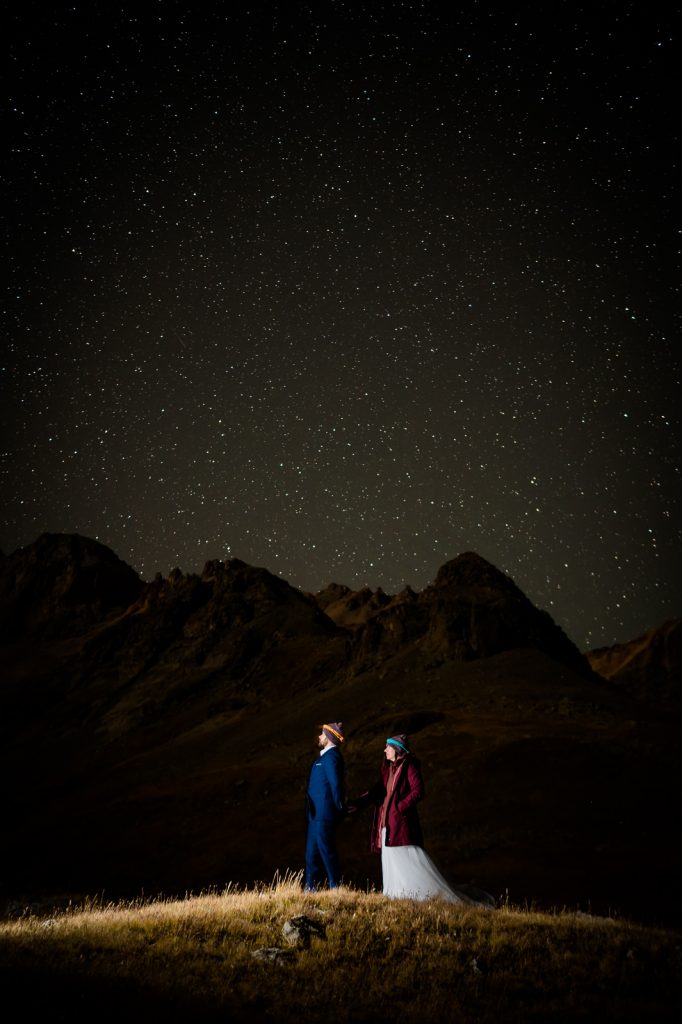 Meet Nat, Your Fun, Laid Back & Candid Colorado Elopement Photographer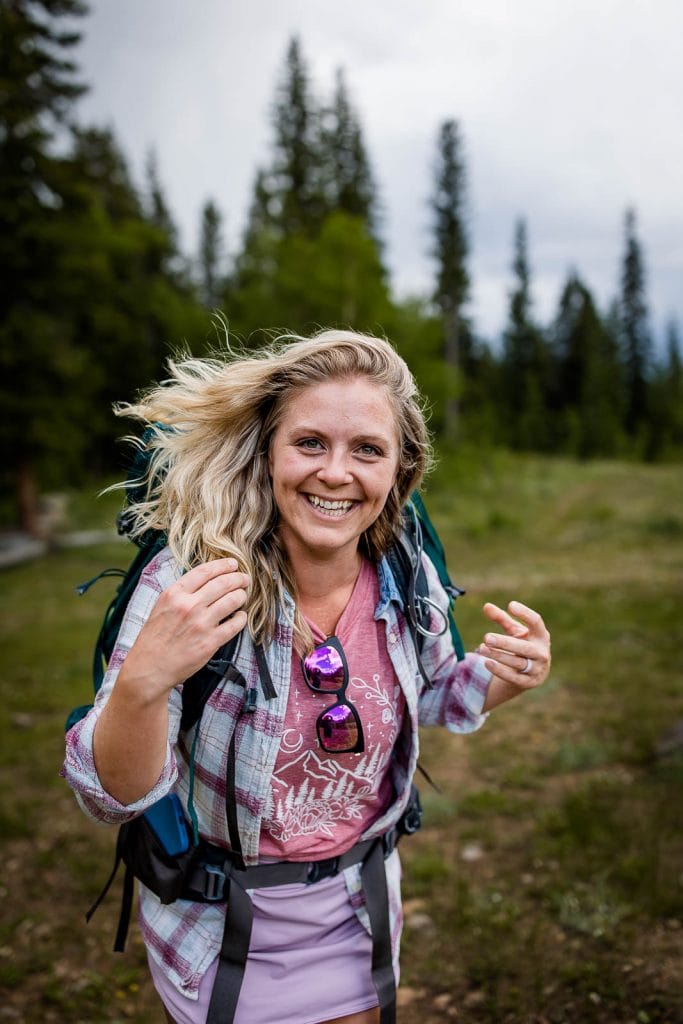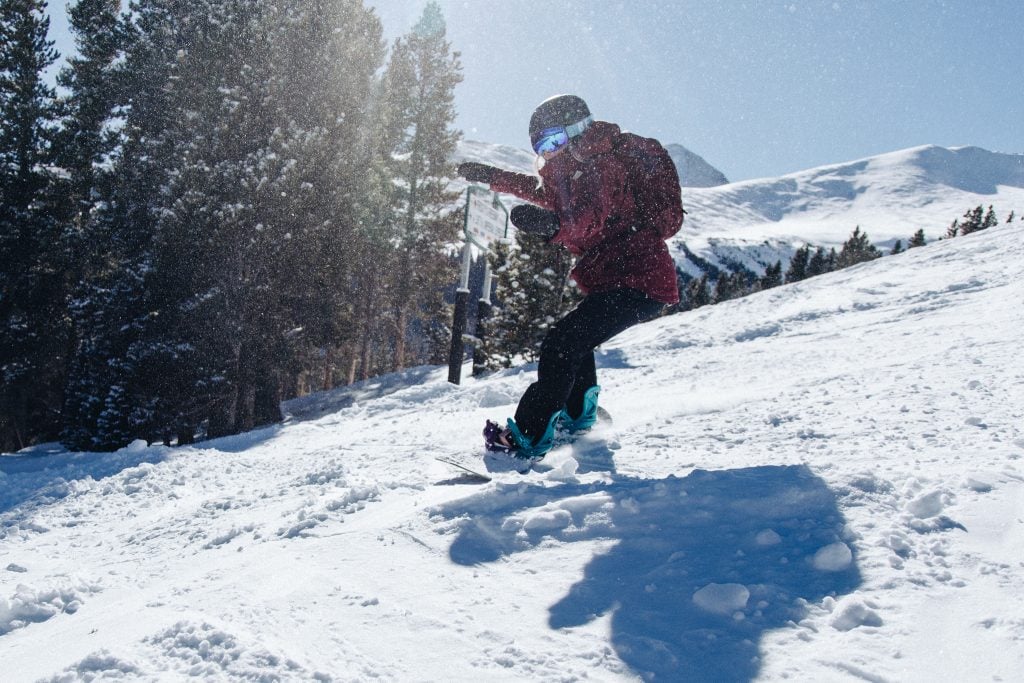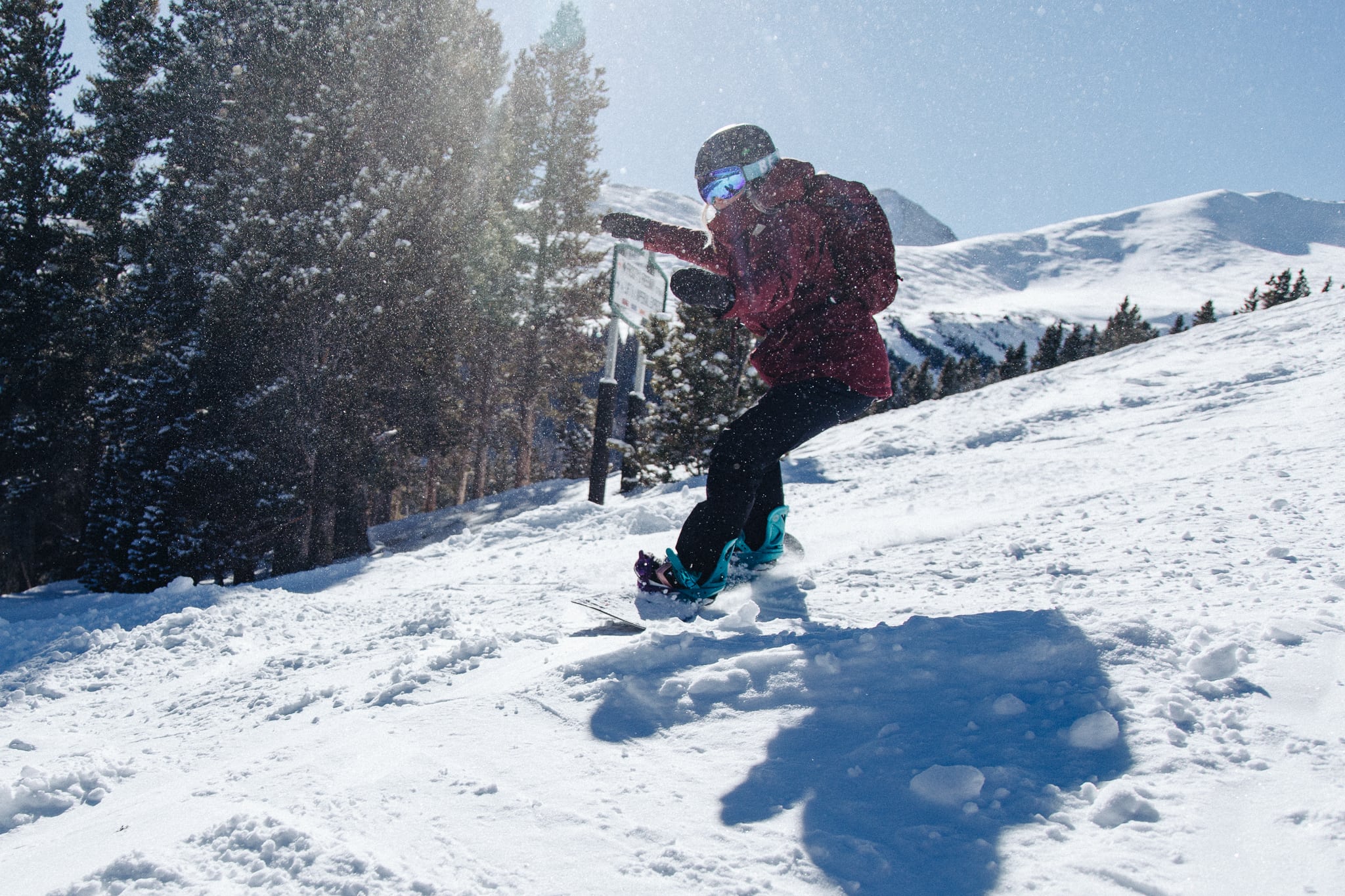 My background is in luxury hospitality & customer service sprinkled with adventure and photography. My first gig was at a small fishing lodge on an island in Alaska being a housekeeper, food server and guest photographer. Dabbled in being a "yachtie" for a little. I worked in the dark room and the digital printing lab at CU Boulder while I studied art and business there. Then I worked in large luxury hotel customer service & event sales. But I've had at least a throw away camera in my hand since 4th grade.

Now I'm full time adventure photographer and certified Wilderness First Responder who specializes in human connection in the outdoors. My favorite Colorado adventures are hiking, snowboarding, camping and 4x4ing. I could totally sell all our belongings and buy an RV to live in.

But first I'm here to help you have the " this is totally us" and "best day ever" elopement or intimate wedding experience.

Simple elopements or out of the box adventurous ones, I love helping to craft them to be the best they can be before documenting the shit out of them. I give custom locations & vendors recommendations, research permitting, and all the adventure logistics like timeline etc to lessen your stress beforehand. Then I'm with you through thick and thin for your adventures helping every step of the way. I do this for love – yours and mine.

I'm down for whatever adventures call to your hearts.
I specialize in elopements with a bit of adventure like these…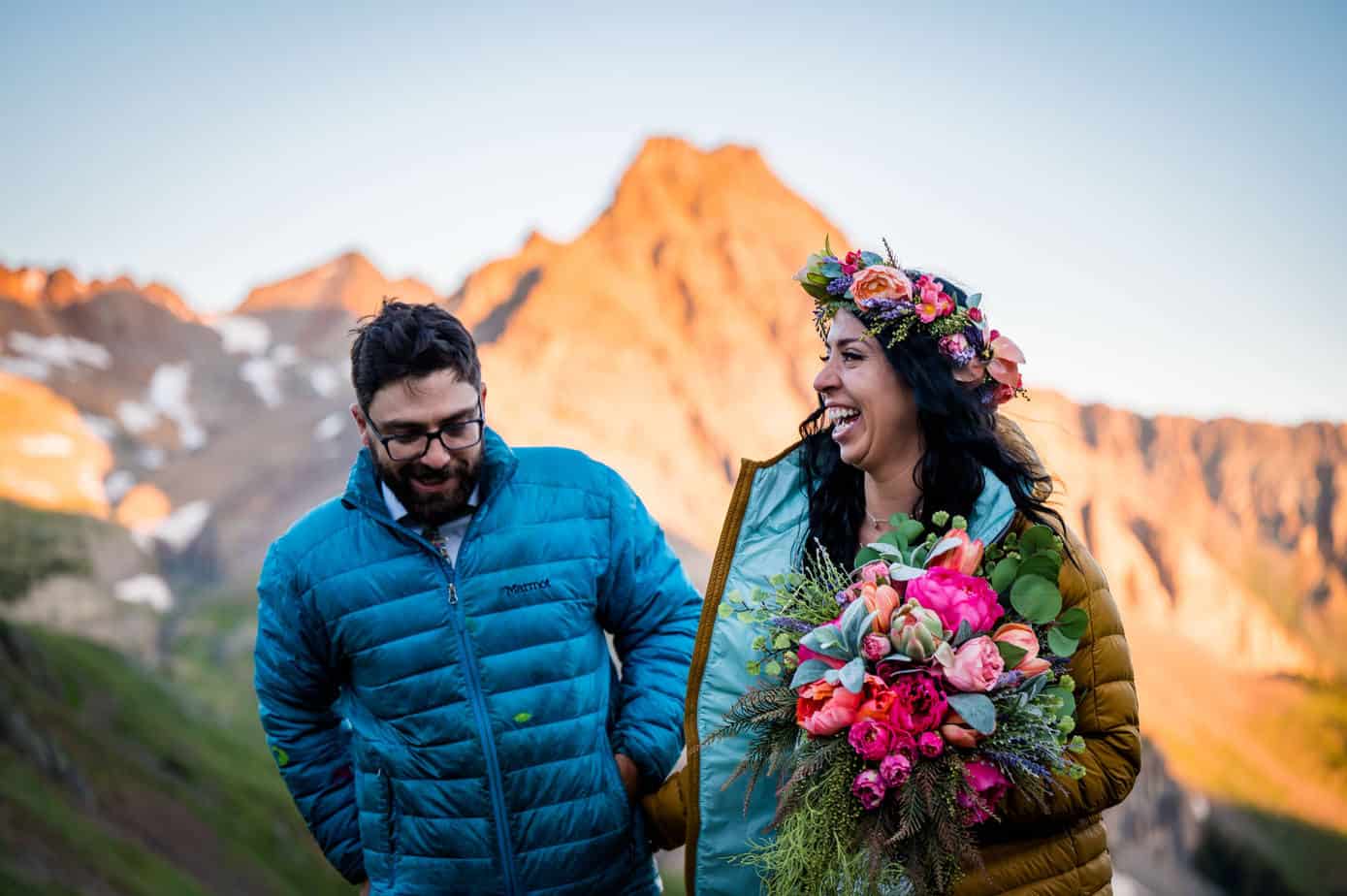 Hiking stole my heart and has changed my life in every good way. I love a good easy hike with an awesome payoff either at a lake or on a peak.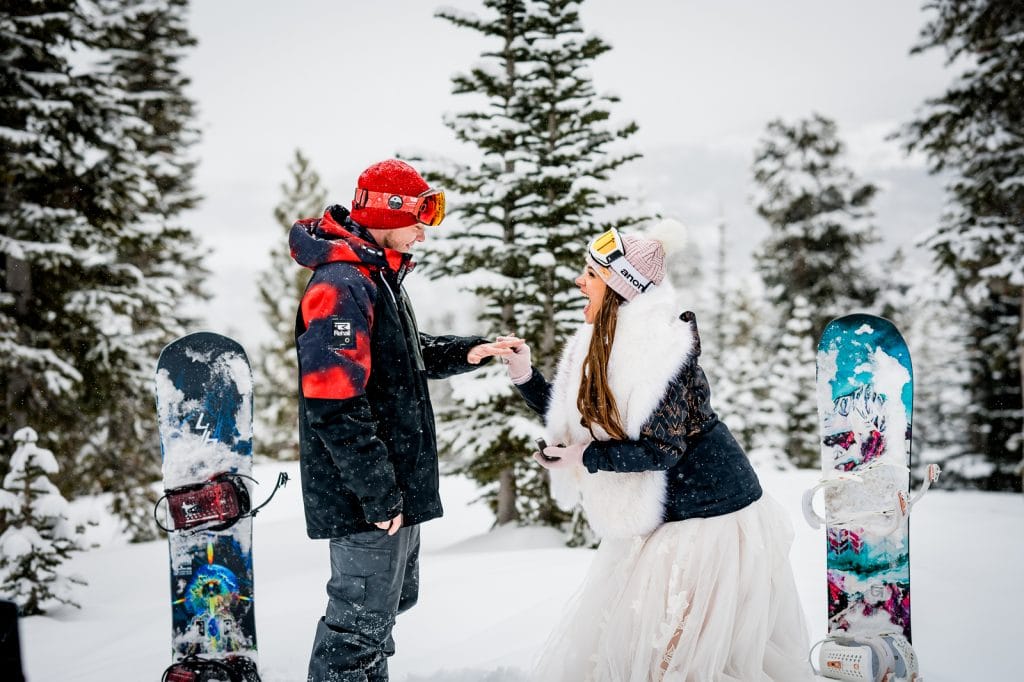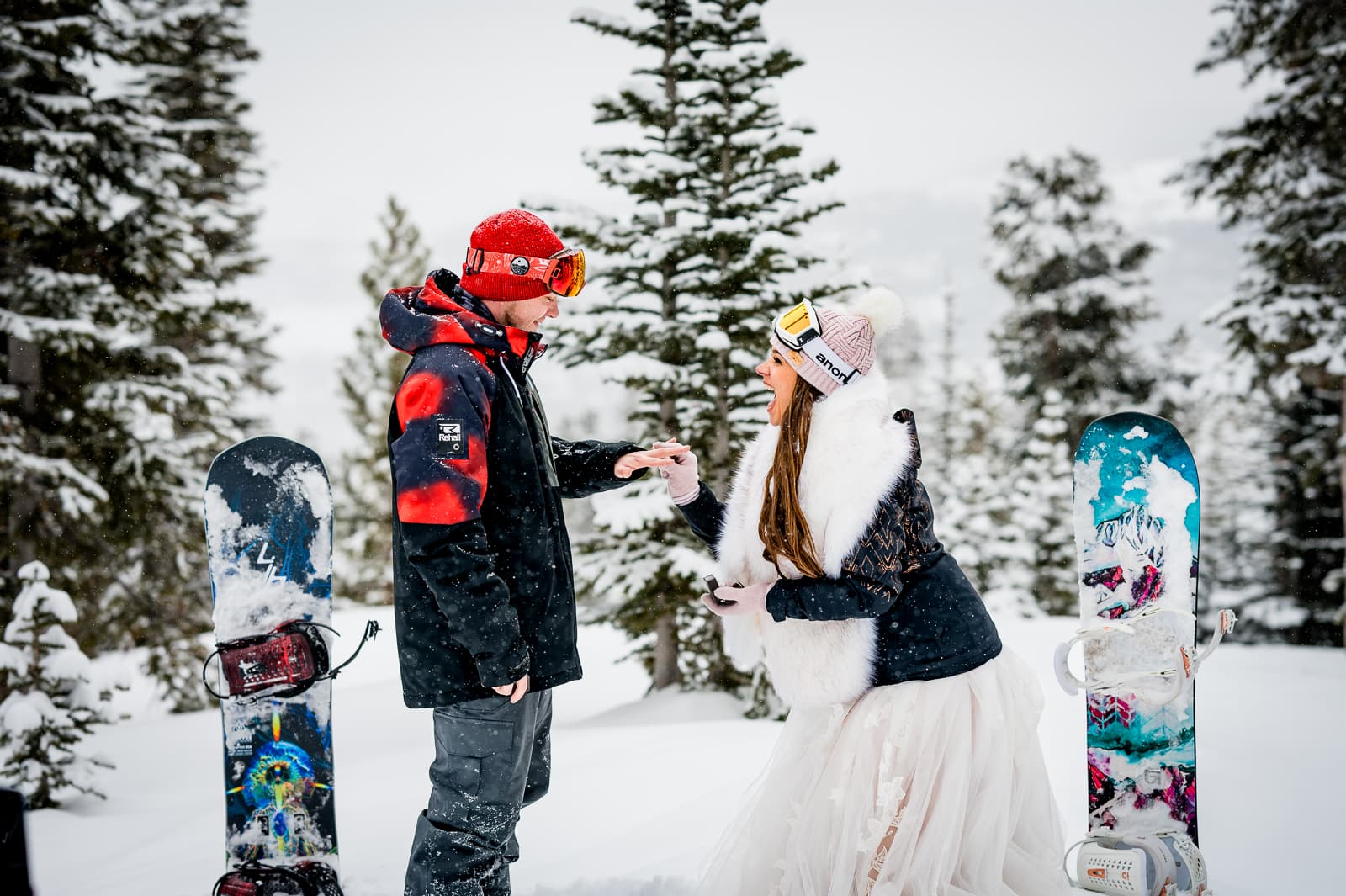 I've been snowboarding for over 20 years and it's by far the coolest thing I know how to do. I taught snowboarding at Loveland Ski Area. I think it's so dope when a couple chooses to shred the pow on their day.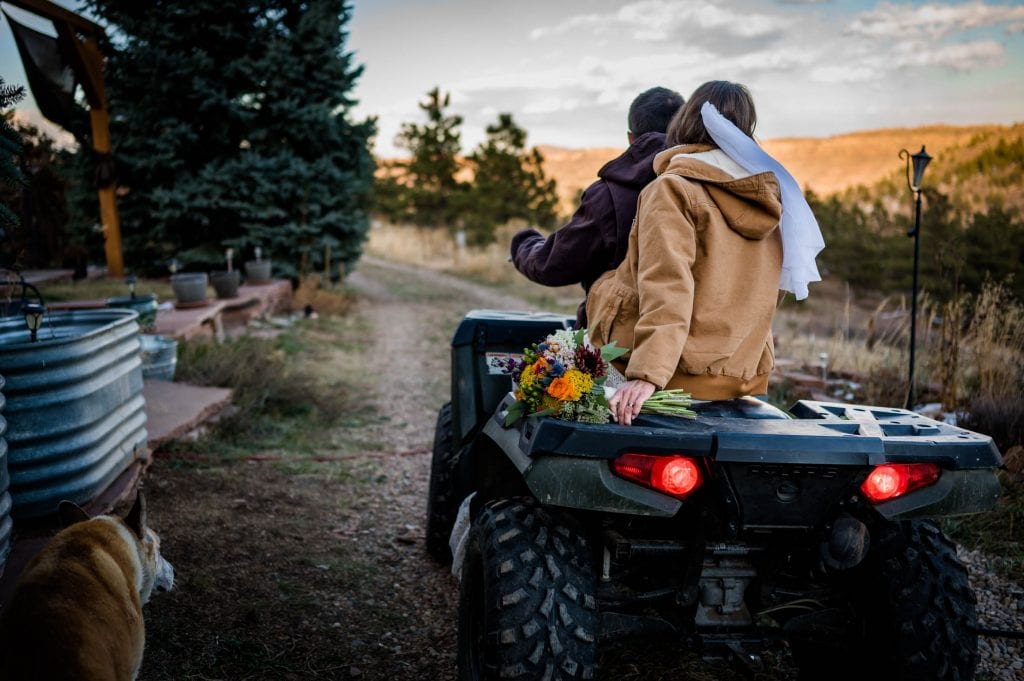 4x4ing is like going on a really hard hike to a super gorgeous spot, except you don't have to carry any of the stuff or sweat at all. Taking you to places that are out of this world and rarely reached without a hike.


what the people are saying…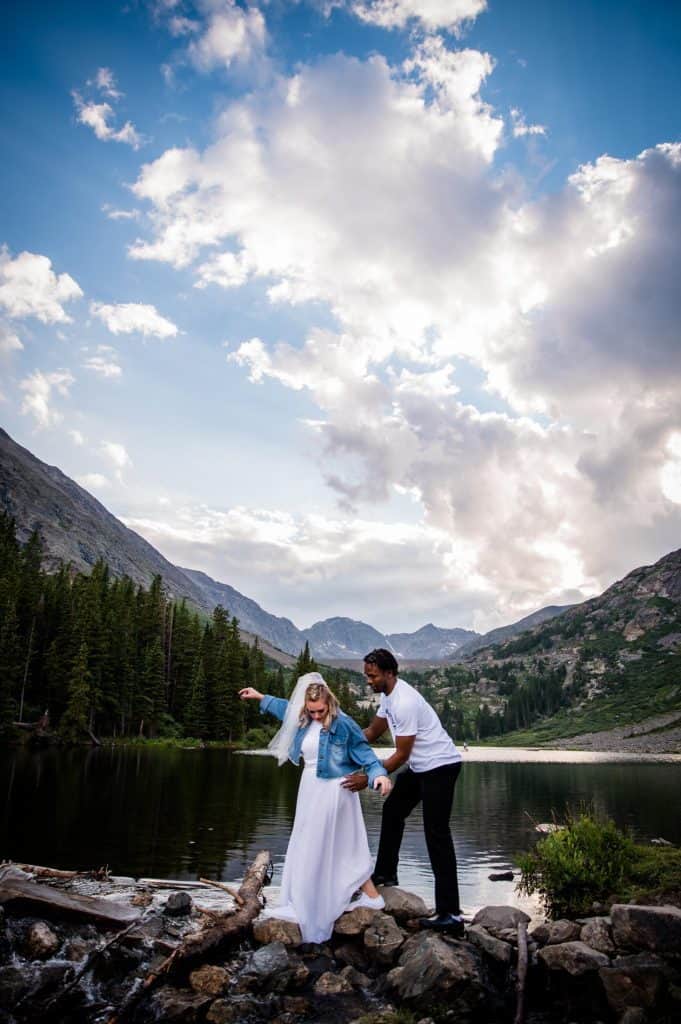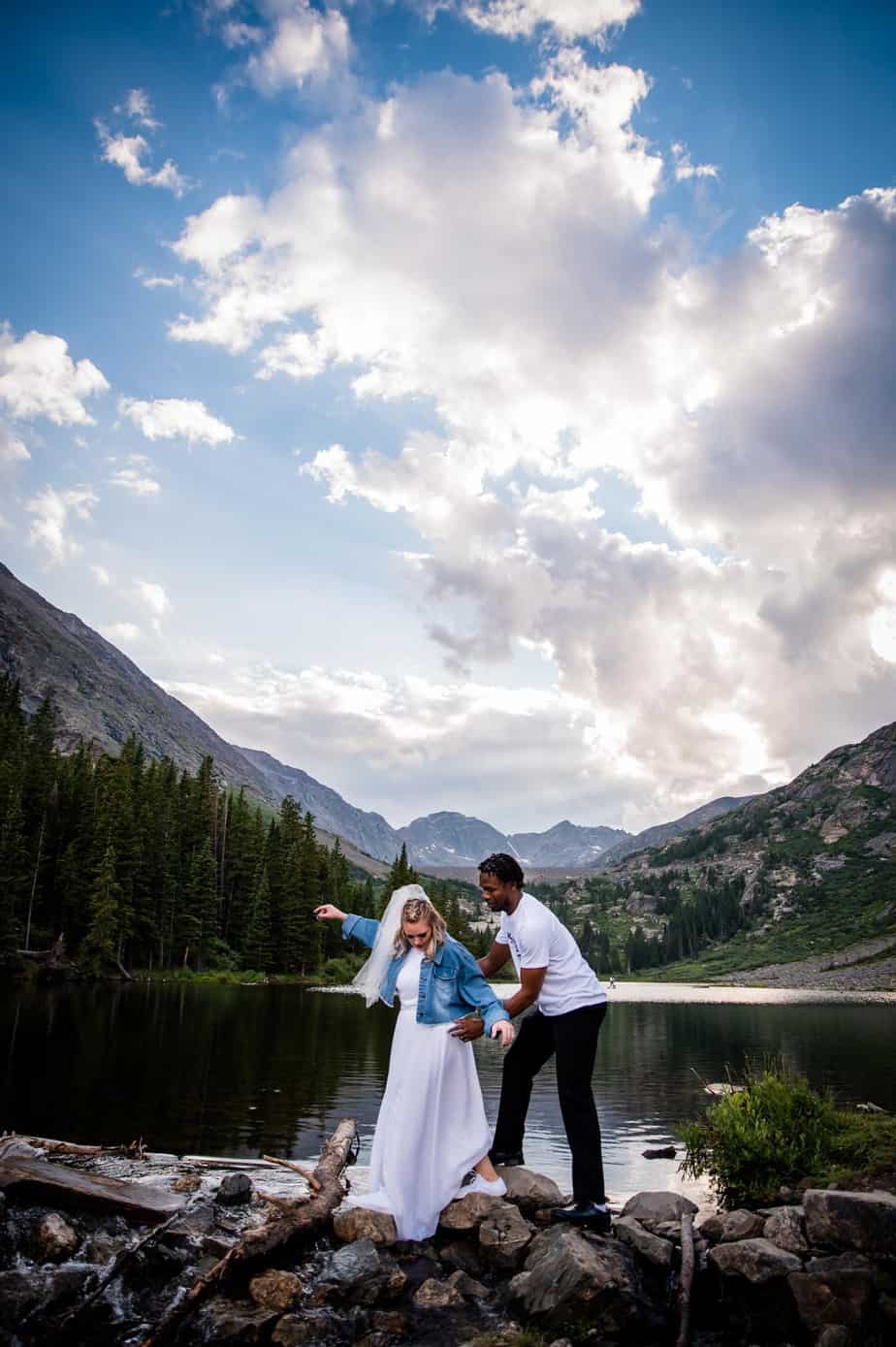 "Let me start off by saying she made this BY FAR the easiest, most memorable fun day for my husband and me. We have never been to Colorado before and we decided to elope in the mountains 🏔! SHE WENT ABOVE AND BEYOND FOR US! She had drinks in the car ready to go for hydration, she gave us advice on how to deal with the altitude difference -we're from Louisiana. She was very professional and encouraging! Super easy to talk to and get along with! I felt like I had known her forever! She is definitely worth the investment!!! HIGHLY RECOMMENDED!!!!!!."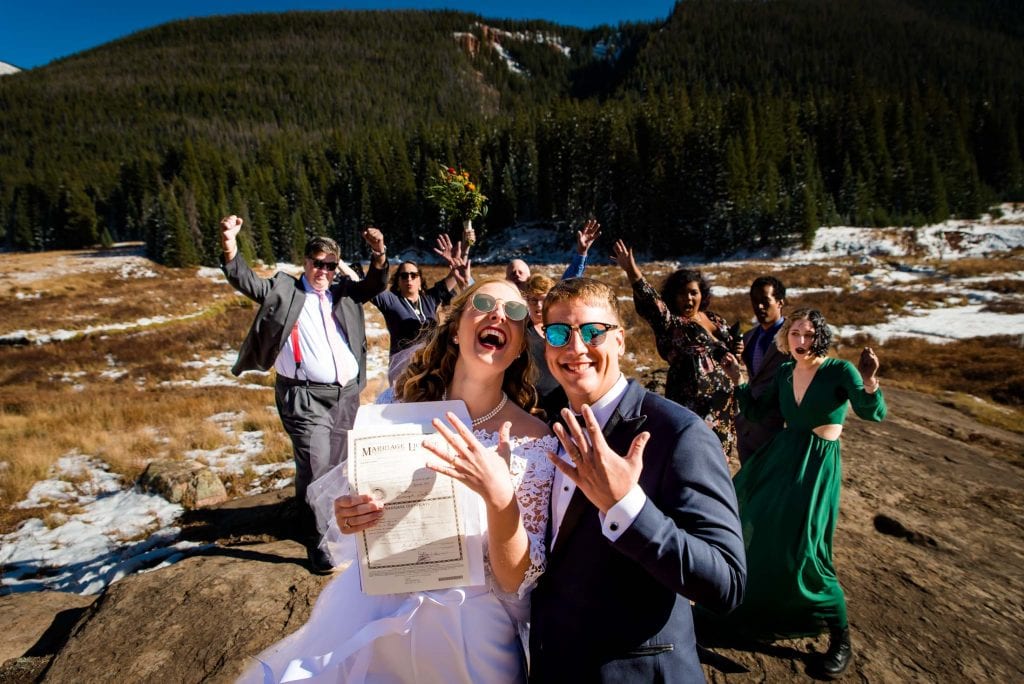 "Natalie did an absolutely incredible job for my elopement. We met beforehand to discuss the details of the day and then she set up an extra photo permit for us to get all the pictures we wanted. Day of she drove up a dirt road with my partner and hiked a bit, then helped me trek down a muddy and slippery slope multiple times during the day to ensure we had no issues while getting all the amazing pictures. We had a last minute request for some pictures and she was super accommodating and I'm sure we went over our time allotted but never made us feel like we were on a timeline. My father in law said how nice she was, that she got all the intimate pictures without interrupting the moment. The light was harsh with some crazy shadows and she kept all that in mind while shooting. I fully recommend her, the photos turned out incredibly breathtaking."
---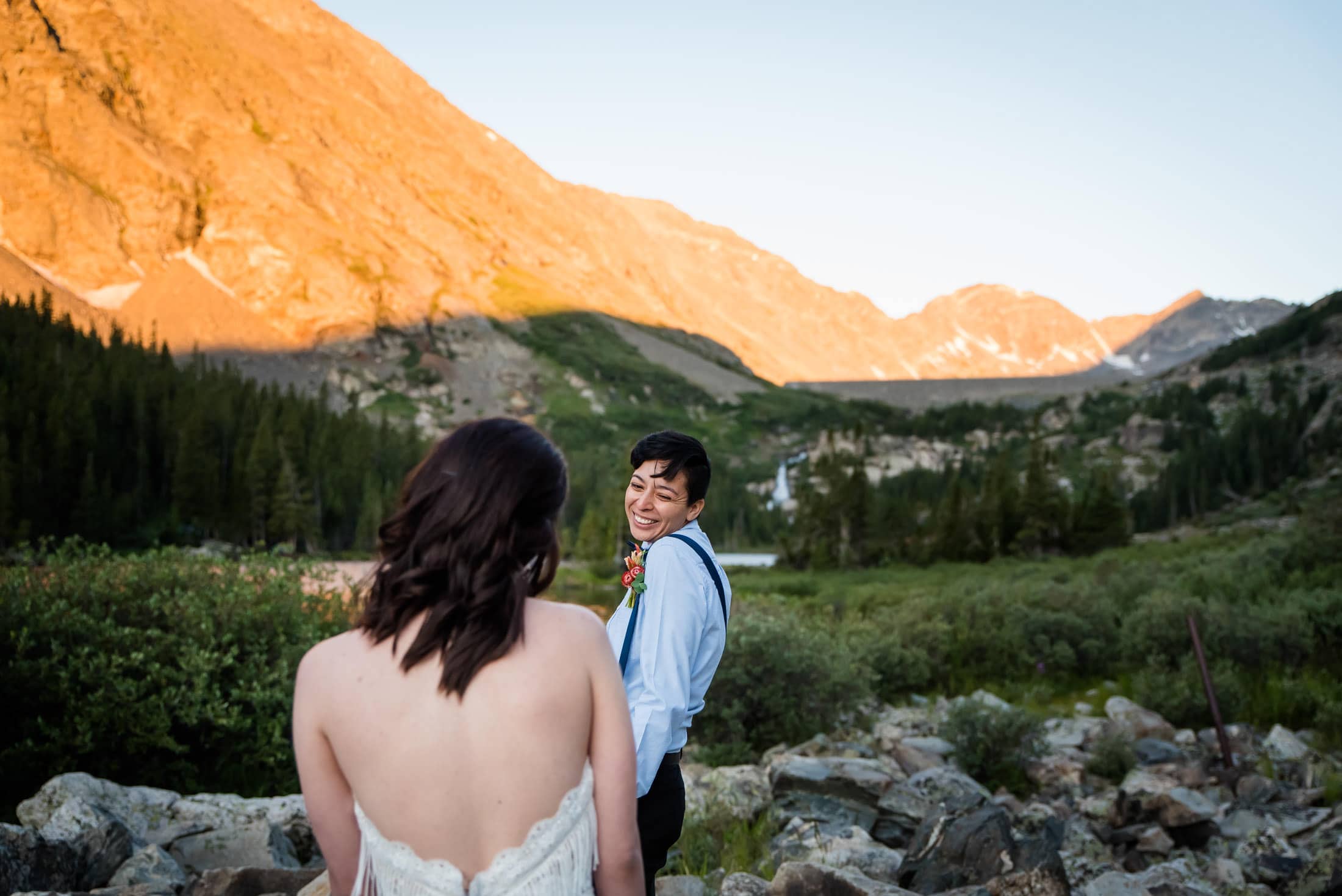 The Experience
How it works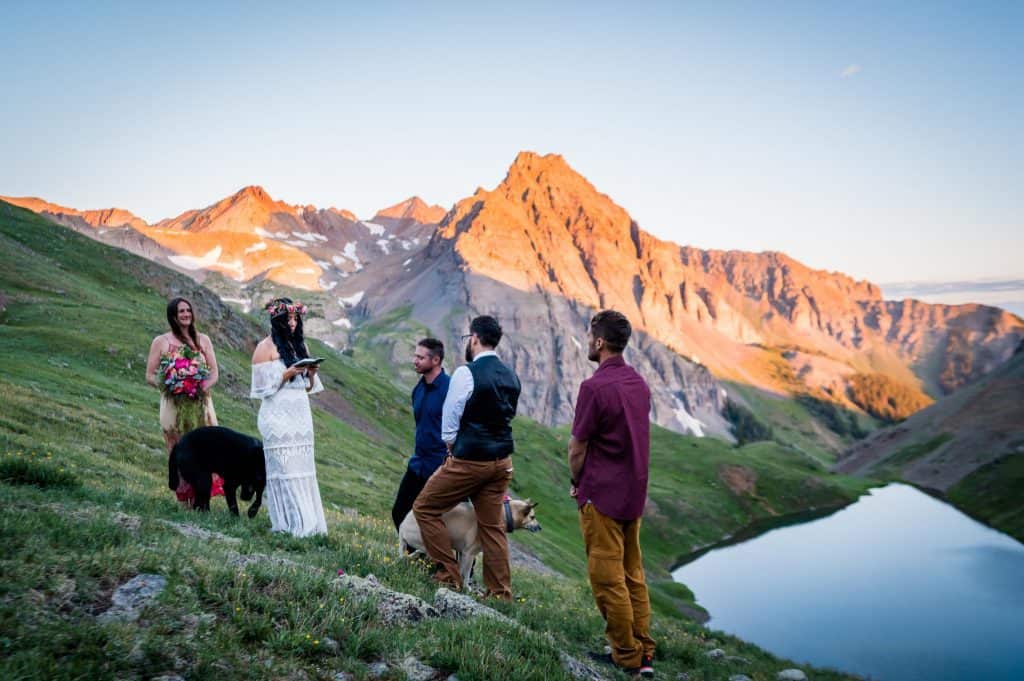 A Tailored Elopement Experience
You deserve to have an experience tailored to you two. I send a "get to know you" questionnaire so I can give you custom location and local activity ideas that fit your personalities and abilities. As well as personalized vendor recommendations and a hand-crafted timeline.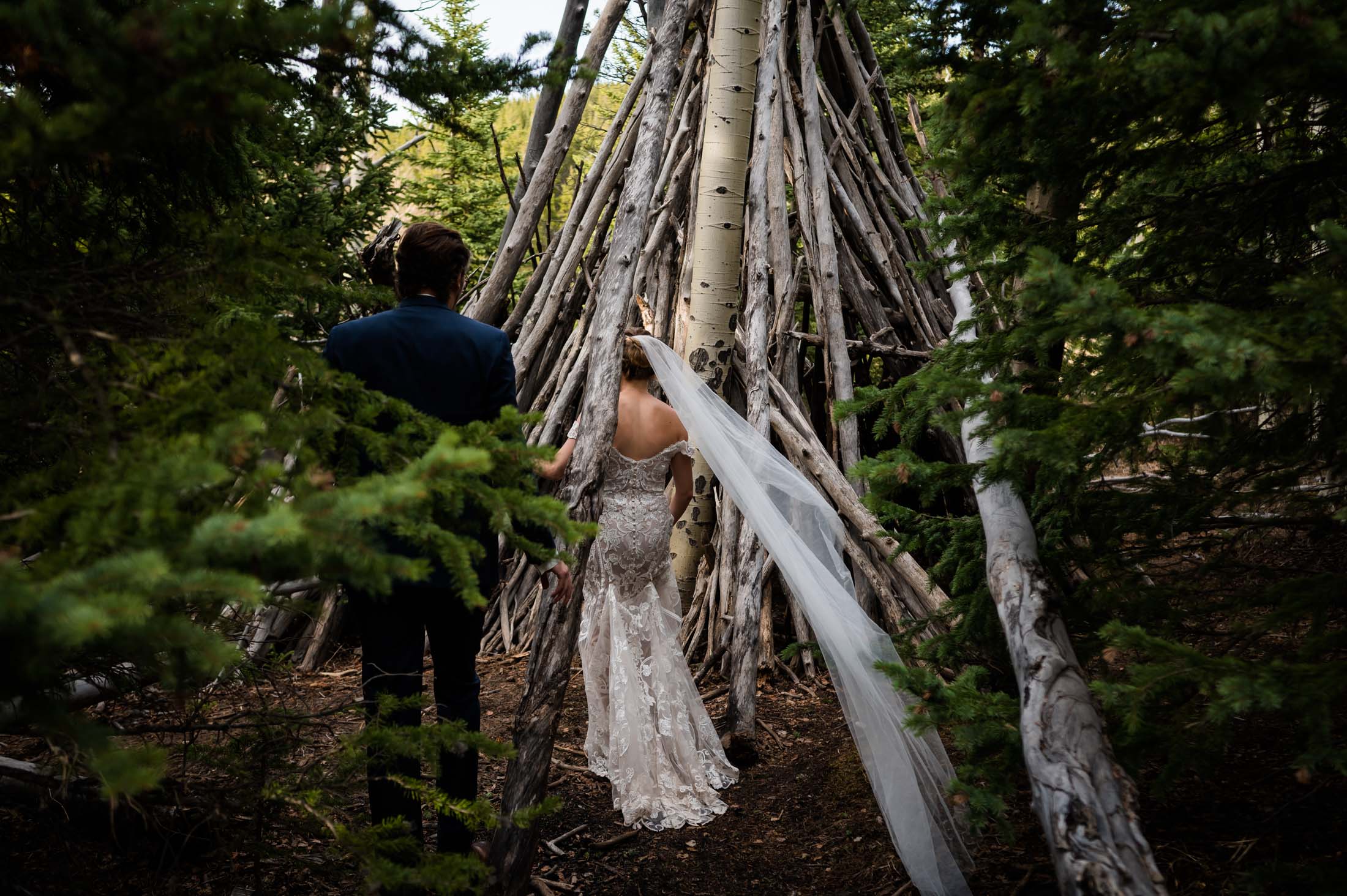 Laid back, Candid and Fun Photography
Your elopement shouldn't be a boring all day photoshoot. You chose to elope to get away from the stress, anxiety and pressure of a big wedding. That's exactly how your photo experience will be. Laid back, fun and candid. I'm just your bff who's really good with her camera. 😉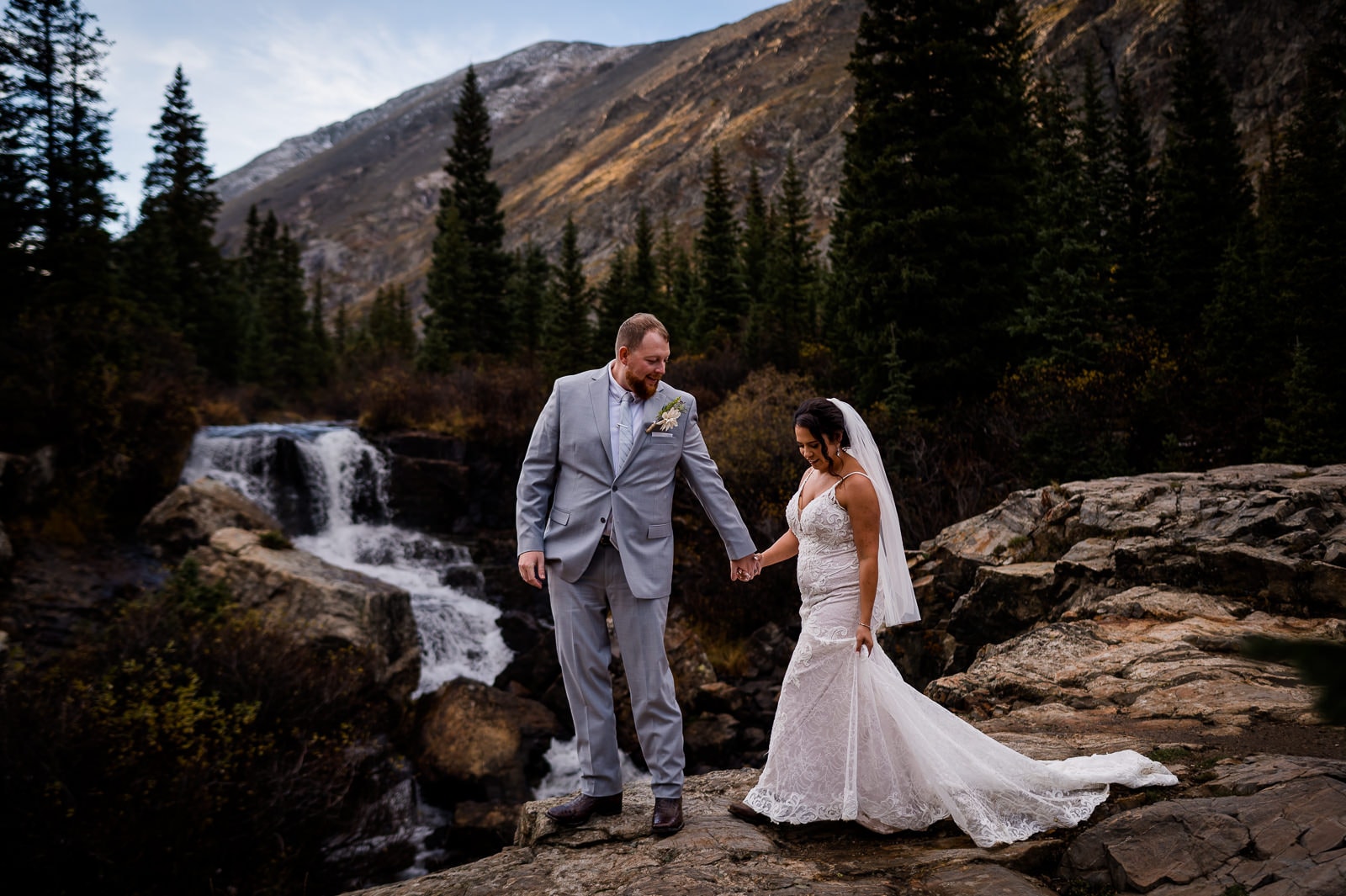 I've photographed over 200 weddings and elopements in Colorado since 2014. I've hiked over 300 miles and 70,000 feet of gain in Colorado + hundreds of adventures. And I'm Wilderness First Responder certified. I'm here to help you every step of the way. You have my wealth of knowledge and experience at your fingertips.
My Style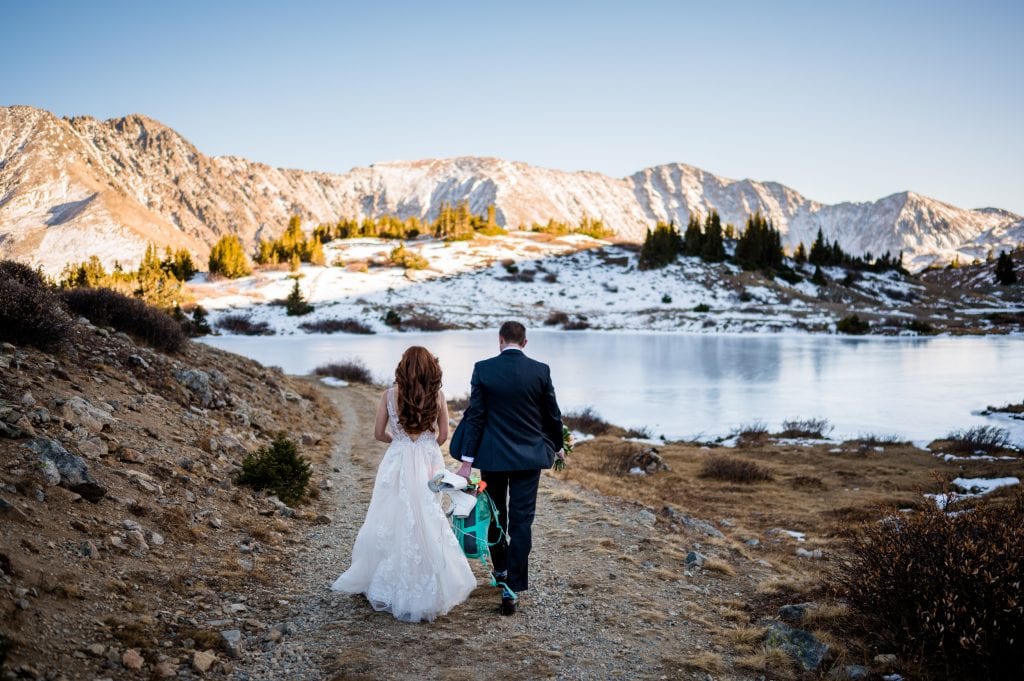 How I edit your photos…
My editing style is clean, true to life, colorful and bold. I love showing off the beauty of Colorado so I keep the natural vibe of the environment.

I choose several photos that'll transition to well to black and white. My black and white style is clean & contrasty with no muddy whites.
What I'm like on your day…
I'm a fun, laid back and candid photographer. I'm your friend & hiking adventure buddy. But never want to take away from the natural moments because I believe your elopement day is meant to celebrate your unique love and who you truly are. Being able to relax and be yourselves with me is the most important part. So I foster a comfortable and carefree environment. I'm here to make sure you get epic photos and have an awesome time.
The Getting Ready Part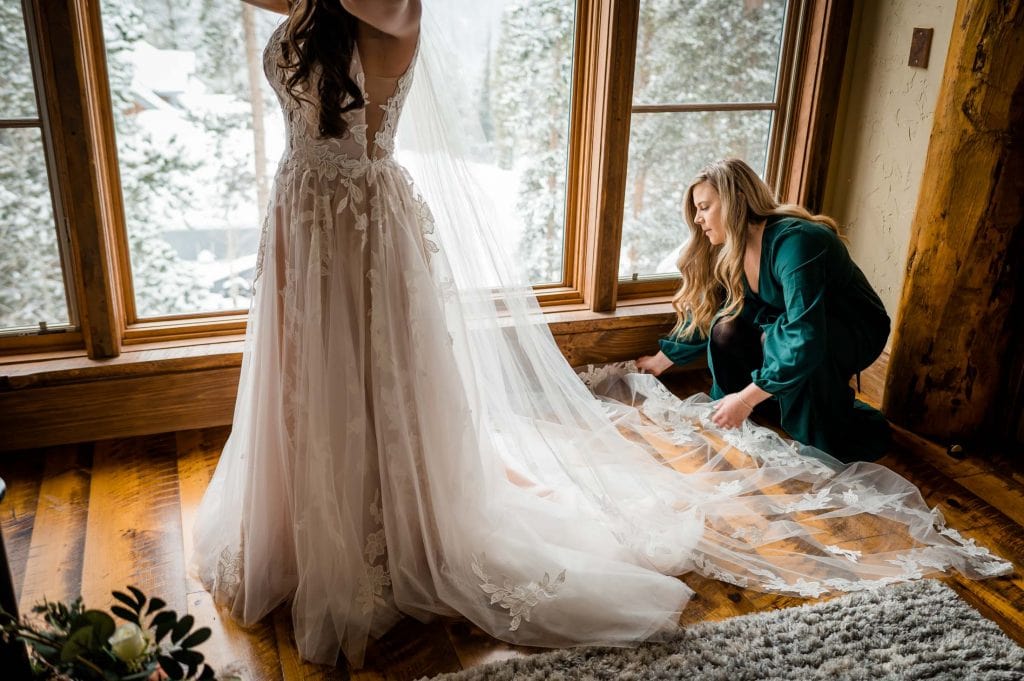 Location scounting & vendor recs
I want to learn all the things about you! What makes you tick, what you love, what you hate, all the things. I learn about your visions for your day as well as your capabilities in the outdoors. We don't want to do anything that you're not comfortable with or that won't be totally fun and epic for you.

After booking, I'll send my adventure & location questionnaire before diving into my end of the planning. I'll also send all my vendor and local activity recommendations so you can get started booking everything.
Getting your marriage license
Colorado is awesome because you can self solemnize. Meaning you don't have to have witnesses to get married because you sign as your own witness. Also meaning, that your pet can sign your marriage license!

If you want to apply for your marriage license in Colorado, I can send you a list of local county clerk's offices that are issuing them. It varies from county to county and is always changing due.

A lot of couples coming from out of state choose to do the legal part in their home state ahead of time and come to Colorado for their ceremony and celebration.
Logistics, gear packing lists & safety
Being prepared for anything (any kind of weather and emergency) is rule of thumb in the mountains. The weather fluctuates and can change in an instant with no warning. Layers are everything here.

I help you with logistics for mountain travel and safety. I send gear packing lists along with logistical info and guidance to ensure you have everything you might need. Being prepared and ready to roll with the punches is integral to the good times!
Wedding and photography permits
I research the proper wedding and photography permits that we might need for the location you choose. You just have to apply and pay for any permits required by the couple. Some places have designated wedding ceremony sites that must be reserved for a specific date and time. Every park, county, and forest district has different rules. But don't worry, I'll help you navigate those!
Your Photos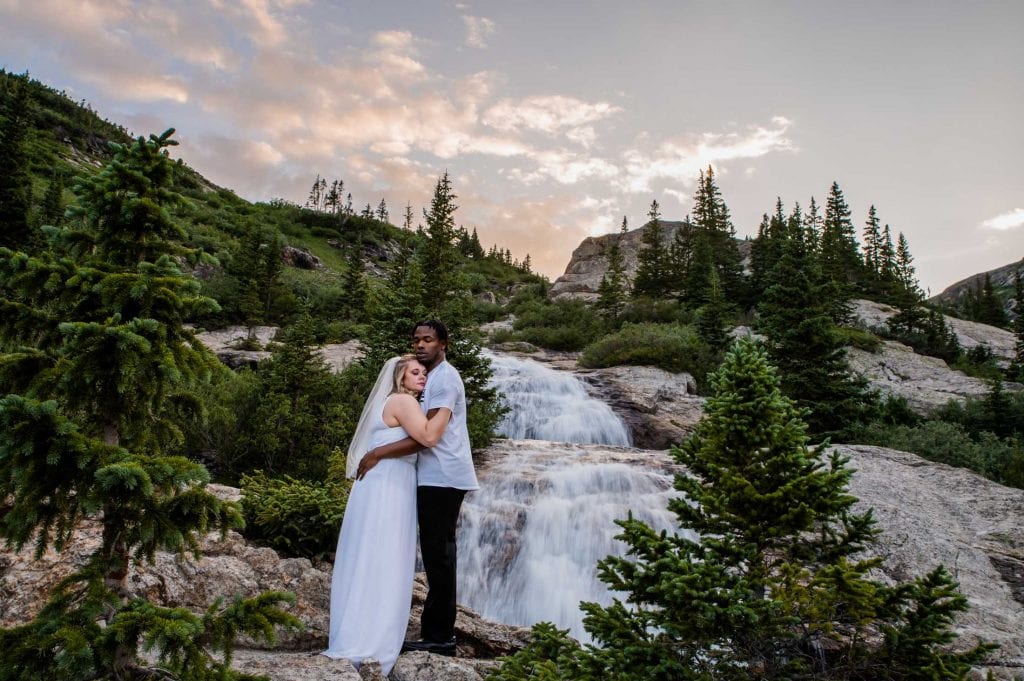 How do you receive your photos?
You receive all of your full resolution, edited digital image files in a beautiful online gallery with all the rights to print them for personal reasons. When you first click the gallery link in the delivery email it will prompt you to create a password. Just be sure to write this password down and store it for safekeeping so you can continue to access your gallery.

From there you can download and purchase prints from a professional printing company that you have a 15% discount at. You'll see your discount code displayed in your gallery!
How long do you have access to your gallery?
You have access to your gallery for as long as I'm in business, and hopefully that is forever. I pay for unlimited gallery storage so I never delete your online gallery. But I HIGHLY recommend that you immediately download all of your full resolution images and back up them up to two places just in case. You never know if technology will fail us or what will happen. I can't technically contract with you that I store your edited images forever even though I do. So if something happens to your online gallery and you have not backed up the images like I suggest, that's on you.
Can you share your gallery?
Yes! You can share your gallery with friends and family. You can hide any photos that you might not want people to see as well. At the bottom of the gallery delivery email there is a link to the visitor gallery that you just have to copy and paste to share with family and friends. Don't share your personal gallery link.
Where can you backup your images at?
You will have the option to pay for cloud backup through your gallery. That way if I ever go out of business, Pic-Time will keep your images stored and you will continue to have access forever.

If you are paying for Amazon Prime you are already paying for unlimited photo storage of full resolution images. All you have to do is login to Amazon Prime Photos and drag and drop in your digital wedding photo album that you downloaded to your computer. Extra tip* Amazon Prime Photos also has an app that will automatically backup all of your images on your phone. You also get 5gb of video storage for free as well.
'Colorado Outdoors Charity Initiative'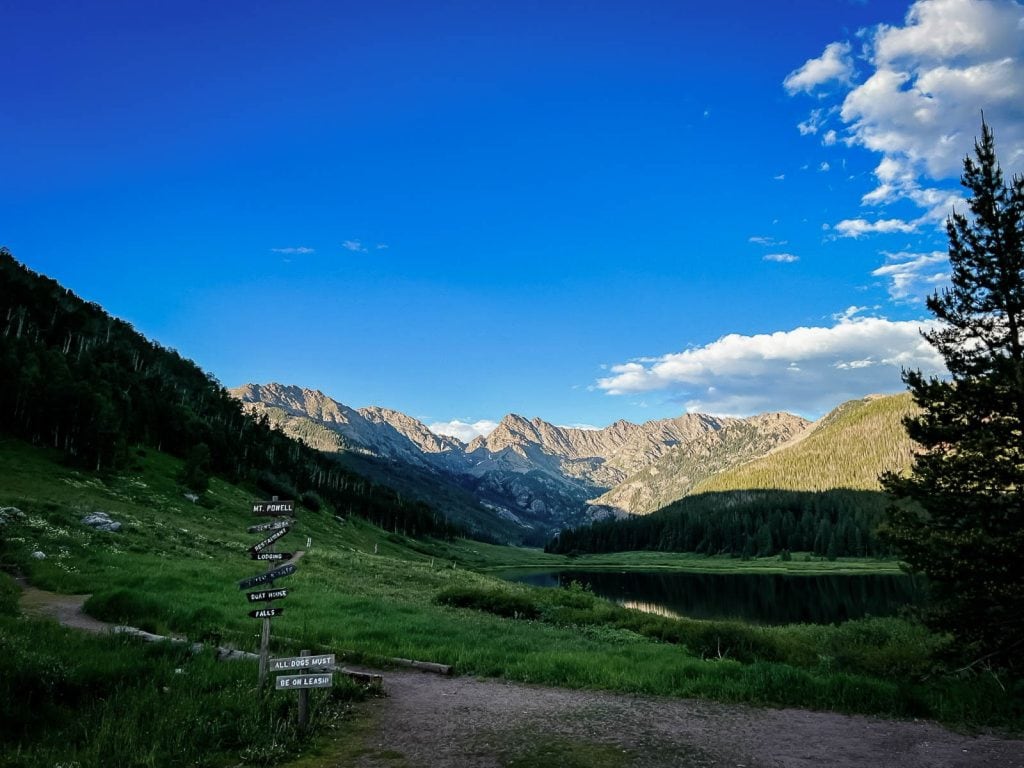 for a good cause…
let's keep Colorado, Colorado

Giving back to Colorado to keep it amazing for future generations.
We give a portion of the proceeds from every elopement package that is booked to a Colorado outdoor based charity.
You choose which charity you'd like to donate to.
You get to choose an outdoor organization that's been vetted and I am happy to help support. They are all Colorado based and focus on the outdoors. Either by working on conservation and trail creation to help Colorado be the same for our future generations. Or by helping low income families and children get to enjoy the outdoors and it's healing properties along with its magical beauty.
A community of volunteers committed to keeping Colorado healthy and sustainable, for today and generations to come. They enable and motivate people to become active stewards of Colorado's natural resources.
Conservation Colorado works throughout the state to protect our air, land, water and people.
CYCA are transforming lives and communities through service, personal development, and education statewide.
An all-volunteer nonprofit that pairs able-bodied volunteers with disabled individuals to enjoy Colorado's natural resources.
Any couples who is eloping more than 1 mile into the backcountry will receive a Colorado SAR card for each of them, paid for by me! It's another way to give to awesome organizations that help build and support outdoor recreation. And personally, just think it's cool that if something did happen the people who volunteer to help will get reimbursed for their time & resources right away. Rather than having to wait until the end of the year to see if money is still available in the fund for reimbursement.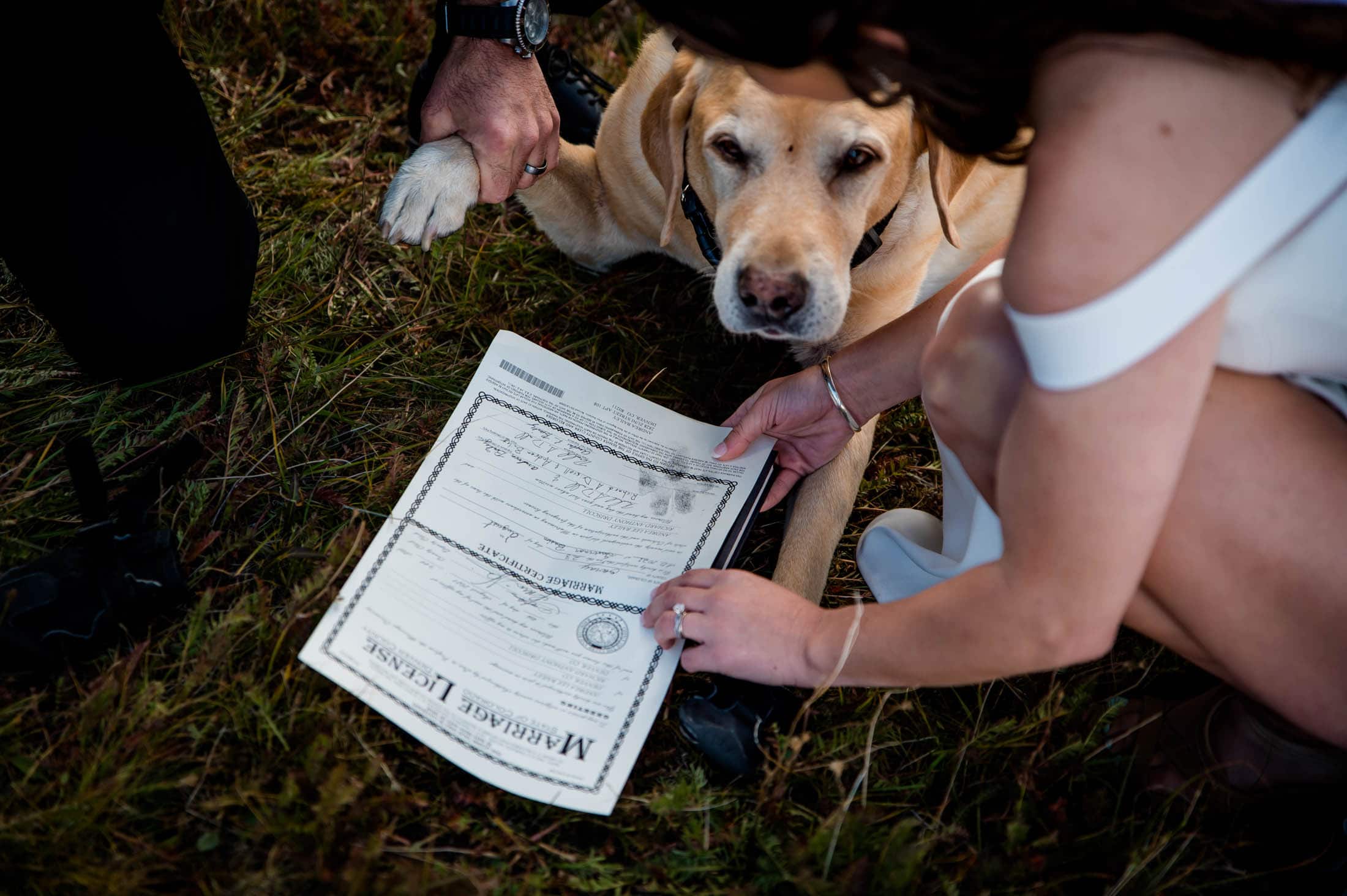 Colorado Elopement packages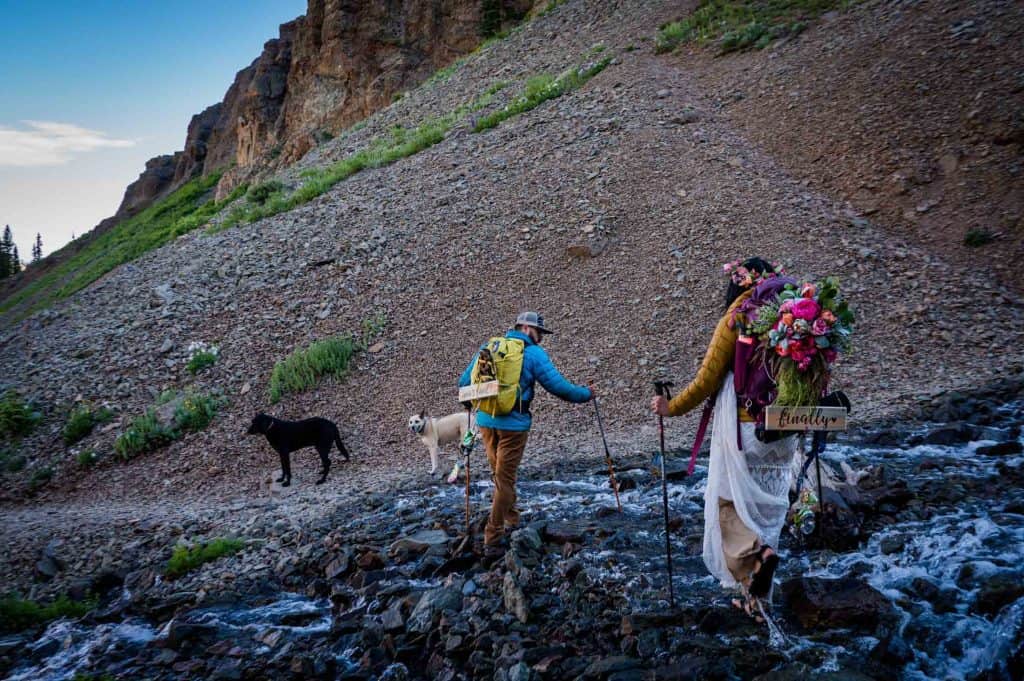 Collection One: Multi Day
The Multi-Day collection is for those epic elopement stories that you just don't want to end. Picture having an epic adventure wedding one day and then heading into town to celebrate with your closest people the next. Or if you want to go deep into the backcountry and have an elopement experience documented with intention to your experience. If you can't think of special ways to celebrate your elopement no worries, I'm here to help with that!

comprehensive coverage of 2 full days
travel anywhere in Colorado included
high-resolution images in a shareable online gallery with print rights and unlimited downloads
custom list of locations & info that fit your vision
hand crafted timeline
vendor suggestions
unlimited elopement expertise


$7900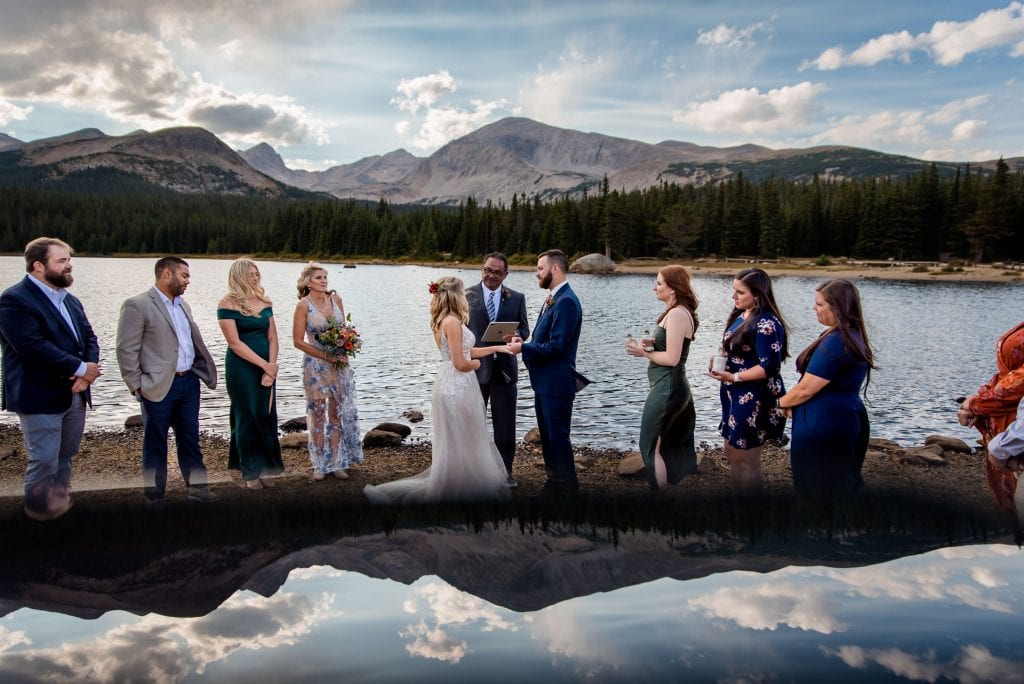 Collection Two: Full Day
*most popular*
The full day collection is perfect to capture all the love and memories that surround an elopement with up to 10 hours of coverage.
This collection allows for the full story of your day be told in the most candid and real way. It gives couples freedom in their timeline to really be able to focus on each other and not stress about the clock. It's perfect for including a hike or other adventurous locations in your wedding day.

full day elopement coverage
travel anywhere in Colorado is included
high-resolution images in a shareable online gallery with print rights and unlimited downloads
custom list of locations & info that fit your vision
handcrafted timeline
vendor suggestions
unlimited elopement expertise


$5600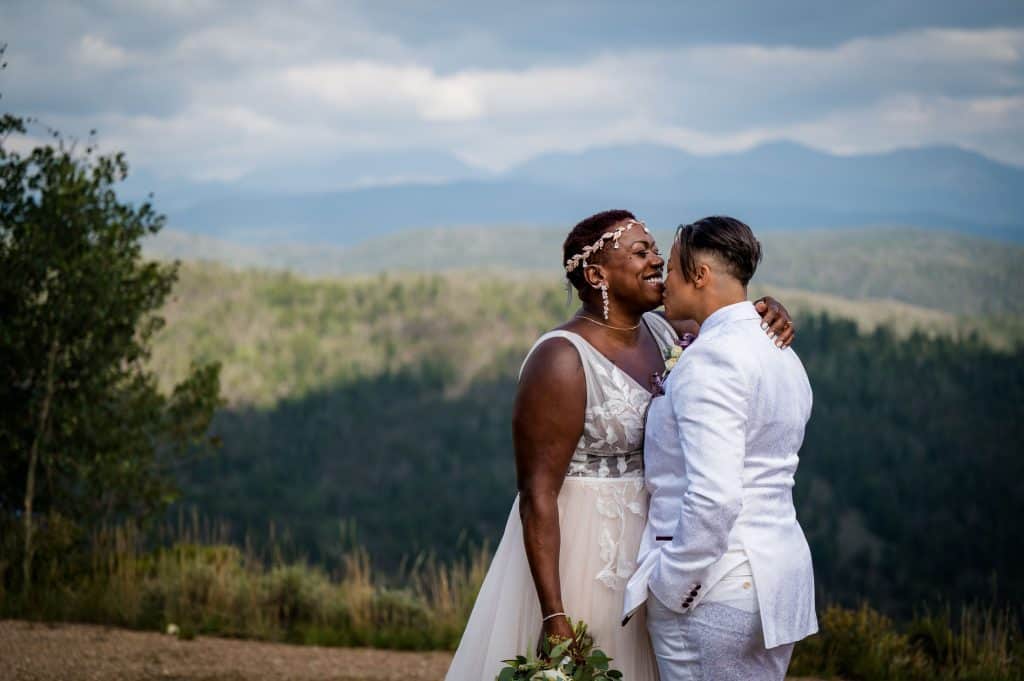 Collection Three: Half Day
The half day collection is perfect for one to two activities or a short hike with up to 5 hours of coverage.
half day elopement coverage
travel in Colorado included
high-resolution images in a shareable online gallery with print rights and unlimited downloads
custom list of locations & info that fit your vision
handcrafted timeline
vendor suggestions
unlimited elopement expertise


$3600
Elopement Collections Add Ons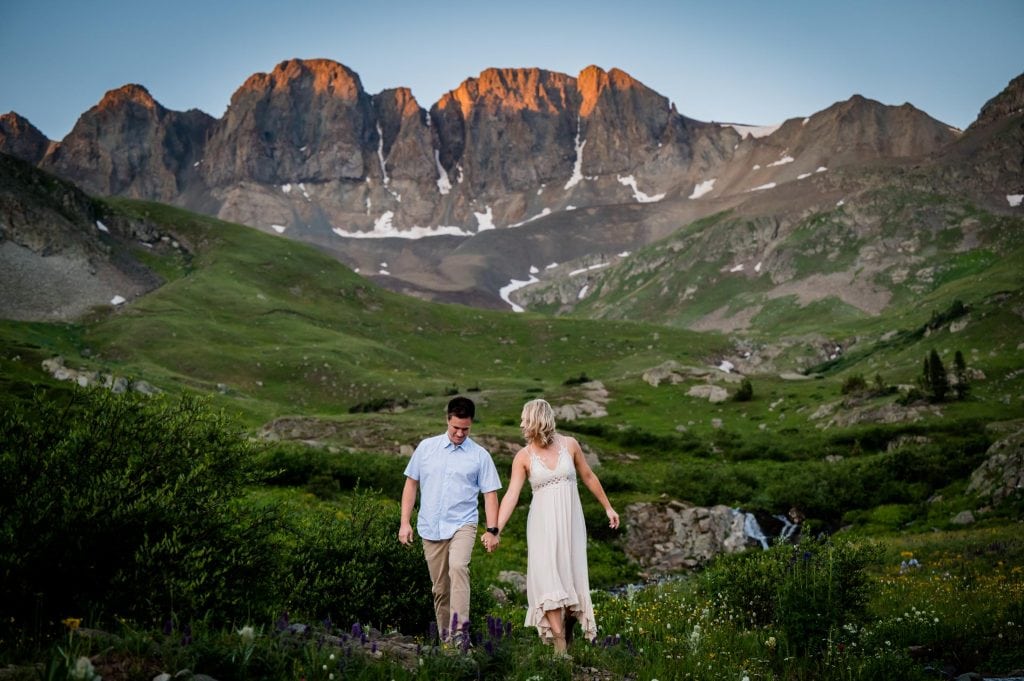 Colorado Adventure Engagement or Day After Session
Includes up to two hour session anywhere in Colorado and all the final edited images with personal print release

$700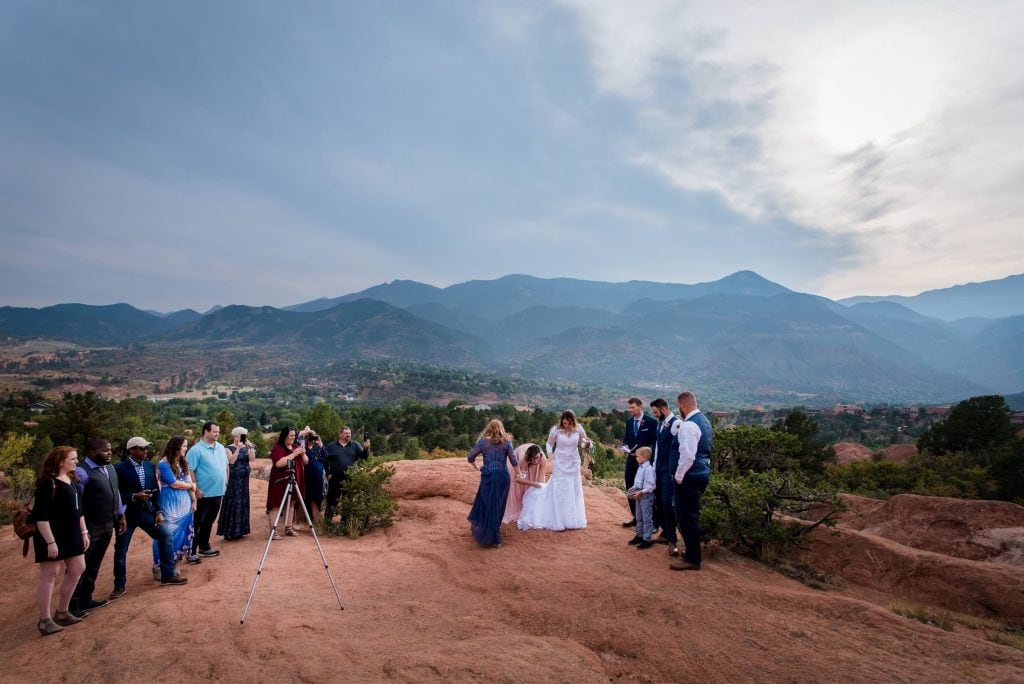 iPhone 13 Pro Ceremony Video
Your ceremony documented on an iPhone 13 Pro with a tripod and a lapel mic for upgraded audio.

Raw, unedited footage of your full ceremony.

$500

Looking for additional unedited footage of your day? Inquire for a quote!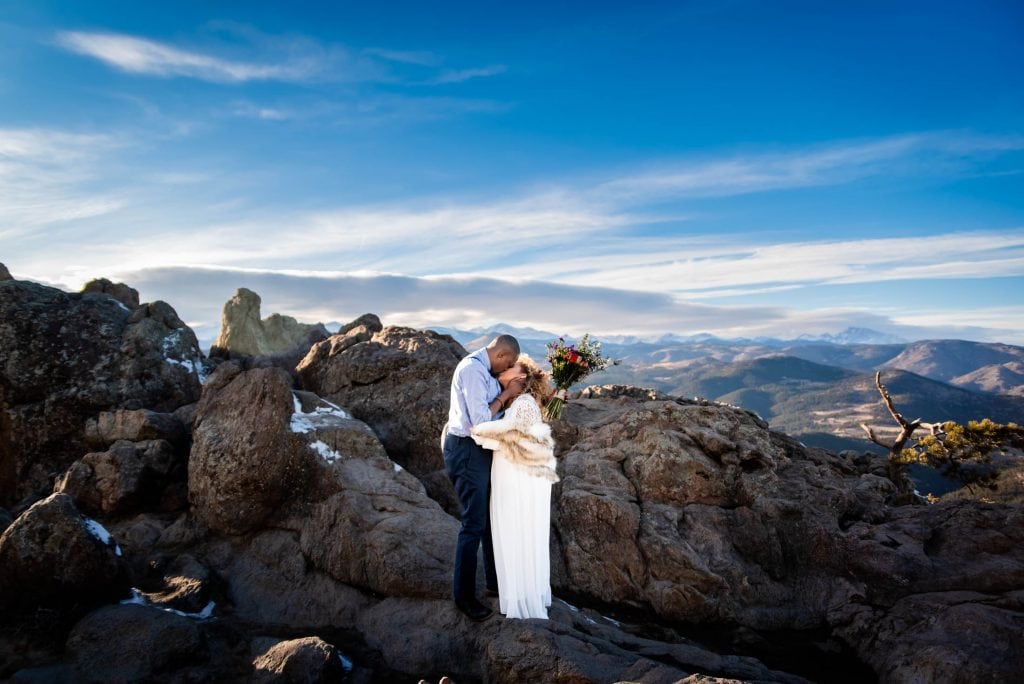 Highlight Reel
30 second highlight reel from your elopement day shot on an iPhone 13Pro.
You receive the edited reel along with each clip separately.

Perfect to share highlights from your day in video form or in combination with your images. Perfect for creating IG reels, Tiktoks, and Youtube shorts.

$500







What's Next?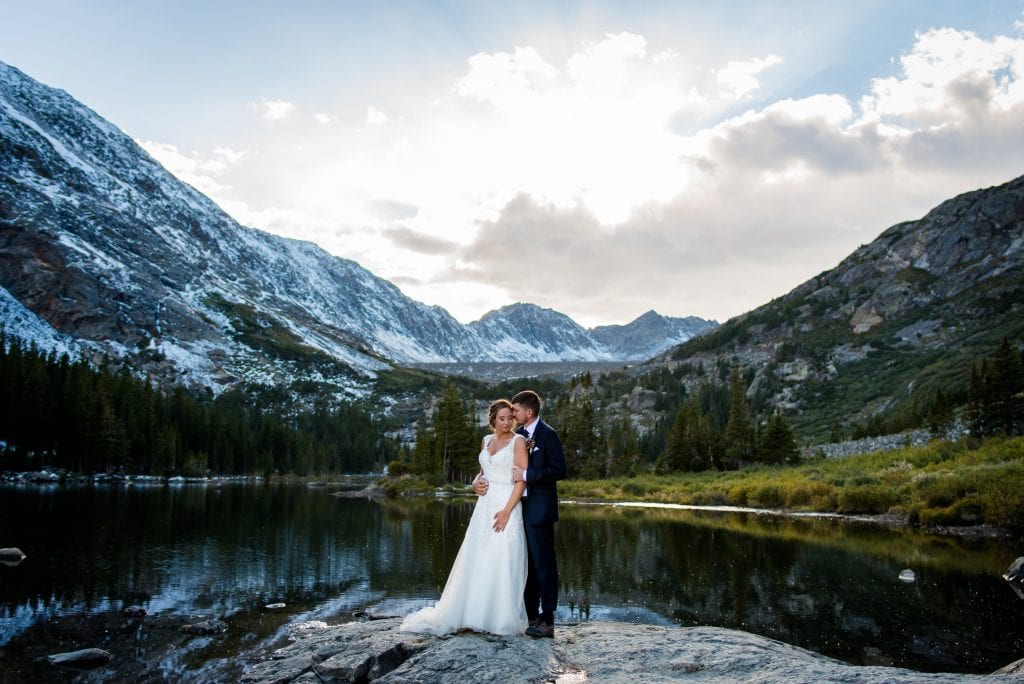 How does booking work?
1
YOU GET IN TOUCH WITH ME TO SET UP A VIDEO CALL SO WE CAN GET TO KNOW EACH OTHER A LITTLE MORE & START DREAMING ABOUT YOUR EPIC ELOPEMENT DAY!
​2
AFTER YOU SETTLE ON A COLLECTION, I'LL SEND A QUOTE AND CONTRACT FOR YOU TO SIGN & PAY YOUR RETAINER. ONCE BOTH ARE DONE YOUR DATE IS LOCKED IN WITH ME.
3
A FEW WEEKS AFTER BOOKING, I'LL SEND A QUESTIONNAIRE SO THAT I CAN GET TO KNOW YOUR ADVENTURE STYLE BETTER. THEN I PUT TOGETHER A LIST OF CUSTOM LOCATIONS THAT BEST FIT YOUR VISION AND CAPABILITIES.
4
AFTER YOU'VE COMPLETED THAT QUESTIONNAIRE, I'LL SEND OVER A LIST OF LOCAL VENDORS THAT I RECOMMEND. THIS WAY YOU CAN GET STARTED BOOKING THE REST OF THE TEAM THAT'LL MAKE YOUR DAY EXTRA SPECIAL.
5
BEFORE YOUR ELOPEMENT, I'LL SEND A QUESTIONNAIRE TO GET ALL THE FINAL DETAILS. THEN I CREATE A FLEXIBLE TIMELINE FOR THE DAY'S ACTIVITIES SO EVERYONE KNOWS WHAT'S UP AND YOU CAN SECURE OTHER VENDORS.
6
YOUR ELOPEMENT DAY IS HERE!
WE MEET UP AND CELEBRATE YOUR LOVE & YOU HAVE THE BEST DAY OF YOUR LIVES!
7
SNEAK PEAKS WITHIN 72 HOURS TO BE ABLE TO SHARE YOUR NEWS WITH SOME EPIC PICTURES.
8
WITHIN 6 WEEKS YOU WILL RECEIVE ALL THE FINAL EDITED IMAGES IN A SHAREABLE ONLINE GALLERY
9
GET A 15% DISCOUNT ON ALL PROFESSIONAL PRINTING FROM YOUR ONLINE GALLERY
Not eloping in Colorado? I travel worldwide for love!
Get in touch to start planning your dream elopement!
Get in touch with me and we can get this adventure started!
It's such an honor when I'm chosen to document a couple's elopement day. They flow so effortlessly, giving way to the natural way things unfold. One of the reasons elopements are so special is because they don't have any boundaries. You aren't boxed in by expectations or timelines. The options are endless. With that freedom you are much more open to freely just be yourselves and relax together. That's when I begin to see and feel your true love story unfolding in front of me. That's the story I'm here to tell. I've been doing this long enough to know that when you're being true to you, you have fun, and when you have fun the best photographs are made. So be weird, be awkward be whatever, just be you. Fully immerse in these moments in wild places together.
-Nat
FAQs
Does hiking for my elopement cost more? Nope, hiking time is included in your coverage time so we just have to pick a hike that works within your collection. I'll send you a list of hikes I recommend that fit your vision and capabilities if you're thinking of a hiking elopement!
We want to go snowboarding on our elopement day, does that cost extra? Nope! Even my lift ticket for whatever ski resort you choose in Colorado is covered in your collection!
What kind of terrain can you ride? I can shred most black and double black diamonds on good powder days. My favorite terrain are the bowls and tree runs with deep powder.
Do you book the vendors for us? No. I recommend the best vendors who service the area. You are responsible for booking any vendors, lodging or activities that you'd like on your elopement day.
Do you do the set up and tear down of our decor? No. If you have special decor you'd like to use for your intimate ceremony, dinner, picnic, etc, I suggest you hire a day of coordinator to set those things up for you while you enjoy your elopement day.
How long does it take to get sneak peeks? I provide 10-20 sneak peeks within 72 hours.
How long until we get our full gallery? You'll receive your whole gallery within 6 weeks of your elopement day.
Do you do rush editing for an additional fee? Yes, for an additional $1000 you can receive your full gallery within 3 weeks of your elopement day.
Is travel and lodging included in the price? Yes. Travel and lodging within Colorado in included in the above listed package price. If you are traveling out of Colorado, just add on the appropriate travel fee to your package for your total.
Do you get our wedding permit for us? No. I will help you figure out exactly what permits are needed for the location(s) you chose. But you must apply for any necessary wedding permits required to get married on the land.
Having a wedding at a mountain venue?
Click here for my Colorado Mountain Wedding Collections